Categories >
Other Services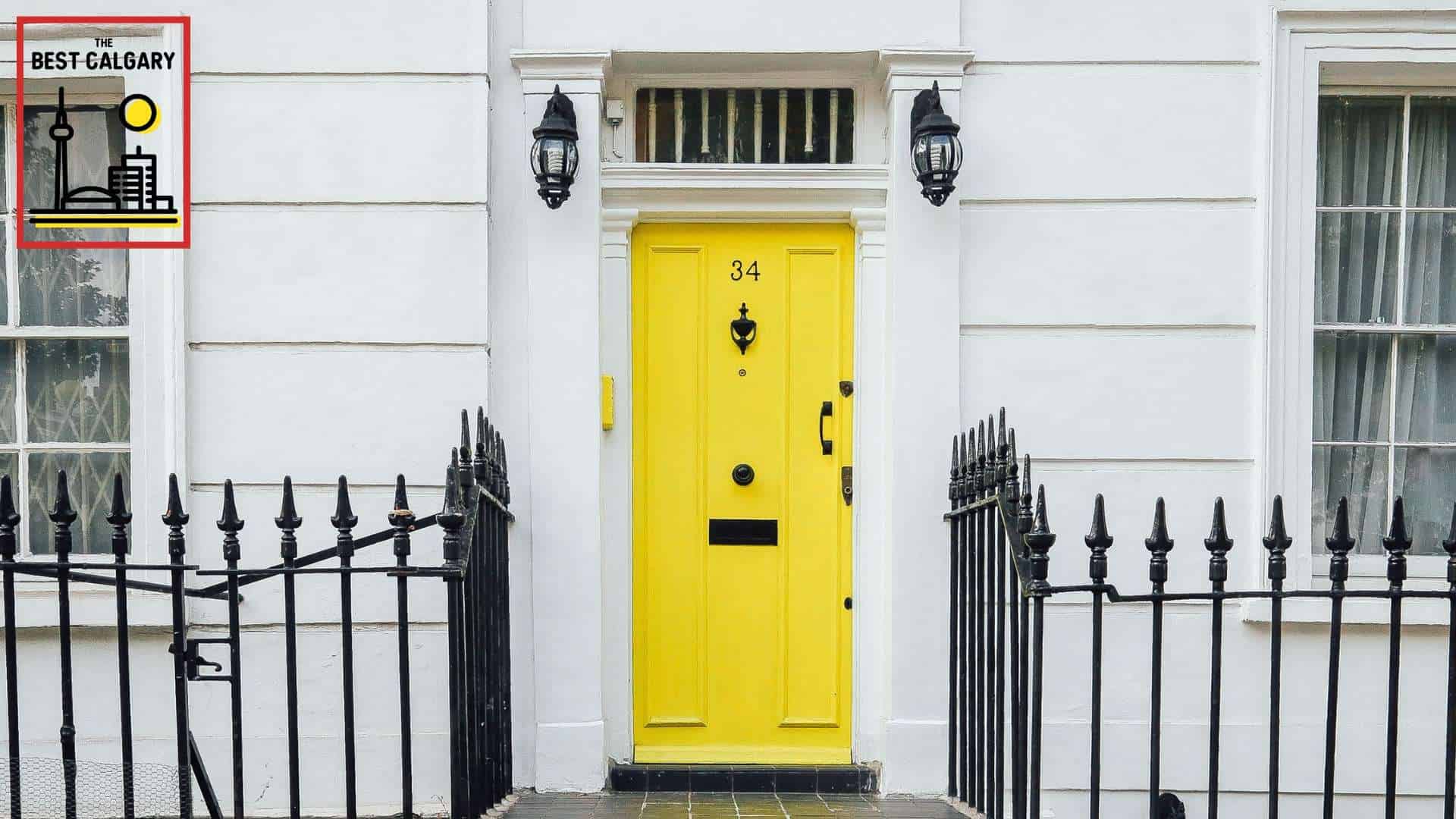 The Top 5 Exterior Door Installation Services in Calgary
How We Picked
1. Creative Door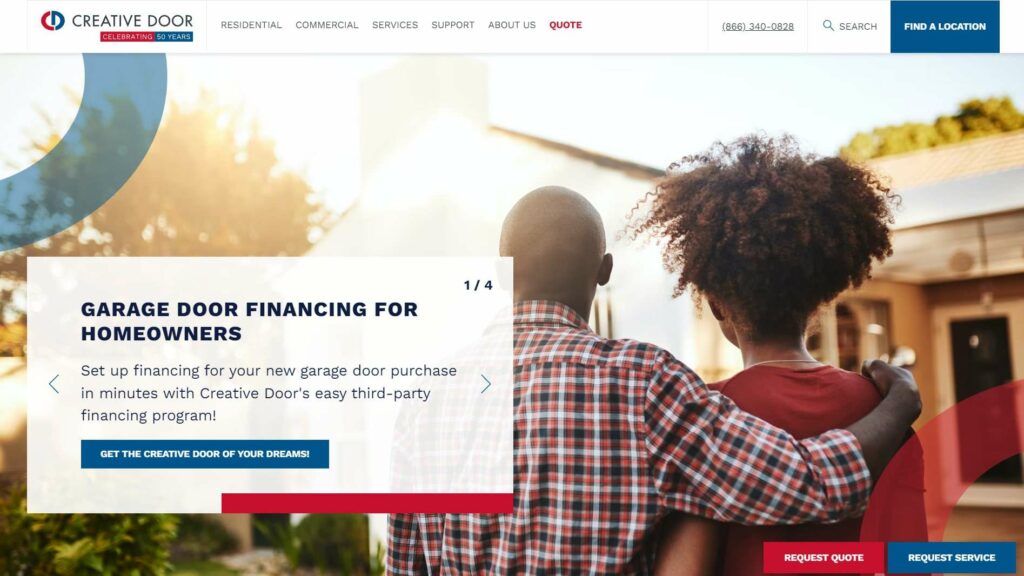 Website: https://www.creativedoor.com
Address: 3740 27 St NE #8 Calgary, AB T1Y 5E2
Contact Details: (866) 355-2736 (Main); (866) 205-7279 (Installations/Residential Garage Doors)
Office Hours: Monday-Friday: 8 AM-5 PM
| | |
| --- | --- |
| Google Reviews | 4.3/5 |
| Yelp Reviews | 3.5/5 |
| Yellow Pages Reviews | 4.4/5 |
| Total Reviews | 4/5 |
| Score Consistency | 3/5 |
| | |
| --- | --- |
| Range of Options | 2/5 |
| Payment Plans | 4/5 |
| Credentials | 5/5 |
| Warranty | 4/5 |
Over 50 years' experience
Holds a Certificate of Recognition
Multiple suppliers
Financing options
Only offers garage doors and gates for residential projects
Several customer service complaints on unprofessionalism
Some instances of pricing miscommunication
With over 50 years in the business, Creative Door has been making exterior doors since it was founded in Edmonton. Now, they have several locations across Western Canada.
They are certified by the Certificate of Recognition programme (COR) and a member of the Alberta Construction Safety Association (ACSA). This means they take an active role in workplace safety – which is good for them, and good for their clients.
We're impressed that they have multiple suppliers for residential and commercial garage doors. This gives their clients different options to choose from.
Talking about options, they have different materials for garage doors, including wood, fiberglass, steel, and vinyl. It's important to know that prices will depend on the supplier.
The downside is that the only exterior doors they offer for residential areas are garage doors and gates. So when looking for a front door for your house, this might not be the right service to go to.
Businesses, however, have multiple options to choose from, among them overhead and pedestrian doors, gates, and access controls.
However, some clients can be put-off by the non-transferable warranty. This can be a drawback when selling a property because the warranty will stay with the original purchaser and can't be carried over to the potential new owner.
On a brighter note, several financing options are available, including a loan through Fairstone. Another is buy-now-pay-later which includes no interest for up to 12 months, so clients can have more time to save money.
We think their customer service can be improved because we've heard several complaints from past customers. Some of their staff answered phone calls with a rude attitude.
There were also several incidents of pricing miscommunication. A few customers complained that they were charged an additional fee when it wasn't even included in the original quote.
2. All Kind Door Services Ltd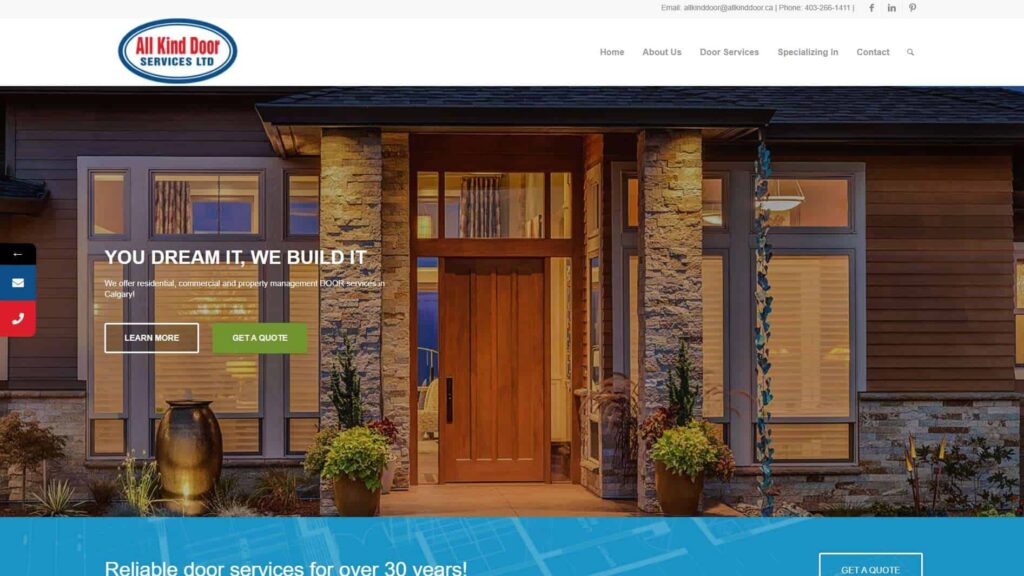 Website: https://www.allkinddoorservices.com
Address: 1455 34 Avenue SE, Calgary, AB T2G 4Y1
Contact Details: (403) 266-1411
Office Hours: Monday-Friday: 8 AM-5 PM
| | |
| --- | --- |
| Google Reviews | 3.3/5 |
| Facebook Reviews | 5/5 |
| Yelp Reviews | 1/5 |
| Total Reviews | 3/5 |
| Score Consistency | 2/5 |
| | |
| --- | --- |
| Range of Options | 4/5 |
| Payment Plans | 2/5 |
| Credentials | 3/5 |
| Warranty | 2/5 |
COR-certified
24-hour emergency service
Great selection of exterior doors
No payment options available online
Overcharging of some customers
Lack of warranty details
All Kind Door Services has been offering residential, commercial, and property management services for over 25 years. Aside from Calgary, they service selected nearby areas too.
A COR certification is a big plus when searching for an exterior door service in your area because it means that the company has met the proper health and safety standards. So, we're glad to know that All Kind Door Services is COR-certified.
We'd like to note that they have on-call technicians 24/7 and a mobile service fleet. We think this is incredibly helpful for those unexpected circumstances, like when a garage door suddenly stops working.
What we love about their residential service is that they offer several types of doors, from the main entrance to the patio. To prevent rainwater from coming in, they offer weather stripping too.
They have different types of door materials, including fiberglass, vinyl, and steel. To give clients protection from any weather, they offer storm doors too.
We were also happy to know that they have various commercial doors available. Aside from that, they do preventative maintenance to ensure that all moving parts work correctly.
What's greatly appreciated is their accessibility entry system. They make automatic sliding doors to make it easier for people with disabilities.
Other than all the good things, we'd like it if they could add more information about payment options. There aren't any particular details on the website, which we think might be a tad inconvenient for their customers.
Due to the lack of payment details, multiple customers have mentioned that they were charged exorbitant fees. We've heard from a past customer that he was charged extra for a trainee, and when he asked for a refund, it took months to get his money back.
Another thing we don't like is their lack of warranty details. We think that if this was already available to read on the website, their customers could have a faster decision when choosing their services.
3. Pella Windows & Doors of Calgary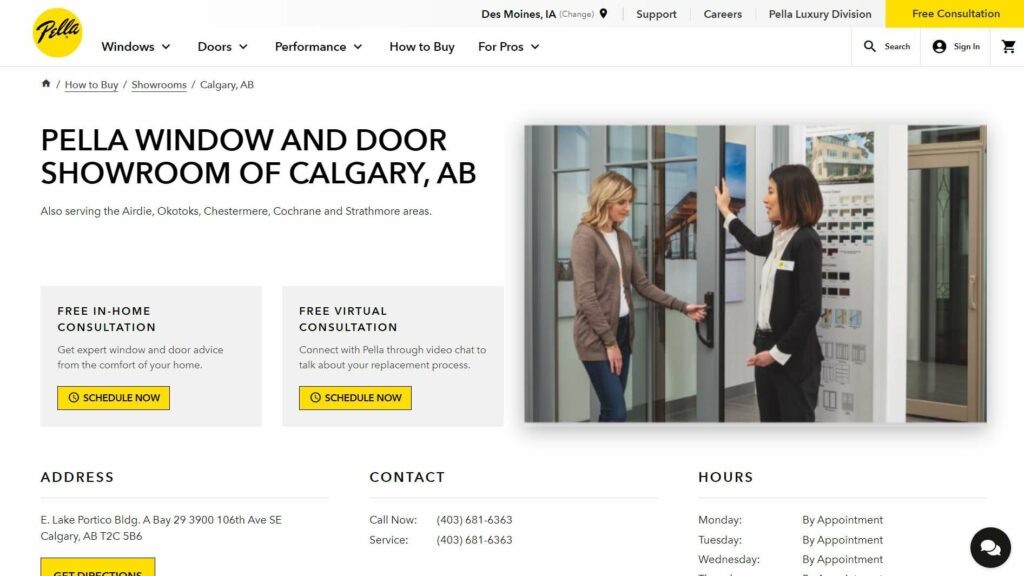 Website: https://www.pellabranch.com/western-canada/showrooms/calgary
Address: E. Lake Portico Bldg. A Bay 29 3900 106th Avenue SE, Calgary, AB
Contact Details: (403) 681-6363
Office Hours: Monday-Saturday: by appointment, Sunday: closed
| | |
| --- | --- |
| Google Reviews | 4.2/5 |
| Data Gemba Reviews | 4.5/5 |
| Nice Local Reviews | 4.3/5 |
| Total Reviews | 3.5/5 |
| Score Consistency | 3.7/5 |
| | |
| --- | --- |
| Range of Options | 4/5 |
| Payment Plans | 4/5 |
| Credentials | 4/5 |
| Warranty | 4/5 |
Showroom available
In-home consultation
Up to 10 years of warranty
No garage doors available
Few complaints about incorrect installations
Pella Western Canada is owned and distributed by Pella Corporation. They have branches internationally.
We like that they have showrooms to browse different kinds of doors. This can provide convenience to clients who aren't sure what type to get, especially for new builds.
With all kinds of weather visiting Calgary, it's essential to have high-quality doors. So, we were pretty happy to find out that Pella offers impact and weather-resistant doors that can keep your home safe from the effects of natural disasters.
They have a few doors available to buy online. There are selected fiberglass doors with a starting cost of $1,700, which is quite average for the material.
We love the different designs they have, especially the wood options. With these, finding a style that complements your house will be easier.
Although they accept appointments only, it's good to know that they offer free virtual and in-home consultations. With in-home consultation, their technicians can personally assess the project.
However, there are several complaints about their technicians incorrectly installing the door. A client mentioned that the temperature of near their door reached -10 degrees because the outside air came in due to improper installation.
The good news is that there is a Pella Care Guarantee, which they provide for those who buy and install directly from them. For up to 10 years, the products, installation, and labour are covered by this programme.
4. Greenfox Windows & Doors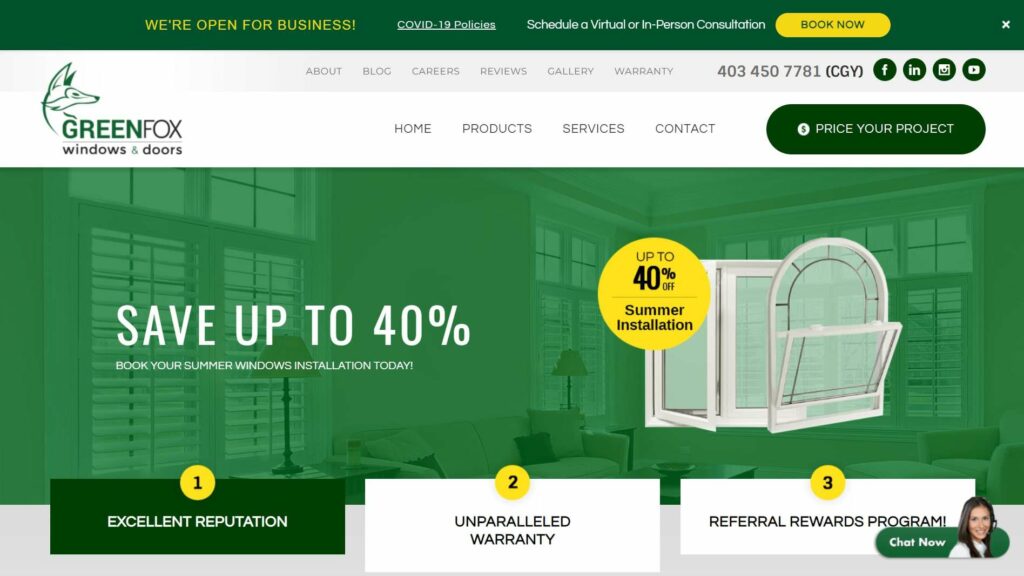 Website: https://www.greenfoxwindows.ca
Address: 5720 Burbank Crescent Southeast, Calgary, AB T2H 1Z6
Contact Details: (403) 450-7781
Office Hours: Monday-Friday: 8 AM-6 PM, Saturday:10 AM-2 PM, Sunday: closed
| | |
| --- | --- |
| Google Reviews | 4.7/5 |
| Nice Local Reviews | 4.7/5 |
| Total Reviews | 4/5 |
| Score Consistency | 4/5 |
| | |
| --- | --- |
| Range of Options | 4/5 |
| Payment Plans | 4/5 |
| Credentials | 4/5 |
| Warranty | 5/5 |
Clearance inventory for sale
Transferable warranty
No garage doors available
Lack customer transparency
We were pretty happy to find out about Greenfox, a supporter of Alberta Red Cross and the Root for Trees programme. It's good to know that they regularly support communities by giving back with every project they complete.
Aside from installation, they sell and customise doors based on different preferences. We like this option because this can match the style of the house.
Honestly, we were surprised to know that they sell their clearance inventory. It's a pretty good deal for clients with a relatively small budget.
Their steel insulated and fiberglass doors have a 10-year warranty from the manufacture date. We think this is quite average because some installation services offer 5-10 years.
They offer a monthly payment plan for as low as $50.56 a month. But take note that this can only be availed with a $5000 minimum purchase and installation service.
Now, they offer a lifetime and fully transferable warranty, which we think is helpful and practical for succeeding homeowners.
They have multiple options for doors which is excellent as it offers more choices for other preferences. However, we think that adding garage doors can add more clientele.
We also don't like that several clients complained about late installations and deliveries. Greenfox said this was due to material shortage, and while that is understandable, we think they need to be more transparent to customers to prevent misunderstandings.
5. All Star Home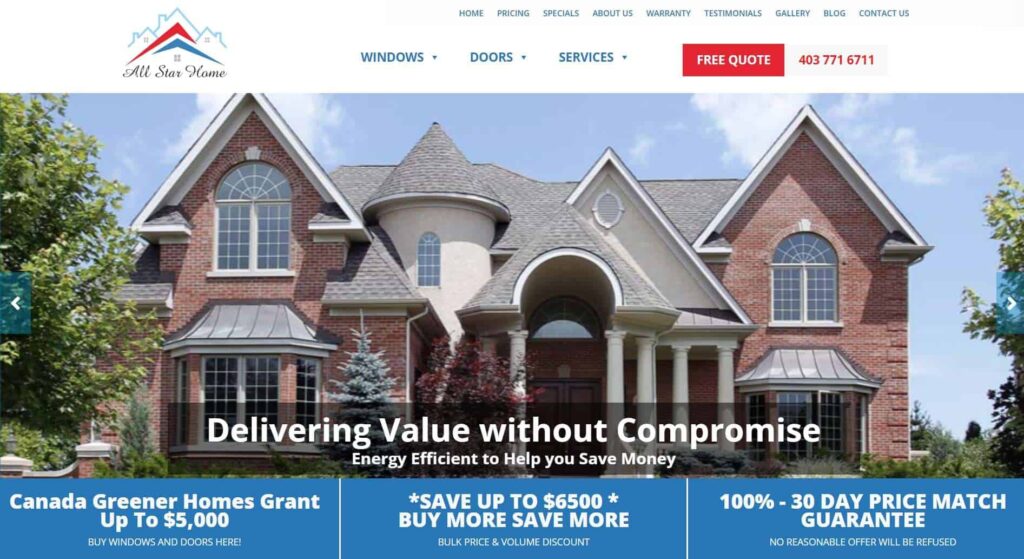 Website: https://www.allstarhome.ca
Address: unavailable
Contact Details: (403) 771-6711, Info@Allstarhome.ca
Office Hours: Monday-Saturday: 9:30 AM-7:00 PM, Sunday: by appointment
| | |
| --- | --- |
| Google Reviews | 4.6/5 |
| Total Reviews | 2/5 |
| Score Consistency | 3/5 |
| | |
| --- | --- |
| Range of Options | 5/5 |
| Payment Plans | 4/5 |
| Credentials | 3/5 |
| Warranty | 5/5 |
Tonnes of options
Non-prorated limited glass warranty
Several packages available
Senior citizen discount
No repair services for other brands
No storm door available
A locally-owned factory, All Star Home has been servicing Calgary residents for more than a decade.
We love the wide range of options they carry. There are tonnes of materials and designs for exterior doors, which gives clients more choices.
In particular, we found that they have a lot of choices for steel and fiberglass entry doors.
They don't repair doors that they don't make. So if you need minimal repairs, this isn't the right company for you.
We do appreciate that they mention the estimated cost of installation. Readily available estimates are helpful for clients to have an idea of how much they need to save up.
What's great is the warranty they offer. They have a 30-year warranty for material defects and a 20-year non-prorated limited glass warranty, which means you won't cover costs for repairs and replacements.
It's also impressive that they have several promos with a minimum order of window installations. You can get a free door, which can be cost-efficient for several clients.
A free triple-pane glass upgrade is also available with an installation package. For Canadians, triple pane glass can be essential because it can significantly regulate inside temperature, which is energy-efficient.
We love that there's a 10% off discount for senior citizens too. Elderly clients can save money with this offer.
We just wish that they would also offer storm doors in their lineup, as this is a type of door that many Calgary residents tend to look for.
FAQs about Exterior Doors