Categories >
Construction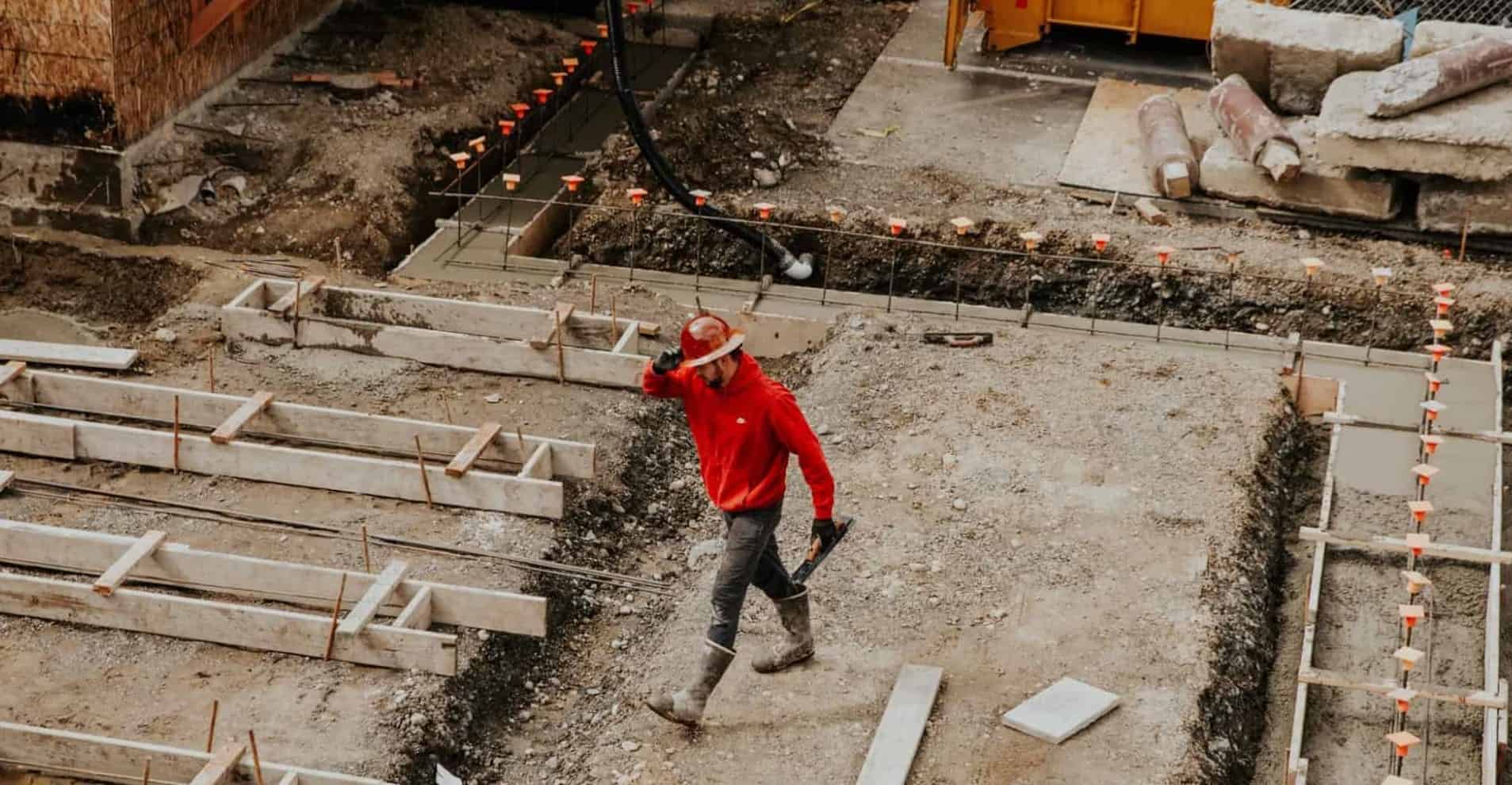 The 5 Trusted Concrete Contractors in Edmonton
How We Picked
1. Crack Buster Foundation Crack Repair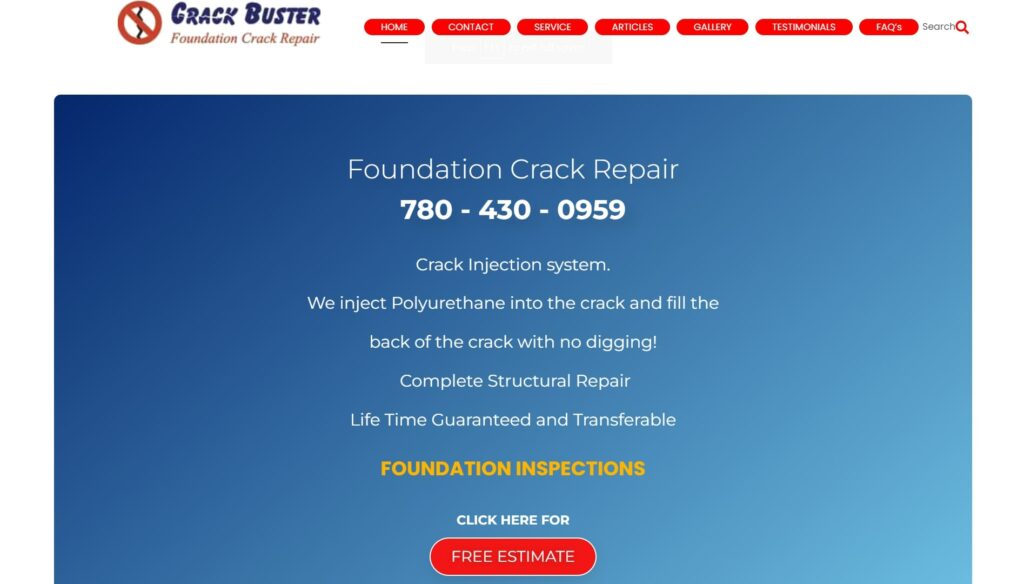 Services: Foundation crack repair
Website: https://crackbuster.ca
Address: 9862 80 Ave NW, Edmonton, AB T6E 1T1
Contact Details: (780) 430-0959; cb4300959@gmail.com
Office Hours: Monday-Friday: 8:00am-4:30pm
| | |
| --- | --- |
| Google Reviews | 4.9/5 |
| Yably Reviews | 4.9/5 |
| Total Score | 5/5 |
| Score Consistency | 4.9/5 |
| | |
| --- | --- |
| Pricing | 4/5 |
| Credentials | 5/5 |
| Expertise | 5/5 |
| Quality of Materials | 5/5 |
| Credibility | 5/5 |
15 years of experience
A+ BBB rating
Specialises in foundation crack repairs
Uses a no digging approach
Has a financing plan
Offers a transferable lifetime guarantee
Lack of pricing estimates
Cases of unresponsiveness for quotes
Closed on weekends
Crack Buster has been servicing Edmonton, Sherwood Park, and St. Albert for over 15 years. The company specialises in foundation crack repairs.
It's a BBB-accredited business with an A+ rating. Because of this, we think many clients will appreciate the focus on giving good customer service.
As for the process, the crew uses a no-digging approach to repair cracks in your home's foundation. They inject polyurethane foam that expands, filling all the cracked areas.
The good thing about this is that you won't have to worry about costly repairs in the future because the process is permanent.
Another thing they use is epoxy injection. But this is only used in dry concrete and for structural purposes.
We appreciate the video on their website that explains the process if the client is unaware of the technique. We think this is an excellent addition because it creates a level of transparency.
However, we'd like to see pricing estimates online, so clients will know how much they need to save up.
We find this necessary, especially because we heard complaints about unresponsiveness regarding price estimate appointments.
On the other hand, you can opt for a financial plan through Financeit. We appreciate the different payment options for clients on a budget.
Many clients appreciated the crew for their efficient service. They were also happy about the transferrable lifetime guarantee.
All in all, we like Crack Buster's specialisation. If you have water leaks in your concrete wall, this can be a good option to look into.
2. Northern Ridge Concrete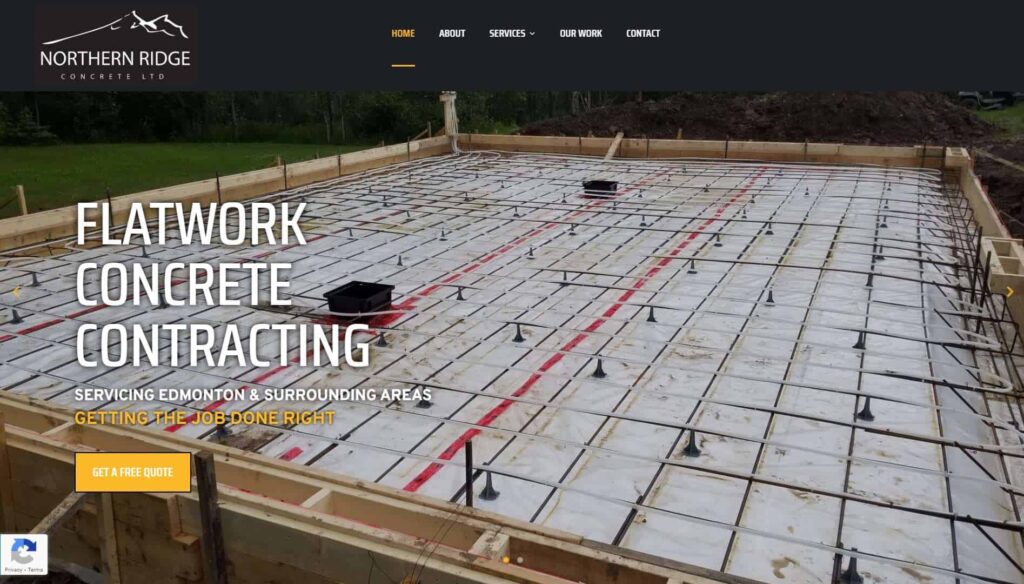 Services: Residential and commercial concrete services
Website: https://northernridgeconcrete.ca
Contact Details: (587) 983-9409; (780) 983-0160
Office Hours: Monday- Sunday: 7:00am-7:00pm
| | |
| --- | --- |
| Google Reviews | 5/5 |
| Total Score | 3/5 |
| Score Consistency | 5/5 |
| | |
| --- | --- |
| Pricing | 5/5 |
| Credentials | 5/5 |
| Expertise | 5/5 |
| Quality of Materials | 5/5 |
| Credibility | 5/5 |
Open daily
Has a wide range of services
Makes custom work
Has a wide online portfolio
Known for high-quality work
Lack of price estimates
Lack of warranty details
Northern Ridge Concrete is a family-owned and operated business in Edmonton. It specialises in concrete flatwork services for residential and commercial clients.
We appreciate the variety of concrete flatwork services they offer, including formwork, stamped concrete, patios, and garage pads.
Additionally, you can hire them for custom driveways if you want a specialised shape or style. They also make concrete seating areas for your outdoor space.
Apart from those, they make custom concrete decor for your home. They make sinks and countertops that will match your style.
If you're unsure about their work, you can check the wide online portfolio to give you a quick idea.
It's a good thing that many of the clients we talked with liked their work. They appreciated the high-quality work, especially since there were no issues months after the project.
Moreover, they were happy with the promptness and efficiency of the crew. They were also professional and easy to talk to.
Unfortunately, they don't have a readily available price list. We think adding estimated fees can help with transparency because concrete services can cost a lot of money.
We'd also like to see warranty details. Adding this can be advantageous because it gives clients peace of mind in case of after-service issues.
All in all, we're pretty happy with the variety of services that Northern Ridge Concrete offers. Just make sure to book ahead because they get a lot of clients.
3. CR Concrete Lifting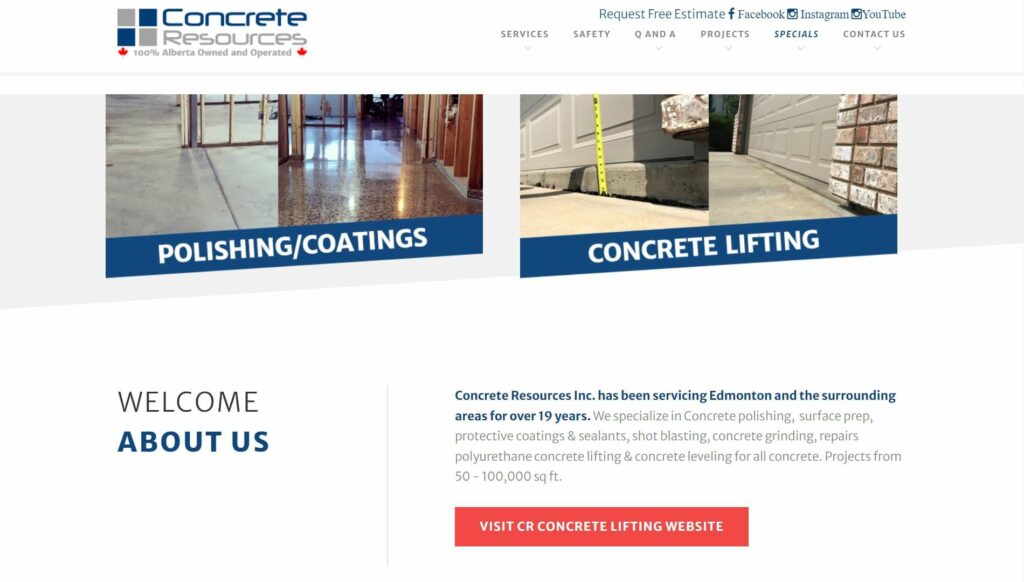 Services: Residential and commercial concrete services
Website: https://crconcretelifting.ca
Address: 7903 Argyll Road NW Edmonton, AB T6E 4N7
Contact Details: (780) 940-5976; info@crconcretelifting.ca
Office Hours: Monday-Friday: 8:00am-5:00pm
| | |
| --- | --- |
| Google Reviews | 4.9/5 |
| Home Advisor Reviews | 4.7/5 |
| Total Score | 5/5 |
| Score Consistency | 4.9/5 |
| | |
| --- | --- |
| Pricing | 5/5 |
| Credentials | 5/5 |
| Expertise | 5/5 |
| Quality of Materials | 5/5 |
| Credibility | 5/5 |
Services many areas near Edmonton
Offers various services
BBB-accredited business
Specialises in lifting concrete
Offers financing plan
Lack of pricing estimates
Closed on weekends
Since 2003, CR Concrete Lifting has serviced Edmonton's residential and commercial properties. It also provides services to Spruce Grove, Leduc, Fort Saskatchewan, and other nearby areas.
Potential clients will appreciate that it's a BBB-accredited business, ensuring that the company focuses on client satisfaction.
It offers various concrete services but specialises in lifting and fixing sunken driveways. Also, the technicians have expertise in commercial properties' uneven flooring to prevent possible hazards.
As for their lifting process, they drill small holes in the concrete and inject polyurethane foam. This will fill all the gaps, which will raise the concrete.
Moreover, they can fill any gap sizes and work with all concrete types. The good thing about this is it works on driveways, sidewalks, and garage pads, among others.
To demonstrate, they have a portfolio on their website and social media pages. We like that clients can see the differences between the before and after photos.
They also offer free estimates, but it would be beneficial to include price estimates for clients with budgetary concerns. We believe it'll be convenient for their clients.
On a good note, there are financing options available. In addition, there's 0% interest with equal payments for the whole year.
Aside from that, past clients praised the top-notch quality work. The crew arrived on time and explained everything carefully to make sure their clients understood the process.
Lastly, CR Concrete Lifting offers other void-filling services to prevent tripping hazards. What's more, it can add value to your home should you decide to sell in the future.
4. Manhattan Concrete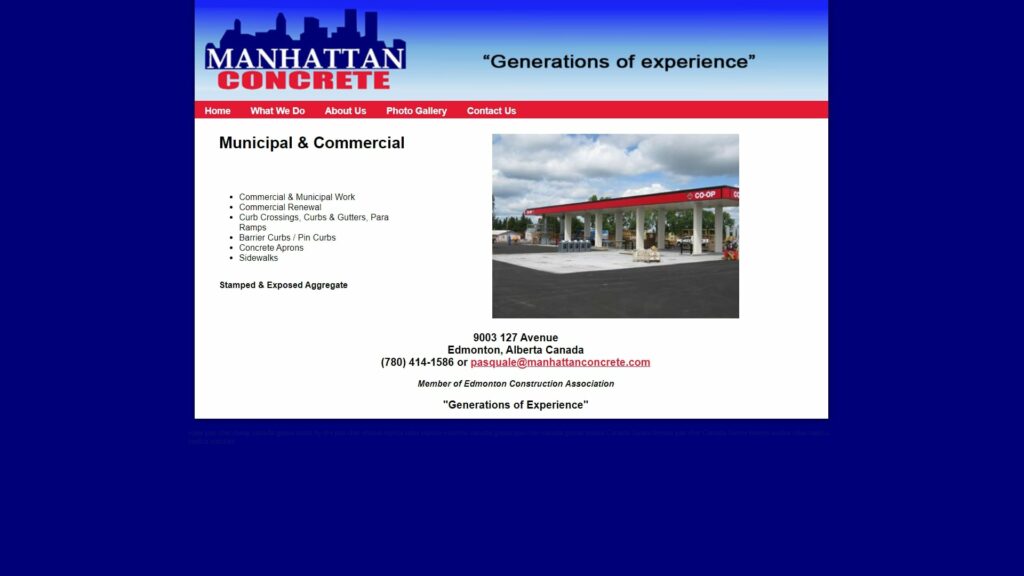 Services: Commercial and municipal concrete services
Website: http://www.manhattanconcrete.com
Address: 9003 127 Avenue NW, Edmonton, AB T5E 0A8
Contact Details: (780) 414-1586; admin@manhattanconcrete.com
Office Hours: Monday-Friday: 8:30am-5:00pm
| | |
| --- | --- |
| Google Reviews | 4.7/5 |
| Yably Reviews | 4.6/5 |
| Total Score | 4/5 |
| Score Consistency | 4.6/5 |
| | |
| --- | --- |
| Pricing | 5/5 |
| Credentials | 5/5 |
| Expertise | 5/5 |
| Quality of Materials | 5/5 |
| Credibility | 5/5 |
Over 20 years of experience
Does small and large scale projects
Reasonable prices
Has a wide portfolio
Focused on safety training
Lack of available warranty details
Lack of pricing list
Closed on weekends
For over 20 years, Manhattan Concrete has done residential, commercial, and municipal jobs in Edmonton. It has a tonne of experience in small and large projects like schools, plazas, and malls.
The company is a member of the Edmonton Construction Association, a non-profit construction association. It supports continuous education in construction and has more than 50 courses a year.
Moreover, the crew trains annually with the Alberta Construction Safety Association (ACSA). It makes sure that they know the safety precautions in case of accidents.
Although, we would like to see a price list for transparency. On the one hand, their past clients have appreciated their reasonable prices.
Some even mentioned that their quotes were the lowest compared to other companies they inquired about.
Also, the crew were responsive and arrived on time. Their clients also mentioned that they were efficient from start to finish.
Besides that, their website has many photos to see their whole process. The reason we mentioned this is that it helps future clients see their large projects.
On the downside, it would be better to include warranty details. We feel it's essential to include this because of the project sizes they take, which can potentially earn client trust.
Lastly, we want to say that Manhattan Concrete gets a busy schedule so make sure to contact them early to get an appointment, especially since they're closed on weekends.
5. Edmonton Concrete Experts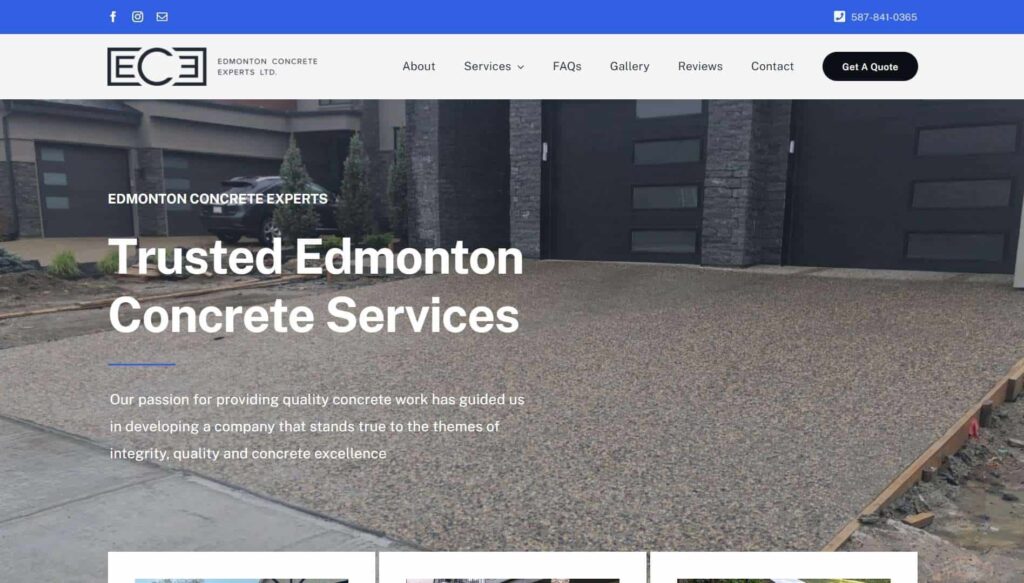 Services: Driveways, patio, sidewalks, garage pads, etc.
Website: https://edmontonconcreteexperts.ca
Contact Details: (587) 841-0365
Office Hours: Monday-Friday: 9:00am-5:00pm
| | |
| --- | --- |
| Google Reviews | 4.9/5 |
| Total Score | 3/5 |
| Score Consistency | 4.9/5 |
| | |
| --- | --- |
| Pricing | 5/5 |
| Credentials | 5/5 |
| Expertise | 5/5 |
| Quality of Materials | 5/5 |
| Credibility | 5/5 |
Reasonable fees
Offers 1-year comprehensive warranty
Has a wide portfolio
Known for quality work
Crew were always on time
Lack of price guide
Closed on weekends
Edmonton Concrete Experts Ltd focuses on concrete flatwork for residential and commercial areas. It offers different types of concrete finishes, including those perfect for Edmonton's weather.
We appreciate that the company is fully licensed and insured. It gives clients peace of mind in case of worksite accidents, especially in an industry that handles dangerous materials and equipment.
They offer free estimates through an online form. However, it would be best to add a pricing guide for convenience.
But, their clients liked their reasonable rates. Some told us that the prices were within their expected budget.
On another note, they have a one-year comprehensive warranty. But remember that it'll cover only workmanship damages and mistakes.
There's also worksite photos so you can see the quality of their work. Additionally, their clients liked the overall quality of their work.
For instance, we like their even and clean concrete work. If you need to check their projects before committing to a contract, you can check their website and social media pages for job site photos.
Furthermore, the crew were well-liked by past clients because of their friendliness and professionalism. They also arrived right on schedule, preventing any delays.
Finally, the Edmonton Concrete Experts started off as concrete labourers before they founded the business. We think this little bit of information can possibly help you trust in their abilities.
FAQ about Concrete Contractors