Categories >
Other Services
The Top 6 Real Estate Brokerage Services in Calgary
How We Picked
1. Calgary Real Estate by The Howard Team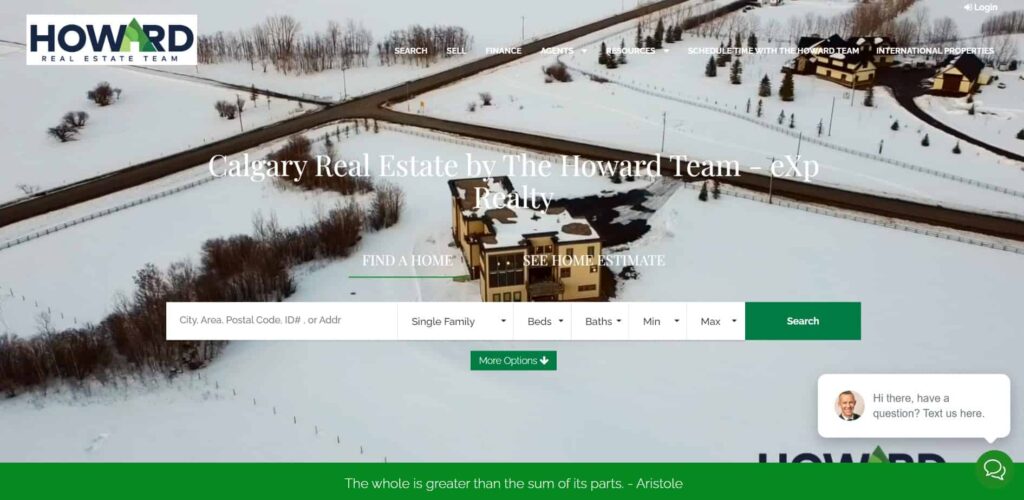 Website: https://www.thehowardteam.net/
Address: 3912 17 St SW, Calgary, AB T2T 4P2, Canada
Contact Details: +1 403-589-0004 / 587-812-8475
Office Hours: Monday to Sunday: 9AM – 5PM
| | |
| --- | --- |
| Google Reviews | 4.8/5 |
| Nice Local Reviews | N/A |
| Facebook Reviews | N/A |
| Total Score | 4/5 |
| Score Consistency | 4/5 |
| | |
| --- | --- |
| Strategy | 5/5 |
| Expertise | 5/5 |
| Reliability | 5/5 |
| Availability | 5/5 |
Experienced personnel employed to handle each client
Accommodates various surrounding areas in terms of property coverage
Easy-to-use website employed
Slight limitations on labor force
Calgary Real Estate by The Howard Team is a realtor firm established back in 2006 and has since then been providing the local neighborhood with educational and efficient real estate deals and services to clients in the area.
With accommodated areas ranging from Elbow Park to Rockyview County, past clients have commended them for the overall hassle-free and excellent experience they had with them wherein they were not only given options but to adequately compare them through various market analyses.
We like that their website as well is very user-friendly and easy to navigate and browse wherein clients can easily get the relevant information they need when it comes to the information of a property they are interested in.
Note though that they have a slightly small team to which clients may need to expect limitations when it comes to slot availability on some occasions.
Overall, with their comprehensive range of properties listed readily on their website, knowledgeable and efficient team of professionals in the field, and innovative website, we recommend that interested clients check them out.
2. Urban Realty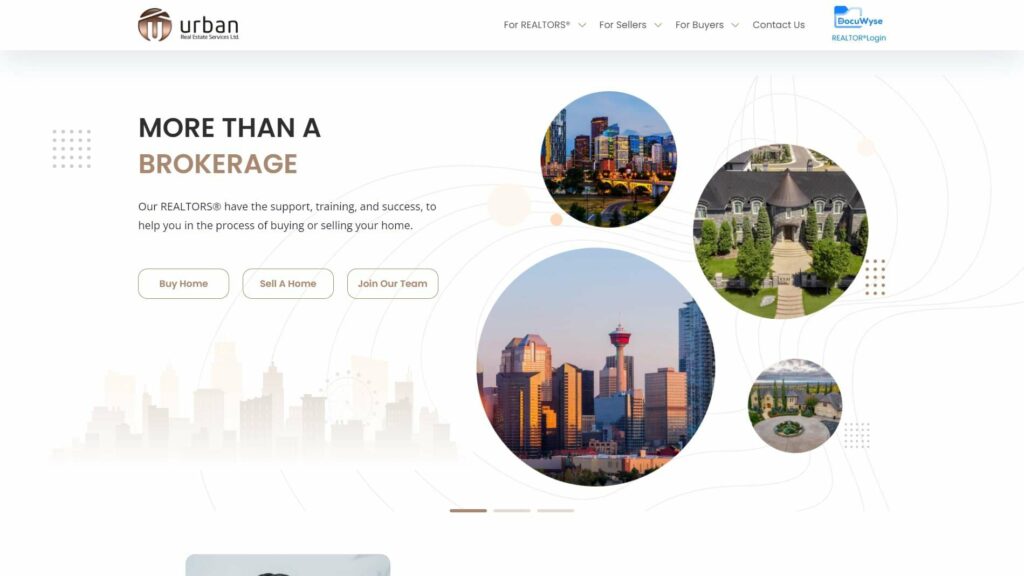 Website: https://www.urban-realty.ca
Address: 820 – 26th Street NE Calgary, AB. T2A 2M4
Contact Details: 403-590-2233, info@urban-realty.ca
Office Hours: Monday to Friday: 9:30AM to 4:30PM
| | |
| --- | --- |
| Google Reviews | 4.3/5 |
| Nice Local Reviews | 4.3/5 |
| Facebook Reviews | 4.7/5 |
| Total Score | 3/5 |
| Score Consistency | 4/5 |
| | |
| --- | --- |
| Strategy | 5/5 |
| Expertise | 5/5 |
| Reliability | 4/5 |
| Availability | 4/5 |
No desk fees
Offers a 90-day sold guarantee
Has 1-year guarantee for repairs and replacements
A few complaints of unanswered calls
Property search browsing on their website is tricky
Broker Sunny Parmar founded Urban Realty in 2007 to provide proper training and support to realtors. Back then, he started with just one realtor and has now grown to a team of over 200.
We appreciate that the company gives stability and the right working environment for its realtors. Firstly, they operate on flat transaction fees instead of desk fees, and there's an available physical office for realtors.
Secondly, instead of commission splits, they provide payouts within 24 hours after receiving the payment. There are also coaching sessions for a more successful transaction.
Now, if you're a home seller, it would be good to know they have a 90-day sold guarantee. We think this gives you the confidence that the realtors will ensure your home gets sold to the right buyer.
Furthermore, they offer a 1-year home warranty covering repair and replacement of home systems and major appliances. This includes heating, plumbing, ductwork, dishwasher, and garbage disposal.
As for buyers, they offer an optional 2-year purchase guarantee in which you won't get charged for listing if you need to sell the hour within two years of your purchase. We think this is a great offer that can save money in commissions.
We find it remarkable that past clients have mentioned their straightforward and stress-free experiences with realtors. We think the mentoring sessions and support have given them the proper training to handle different types of clients.
On the downside, we believe they can improve customer service as some clients experienced unanswered calls. Also, we think they can improve their property search since browsing is quite tricky.
3. Charles Real Estate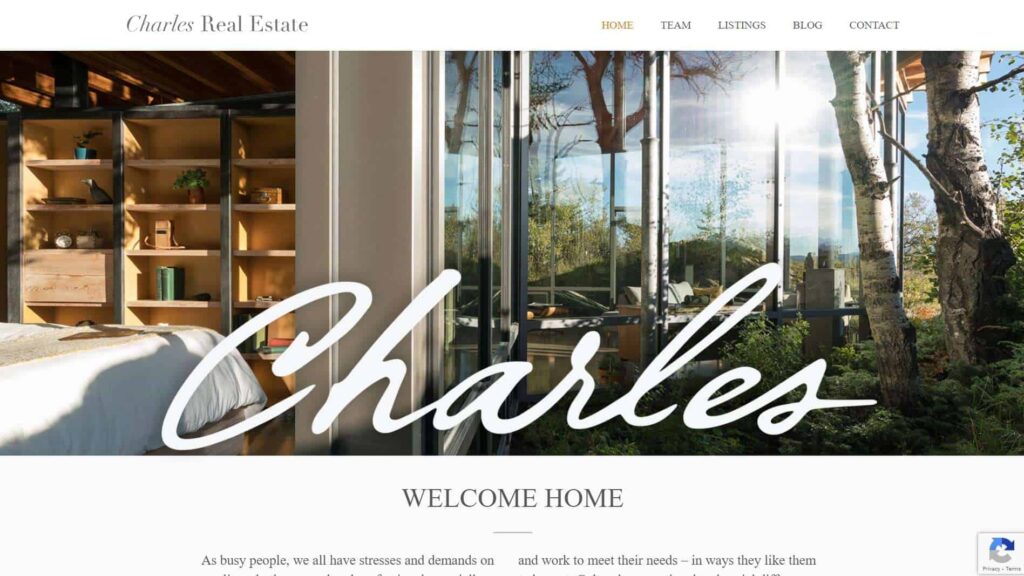 Website: https://www.charlesrealestate.ca
Address: 205 4915 Elbow Drive SW, Calgary, AB T2S 2L4
Contact Details: 403-267-0000, info@charlesrealestate.ca
Office Hours: Monday to Friday: 10:00AM to 3:00PM
| | |
| --- | --- |
| Google Reviews | 4.9/5 |
| Nice Local Reviews | 5/5 |
| Facebook Reviews | 5/5 |
| Total Score | 4/5 |
| Score Consistency | 4/5 |
| | |
| --- | --- |
| Strategy | 5/5 |
| Expertise | 5/5 |
| Reliability | 4/5 |
| Availability | 5/5 |
Has monthly updates on real estate sales growth
Praised for negotiations skills
Great communication skills
Some realtors lack a friendly approach
Closes a tad early
Founded in 2013, Charles Real Estate promises to provide its clients with personalised and attentive service when buying and selling a home. They assist in any residential home, whether it's luxury or entry-level.
We noticed how often they update their social media pages for buyers and sellers. Furthermore, we like that they post monthly updates on the Calgary real estate market to provide details on sales growth.
According to past clients, the realtors showed impressive negotiation skills. One specifically mentioned his realtor's marketing strategies, resulting in an excellent negotiation to sell the property successfully.
In addition, Charles Real Estate was praised for its knowledge of Calgary's current market. We received notable feedback that its agents provide the necessary skills to sell or buy a home.
Moreover, it was much appreciated that most of their agents proved their experience in communication during the sale process.
On the downside, we did hear complaints about a few selected realtors who seemed to be in a hurry for the clients to buy a home. We were also told about some realtors who lacked a friendly approach, which irked some past clients.
Finally, if you want to consult with Charles Real Estate, we recommend that you plan your schedule well since they close their office a tad earlier.
4. Century 21 Elevate Real Estate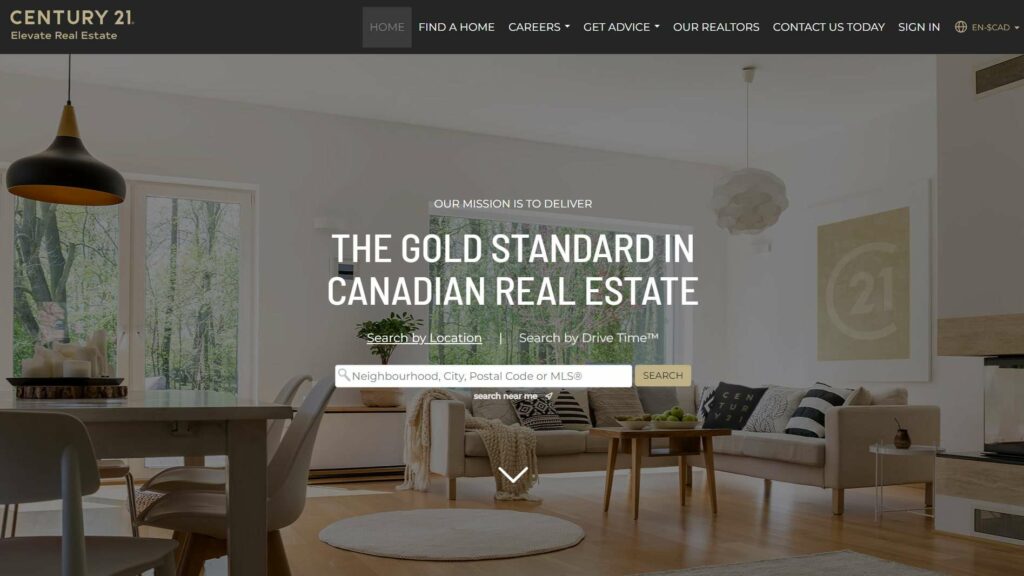 Website: https://elevaterealestate.c21.ca
Address: 30 Springborough Blvd SW, Suite 250, Calgary, AB T3H0N9
Contact Details: 403-685-0700, 403- 592-9188 (Fax)
Office Hours: Monday to Friday: 9:00AM to 5:00PM
| | |
| --- | --- |
| Google Reviews | 4.4/5 |
| Nice Local Reviews | 5/5 |
| Total Score | 3/5 |
| Score Consistency | 4/5 |
| | |
| --- | --- |
| Strategy | 5/5 |
| Expertise | 5/5 |
| Reliability | 4/5 |
| Availability | 5/5 |
Realtors are educated on current real estate knowledge
Reliable and efficient team
Effectively deals with scheduling conflict
Different services depending on location
This branch has a smaller team
In 1971, Century 21 founder U. Gary Charlwood established what is now one of the most recognised real estate brands. There are now over 14,000 independently owned and operated franchises worldwide.
Despite the company's global reach, we like that Century 21 Canada promises to focus on the local market to provide the best support to its clients. Since this agency is independently operated, it can assist clients with the current news on Calgary's real estate market.
We like that it has several offices in Calgary. This accessibility is ideal since you can find the best branch with a deep knowledge of specific locations, which is essential when hiring real estate services.
Additionally, the company provides education support for its realtors to ensure they have current industry knowledge. Aside from that, they also offer support for marketing strategies to generate the best listings promotion.
Since continued learning is essential for realtors, we believe clients can feel confident regarding the sale process because of these benefits.
On the contrary, since the offices are independently operated, you might experience different services based on the franchise location. Also, realtors won't have the same kind of training depending on the branch.
We must also note that this particular branch has a smaller team. So currently, there aren't a lot of listings available.
However, the Elevate branch has proven to be reliable and efficient. We heard they managed to provide a different but knowledgeable realtor in case of a scheduling conflict.
5. Comox Realty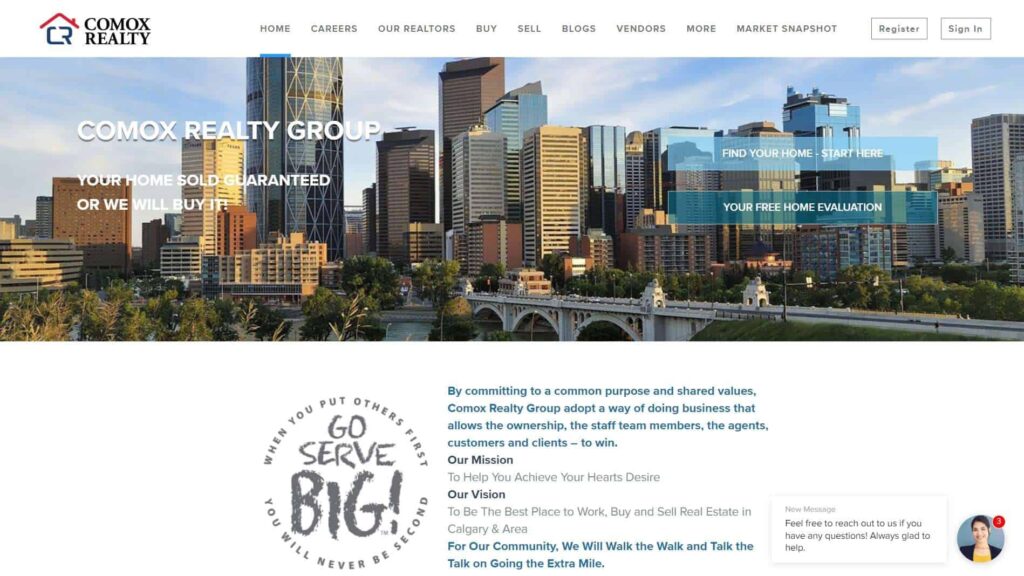 Website: https://www.comoxrealtygroup.com
Address: 1715 27 Ave NE #7, Calgary, AB T2E 7E1
Contact Details: 403-456-3688, comox@greatcalgarylistings.com
Office Hours: Monday to Friday: 8:00AM to 5:00PM
| | |
| --- | --- |
| Google Reviews | 4.8/5 |
| Facebook Reviews | 5/5 |
| Total Score | 5/5 |
| Score Consistency | 5/5 |
| | |
| --- | --- |
| Strategy | 5/5 |
| Expertise | 5/5 |
| Reliability | 5/5 |
| Availability | 4/5 |
Offers performance guarantee
Has in-person and virtual home tours
Affiliated with a lawyer, inspector, and movers
Not all realtors have listings available online
Smaller team
Comox Realty Group was established as a home for business-minded agents. They ensure their agents can grow their business through exclusive training and programs.
We like that they have a performance guarantee. If an agent fails to sell your property on the agreed timeframe and price, the agency will have to deal with it for free.
On top of that, you have the freedom to fire the agent if you aren't happy with their services.
As for their listings, we like the option of in-person and virtual tours. We think it's exceptionally convenient for clients with busy schedules.
In addition to that, you can check the listings for their realtors. Although we think it still has some areas for improvement since not all realtors have their property listings available.
A drawback is we noticed they have a smaller team. As a result, we think hiring a particular or preferred agent during busier times may be difficult.
It's worth mentioning they don't have a traditional approach when it comes to selling. For example, the agents don't do person-to-person sales pitches and open houses to prevent dealing with unqualified buyers.
Furthermore, they have affiliations with a real estate lawyer, inspector, and movers. We believe clients will appreciate this because they don't have to worry about looking for a different agency to provide these services.
Lastly, we want to mention their professional service. The clients we surveyed complimented the team's responsiveness and insights into the Calgary real estate market.
6. PREP Realty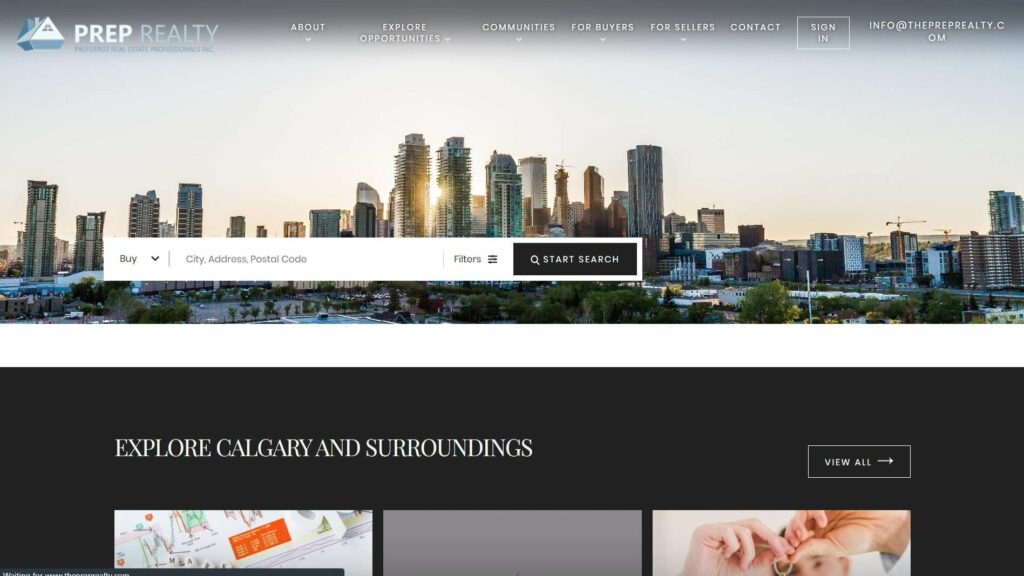 Website: https://www.thepreprealty.com
Address: 1201 3730-108 Avenue NE, Calgary, AB T3N 1V9
Contact Details: 403-270-4682 (Office), 403-618-2112 (Broker), info@thepreprealty.com
Office Hours: Monday to Friday: 10:00AM to 5:00PM, Saturday to Sunday: 11:00AM to 4:00PM
| | |
| --- | --- |
| Google Reviews | 5/5 |
| Nice Local Reviews | 5/5 |
| Facebook Reviews | 5/5 |
| Total Score | 4/5 |
| Score Consistency | 5/5 |
| | |
| --- | --- |
| Strategy | 5/5 |
| Expertise | 5/5 |
| Reliability | 5/5 |
| Availability | 4/5 |
Open daily
Has some multi-lingual agents
Professional and reliable agents
Online account needed before browsing property listings
Lack of details on real estate guarantees
Founder and broker-owner Arun Kaushal established PREP Realty to deliver outstanding customer experience in residential and commercial investments.
We appreciate they have many realtors to choose from. In addition, the agents have information readily available, giving the client easy access to check their expertise.
Moreover, several agents can speak different languages, like Hindi and Punjabi. Since Calgary is home to many different nationalities, we love the inclusivity PREP Realty offers.
However, we did find a bit of a hindrance when looking at listings. You must create an account first before viewing any residential and commercial property.
We think this can discourage some potential clients from checking the properties online since it's an added step into what can be a more straightforward process.
Having said that, past clients told us about the professional and reliable agents that constantly provided updates regarding the sale process. In addition, we heard the team showed a positive attitude despite the unpredictable market.
What's more, they are open every day. This is practical for those with a busy schedule since you can consult with them during your days off.
Although, a slight improvement would be providing details on real estate guarantees. This is one of the essential things clients want to know when hiring the best real estate brokerage to ease their minds.
FAQs About Real Estate Brokerages