Categories >
Other Services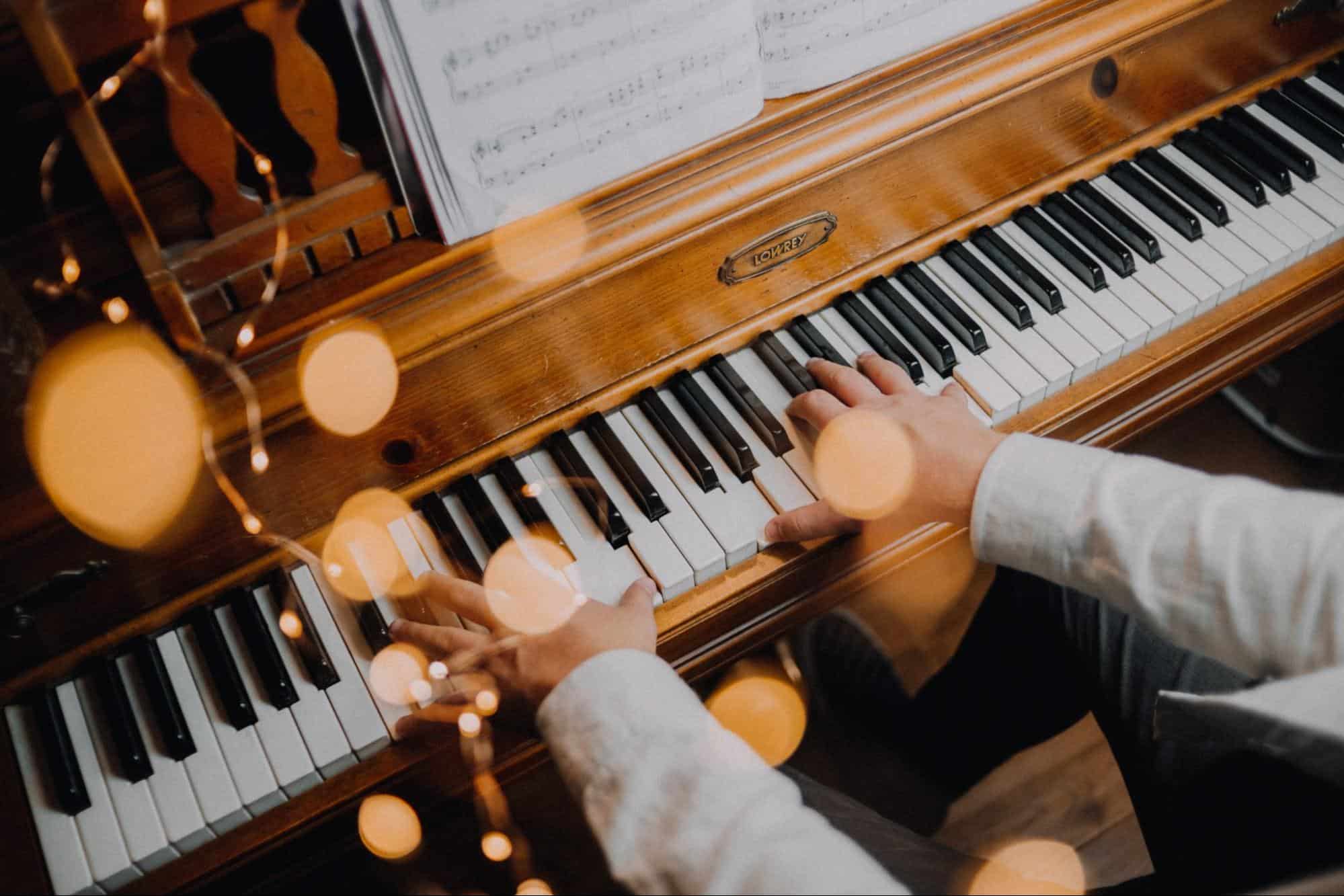 The Top 7 Piano Tuning Services in Calgary
How We Picked
1. Ruttle Piano Works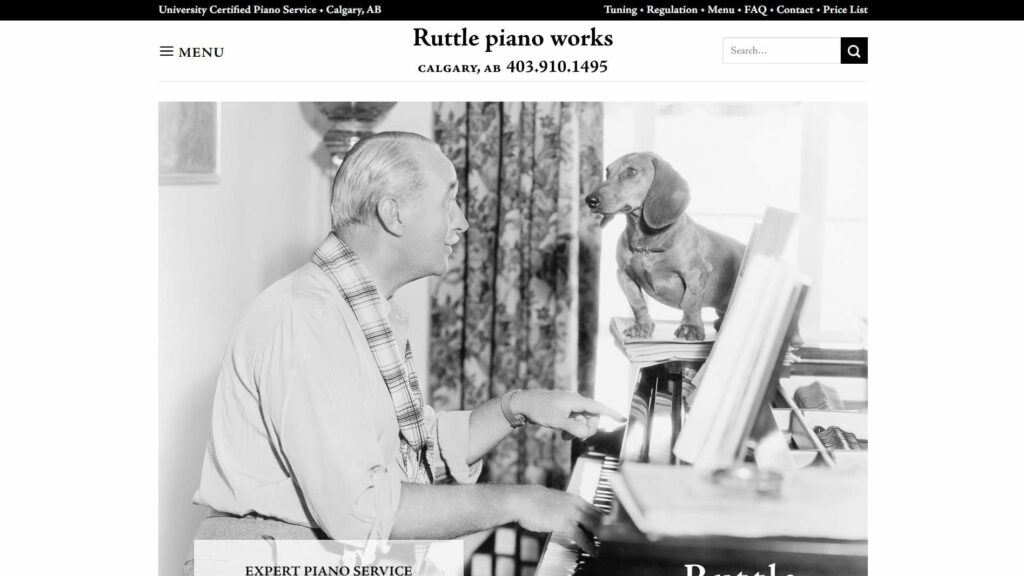 Website: https://ruttlepianoworks.ca
Address: 4625 Varsity Dr NW, Calgary, AB T3A 1V7
Contact Details: (403) 910-1495
Operating Hours: Monday – Sunday: 8 am – 8 pm
| | |
| --- | --- |
| Google Reviews | 5/5 |
| Nice Local Reviews | 5/5 |
| Total Score | 4/5 |
| Score Consistency | 5/5 |
| | |
| --- | --- |
| Rates | 5/5 |
| Expertise | 5/5 |
| Services | 4/5 |
| Technique | 5/5 |
Open daily
Transparent fees
Multiple payment options
Knowledgeable team
Booking difficulty during busier times
Slightly higher prices than similar services
Ruttle Piano Works is owned by Mike Ruttle, a piano technician who earned his certificate in Piano Technology at the University of Western Ontario.
We love that they can service all kinds of acoustic pianos, even those from the 1900s. To us, this experience highly speaks of their knowledge and expertise in the industry.
You can call them a one-man restorer because Ruttle personally does the restoring process. He has an efficient, methodical approach, which past customers have praised.
However, you may find it difficult to book a schedule during busier times. Considering Ruttle does most of the services, he can only accept limited bookings in a day.
As far as the costs, he charges $170 for piano tuning. While we find this price reasonable, we noticed that it's slightly higher than similar services.
Sometimes, the piano needs a pitch raise if it hasn't been tuned in a long time. Ruttle charges an added $85 for the needed adjustments if you avail of the tuning service.
We appreciate their fee transparency. Moreover, the rates are readily available online, so you won't have to inquire continuously about each service.
They also accept different modes of payment, such as cash, debit, major credit cards, and even Apple pay.
Furthermore, we heard how professional their team is. Notably, many have praised the receptionist as knowledgeable and patient regarding questions.
We also understand that pianos are vulnerable, especially older ones prone to cracking. So, we're happy to hear that their movers are extremely careful handling pianos.
Furthermore, we like that they offer more services like humidity control and keytop replacement.
Overall, Ruttle Piano Works has a clean track record. Their careful work and respectful demeanor toward the piano and its owners are admirable.
2. Michael Lipnicki Fine Pianos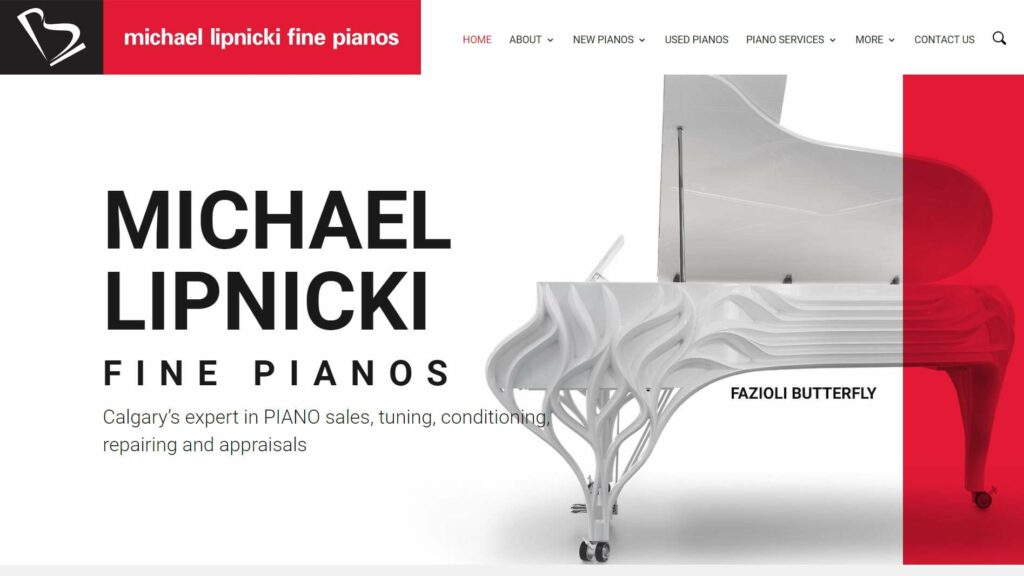 Website: https://michaellipnicki.com
Address: 6033 Centre St SW Calgary, AB T2H 0B2
Contact Details: (403) 246-7517 (Phone), 403-246-7976 (Fax), info@michaellipnicki.com (Email)
Office Hours: Monday – Saturday: 10 am – 6 pm, Sunday: By appointment only
| | |
| --- | --- |
| Google Reviews | 4.7/5 |
| Nice Local Reviews | 4.8/5 |
| Total Score | 4/5 |
| Score Consistency | 4/5 |
| | |
| --- | --- |
| Rates | 4/5 |
| Expertise | 5/5 |
| Services | 4/5 |
| Technique | 5/5 |
Registered piano technician
Trusted by pro musicians over the years
Sells new and used pianos
Helpful and friendly staff
Scheduling conflicts when hiring Lipnicki
No prices listed online
Michael Lipnicki Fine Pianos is a family-owned business that, aside from tuning services, also sells new and used pianos.
Owner Michael Lipnick has been immersed in the industry because of his father and uncles who were in the piano repair and restoration business.
Aside from his exposure to the matter during his younger years, we're confident in his expertise because he's a registered piano technician (RPT). That means he passed examinations on piano maintenance, repair, and tuning.
In fact, he also does appraisals which give him expert knowledge on the conditions and construction of pianos. However, they have a team that does piano tuning services, such as adjusting the entire volume, tone, and clarity.
We also like that Michael Lipnicki Fine Pianos sells different brands and models of new pianos. If you're tight on budget, they also sell used ones that usually come with a warranty and tunings.
It's worth noting that many professional musicians have trusted Lipnicki for tuning over the years. We believe this highly speaks of his skills and competence.
That said, Lipnicki seems busier due to other responsibilities, including tuning for the Calgary Philharmonic Orchestra, so it might not be easy to hire him personally.
We understand his other commitments can take up his busy schedule, but it's also a downside since the waiting time to avail of his service can take longer.
Another disadvantage is there are no available details on their rates. We think it will be beneficial to include this for potential clients.
Lastly, we heard praises for their friendly and helpful staff. Since Michael Lipnicki Fine Pianos has been in the industry for many years, many have faith in their professionalism, expertise and knowledge.
3. Calkhoven Piano Tuning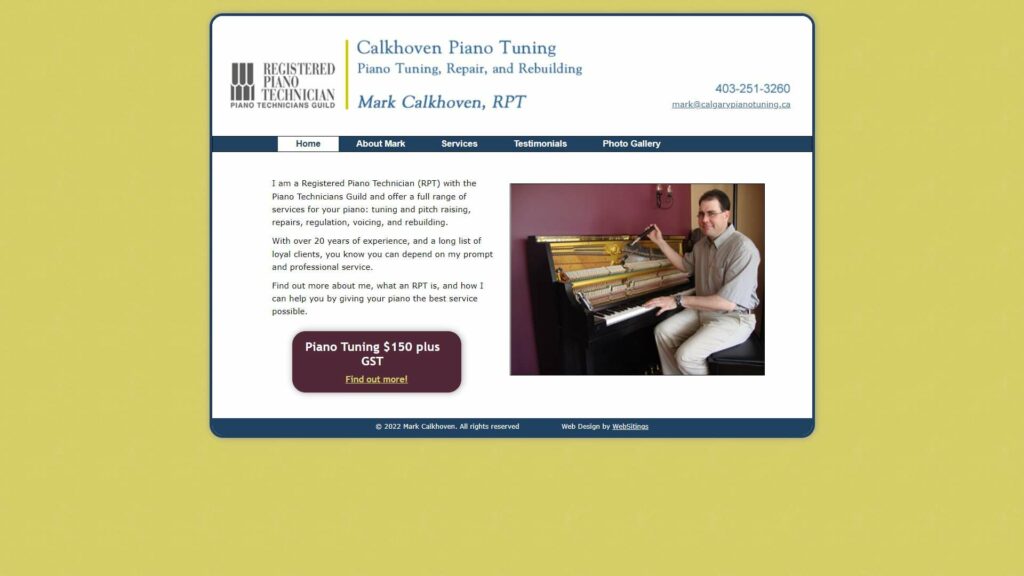 Website: http://calgarypianotuning.ca
Contact Details: (403) 251-3260
Office Hours: By appointment only
| | |
| --- | --- |
| Google Reviews | 5/5 |
| Yelp Reviews | 5/5 |
| Total Score | 3/5 |
| Score Consistency | 5/5 |
| | |
| --- | --- |
| Rates | 5/5 |
| Expertise | 5/5 |
| Services | 4/5 |
| Technique | 5/5 |
Reasonable costs
Received training under renowned technicians
Uses aural and electrical tuning techniques
No available office hours
No available inspection or appraisal
Calkhoven Piano tuning is owned by Mark Calkhoven, who received his RPT in 2006. He has also been a Piano Technicians Guild (PTG) member since 1995.
Additionally, he trained under renowned piano technicians like Ted Sambell and Chris Gregg. What's great is he didn't stop his training there and continues to explore the latest techniques by regularly attending PTG gatherings.
We're impressed he uses both aural and electrical tuning techniques to ensure the best tone stability.
Moreover, he charges a reasonable cost of $150 plus GST. But note that there's an additional charge for areas outside of Calgary.
For pianos that haven't been tuned for a long time, an additional $50 is charged for a pitch raise. You won't have to worry about the added charge because this is an affordable amount.
Honestly, we're impressed with his reasonable price list. All fees are also readily available on his website.
Furthermore, he delivers prompt service. The clients we've surveyed praised his responsiveness and punctuality.
He's also transparent with any information regarding possible minor problems that may arise due to Calgary's dry climate. Many of his clients appreciate his advice when it's time for another piano tuning.
The downside is he doesn't do inspections or appraisals for those looking to purchase or sell. But he does offer reconditioning, rebuilding, and refinishing.
Other than that, he doesn't have fixed operating hours. You will need to inquire about setting up a schedule since he doesn't have a physical shop.
4. Hafermehl Piano Services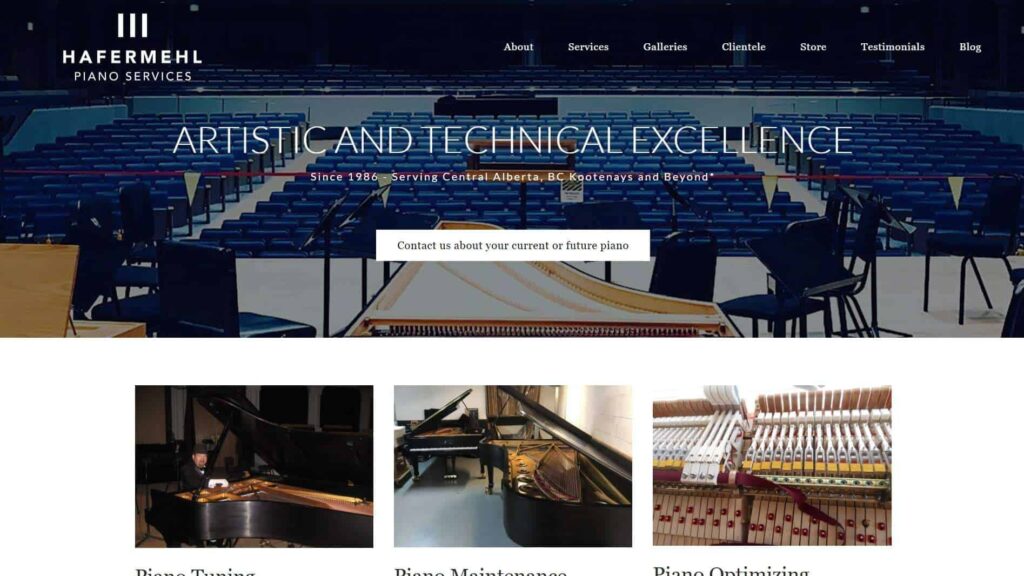 Website: https://hafermehl.com
Address: Calgary, AB
Contact Details: (587) 438-6023
Office Hours: Monday – Friday: 9 am – 5 pm
| | |
| --- | --- |
| Nice Local Reviews | 5/5 |
| Facebook Reviews | 5/5 |
| Total Score | 3.5/5 |
| Score Consistency | 5/5 |
| | |
| --- | --- |
| Rates | 4/5 |
| Expertise | 5/5 |
| Services | 5/5 |
| Technique | 5/5 |
Kendall Hafermehl is a registered piano technician
Offers a mobile service
Has piano shopping support
Known for attention to detail
Closed on weekends
Priced a tad higher
When searching for the top piano tuners, we gladly found Hafermehl Piano Services, operated by Kendall and Lynn Hafermehl, both musicians who are well-versed in piano performance and maintenance.
For piano tunings, the pair charge $175 for a regular tuning service, just a tad higher than other services on our list. But note that this applies only to pianos serviced in the past six months to a year.
However, pianos that haven't been tuned for over a year will normally need a pitch raise. Proper stabilisation is necessary before performing a full tuning, in which the fee will be $250.
In addition, they have a mobile service that you can hire for four or eight hours – an excellent option for those who need to get their piano sent to the Hafermehl shop.
We're impressed with their services list, and they even offer piano shopping support. Moreover, they do appraisals, maintenance, and rebuilding, among others.
It is also noteworthy that many past clients have complimented their skills and professionalism. They were very thorough with the inspection and showed great workmanship with their services.
Finally, we heard several praises for their attentiveness and attention to detail. They might be worth considering if that is what you need – just remember to plan ahead of time.
5. Musselwhite Piano Services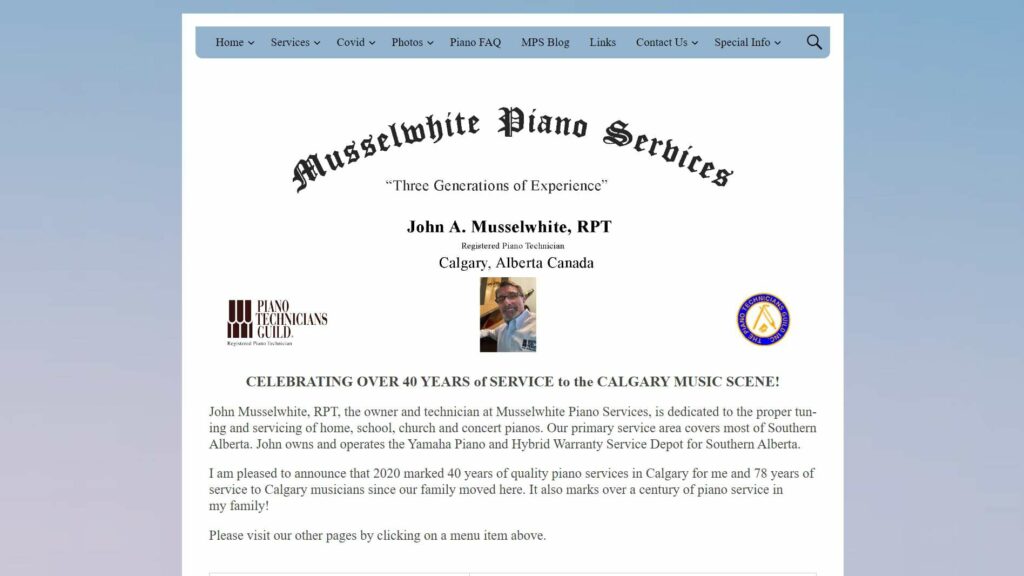 Website: https://www.musselwhite.com
Address: 263 Douglasbank Mews SE, Calgary, AB T2Z 2K2
Contact Details: (403) 246-7717
Office Hours: Monday, Tuesday, Thursday: 10 am – 6 pm, Wednesday: 10 am – 7 pm, Friday: 10 am – 5 pm
| | |
| --- | --- |
| Google Reviews | 5/5 |
| Nice Local Reviews | 4.7/5 |
| Total Score | 3/5 |
| Score Consistency | 5/5 |
| | |
| --- | --- |
| Rates | 4/5 |
| Expertise | 5/5 |
| Services | 5/5 |
| Technique | 5/5 |
PTG member since 1985
Expertise in different brands and models
Offers a discount for multiple pianos in the same location
Closed on weekends
Only accepts bookings online
John Musselwhite, the owner of Musselwhite Piano Services, is a third-generation piano technician. At a very early age, he was already exposed to piano maintenance techniques through his father.
Musselwhite earned his full craftsmanship at PTG in 1985. He is known to perform a meticulous process, ensuring all piano parts are safe and those removed are set on a padded blanket.
In fact, he worked as a tuner and technician at the Southern Alberta Jubilee Auditorium for more than 30 years, giving him expertise in many different brands and models.
As for prices, he charges $175 plus GST for tuning and an additional $10 to $30 for those outside his service area. We also appreciate that he gives a $10 discount for clients with multiple pianos that need servicing.
To add, we like that his fees for an additional $50 plus GST for a pitch raise are reasonable.
Aside from tuning, he offers other services, such as regulation, voicing, repairs, and cleaning. He even installs humidity systems, which are perfect for the dry Calgary weather.
But sometimes, older or neglected pianos will unexpectedly need other services. So we think it would be beneficial if the complete price list of his available services is easily accessible.
On the downside, John Musselwhite only accepts bookings through his website's online form. However, if you need service immediately, he advises you to leave a phone number on the form so he can call you.
We think it will be great to use his contact number for urgent bookings instead of waiting until he reads your online form.
Lastly, he's closed on weekends. We recommend planning your schedule accordingly if you want to avail of his service.
6. Plam's Piano Solutions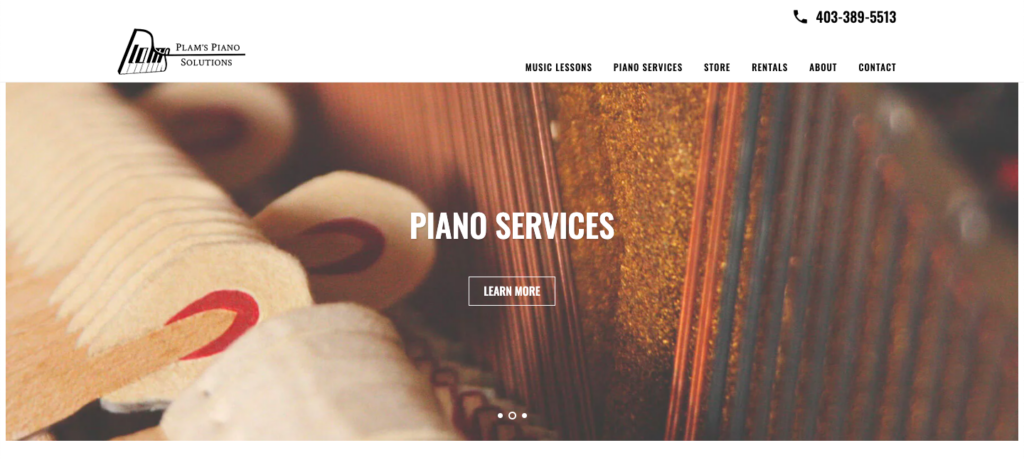 Website: https://plamspiano.com/
Address: 244 Macewan Glen Place NW
Contact Details: CELL: (403) 389 – 5513
Office Hours: Contact for more information
| | |
| --- | --- |
| Google Reviews | 4.9/5 |
| Nice Local Reviews | 4.9/5 |
| Total Score | 4.9/5 |
| Score Consistency | 4.9/5 |
| | |
| --- | --- |
| Rates | 5/5 |
| Expertise | 5/5 |
| Services | 5/5 |
| Technique | 5/5 |
Certified piano tuner
Professional and reliable service
Value for money
Operating hours unavailable
Plam's Piano Solutions is exactly the place for anyone who needs their pianos tuned.
Plam was formally educated at the Academy of Music and Dance Art in Plovdiv, Bulgaria, and completed a Master's degree in musical pedagogy (MMus).
We're amazed that he's had over 15 years of experience teaching Piano, Music Theory and Harmony.
But not only is he great at teaching piano and music, but he's a capable music technician as well.
Using his background as a musician, he had the privilege of becoming an apprentice of some of the most renowned piano technicians in Europe and Canada for 15 years as well.
He's also certified and received a 'Piano Tuning and Voicing Masterclass' Certificate at Feurich Vienna. For more, he's acknowledged as a Concert Piano Tuner and Voicing Expert and represents Feurich across the globe.
To add, he's also an Associate Member of the Piano Technicians Guild (PTG).
We like that through the PTG, he also attends seminars and conferences to stay updated with everything in the piano world.
This way, he's able to offer professional, reliable, and friendly service that's fit to the needs of each and every one of his clients.
We think he offers one of the best piano services in the area and prices them excellently. If you want your value for money, we highly recommend him!
7. Chinook Piano Service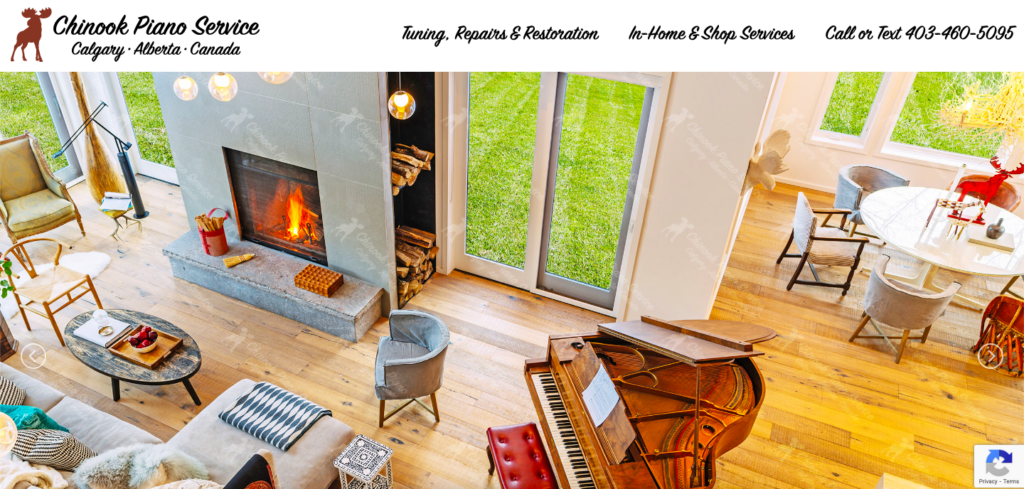 Website: https://calgarypianotuning.com/
Address: Contact for more information
Contact Details: Call or Text 403-460-5095
Office Hours: Contact for more information
| | |
| --- | --- |
| Google Reviews | 5/5 |
| Nice Local Reviews | N/A |
| Total Score | N/A |
| Score Consistency | N/A |
| | |
| --- | --- |
| Rates | 5/5 |
| Expertise | 5/5 |
| Services | 5/5 |
| Technique | 5/5 |
Certified and experienced technicians
Prices available
Excellent service delivery
Easy booking
Great customer service
Operating hours unavailable
Chinook Piano Service specializes in Piano Tuning.
They're a team of certified and experienced technicians and we think you'll be pleased with their services.
Other than piano tuning, they also offer repair and restoration services. Anything piano, they're the ones to call.
Tuning costs $170 and pitch adjustment is priced at $85.
We think that they're truly experts at what they do, and their training and experience is evident in the work they do. They've made us enjoy playing our piano after the work they've done.
It's easy to book with them through their website and they quickly confirm and get in touch with clients.
We like how they're able to bring back the pristine condition of pianos. It's worth it to call on them and we highly recommend!
FAQs About Piano Tuning