Categories >
Other Services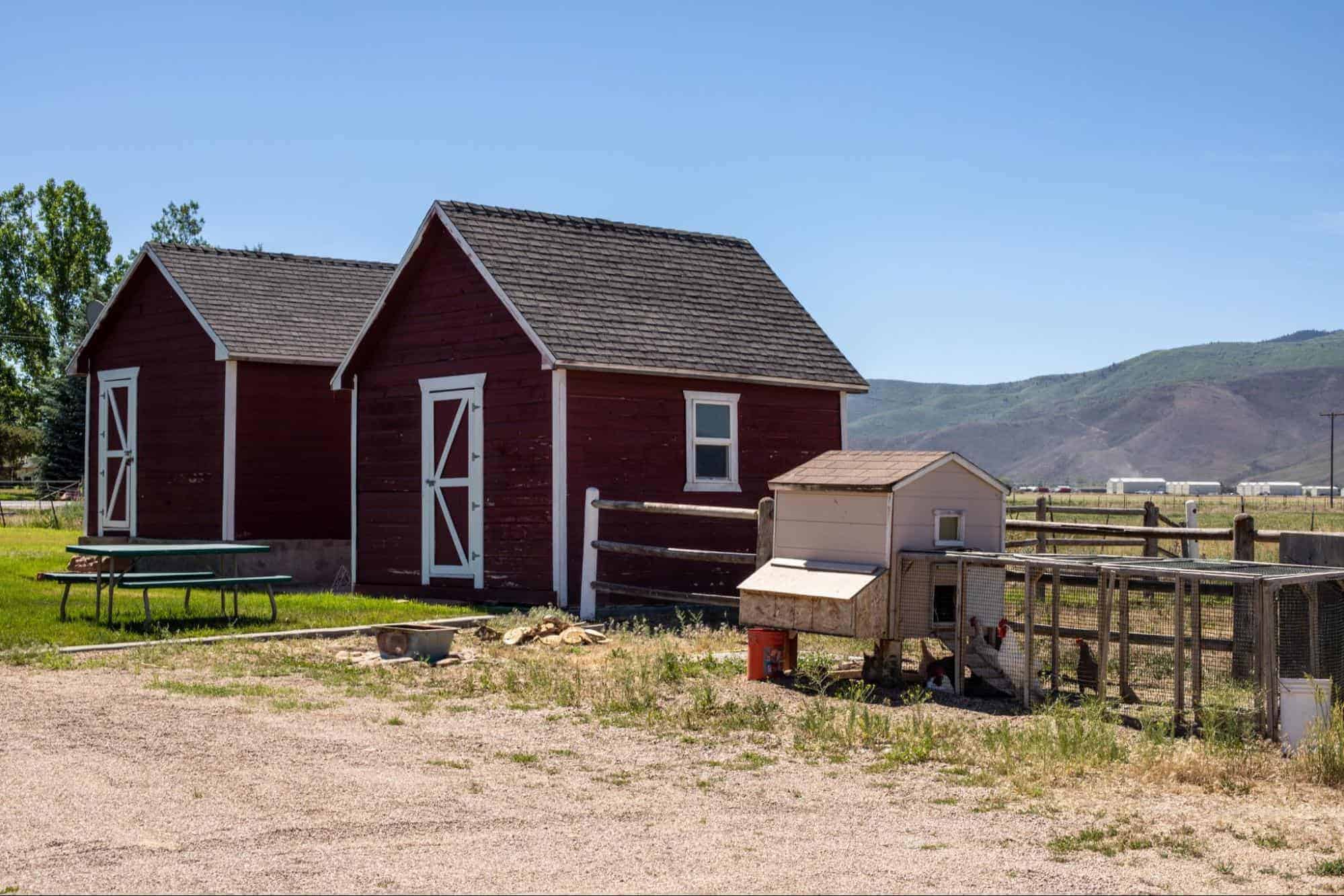 The 5 Most Recommended Shed Builders in Calgary
How We Picked
1. Urban Sheds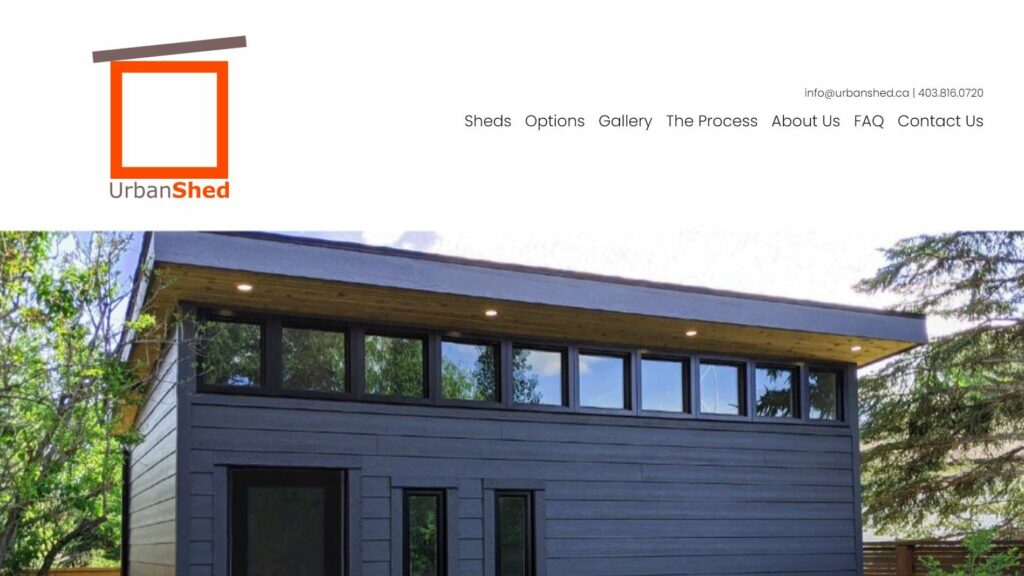 Website: https://www.urbanshed.ca
Contact Details: 403-816-0720, info@urbanshed.ca
Operating Hours: Not available
| | |
| --- | --- |
| Google Reviews | 4.9/5 |
| Total Score | 3/5 |
| Score Consistency | 5/5 |
| | |
| --- | --- |
| Variety | 4/5 |
| Quality | 4.5/5 |
| ⮕Design | 4/5 |
| ⮕Durability | 5/5 |
| Pricing | 4/5 |
| Qualifications | 5/5 |
Offers a 2-year warranty on all products
Licensed, bonded, and insured team
Can arrange necessary permits
Team is skilled in utilising backyard space
No physical address available
No operating hours available
Jason Fisher, founder and owner of Urban Sheds, strives to offer high-quality products for their clients. They make sheds for all types of weather to give you a place for leisure.
Firstly, we noticed that they offer many choices for customisations from sidings to cooling systems. You can trust the team for any specifications you want because they can design the shed especially for you.
Secondly, we appreciate their straightforward process. The team will visit on-site to check the location and discuss all possible details.
The installation will take around three to ten business days. But do note that depending on the complexity of the design, this can take even longer.
We also appreciate they have a 2-year minimum warranty for all projects. We think this will give you peace of mind when there are damages during the installation.
We want to mention that they can take care of getting the building, electrical, and plumbing permits. We believe their clients will highly appreciate this.
You should also know that you won't have to worry in case of accidents on your property. Their team is licensed, insured, and covered by the Workers' Compensation Board (WCB).
However, we did find a bit of a drawback since they don't have their operating hours readily available on the website. Adding this will benefit the clients with a packed schedule.
They also don't have a physical address you can visit since all consultations are strictly by appointment only.
Lastly, the clients we surveyed liked how the team at Urban Sheds managed to utilise the space of even a small backyard. As a result, the final products have high-quality and solid structures.
2. ModBox Studios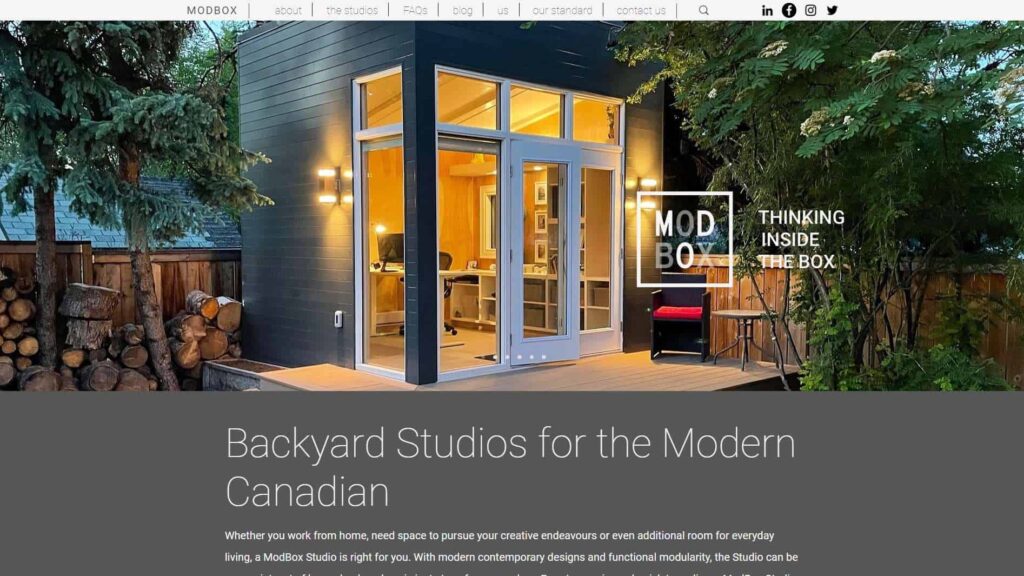 Website: https://www.modboxstudios.ca
Address: 718 12 Ave SW, Calgary, AB T2R 0H7
Contact Details: modbox@modboxstudios.ca
Operating Hours: Monday-Friday: 8:00AM-5:00PM
| | |
| --- | --- |
| Google Reviews | 5/5 |
| Nice Local Reviews | 4.9/5 |
| Total Score | 4/5 |
| Score Consistency | 5/5 |
| | |
| --- | --- |
| Variety | 5/5 |
| Quality | 5/5 |
| ⮕Design | 5/5 |
| ⮕Durability | 5/5 |
| Pricing | 4/5 |
| Qualifications | 4/5 |
Has sleek and practical designs
Provides prototypes that can be tested out
Offers prefabricated sheds to minimise installation time
Responsive and attentive team
Accepts only online forms for consultation
Lack of details on builders' insurance and license
ModBox Studios pride itself on having a team of design professionals. The CEO, Keith Moe, has over 30 years of experience in architecture and design and is a licensed interior designer.
We noticed ModBos Studios due to their sleek and practical design. What's great is they have prototypes you can browse through and purchase if they fit your needs.
We think it's worth highlighting that these prototypes, all available in Calgary, can be tested out for a day. We believe this is an excellent option so you can get the feel of their products before committing to their services.
Another thing we like is they can deliver prefabricated sheds to minimise installation time, which is a convenient option for homes with children and pets. We appreciate the thoughtfulness shown for busy families.
Their team has also shown excellent service, especially by responding on time. To add, we noted that ModBos Studios was attentive to any inquiries.
Unfortunately, they only accept filling out online quotes and consultation forms. We'd also like to see details on the builder's licensing and insurance for peace of mind.
As for their build system, they offer french and sliding doors. They also have smart technology for locks, thermostats, and dimmer switches.
Moreover, their studios are designed to fit from all sides, giving you the freedom to have more space than you initially wanted.
Finally, the base price for their already built models can be $26,900 to $34,900 for sizes starting at 96 sq. ft.
We found these prices just a bit higher than similar services. Still, past clients found no problems with pricing due to the top-notch quality.
3. Shed Solutions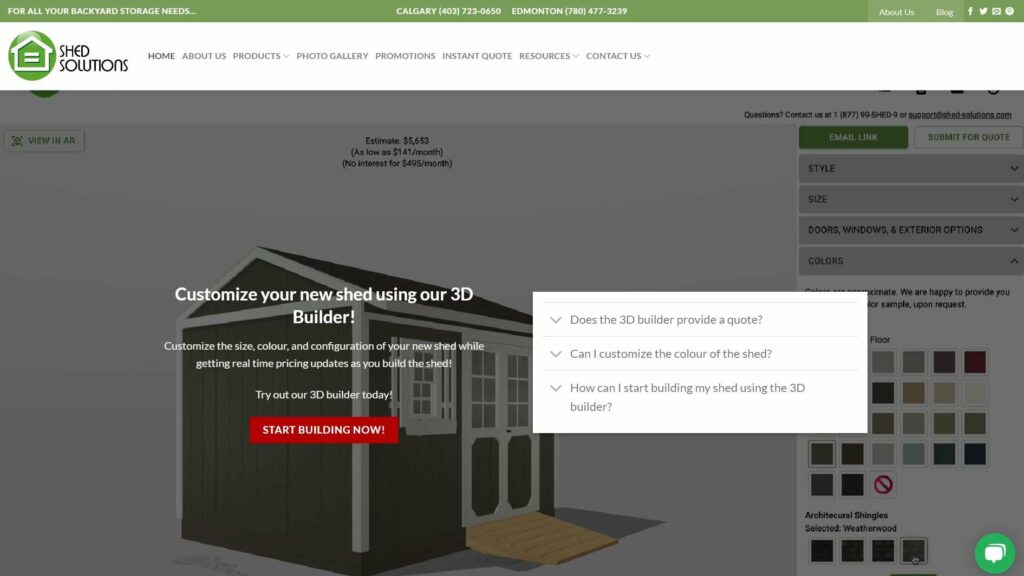 Website: https://www.shed-solutions.com
Address: 5 3516 80 Ave SE, Calgary, AB T2C 1J3
Contact Details: 403-723-0650 (Phone), 403-723-0652 (Fax), 1-877-99 SHED 9 (Toll-free), support@shed-solutions.com
Operating Hours: Monday-Friday: 8:00-5:00PM, Saturday: 9:00AM-3:00PM (Showroom hours)
| | |
| --- | --- |
| Google Reviews | 4.6/5 |
| Facebook Reviews | 4/5 |
| Total Score | 5/5 |
| Score Consistency | 4/5 |
| | |
| --- | --- |
| Variety | 5/5 |
| Quality | 5/5 |
| ⮕Design | 5/5 |
| ⮕Durability | 5/5 |
| Pricing | 5/5 |
| Qualifications | 4/5 |
Showrooms in Calgary and Edmonton
Has a 3D builder on the website
Good designs that blend with the space
Prices are readily available
Instances of slight delays for materials
Lack of information on license and insurance
Since 2002, Shed Solutions has continued providing Calgarians with sheds with a 10-year warranty for labour and materials.
They offer free in-home consultation so their team can check the space and answer any inquiries you might have. But you can also check their showroom for built sheds to find one that suits your taste, just remember that this is strictly by appointment only.
What's great about visiting the showroom is you can inspect the durability of the materials before availing of their services. Also, make sure to check their website for sales and contests to win gift cards.
To boot, they have a handy 3D Builder on the website so you can customise all parts of your shed. The price will also be constantly updated when you make any changes.
Furthermore, you can view your custom shed in your preferred space through your mobile phone. This is possible using AR (augmented reality) equipped phones and tablets.
However, there were a few instances of slight delays with some materials. So it may not be too much of a problem unless you're on a tight schedule.
As for their designs, we like the simplicity and good mix of colours. Moreover, the sheds seem to blend perfectly with the house and backyard of their previous clients.
Overall, Shed Solutions provides well-made sheds with classic designs. We just hope they can add information on the builder's license and insurance to protect both business and client.
4. Alberta Sheds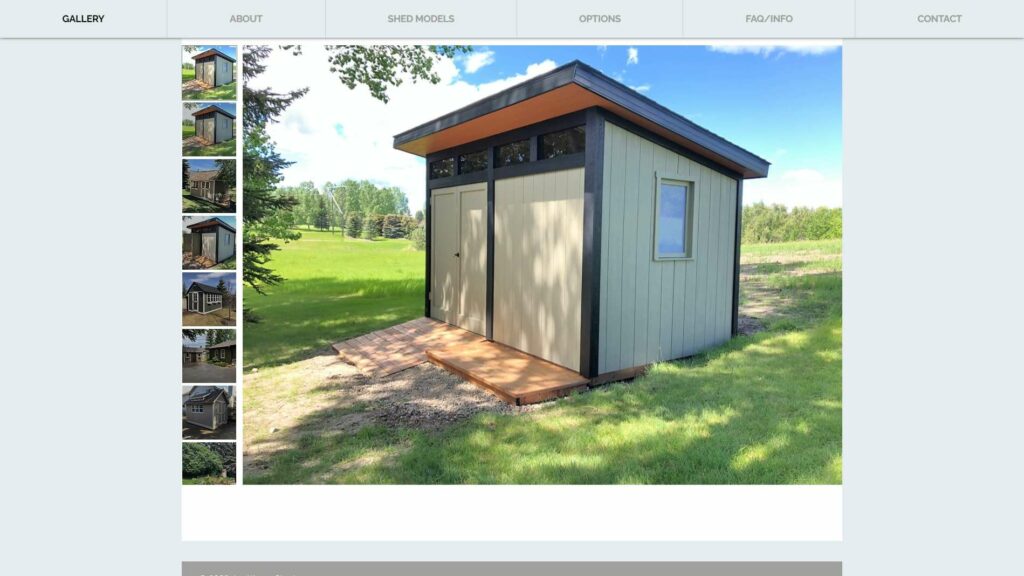 Website: https://www.albertasheds.com
Address: 65155 RPO North Hill, Calgary, AB T2N 4T6
Contact Details: 403-400-7044, albertasheds@gmail.com
Operating Hours: Not available
| | |
| --- | --- |
| Google Reviews | 5/5 |
| Total Score | 3/5 |
| Score Consistency | 5/5 |
| | |
| --- | --- |
| Variety | 4/5 |
| Quality | 5/5 |
| ⮕Design | 5/5 |
| ⮕Durability | 5/5 |
| Pricing | 5/5 |
| Qualifications | 4/5 |
Offers pre-built sheds for quick installation
Aesthetically pleasing colour palette
Reasonable rates
Punctual and helpful service
Lack of labour warranty and insurance information
Lack of operating time
Alberta Sheds was established to provide homeowners with stunning sheds that can act as an outdoor centrepiece. Their products are also designed to be towed over short distances.
Calgary's weather is known to change rapidly. That's why we were impressed that Alberta Sheds could quickly jack up or re-level the bottom of their sheds to protect them from frost.
We appreciate that they have various pre-built sheds for quick installation that can take as little as one to four days. But make sure to inform them if you have uneven ground, which they can level for an additional charge.
The clients we surveyed mentioned their helpful and on-time service. In addition, the sheds built were of good quality and value.
To add, we found that the sheds have proven durable in Calgary's strong winds. We also heard that the attention to detail was excellent, from the building to the painting process.
Furthermore, they make designs from country to modern. We want to highlight the clean mix of the colour palette, making your shed aesthetically pleasing.
However, a downside we found is a lack of available information on labour warranty and insurance in case of accidents on the property. But they have a manufacturer's warranty for the panels and a limited paint warranty.
Ultimately, if you're looking for a quick installation with good value for money, you can check out Alberta Sheds. Just make sure to book a schedule for confirmation since they don't seem to have fixed business hours.
5. We Build Group Inc.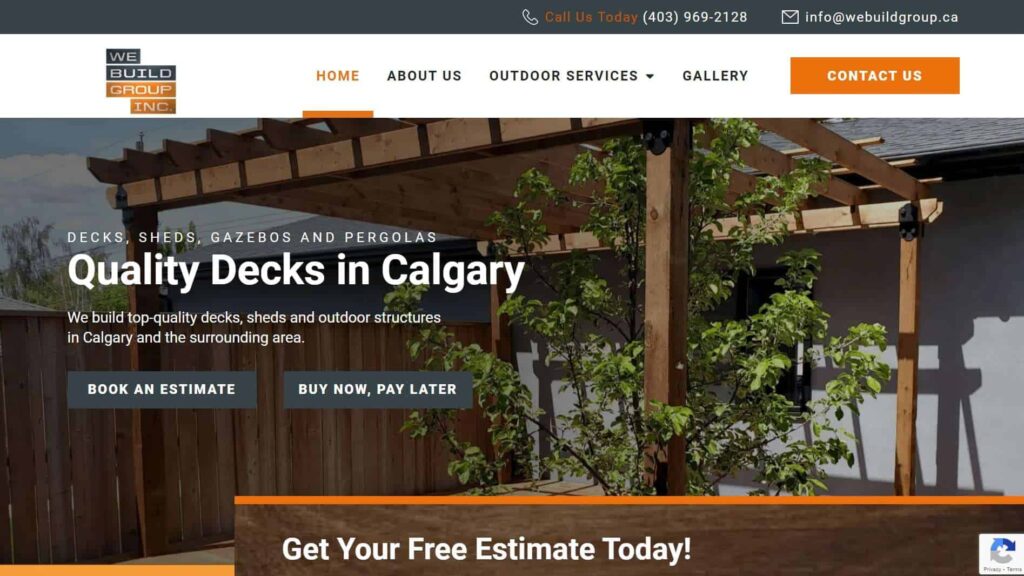 Website: https://webuilddeckscalgary.com
Address: 1429 27 St SW, Calgary, AB T3C 1L4
Contact Details: 403-969-2128, info@webuildgroup.ca
Operating Hours: Monday-Saturday: 8:00AM-5:00PM,
| | |
| --- | --- |
| Google Reviews | 5/5 |
| Nice Local Reviews | 5/5 |
| Total Score | 4/5 |
| Score Consistency | 5/5 |
| | |
| --- | --- |
| Variety | 4/5 |
| Quality | 4.5/5 |
| ⮕Design | 4/5 |
| ⮕Durability | 5/5 |
| Pricing | 4/5 |
| Qualifications | 5/5 |
Expertise in carpentry
Financing options available
Has an efficient team
Makes decks and gazebos
Lack of pricing estimates
Limited design variety
Joey Spurell, the founder of We Build Group, has been in the construction industry for over twenty years. With this experience, they are ensuring the client's confidence in the company's build quality.
Even though they are not entirely a shed-building company, their carpentry expertise can still give high-quality workmanship. What's great is they are experienced in outdoor projects.
They can make durable custom-made sheds that can withstand drastic changes in temperatures. In addition, as told by previous clients, they have provided high-quality craftsmanship.
Additionally, the team provides updates throughout the process. We heard they were efficient, even with the clean-up!
As for payment, we're glad they have financing options available through Financeit. For example, you can choose to avail of the buy now, pay later option with 0% interest for the first twelve months.
However, we would still like to see price estimates for their services. This is just to give clients an idea when deciding on a budget since sheds can be expensive the more complex it is.
We noticed that their design, even for gazebos, focuses more on the original wood colour. We would like to see more design and colour varieties in the future for clients looking to blend the shed with their property.
Finally, whether it's about sheds, decks, or gazebos, it's nice to know you can consult with them on your day off since they are open on Saturdays.
FAQ on Sheds