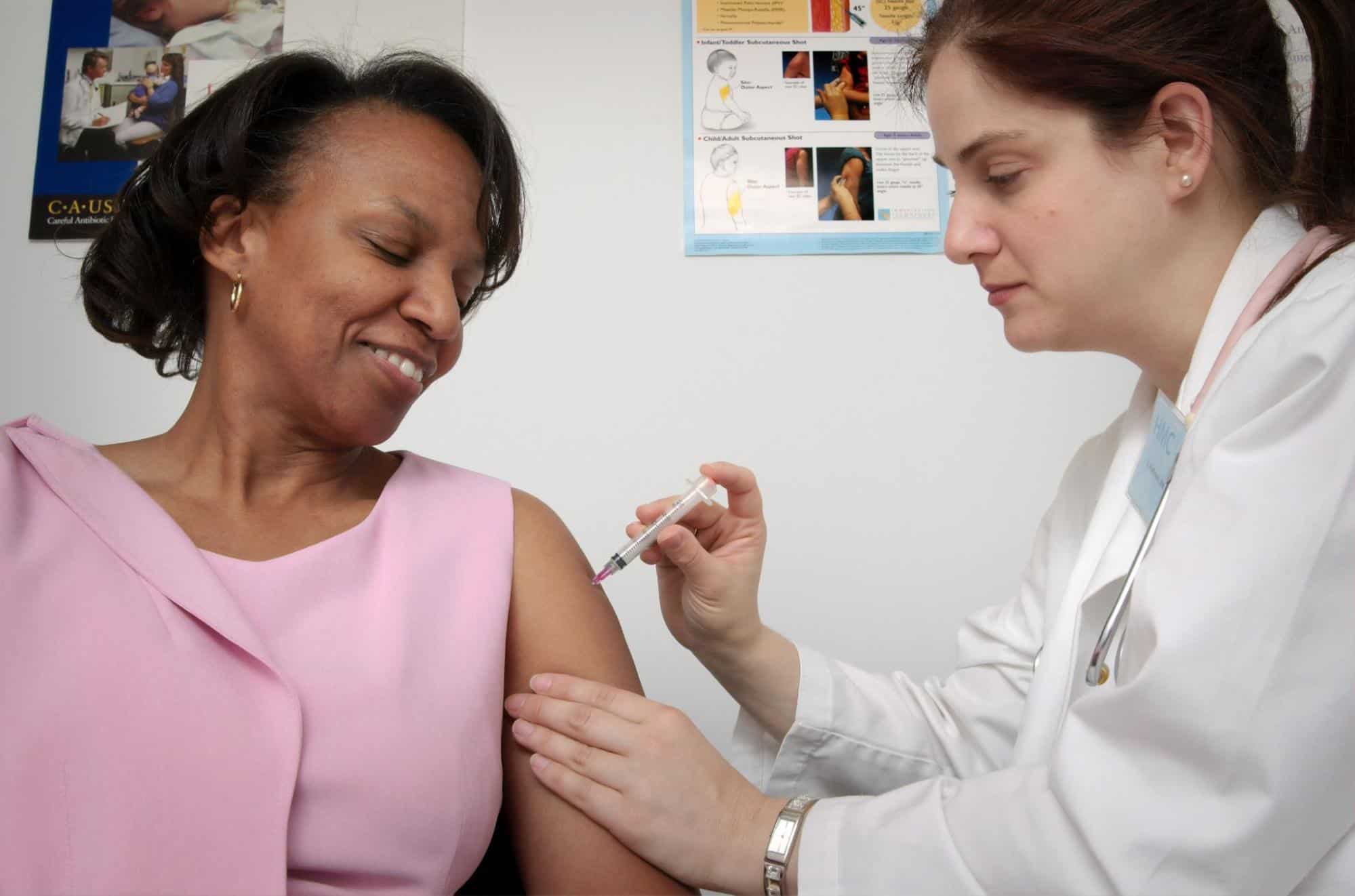 The 5 Best Health Insurance Companies in Calgary
How We Picked
1. Vital Partners Inc.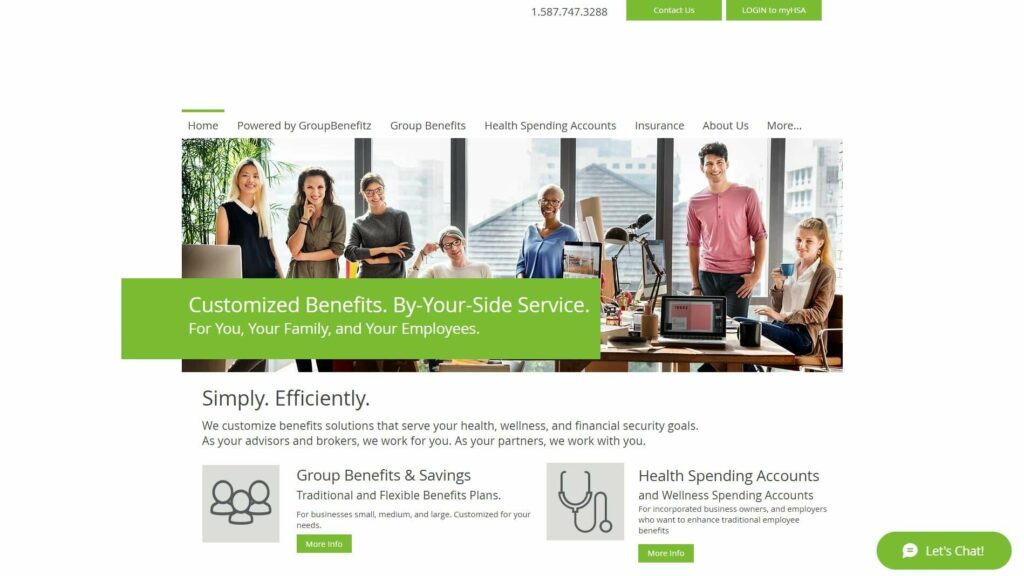 Website: https://www.vitalpartnersinc.com
Address: 138 18 Ave SE #103, Calgary, AB T2G 5P9
Contact Details: 587-747-3288 (Phone), 587-747-3289 (Fax), 1-855-841-1996,  info@vitalpartnersinc.com 
Office Hours: Monday-Friday: 8:30AM-4:30PM
| | |
| --- | --- |
| Google Reviews | 5/5 |
| Nice Local Reviews | 4.7/5 |
| Total Score | 4/5 |
| Score Consistency | 4/5 |
| | |
| --- | --- |
| Coverage | 4/5 |
| Flexibility | 5/5 |
| Payments | 5/5 |
| Transparency | 5/5 |
Affordable rates
Flexible group plans
Responsive team
Limited major dental services plan for individuals
Only virtual or phone meetings for initial consultation
The founders of Vital Partners Inc. have a combined 20-plus years of experience in the benefits and insurance industry. They established the company to provide practical options for their clients regarding health benefits.
They focus on providing services to small, medium, and large companies. But that doesn't mean they don't have plans for freelancers or sole proprietors.
They offer flexible group plans with affordable rates when it comes to taking care of yourself and your family, called GroupBenefitz. But note that this requires 20-hour work hours per week, and the maximum age is 75.
However, even with the highest plan for GroupBenefitz, major dental services and orthodontics will only be included after the second year. Also, these are only available in one particular plan.
As for booking an initial consultation, they offer a 50-minute virtual meeting with one of the founders to discuss your options. This includes the budget, benefits, and type of plan that will work best for you and your company.
Although, it's disappointing that this initial consultation is only available virtually or via phone. We understand that some people might prefer an in-person meeting regarding such a complex topic.
Another thing we like is that they offer flexible plans, even for small companies with only two employees. To add, they have training sessions for their client companies to address coverage questions like benefits and claims.
Moreover, their team has been praised consistently for responsiveness and continuous support. They also have shown excellent customer service, ensuring clients can come to them for guidance.
2. BeneFitsMyWay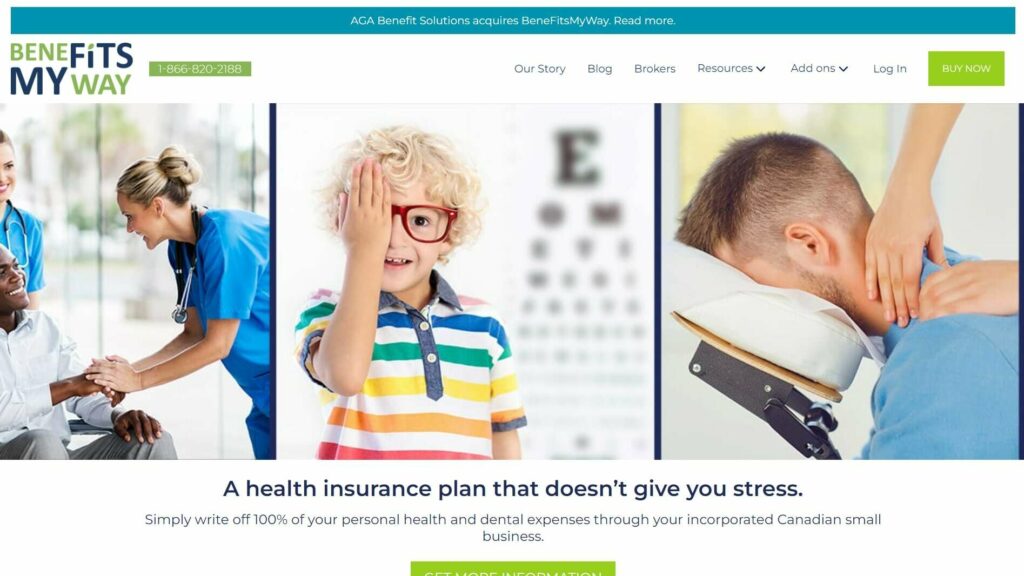 Website: https://benefitsmyway.ca
Address: Box 408, 370-5222 130th Ave SE, Calgary, AB, T2Z 0G4
Contact Details: 1-866-820-2188
Office Hours: Monday-Friday: 8AM-4PM
| | |
| --- | --- |
| Google Reviews | 4.4/5 |
| Total Score | 3/5 |
| Score Consistency | 4/5 |
| | |
| --- | --- |
| Coverage | 4/5 |
| Flexibility | 4/5 |
| Payments | 5/5 |
| Transparency | 5/5 |
Established in 1998
Offers a pay-per-use plan
Easy claims setup via app
Not for solopreneurs and freelancers
Limited availability of add-on plans
Since 1998, BeneFitsMyWay has provided health and dental insurance to Calgary's small businesses. Now, they are trusted by over 11,000 clients in Canada.
We noticed this company because of its easy and modern setup. For example, its mobile application called BeneFitsMyWay Claims App is available for iPhone and Android phones.
What's great about this is that you can quickly submit your claims via the app, which will be debited through your company's account. So claiming a reimbursement won't have to be a long process as you can effortlessly do it through your phone.
They're known for their pay-per-use plan. What this entails is each company has a one-time fee of $295 plus tax.
Furthermore, they don't require monthly premium fees, but only a 20% admin fee plus tax. So basically, your company doesn't have to pay for anything if an employee doesn't make a claim.
On top of that, they have a long list of coverage, including dental braces and prescription birth control pills. We appreciate that they also included a comprehensive list online for the client's convenience.
It's also worth mentioning that they have add-on plans, but you must have an account with them first and limited based on the number of employees. This benefit will include travel, critical illness, and diagnostic insurance.
However, we noticed they focus on businesses. Therefore, we think this company isn't entirely recommended for freelancers and solopreneurs looking for a long-term health insurance plan.
But if you're a small business owner, we believe BeneFitsMyWay is a good option for those with a tighter budget. Also, as mentioned by their clients, you can rely on their staff for proactive service.
3. Cost Efficient Benefit Plan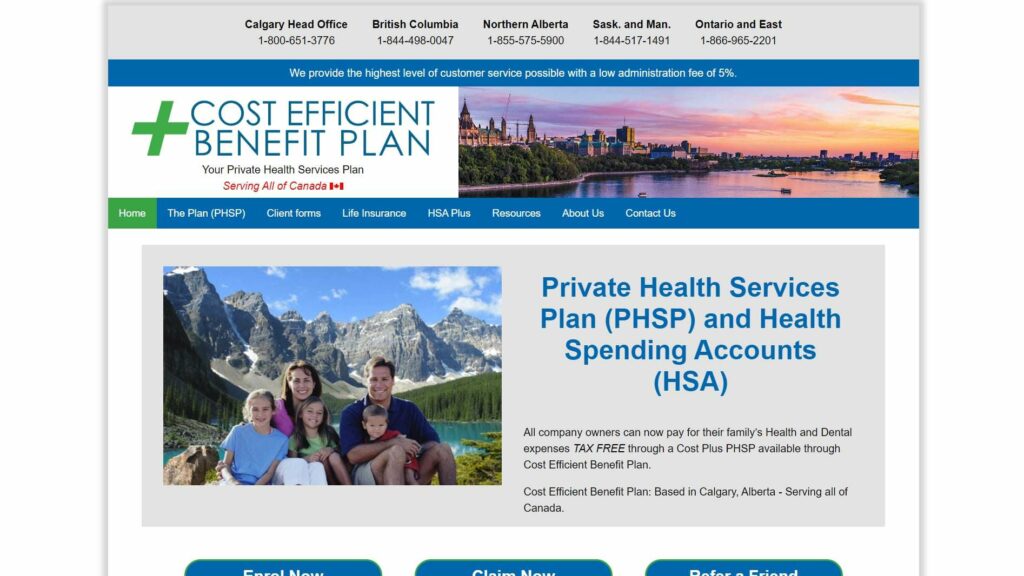 Website: https://www.costplus.ca
Address: 216 3907 3A Street NE, Calgary, AB T2E 6R4
Contact Details: 403-282-3776, 1-800-651-3776, info@costplus.ca
Office Hours: Monday-Friday: 8:00AM-5:00PM
| | |
| --- | --- |
| Google Reviews | 4.2/5 |
| Nice Local Reviews | 4/5 |
| Total Score | 3/5 |
| Score Consistency | 4/5 |
| | |
| --- | --- |
| Coverage | 4/5 |
| Flexibility | 5/5 |
| Payments | 5/5 |
| Transparency | 5/5 |
Cost-effective services
Offers tax-free benefits
No monthly premiums
Quick to issue reimbursements
Limited availability of 100% tax deductible for sole proprietors
A few complaints about customer support
First established in 2000, Cost Efficient Benefit Plan continues to provide low-cost services to clients across Canada. They serve sole proprietors and small to medium-sized businesses.
They provide third-party administration in the health insurance industry. They offer this for the Private Health Services Plan (PHSP), which means businesses can give their employees tax-free benefits for medical expenses.
What's great about this plan is the 100% tax deductible benefit for sole proprietors and businesses. However, sole proprietors must have at least one non-related employee covered under the plan to take advantage of this.
But we think it's worth noting that aside from full health expenses coverage, dental fees also qualify for the PHSP.
Another thing we appreciate is the reasonable amount of $100 for the enrolment plan's one-time fee. Additionally, you don't have to pay monthly premiums since you will only have to pay when expenses are made.
While everything seems fine, we did find a downside regarding customer support. There were a few instances of unsatisfactory service when asking questions to a representative.
Contrary to that, they are quick to issue reimbursements. We were also told they have reasonable prices, ideal for small businesses.
Lastly, they have several offices across Canada. But in Calgary, they only have three representatives, so send them an e-mail for inquiries if you can't get a hold of a representative via phone.
4. Perlinger Group Benefits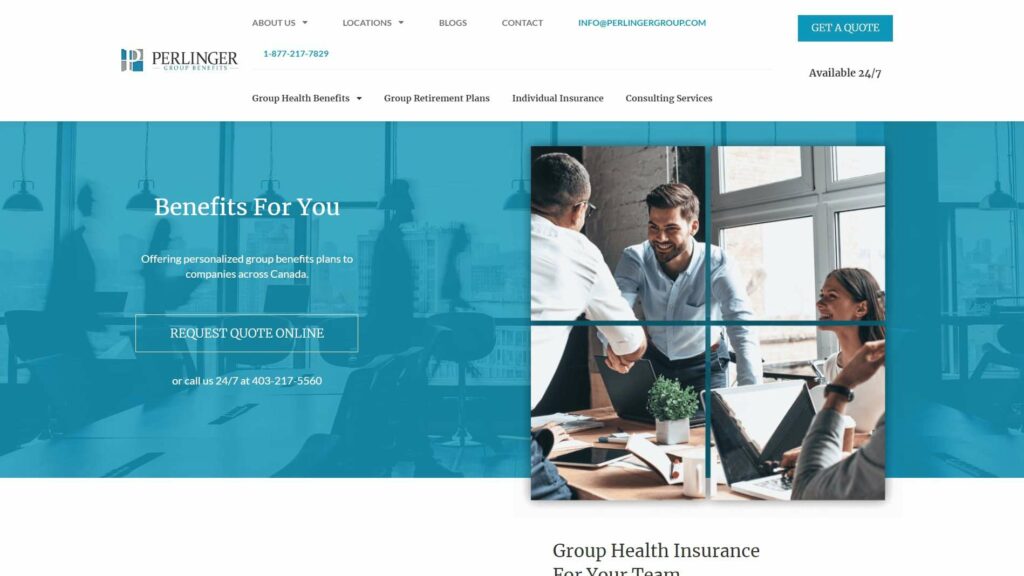 Website: https://www.perlingergroupbenefits.com
Address: 202 7710 5th St SE Calgary, AB T2H 2L9
Contact Details: 403-217-5560, 1-877-217-7829, info@perlingergroup.com
Office Hours: Monday-Friday: 8:00AM-4:30PM
| | |
| --- | --- |
| Google Reviews | 5/5 |
| Nice Local Reviews | 5/5 |
| Total Score | 4/5 |
| Score Consistency | 5/5 |
| | |
| --- | --- |
| Coverage | 4/5 |
| Flexibility | 5/5 |
| Payments | 4/5 |
| Transparency | 5/5 |
Available 24/7 via phone
Provides customised insurance plans
Offers an annual review of insurance plans
Team is responsive in customer support
No insurance coverage list
Lack of readily available payment plans
As a family-owned company, Perlinger Group Benefits has provided services to small to large businesses since 2004. They specialise in group insurance benefits, ensuring that their clients get specifically designed plans.
What's worth noting is the company annually reviews your plan to make sure it's still the best method for your business and employees. This is a great way to save on budget due to the customised plan.
As for dental services, they offer basic and preventative coverage. But orthodontics are usually covered by specific health plans, so it's best to check your coverage.
On the downside, we would like to see the coverage list for their insurance plans for more transparency. Adding this can be convenient for clients browsing for insurance companies to work with.
We want to mention they offer individual insurance for health, disability, critical illness, and travel. They also have a life insurance plan to protect your family in case of death.
Still, we would like to see price points for their plans. We believe this can be advantageous in giving potential clients more detailed information.
On a positive note, they have shown professionalism and responsive customer service. In addition, their clients told us the team at Perlinger Group Benefits is excellent at providing support regarding any issues.
Finally, they are available 24/7 through their phone line. This gives you the chance to contact them after work hours.
5. Brock Health Administration Ltd.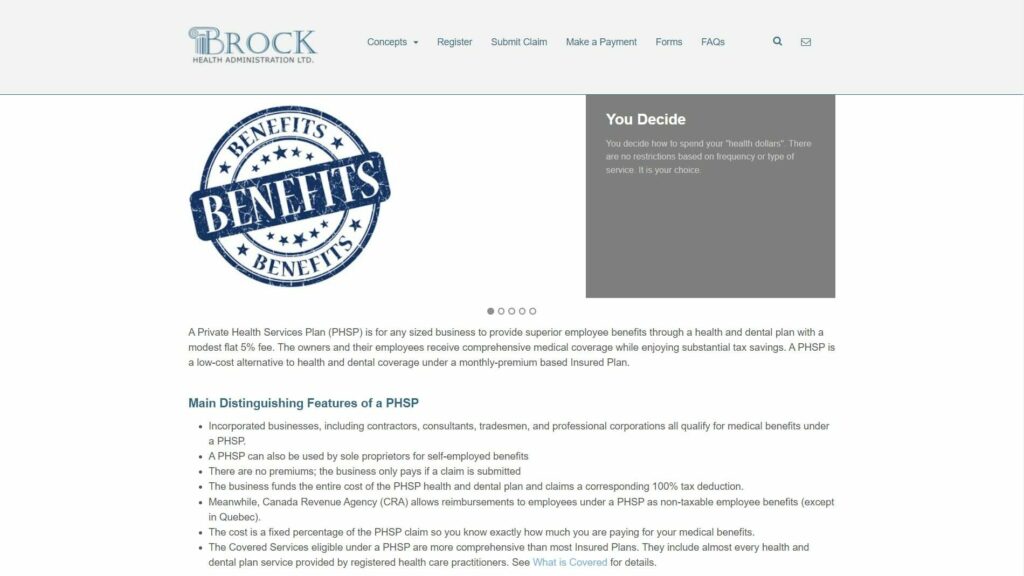 Website: https://www.brockhealth.ca
Address: Suite 103 14505 Bannister Rd Calgary, AB T2X 3J3
Contact Details: 403-770-6158 (Phone), 1-866-492-9486 (Fax), 1-866-959-7483 (Toll-free), info@BrockHealth.ca
Office Hours: Monday-Friday: 8:00AM-4:30PM
| | |
| --- | --- |
| Nice Local Reviews | 4.9/5 |
| Facebook Reviews | 5/5 |
| Yelp Reviews | 5/5 |
| Total Score | 3/5 |
| Score Consistency | 4/5 |
| | |
| --- | --- |
| Coverage | 5/5 |
| Flexibility | 4/5 |
| Payments | 5/5 |
| Transparency | 5/5 |
Prepaid and pay-as-you-go plans
No monthly premiums
Tax-free registration fee
Staff is known for responsiveness
A few limitations for self-employed individuals
Limitations on amount of claims for unincorporated business
Providing health benefit plans through PHSP, Brock Health Administration has serviced over 5000 clients in Canada.
They offer services to self-employed and small to large companies. So, no matter the size of your business, you can avail of their health insurance plans.
However, there are limitations for self-employed individuals to qualify. You must have been continuously working for the current year wherein you will avail a plan and the previous year.
Also, unincorporated businesses will have some limitations on the total number of claims they are allowed per year. But this can change based on the number of arm's length employees.
We appreciate that they have two kinds of benefit programs – prepaid and pay-as-you-go. What's great about this is these have the same fees and coverage.
You only have to pay $100 without GST to set up your plan. This is one of the most cost-effective prices we have seen, which is excellent for businesses with small employees.
It should be mentioned that there are no monthly premiums, and the business will only pay once the employee has made a claim.
Another thing we appreciate about Brock Health Administration is that their coverage list is readily available online. We believe this is highly convenient for potential clients who decide to avail of their insurance programs.
Additionally, the coverage includes health, dental, laboratory, and medications. But remember to check your plan to ensure the necessary medical service is covered.
As for client experience, we're glad to know they are responsive to any inquiries. Many long-time clients also mentioned the quick process when submitting a claim online.
FAQ About Health Insurance