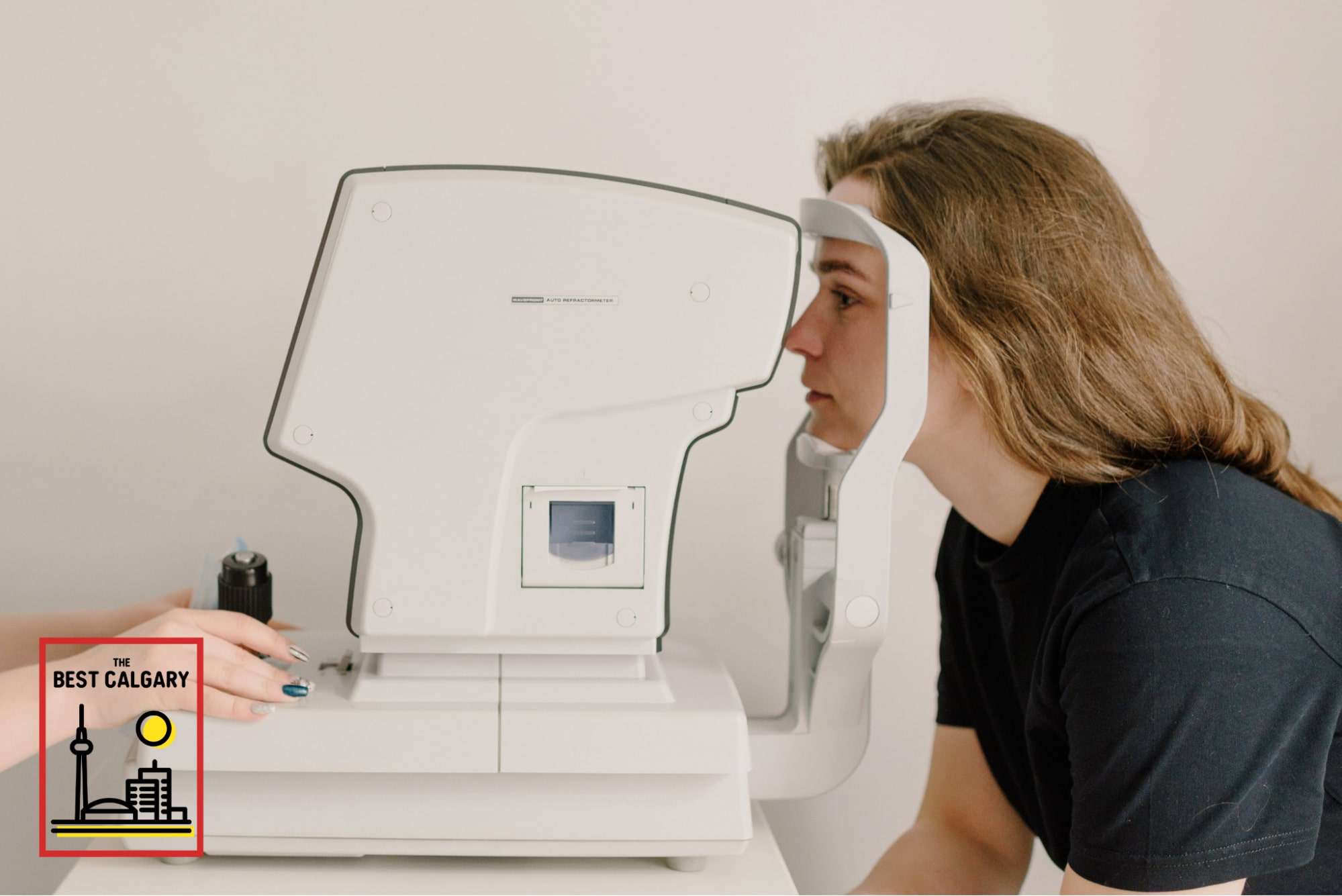 The 5 Best Eye Clinics in Calgary
1. IRIS Optometrists and Opticians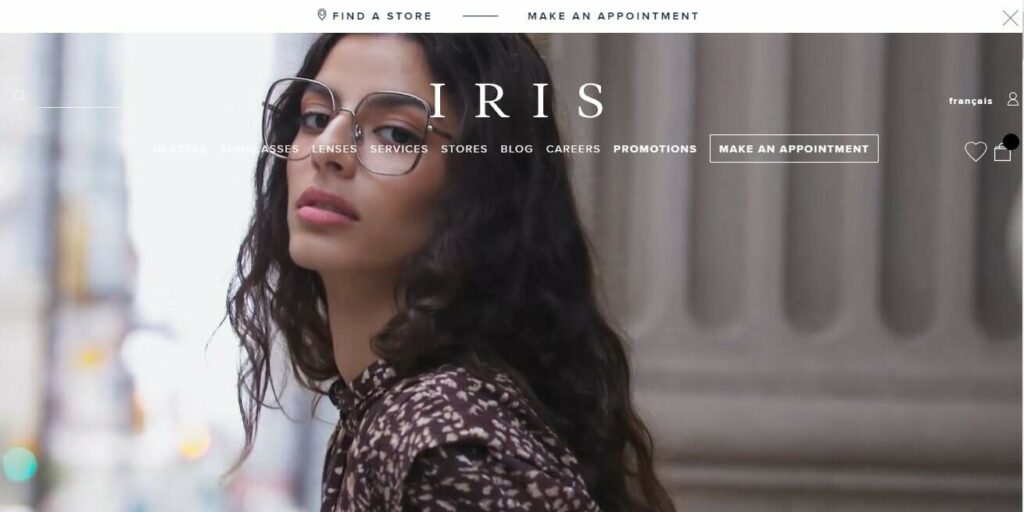 Services: Glasses, Sunglasses, Lenses, Eye Exam, and Eye Surgery
Website: https://iris.ca/en/
Contact Details: info@iris.ca / +1 403-286-4114
Company Address: 3625 Shaganappi Trail NW Unit 8, Calgary, AB T3A 0E2, Canada
Operating Hours: Mondays to Fridays, 10:00 AM – 9:00 PM, Saturdays, 10:00 AM – 8PM, Sundays, 10:00 AM – 6:00 PM
| | |
| --- | --- |
| Google Reviews | 4.1/5 |
| Total Reviews | 4.1/5 |
| Score Consistency | 4.1/5 |
| | |
| --- | --- |
| Reputation | 4/5 |
| Range of Products | 5/5 |
| Pricing | 5/5 |
| Warranty | 5/5 |
In business for 40 years
Good selection of eyewear and lenses
Does custom-tailored specs
24-month guarantee for glasses
60-day exchange period for lenses
unwelcoming behaviour from front desk
Limited lineup of eyewear brands 
Established in Australia in 1981, IRIS Optometrists and Opticians set foot in Canada and branched out in Calgary in 1996.
We like how the clinic provides detailed information on their eyewear products (such as the materials used for the frames) on its website so clients can decide what best suits their taste.
We also think it's great that the company can create custom frames for clients with more specific preferences. They use computer software to scan their face, which then suggests frame options that would complement their facial structure.
Although, we noticed that they don't have as many eyewear brands represented in the lineup. While it doesn't really affect the variety of styles they offer, clients with certain brand preferences may hesitate if their favourite brand doesn't happen to be available here.
Another pro we've identified is the flexibility of their warranty policy. For prescriptive glasses, warranty lasts up to 24 months, while the contact lenses enjoy a 60-day return period – both of which represent the longest coverage in this list.
We find their prescription glasses priced reasonably – well within the Calgary average, in fact. It ranges from $199 to $301 compared to the average market price in Calgary of $150 to 500.
Clients we've spoken with are happy with their products, as well as the thoughtfulness of the staff. They love how personnel answer all their questions and helpfully guide them throughout the process.
However, we've heard that some of their sales staff are not as engaging as they should ideally be. We hope that management can retrain them on how to sell products in a way that really connects with the customer.
.
2. Ollie Quinn Optometrists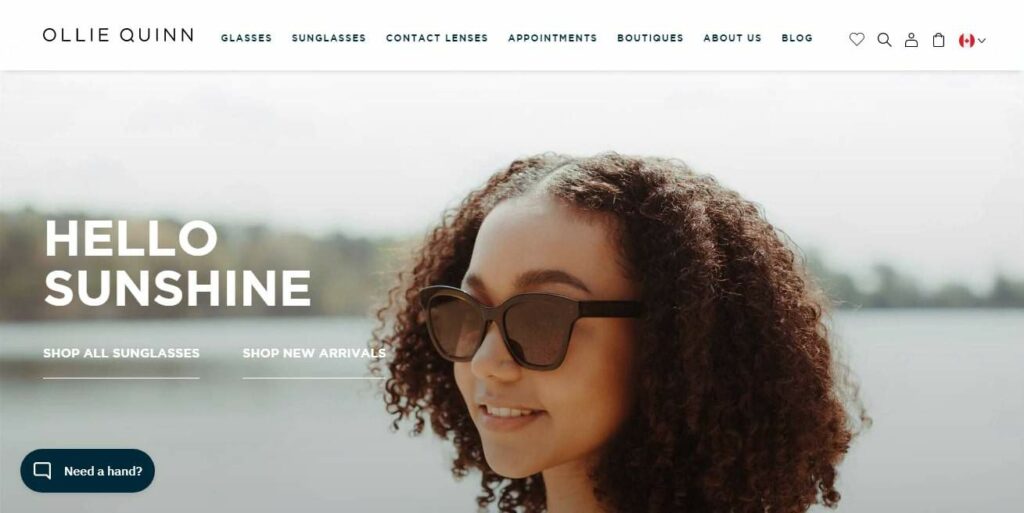 Services: Glasses, Sunglasses, Lenses, Eye Exam, and Virtual Assistance
Website: https://www.olliequinn.ca
Contact Details: +1 403-543-7226
Company Address: 829 17 Ave SW, Calgary, AB T2T 0A1, Canada
Operating Hours: Mondays to Saturdays, 10:30 AM – 7:00 PM, Sundays, 11:00 AM – 6:00 PM
| | |
| --- | --- |
| Google Reviews | 4.7/5 |
| Total Reviews | 4.7/5 |
| Score Consistency | 4.7/5 |
| | |
| --- | --- |
| Reputation | 5/5 |
| Range of Products | 4/5 |
| Affordability | 5/5 |
| Warranty | 4/5 |
Offers prescriptive contact lenses
Sells glasses that help lessen migraine
30-minute virtual frame assistance
30-day warranty and refund policy
Affordably-priced
Limited eyewear brands
Shorter warranty period
Glasses, sunglasses, and eye lenses are the products available at Ollie Quinn Optometrists. Ollie Quinn originated from London in 2013 and opened its branch in Calgary in 2018.
Aside from selling prescription contact lenses, they also have eyeglasses designed to lessen migraine, which we think is noteworthy. They also offer eye exams for clients.
But what caught our attention was their 30-minute virtual frame assistance. We think it's an excellent and convenient way for customers to get professional insight on their specs without having to leave the comfort of home.
Another feature that we appreciate – which the other eye clinics don't offer – is the well-curated articles about eyecare and eyewear fashion on their website. Clients that are unfamiliar with eyewear can pick up tips from here.
The clinic also has warranties for its products. They provide a maximum of 30 days for returns and refunds for online and in-store purchase – a bit shorter compared to the other clinics we've checked out, but not really that big of a deal.
We are delighted that their prices are affordable compared to others. The lowest price we've seen for eyeglasses is $185, even with the additional charges.
Clients shared similar positive feedback on the affordability of their products. Aside from that, they also loved the attentive and friendly nature of the staff, especially when asking queries about what products will best suit them.
But just like the previous clinic, they seem to only offer a limited range of eyewear brands. Perhaps it would be best to call them up first and ask if your preferred brand is available before visiting.
3. Pearle Vision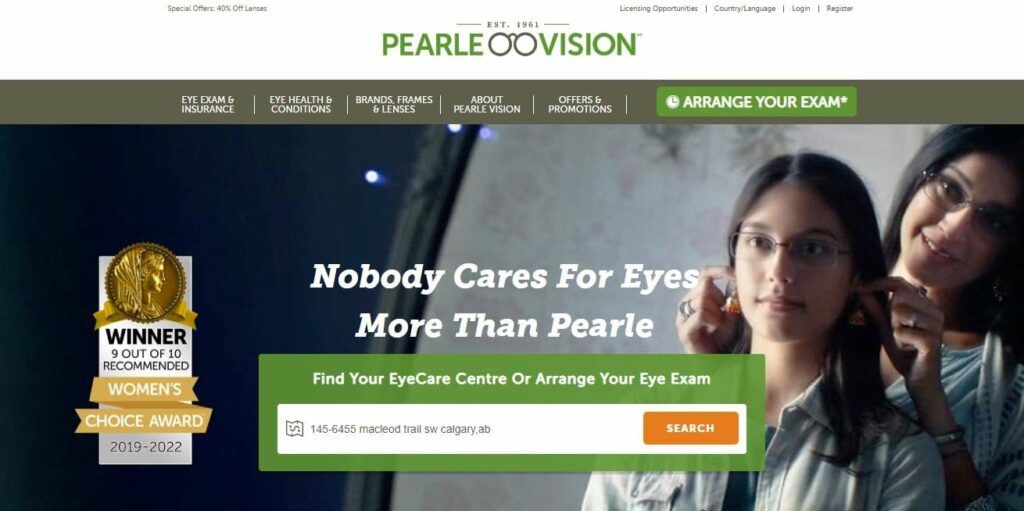 Services: Glasses, Sunglasses, Lenses, and Eye Exam
Website: https://www.pearlevision.ca/pv-ca
Contact Details: +1 403-280-5201
Company Address: 2525 36 St NE Unit 157, Calgary, AB T1Y 5T4, Canada
Operating Hours: Mondays to Saturdays, 11:00 AM – 7:00 PM, Sundays, 11:00 AM – 5:00 PM
| | |
| --- | --- |
| Google Reviews | 4.7/5 |
| Total Reviews | 4.7/5 |
| Score Consistency | 4.7/5 |
| | |
| --- | --- |
| Reputation | 5/5 |
| Range of Products | 5/5 |
| Affordability | 4/5 |
| Warranty | 5/5 |
Over 25 years in business
Wide array of brands for eyeglasses and lenses
Accepts insurance for payment
Warranty plan
Huge discounts for first-time customers
Comprehensive writeups about eye conditions and eye care
Prices of products are not displayed on website
Warranty is not free
Pearle Vision started its business in Calgary in 1996, with American roots dating back to 1961.
Upon seeing their store, we were pleasantly surprised at the great brand selection for eyeglasses, sunglasses, and lenses. Customers will easily be able to find something they like from the lineup.
They also offer eye exams so clients would not need to get prescriptions from other eye clinics. We love that they accept insurance for payments on their services.
To ensure that customers can return to their clinic in case their specs need adjusting or repair, the company offers a 1-year warranty plan for $34.95.
While it's a paid plan, we think it's worth shelling out for because it covers damages from normal wear and tear, which is not normally underwritten by most eye clinics.
We are also delighted to know about their regular discounts for new customers. For instance, they give a 40% discount for the second pair of glasses, which is a deal if customers are with someone or their family.
Customers also compliment them going the extra mile in their service. A client shared how staff willingly repaired his eyeglass frame for free so that he could function well while waiting for his new pair.
One thing we do wish they would improve on is making their product prices available on line, as this would benefit clients who like to window-shop virtually.
4. Sol Optix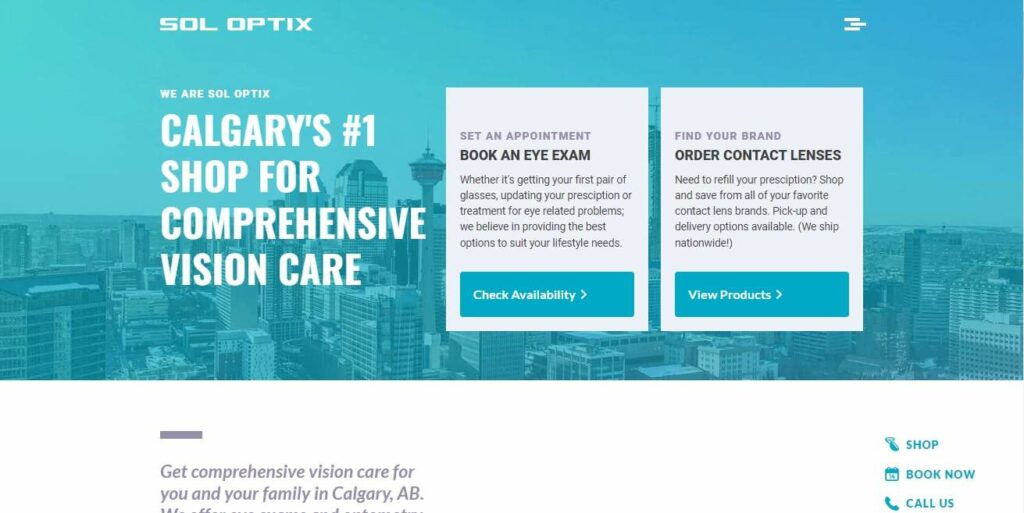 Services: Glasses, Sunglasses, Lenses, Eye Exam, Glaucoma Testing, Dry Eye Care, OCT Scan, Contact Lens Fitting, Cataract Management, LASIK Consultation, and Diabetic Retinal exam
Website: https://soloptixonline.com
Contact Details: macleod@soloptixonline.com / +1 403-764-6161
Company Address: 7112 Macleod Trail SE Unit 1, Calgary, AB T2H 0L3, Canada
Operating Hours: Mondays to Saturdays, 11:00 AM – 6:00 PM, Sundays, 12:00 PM – 5:00 PM
| | |
| --- | --- |
| Google Reviews | 5/5 |
| Total Reviews | 5/5 |
| Score Consistency | 5/5 |
| | |
| --- | --- |
| Reputation | 5/5 |
| Range of Products | 5/5 |
| Affordability | 4/5 |
| Warranty | 5/5 |
Almost 25 years in service
70 eyewear brands available
Offers eye treatments and other related services
Has multifocal lenses and specialty glasses
Accepts insurance
60-day warranty and return policy
Prices of eyeglasses are not displayed on website
By-appointment only
Sol Optix has been serving the eye care needs of Calgary for almost 25 years.
In addition to their eye exam, they offer various eye care services that no other companies offer. Diabetic retinal exam, OCT Scan, and LASIKConsultation are some of their other services.
We are amazed by the number of brands they offer for eyewear products. With their 70 brands, we can say that they surpass their competitors.
Dior, Versace, and Prada are some of the well-known brands that are available at the clinic. Trending brans like Rayban, Gucci, Persol, and Burberry are also available there.
This clinic also offers multifocal lenses. Available in three varieties (bifocal, trifocal, and office), each has a unique focus (reading and distance) and distortion area.
We like that they also offer specialty glasses for sports or hazardous jobs. Unlike mass-produced glasses, the lenses on these have been especially adjusted to match the user's context – which will greatly aid athletes and workers in high-risk environments.
We are also glad to know that they accept insurance for their services. In addition, they also provide a maximum of 60 days for return and refund for their products.
Customers love that the staff and technicians give polite yet insightful suggestions on what eye products fit them best. In addition, the clinic staff thoroughly educates the customers on how to take care of their eyesight.
Although the price for lenses is available on their website, we are disappointed that the clinic did not take an extra step to display the prices for eyeglasses and sunglasses.
We also observed that they only attend to clients who booked an appointment, unlike other clinics who accommodate walk-in customers. Customers who are inclined to buying things instantly or have an eyewear emergency may consider other clinics.
5. Bailey Nelson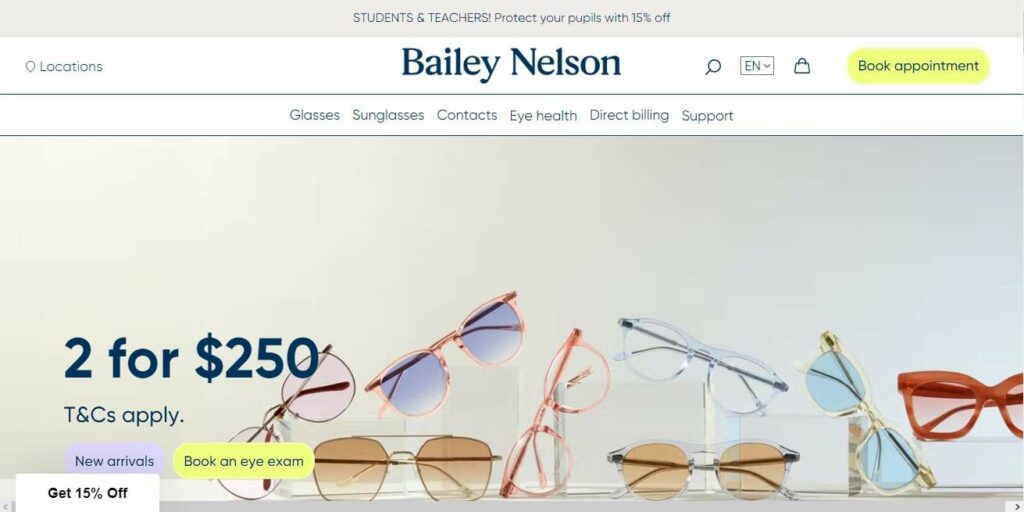 Services: Glasses, Sunglasses, Lenses, and Eye Exam
Website: https://baileynelson.com
Contact Details: hello@baileynelson.com. / +1 403-285-9300
Company Address: 104 10 St NW, Calgary, AB T2N 1V3, Canada
Operating Hours: Mondays to Saturdays, 10:00 AM – 6:00 PM, Sundays, 12:00 AM – 5:00 PM
| | |
| --- | --- |
| Google Reviews | 4.8/5 |
| Total Reviews | 4.8/5 |
| Score Consistency | 4.8/5 |
| | |
| --- | --- |
| Reputation | 5/5 |
| Range of Products | 5/5 |
| Affordability | 5/5 |
| Warranty | 4/5 |
10 years of experience
Produces its own frames
Friendly prices
Regular discounts
30-day warranty for glasses
Accepts insurance for payment
Less eyecare-related services than other clinics
Shorter warranty period
Bailey Nelson has been servicing the Calgary community for a decade by providing eyewear and facilitating eye exams.
One standout feature of this clinic is that it manufactures its own frames, which are made all the way in Australia. This gives them the creative freedom to produce frames based on their customers' tastes and where they predict eyewear trends will go.
We also appreciate how affordably-priced their eyewear products are. Their base price for eyeglasses is $145, which is just under the $150-300 average in Calgary.
The eye clinic also accepts insurance as a form of payment from clients, so do check with your insurer if this is a service that's covered for you.
Customers commended the friendliness of the staff despite being fully packed during peak hours. Employees welcome and guide even the customers who just went to the store to browse.
However, we find that their eye care services are not as diverse as other clinics on the list. They only have the regular eye exam, unlike other clinics that have eye care, surgery, laser treatment, and the like.
Aside from that, the 30-day maximum for a glass warranty is shorter compared to other eye clinics.
FAQS on Eye Clinics in Calgary