Categories >
Other Services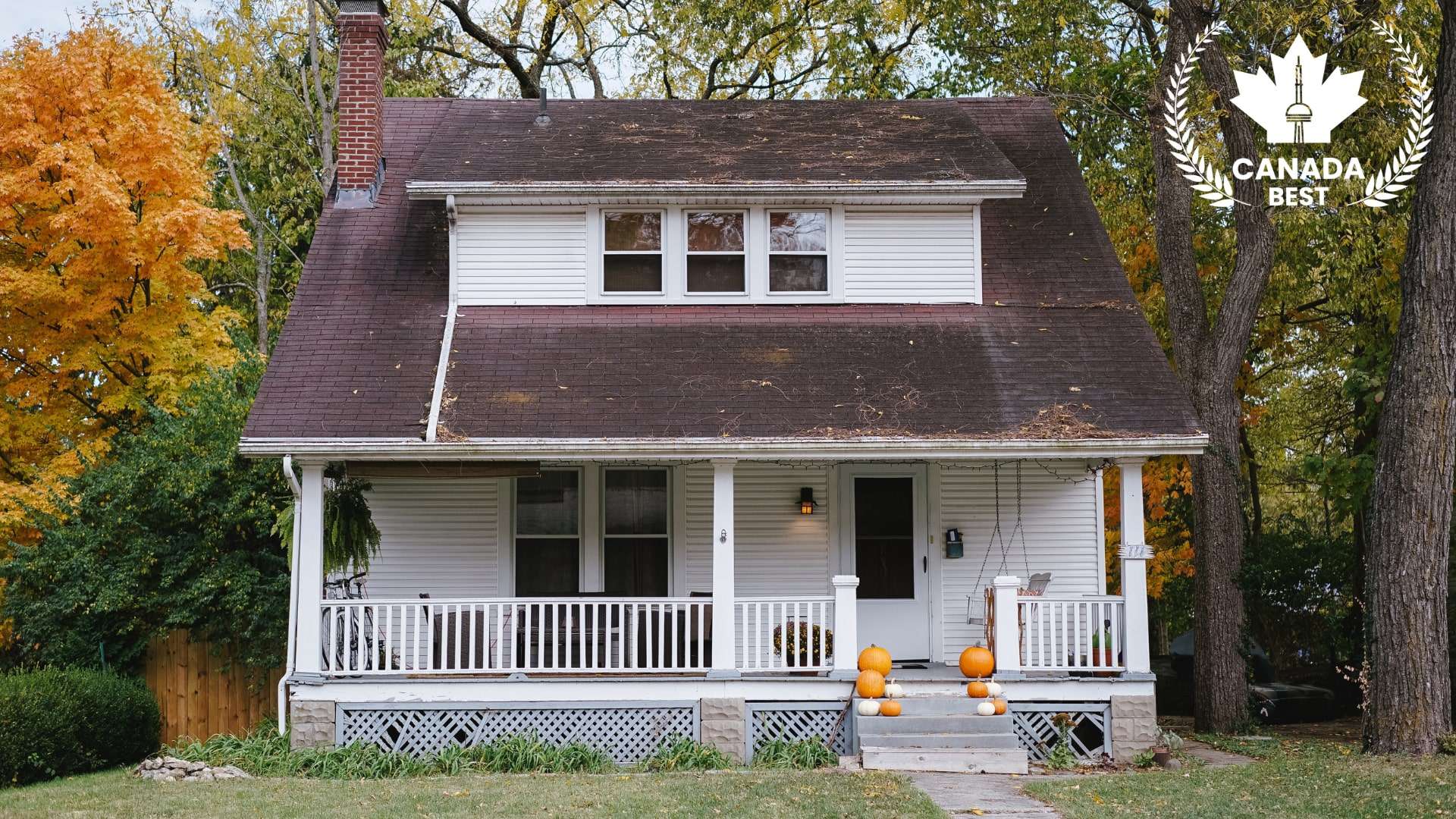 Top 5 Home Inspection in Calgary
Criteria
1. C.H.I. Home Inspections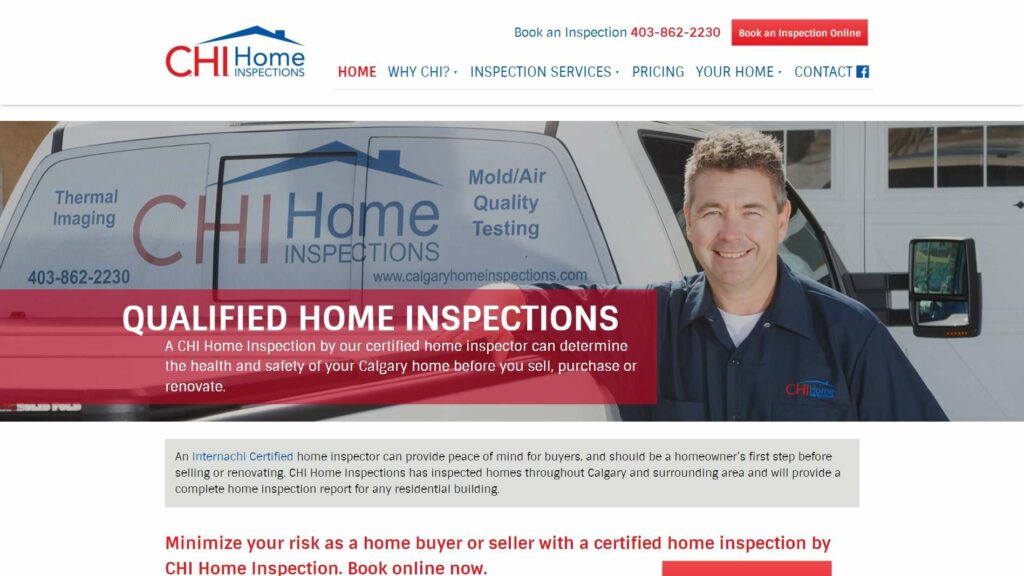 Website: https://calgaryhomeinspections.com
Address: 3 Sunwood Park SE, Calgary, AB T2X 2V8
Contact Details: (403) 862-2230, cliff@calgaryhomeinspections.com
Operating Hours: Monday-Friday: 8AM-9:30PM, Saturday: 9AM-5PM, Sunday: Closed
| | |
| --- | --- |
| Google Reviews | 5/5 |
| Nice Local Reviews | 5/5 |
| Total Reviews | 4/5 |
| Score Consistency | 5/5 |
| | |
| --- | --- |
| Pricing | 5/5 |
| Range of Services | 4/5 |
| Certifications | 4/5 |
| Equipment | 5/5 |
Certified Professional Inspector
Offers air testing and mould surveys
Knowledgeable in inspecting older homes
Approachable demeanour
Closed on Sundays

No asbestos testing

Lack of warranty
C.H.I Home Inspections is owned by Cliff Keveryga, a Certified Master Inspector (CMI). CMI is a professional designation for inspectors who want to become board-certified by the Master Inspector Certification Board.
Accordingly, every CMI is experienced, educated, professional, and vetted. We're confident with the experience and knowledge Keveryga has in the inspection industry.
It's also notable that he passed the online inspector exam by the International Association of Certified Home Inspectors (InterNACHI) – which shows his proficiency of knowledge in inspections.
They do a complete home inspection to identify any existing problems on the foundation, plumbing, electrical systems, insulation, and all visible structures. Keveryga is a trained mold investigator, too, so he can also handle mold inspections.
To add to that, we noted comments from our surveys that they do spot inspections as well. We think this is a good option for budgetary reasons since there's a more customized assessment.
We're pretty happy they have thermal imaging to scan for structural defects. For those looking to sell or buy a property, infrared imaging can spot serious problems that aren't easy to find using conventional methods.
Another thing we like is their visible and detailed pricing. A home inspection with thermal imaging of up to 1500 sq. ft. can cost $450, which is still the average cost in Calgary.
A typical home inspection can cost an average of $375 to $550 without additional services, so we're happy they have reasonable prices. Their sewer scope inspection service is also relatively cheaper at $250.
The only thing we don't like is that they aren't entirely clear on insurance. We hope they can add more details on that in the future for the customer's peace of mind.
On the upside, we're happy to hear that they are familiar with old houses since these can be difficult to inspect because of outdated structures.
Also, past customers have praised Kevergya and his staff for being knowledgeable and approachable–a plus for customer service!
2. House to Home Inspections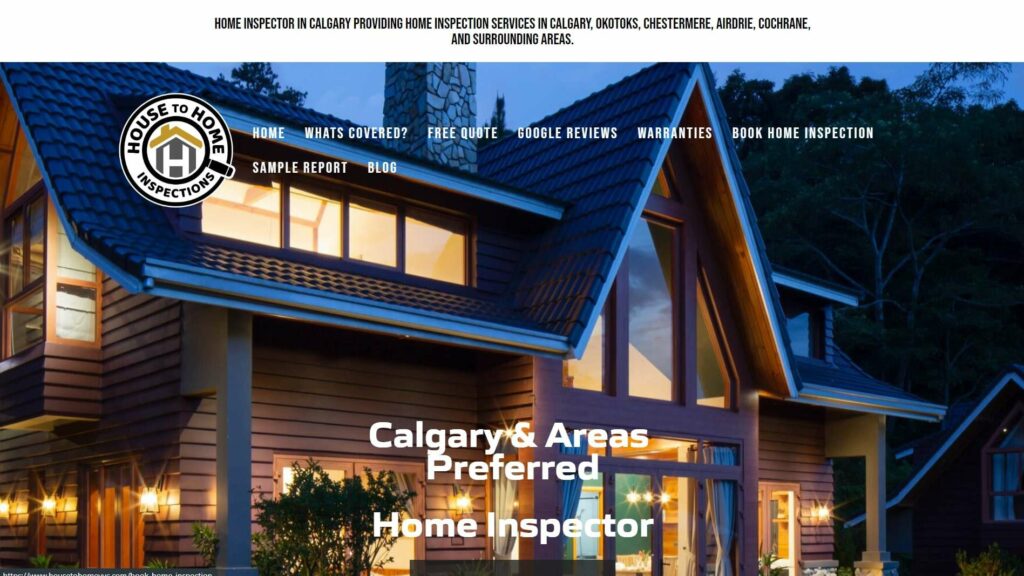 Website: https://www.housetohomeyyc.com
Address: Not available
Contact Details: (403) 998-6749, ryan@housetohomeyyc.com
Operating Hours: Monday-Friday: 8AM-8PM, Saturday-Sunday: 9AM-7PM
| | |
| --- | --- |
| Google Reviews | 5/5 |
| Yelp Reviews | 5/5 |
| Total Reviews | 4/5 |
| Score Consistency | 5/5 |
| | |
| --- | --- |
| Pricing | 3/5 |
| Range of Services | 4/5 |
| Certifications | 5/5 |
| Equipment | 5/5 |
Open daily
Offers asbestos inspection
90-day warranty on home inspection
Few warranties provided
Lack of payment details

Few complaints on response
House to Home Inspections has over 20 years of experience in this industry, servicing homes in Calgary and its surrounding areas.
We're glad to note that they are licensed, bonded, and insured so that customers can feel at ease. They're also certified by InterNACHI, which ensures their education and training on the proper industry standards.
As with the others on this list, they cover the usual areas in a home inspection, including the structure and foundation, plumbing, roof and chimney, basement and attic, and electricals.
Notably, they offer asbestos testing when requested. We're quite impressed because similar companies don't usually provide this service.
You'll be happy to know they have a 90-day warranty for residential home inspections. However, note that this is only valid from the inspection date or 22 days after real estate closing, whichever comes first.
They also have a warranty for maintenance recall which the manufacturer will fix at no additional cost. Aside from that, they also have Platinum Roof Protection, which covers five years of the repair cost.
Another thing that we like about them is their Mold Safe Warranty. If they find mould on permanently installed surfaces, this ensures that they will cover the removal cost.
It's also noteworthy that they accept immediate bookings based on availability–perfect for those with urgent concerns.
On the downside, we heard a couple of complaints about their lack of response when booking a schedule. Information on their payment options is also not readily available, which is a con for those who want information ASAP.
3. Twenty20 & Co. Inspections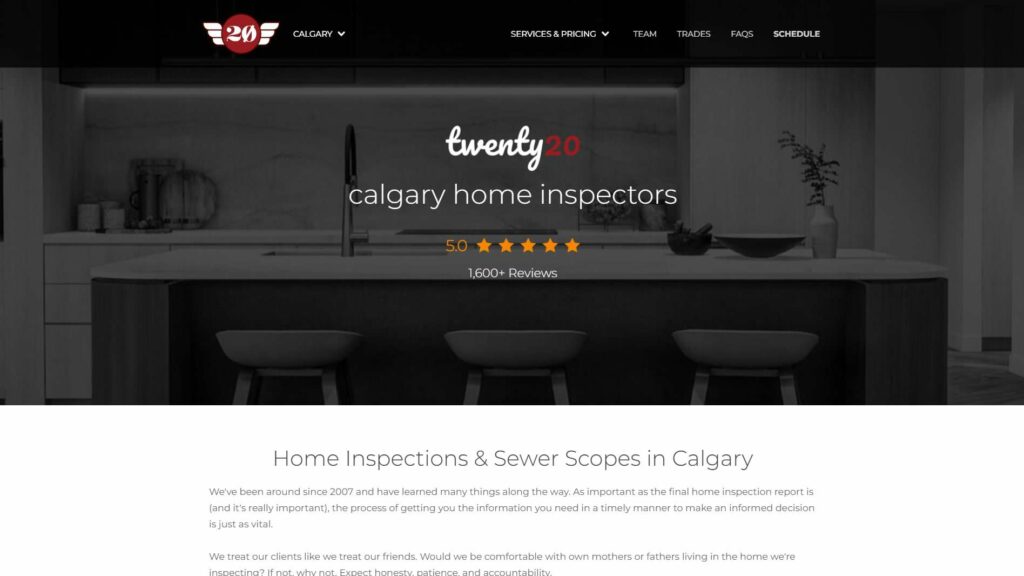 Website: https://www.2020mhi.com/calgary
Address: 2017 27 Ave SW, Calgary, AB T2T 1H6
Contact Details: (403) 836-5528
Operating Hours: Monday-Friday: 7AM-11PM, Saturday-Sunday: 9AM-5PM
| | |
| --- | --- |
| Google Reviews | 4.9/5 |
| Total Reviews | 4/5 |
| Score Consistency | 4/5 |
| | |
| --- | --- |
| Pricing | 4/5 |
| Range of Services | 4/5 |
| Certifications | 5/5 |
| Equipment | 5/5 |
Competitive prices
Larger team
Offers frame check inspection
Support charitable organizations
No mould survey

Lack of details on warranty
Twenty20 was founded in 2007. Over the years, they've accumulated more experience and a large team of home inspectors that are licensed, bonded, and insured.
Notably, the starting price for home inspections of up to 2000 sq. ft. is $550 – about the average cost in Calgary.
Additional charges will apply depending on several factors. For example, they charge an added $50 for houses older than 1980 and $100 per 1000 sq. ft.
It's also worth mentioning that all their home inspection services come with thermal imaging. But if you need to hire them only for thermal inspection, it will cost $275.
Aside from home inspections, they do frame checks too. Some similar companies don't offer this, so we like that this is unique.
Frame checks are essential because they will inspect if the frame of the property is secure. This will ensure that the house has a good structure and can stand against natural disasters.
On the flip side, they don't provide detailed information on home inspection warranties. For some customers, this is one of the essential details needed before proceeding with a service, so we hope they consider adding this.
4. Mr. Home Inspection Services Inc.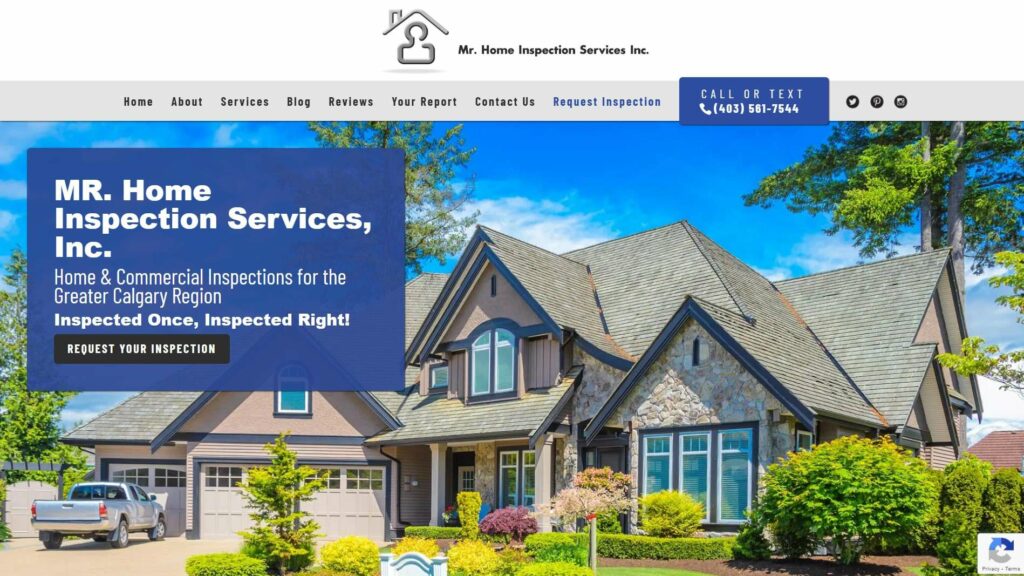 Website: https://mrhomeinspections.ca
Address: 317 Shawinigan Dr SW, Calgary, AB T2Y 3A2
Contact Details: (403) 561-7544, Randy@MrHomeInspections.ca
Operating Hours: Monday-Saturday: 8AM-10PM, Sunday: 9:30AM-8PM
| | |
| --- | --- |
| Google Reviews | 5/5 |
| Nice Local Reviews | 5/5 |
| Total Reviews | 3/5 |
| Score Consistency | 5/5 |
| | |
| --- | --- |
| Pricing | 3/5 |
| Range of Services | 4/5 |
| Certifications | 5/5 |
| Equipment | 5/5 |
In 2009, Randy McKay founded Mr. Home Inspection Services. We think it's notable that he has vast experience in renovation projects, giving him a reliable understanding of house structures.
Notably, McKay is a CMI, CPI, and InterNACHI member since 2009. If he isn't available, rest assured that his alternate, Don Webste is well-qualified since he has similar credentials.
Aside from their accreditations and expertise in inspecting residential and commercial properties, they are bonded and insured as added protection for them and their clients.
Additionally, they are certified in thermal imaging to check for leaks that the naked eye can't see. Moreover, they also have a moisture meter to check where molds may accumulate.
We also like that they check for gas leaks, which is incredibly important because most people can't detect this. They also offer home maintenance inspections to help owners find minor problems before they become visible.
Furthermore, they also offer to do a re-inspection if you're unsatisfied with a home repair addendum. In this case, all issues are documented for your protection so this won't be your financial obligation.
On the other hand, they only use a 9.14-metre long eye stick when doing roof inspections. Other home inspection companies already use drones for a more precise glimpse of higher areas, so we think Mr. Home Inspection Services can improve their tech.
Another downside is they don't offer asbestos testing services for older homes. Their service costs and payment details are also not easily accessible, although they respond quickly to phone inquiries.
Nonetheless, we're delighted to hear about their great quality of work from past customers. They are also highly recommended for their professionalism and personable behaviour.
Finally, we should note that one of their most popular services is light commercial inspections. We think this factor is proof of their expertise in this area since several of their customers own strip malls.
5. Accurate Home Inspections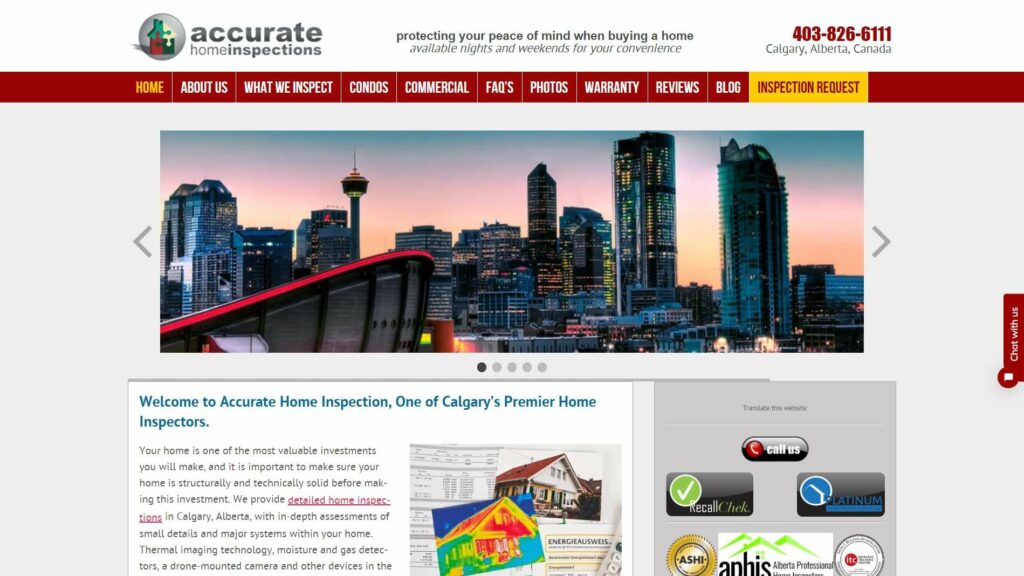 Website: https://www.calgaryinspection.ca
Address: Not available
Contact Details: (403) 826-6111, info@calgaryinspection.ca
Operating Hours: Monday-Sunday: 8AM-10PM
| | |
| --- | --- |
| Google Reviews | 4.9/5 |
| Facebook Reviews | 5/5 |
| Total Reviews | 4/5 |
| Score Consistency | 3.8/5 |
| | |
| --- | --- |
| Pricing | 4/5 |
| Range of Services | 5/5 |
| Certifications | 5/5 |
| Equipment | 5/5 |
Uses a drone for high areas
Offers a 90-day warranty
Few unsatisfactory results

Can improve response time to emails
Accurate Home Inspections serve Southern and Central Alberta. We found it notable that their inspector is a skilled carpentry professional with a background in home renovations.
Depending on the size and location of the home, they charge an average of $450 to $565 and up. Meanwhile, apartments can cost between $300 to $375 and up.
We're happy to know they use state-of-the-art equipment, including thermal imaging cameras, carbon dioxide detectors, and combustible gas detectors.
Accordingly, they use a Phantom 3 Professional drone for aerial views of roofs — a safer choice for higher and steep roofing structures.
Accurate Home Inspections can service high-rise buildings, such as condominiums, too. They will do a complete service to check for damages to ensure you won't have to burden a huge financial responsibility.
As for warranties, they have a RecallChek for manufacturer repairs. Another one is MoldSafe which will cover the services if mould is detected within 90 days of the inspection.
As with the other home inspection services in Calgary, they have a 90-day limited mechanical and structural warranty.
Unfortunately, we heard several complaints from past customers about unsatisfactory results. Few even mentioned that they did not inspect all areas thoroughly.
We were also told that they sometimes fail to respond quickly to emails. We believe they could improve these aspects for full customer satisfaction.
FAQs About Home Inspection