Categories >
Other Services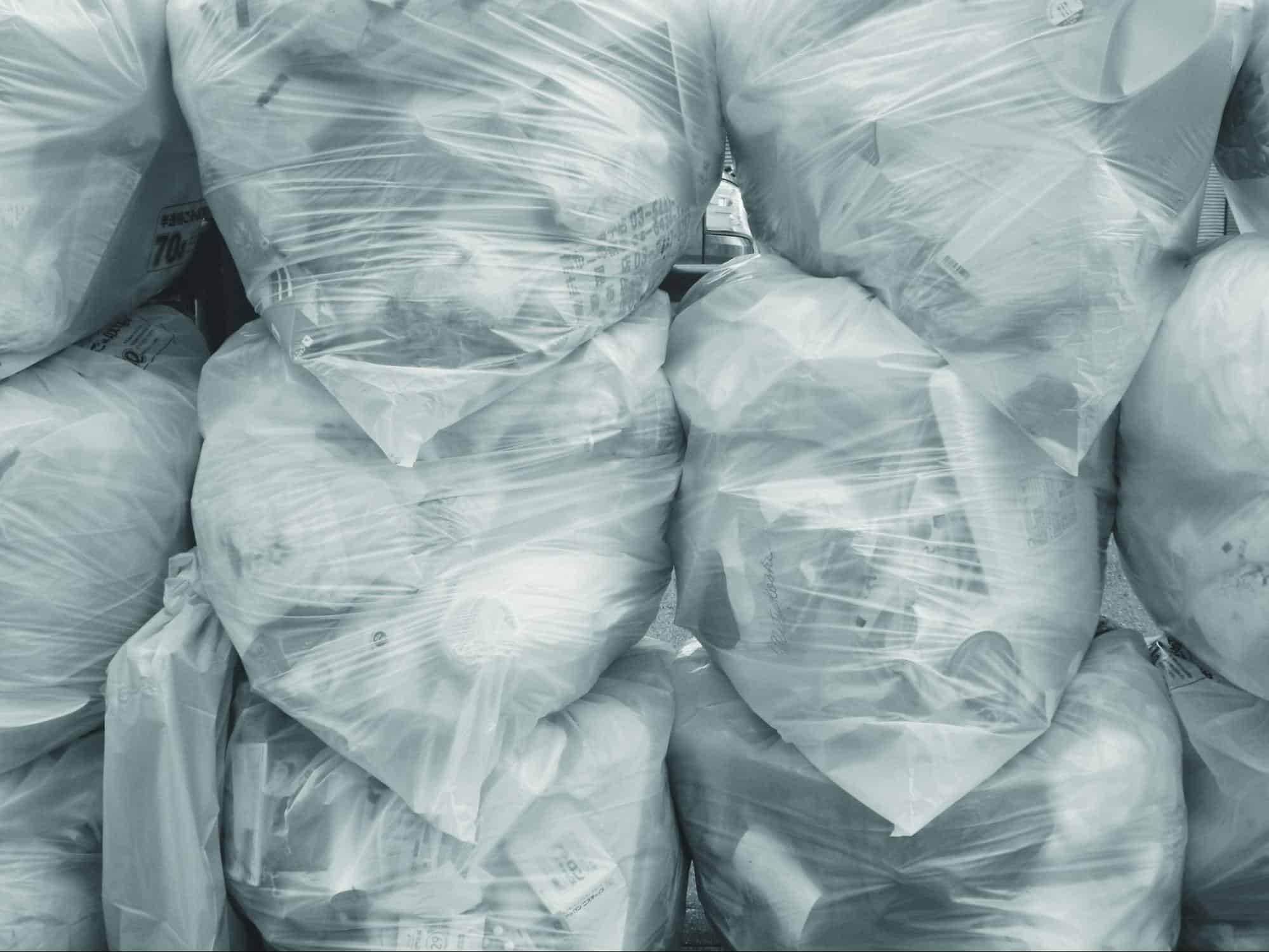 The Top 5 Hazardous Waste Disposal Companies in Calgary
How We Picked
1. One Environmental Inc
Services: Hazardous Waste Management, Waste Management, Containerized Waste Collection, Vacuum Trucks and Hydrovac Services
Website: https://oneenvironmentalinc.com
Address: 261131 Wagon Wheel Way Rocky View County, AB T4A 0E2
Contact Details: +1 587-222-6633, 587-777-8604 (24-hour Site Contact), info@oneenviro.com
Office Hours: Monday-Friday: 7:00AM-7:00PM, Saturday: 8:00AM-5:00PM, Sunday: On Call
| | |
| --- | --- |
| Google Reviews | 4/5 |
| Nice Local Reviews | 4.3/5 |
| Total Score | 4/5 |
| Score Consistency | 4/5 |
| | |
| --- | --- |
| Compliance | 5/5 |
| Qualifications | 5/5 |
| Capacity | 5/5 |
| Reliability | 5/5 |
Open 6 days a week
Has 3 waste disposal facilities
Offers a wide range of services
Has a fast turnaround time
No available pricing estimates
Waste facility is outside of Calgary
A privately owned and operated company, One Environmental Inc. has been providing sustainable solutions for waste management since 2013. They focus on helping reduce the negative impacts of waste on the environment.
They have three facilities – two in Edmonton and one in Calgary. Their Calgary facility is located just outside the city, in Rocky View County.
A drawback is the truck can get to Calgary just a bit slower than those with facilities inside the city.
We appreciate that they are open six days a week. We like that you can also arrange a different service time if you are only available on Sunday.
Since hazardous waste poses a safety hazard, we appreciate that One Environmental Inc. has a fast turnaround time. We think it's great that they can immediately rid Calgary of hazardous waste.
Additionally, they provide cost-effective methods. But we think it would be a good idea to include pricing estimates for the client's convenience.
As for their hazardous waste services, they do industrial and oilfield waste management. This service includes sludge and slurry processing, as well as drill mud management.
Further, we appreciate the careful and thorough waste management to prevent any sludge from going to Calgary's waterways. We think it's great that you can feel safe with their comprehensive solutions.
You should also know that they have containerized waste collection. This is great for old batteries, aerosols, and pesticides.
Finally, we want to mention they have a Certificate of Recognition (COR) in workplace safety. Additionally, they are certified with ComplyWorks, which ensures that they comply with the proper standards in worksite management.
2. Sumas Environmental Services Inc.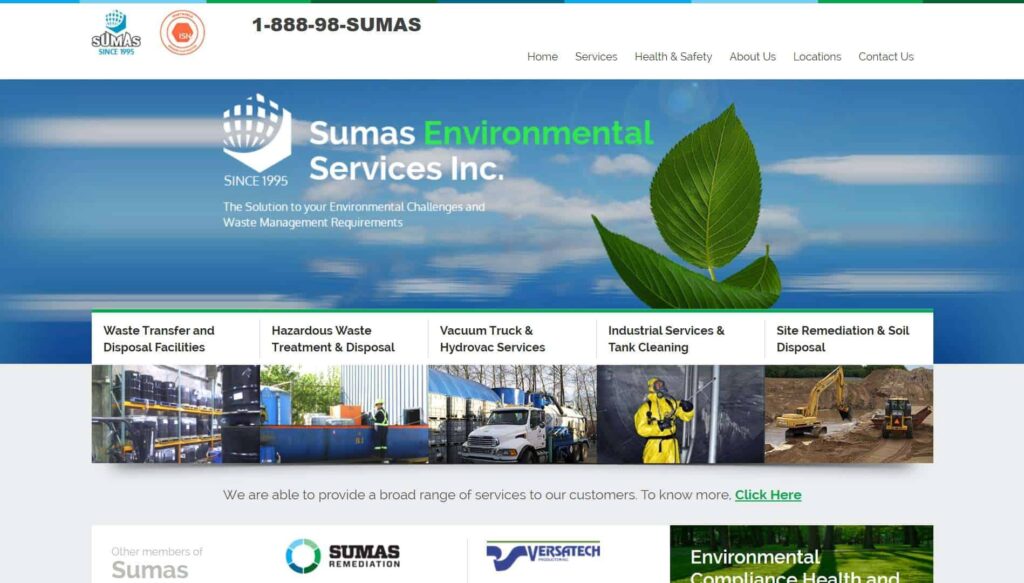 Services: Hazardous Waste Services, Waste Transfer and Disposal, Vacuum Truck and Hydrovac Services, Industrial Services, Soil Disposal, Etc.
Website: https://sumas.net
Address: 2711 – 5th Avenue NE, Calgary, AB T2A 2L6
Contact Details: 403-264 1800
Office Hours: Monday-Friday: 8:00AM-4:30PM
| | |
| --- | --- |
| Google Reviews | 4.2/5 |
| Nice Local Reviews | 4.3/5 |
| Total Score | 4/5 |
| Score Consistency | 4/5 |
| | |
| --- | --- |
| Compliance | 5/5 |
| Qualifications | 5/5 |
| Capacity | 4/5 |
| Reliability | 5/5 |
Has 4 disposal facilities
Fast turnkey
Offers equipment rental
Closed on weekends
Water treatment facility is only in Burnaby
As an independent company, Sumas Environmental Services Inc. offers waste management and industrial cleaning services. They currently have four facilities in Alberta and British Columbia.
If you have a business in Calgary, you'll be glad of the fast turnkey that this company provides. We like the assurance of a speedy service.
They train their staff in correct packing, transportation, protocols, and requirements. They are also COR certified and meet the health and safety industry standards.
Aside from waste removal and transportation, they also have an in-house waste analysis and characterization. So, we like that you are sure of the proper waste segregation before disposal.
Additionally, they have a water treatment system to remove any contaminants from the water. But this is only at their facility in Burnaby.
For contaminated water, it's best to confirm if they will transport it to Burnaby or work with a third-party facility in Calgary to be sure.
We highly appreciate the proper implementation of household hazardous waste through lab packing. This ensures all expired chemicals are labelled and packed for efficient disposal.
Further, the staff wears personal protective equipment (PPE) when there are chemicals on site. We believe that comprehensive safety compliance will keep their clients at ease in case of accidents.
Sumas Environmental offers a wide range of services, including equipment rental. You can contact the staff for the available equipment.
3. Earth Waste Management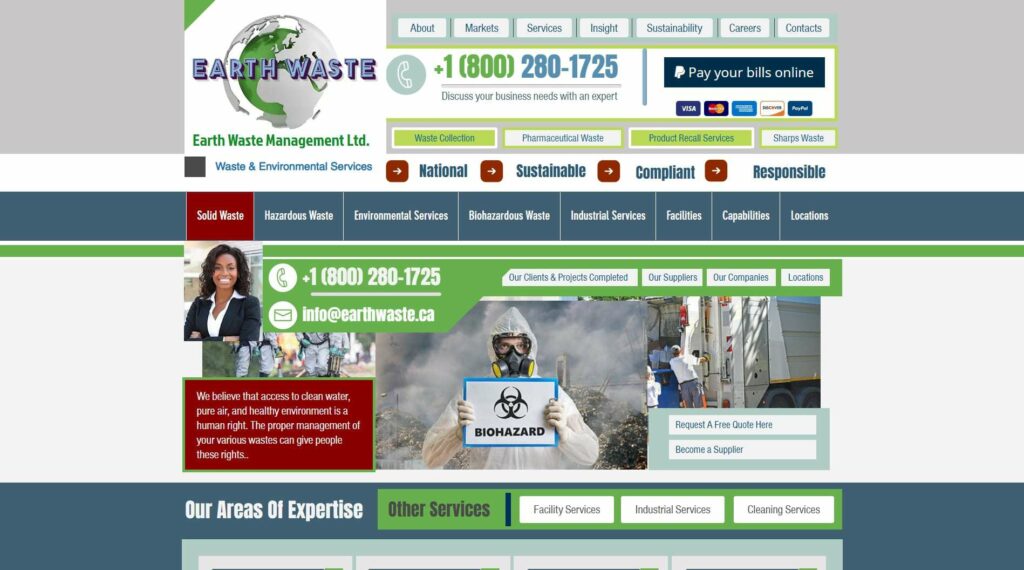 Services: Hazardous Waste, Biohazardous Waste, Solid Waste, Environmental Services, Industrial Services, Etc.
Website: https://www.earthwaste.ca
Address: Suite 300, 840 6th Ave SW, Calgary, AB T2P 3E5
Contact Details: +1-800-280-1725, info@earthwaste.ca
Office Hours: Monday-Sunday: 8:30AM-8:00PM
| | |
| --- | --- |
| Google Reviews | 5/5 |
| Nice Local Reviews | 5/5 |
| Total Score | 4/5 |
| Score Consistency | 5/5 |
| | |
| --- | --- |
| Compliance | 5/5 |
| Qualifications | 5/5 |
| Capacity | 5/5 |
| Reliability | 4/5 |
Open daily
Focuses on sustainability
Offers a wide range of services
Accepts e-waste disposal
No available price guide
Booking difficulty during busier times
A private corporation, Earth Waste Management offers various services that focus on sustainable waste management. They use cost-effective ways to help their clients reduce environmental waste.
They are COR-certified and follow the protocols of Canada's Workplace Hazardous Materials Information System.
We like the wide range of services they offer, from solid to biohazardous waste. We think these services can significantly help if you're unsure where to dispose of your collected trash.
If you own or work in a medical facility, you can depend on Earth Waste Management for biohazardous waste. In addition, they accept clinical waste like blood, specimen containers, and used needles.
In addition, they have a uniformed team with expertise in handling these materials. They will also provide as many containers as you need so they can pick up as much as they can in one trip.
Regarding transportation, they have an experienced team ready to assist you should you need additional packaging kits to transfer the waste safely, including toxic and radioactive materials.
On a side note, we like that they offer electronic waste (e-waste) disposal. They can destroy these on-site and off-site to ensure no confidential materials are left out.
As for payment, you can conveniently pay on the website via VISA, Mastercard, or PayPal. But we believe it would be best to include pricing estimates since they offer various services.
Lastly, we'd like to point out that if you need to book an appointment for residential services, make sure to plan ahead since they have many customers due to the range of services and large business clients.
4. Mayken Hazmat Solutions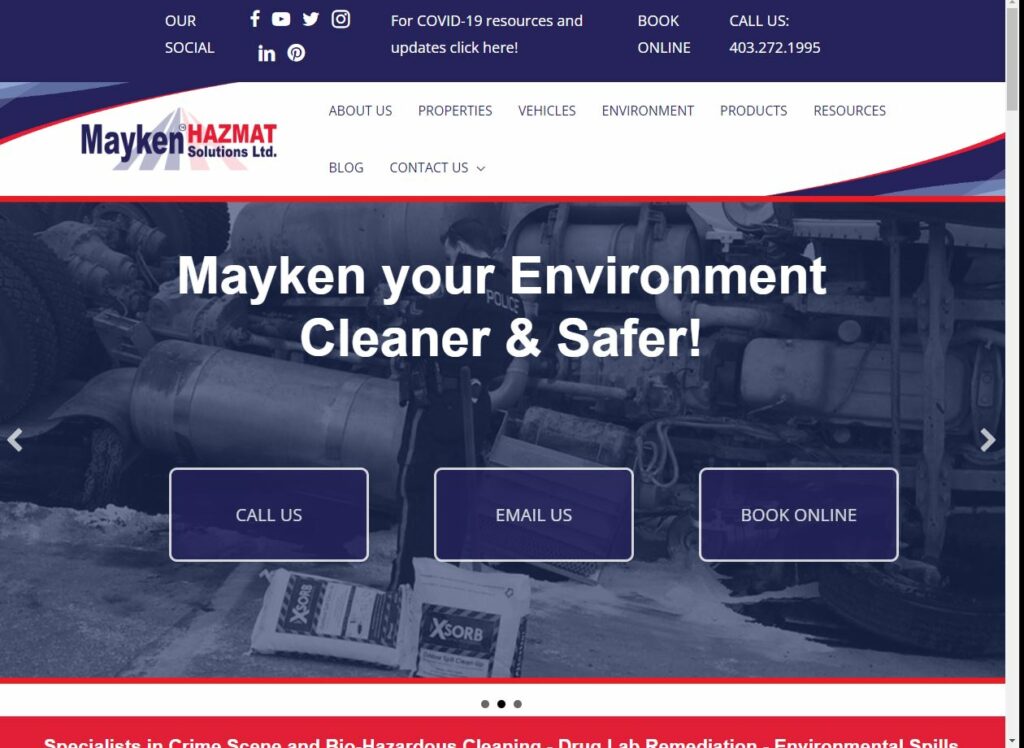 Services: Hazardous Waste Cleanup and Disposal, Crime Scene Cleanup, Vehicle Decontamination, Drug Testing for Properties and Vehicles, Mould Removal, Etc.
Website: https://mayken.com
Address: 4620 Pacific Road NE Bay 1, Calgary AB T2E 5S5
Contact Details: 403-272-1995, 1-888-801-0911
Office Hours: Monday-Friday: 8:00AM-4:30PM
| | |
| --- | --- |
| Google Reviews | 4.9/5 |
| Yably Reviews | 4.8/5 |
| Total Score | 4.7/5 |
| Score Consistency | 4.9/5 |
| | |
| --- | --- |
| Compliance | 5/5 |
| Qualifications | 5/5 |
| Capacity | 4/5 |
| Reliability | 5/5 |
A+ BBB rating
Team is fully insured
Has various biohazard services
Offers hoarding cleanups
Closed on weekends
No pricing estimates
Dean May, a certified hazmat emergency response technician and spill specialist, and Jeanette May, an entrepreneur with a wide array of skills, founded Mayken Hazmat Solutions.
Together, they commit to helping Calgarians with hazardous waste management to prevent disastrous environmental impacts.
We highly appreciate their team is certified, fully insured, and trained to deal with any hazardous waste concerns. We're also glad they have an A+ rating with the Better Business Bureau (BBB).
Unfortunately, we would like to see the price estimates for their services for the client's convenience. But they offer a free quote via phone, e-mail, or online form.
Moreover, we recommend contacting them through the website's online form instead of e-mail. It's because your e-mail might get recognised as spam, preventing them from reaching you.
We're impressed that they do vehicle decontamination, which is helpful for stolen vehicles. What's great about this is they use a special cleaning solution to remove contaminants.
Additionally, they remove hazardous waste in recovered vehicles used in crimes, like blood, drug residue, and even decomposing bodies! They will also take care of the odour problem for complete cleanliness.
Apart from that, they do hoarding cleanups for those with extreme compulsive collecting. Their team has protective equipment to ensure safety.
Some people might not see it as hazardous waste, but this typically includes expired food, rodent infestations, and animal droppings. So, these situations pose a safety risk for the homeowner and their neighbours.
The past clients we talked with praised the team at Mayken Hazmat Solutions for their professionalism and thorough cleaning. The team did the job promptly and showed respect during hoarding cleanups.
5. Cobalt Medical Solutions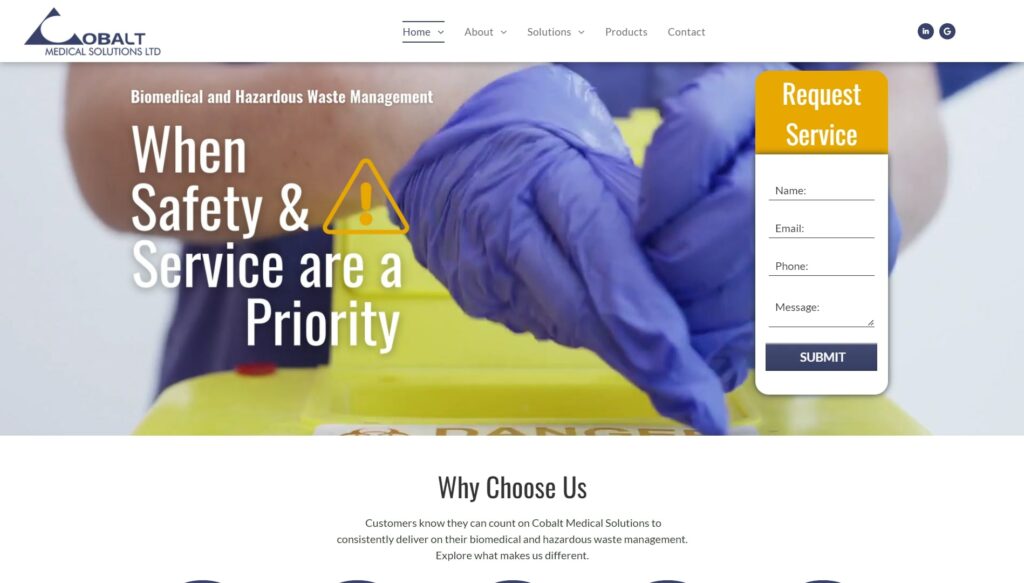 Services: Hazardous and Biohazardous Waste Disposal, Waste Containment, Waste Consultation Services, Etc.
Website: https://www.cobaltmedicalsolutions.com
Address: 722 Oakhill Pl SW, Calgary, AB T2V 3X9
Contact Details: 403-650-7742, 403-386-2363, info@cobaltmedicalsolutions.ca
Office Hours: Monday-Friday: 8:00AM-5:00PM
| | |
| --- | --- |
| Google Reviews | 4.8/5 |
| Total Score | 4.2/5 |
| Score Consistency | 4.8/5 |
| | |
| --- | --- |
| Compliance | 5/5 |
| Qualifications | 4/5 |
| Capacity | 5/5 |
| Reliability | 5/5 |
Services many cities in Alberta
Offers waste consultation services
Has 24/7 customer support
Provides recycling services
Closed on weekends
Lack of details on disposal facilities and staff credentials
Cobalt Medical Solutions services the medical industry's hazardous waste management. Their clients are from different cities in Alberta.
We appreciate the convenience of pick-up, drop-off, and delivery options if you are busy. Also, they carefully transport these to licensed facilities they work with.
However, we'd like to see more details on the disposal facilities and the staff's credentials for transparency. We believe this can ease the client's mind about following waste protocols.
In addition, they have various containers for different types of waste. We appreciate their clear segregation methods because it is crucial to ensure safety and prevent leakage.
Aside from this, they offer consultation services to identify the risks of every hazardous waste you need to dispose of. We like this service because it's understandable that some people might not know about specific types of waste.
Moreover, the qualified staff can also identify invisible risks like odour problems. We admire their team's expertise in correctly identifying hazardous and biohazardous waste.
On a negative note, they are closed on weekends. But it's worth noting they have 24-hour customer support through phone and e-mail.
Furthermore, customer support has shown prompt service. Many clients mentioned they are reliable, especially in showing up on schedule.
On another note, they also offer the disposal and recycling of non-medical waste, like old x-ray films and plaster materials. We're glad Cobalt Medical Solutions provides various services to medical businesses.
FAQ about Hazardous Waste Disposal