Categories >
Construction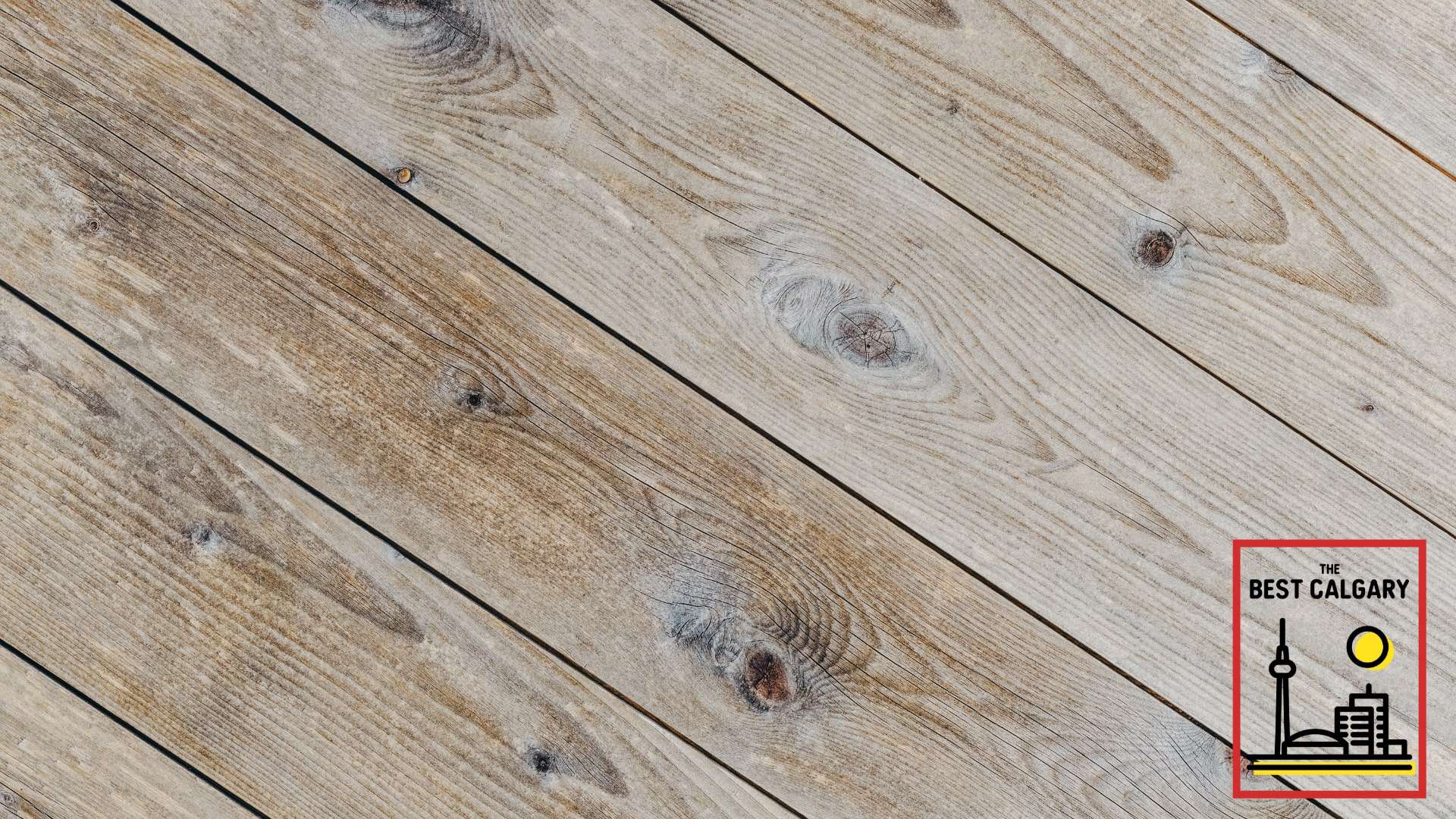 The 5 Best Flooring Services in Calgary
Criteria
1. Floorscapes Inc.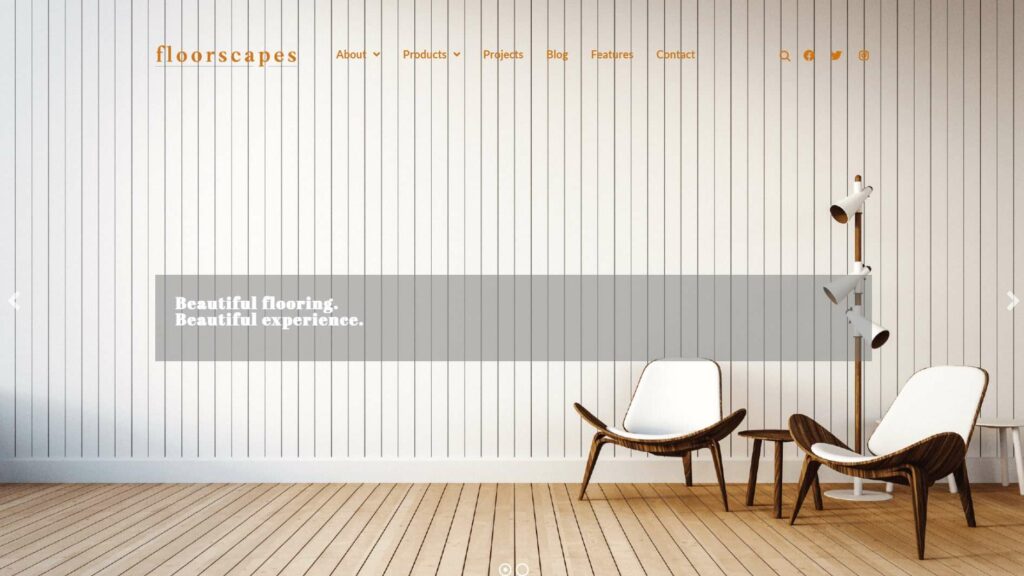 Website: www.floorscapes.net
Address: 525 58 Avenue SE, Calgary, Alberta T2H 0P7
Contact Details: (403) 407-5743, info@floorscapes.net
Operating Hours: Monday-Friday: 9 AM-5 PM, Saturday: 10 AM-4 PM, Sunday: Closed
| | |
| --- | --- |
| Google Reviews | 5/5 |
| Houzz Reviews | 4.9/5 |
| Total Reviews | 3.5/5 |
| Score Consistency | 4/5 |
| | |
| --- | --- |
| Pricing | 3.7/5 |
| Range of Options | 5/5 |
| Certifications | 5/5 |
| Warranty | 5/5 |
Over 25 years of experience
In-house interior designer
Installation services
Room visualizer
No restoration
Higher prices
Communication can be improved
Floorscapes has been in the industry for over 25 years. It is a small family company owned by Bryce Osborne.
Osborne's daughter, Kayla Osborne, is an interior designer in the company. We believe this is a huge advantage because she has valuable expertise that can help you achieve your vision for your home.
We were impressed by their certifications, which prove they abide by the industry standards. They are members of the National Wood Flooring Association (NWFA) and the Canadian Federation of Independent Business (CFIB).
We're equally impressed they have several suppliers for more brand options. Some of these are Shaw Floors, Torlys, and Mohawk.
When it comes to flooring, they offer hardwood, vinyl, laminate, tile, and carpet. They sell area rugs if you want to add a decorative aspect to a room.
Their warranty depends on the brand of flooring you're going to get. If you have pets, they have a pet warranty for carpets, which is quite thoughtful.
We think pickier clients will really like their room visualizer. You can upload a photo of your room and choose the kind of flooring you want – and you'll be able to check how it'll look in your actual space.
Overall, we're pretty impressed with the options. We do think that it would be great if they could also offer flooring restoration, making them a one-stop service for anything flooring.
Also, a complaint we heard was that the finished job wasn't what was originally agreed on. With proper communication, we think this could've been prevented.
2. Alberta Hardwood Flooring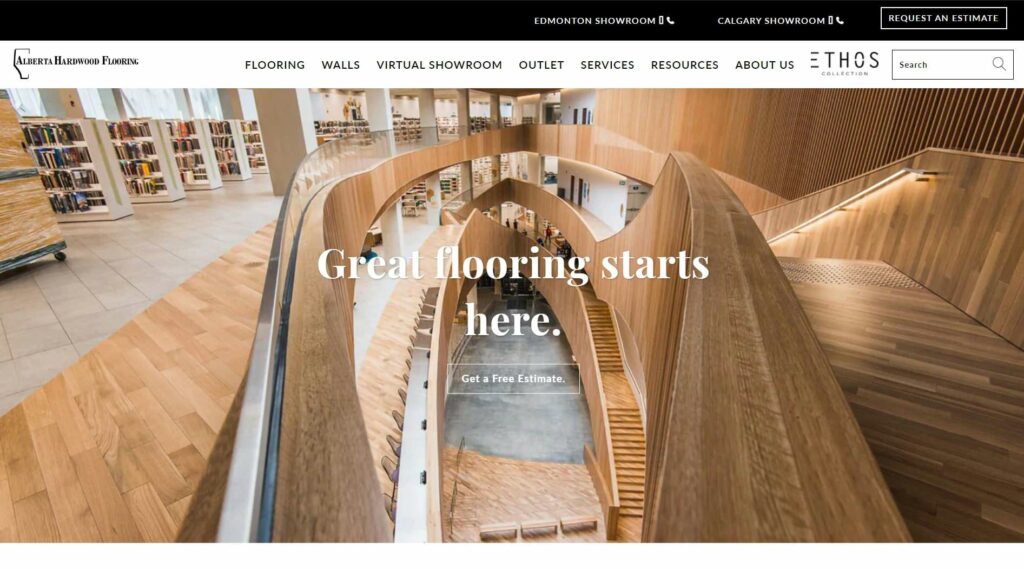 Website: www.albertahardwood.com
Address: 621 Manitou Road SE, Calgary, AB T2G 4C5
Contact Details: (403) 692-6651 (Phone), (403) 243-3347 (Fax)
Operating Hours: Monday-Friday: 8 AM-5 PM, Saturday: 10 AM-4 PM, Sunday: 12 PM-4 PM
| | |
| --- | --- |
| Google Reviews | 4.4/5 |
| Nice Local Reviews | 4.5/5 |
| Total Reviews | 2.5/5 |
| Score Consistency | 4/5 |
| | |
| --- | --- |
| Pricing | 3.9/5 |
| Range of Options | 5/5 |
| Certifications | 5/5 |
| Warranty | 4/5 |
Open daily
Over 30 years of experience
Offers sanding and finishing
Sells maintenance kits
Can be difficult to reach
Some complaints on service quality
No repairs
For over 30 years, Alberta Hardwood Flooring has been offer its flooring services to Canadians. They won a BILD (Building Industry and Land Development Association) Calgary Region award in 2017, proving their expertise.
They started the business with simple sanding and refinishing, which they still offer today. For a cost-effective solution to scratched floors, this is a good option.
They sell flooring in hardwood, vinyl, cork, and carpet, among others. Aside from that, they do the installation too if you want the quick option of hiring a single company.
To give you an idea of their prices, the Ethos Original Luxury Vinyl plank can cost $99.90 per box, while labour is $5.59 per square foot. We think this is reasonably priced because labour can go up to $18.
Sadly, they don't do repairs but sell maintenance kits for $35. This is to ensure the flooring will look its best for years.
We like their 1-year installation warranty for all products. Do note, however, that product warranties will depend on the supplier.
Unfortunately, several customers have complained about gaps in their flooring. We're told some of them were also ignored after filing a complaint.
We also think they can improve their customer service. A few customers told us they could not talk to a representative via phone.
That said, we still think Alberta Hardwood is a good choice if you're looking for different flooring options.
3. Flooring Superstores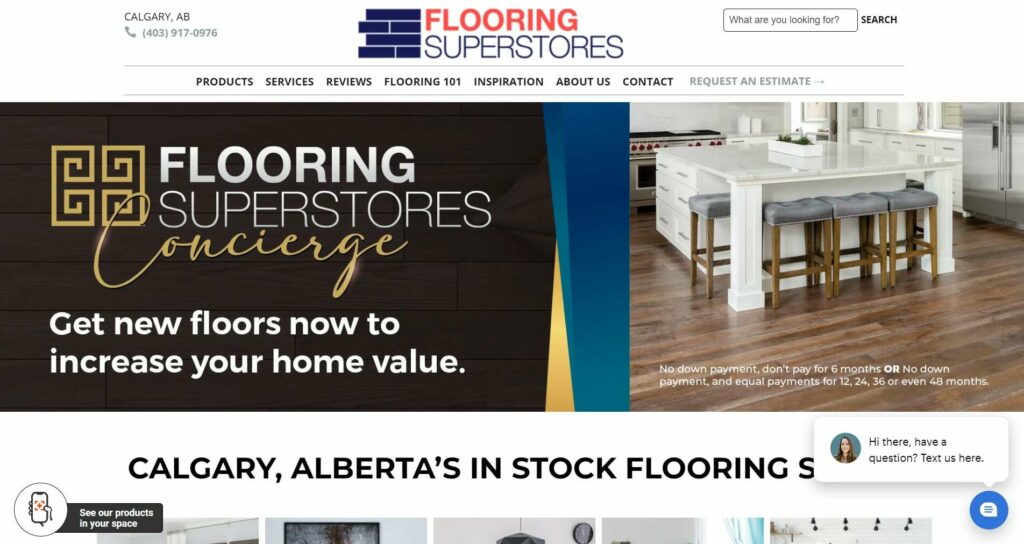 Website: www.flooringsuperstorescalgary.ca
Address: 1825 32 Ave NE Unit 6 Calgary, AB T2E 7C8
Contact Details: (403) 917-0976
Operating Hours: Monday-Wednesday: 9 AM-6 PM, Thursday-Friday: 9 AM-9 PM, Saturday: 9 AM-5 PM, Sunday: 11 AM-5 PM
| | |
| --- | --- |
| Google Reviews | 4.5/5 |
| Facebook Reviews | 3.8/5 |
| Total Reviews | 5/5 |
| Score Consistency | 4/5 |
| | |
| --- | --- |
| Pricing | 4/5 |
| Range of Options | 5/5 |
| Certifications | 5/5 |
| Warranty | 4/5 |
Open daily
Wide variety of flooring options
In-stock selection
Restoration services
A few installation complaints
No refinishing or staining
When it comes to a wide variety of flooring options for residential and commercial properties, we're glad we found Flooring Superstores. They have 12 locations in Western Canada.
We're impressed that they've won the Southern Alberta Consumer Choice Award for 6 years in a row. This speaks well of their consistent workmanship and know-how.
For 5 years, they've been providing flooring for the Calgary Residential Rental Association. We think these can give customers confidence in their services.
When it comes to their products, they offer a wide variety of flooring – laminate, hardwood, vinyl, and glass tile. We're quite impressed with their selection because they have multiple suppliers.
They offer installation for their products. They also do restoration to revive old flooring, this is so your floors will look new again.
We'd like to add that they have in-stock flooring. These are readily available, and many are on sale for cheaper options.
We think this is great for those who need a quick installation. Since these are in stock, you can have them installed the next day after purchase.
They have a financing option through Wells Fargo. Once approved, you can have the option of having monthly payments based on your budget.
The warranty will depend on the specific brand. Their staff can inform you regarding certain information.
We believe results are important when looking for flooring shops and installation services. That's why we were a tad disappointed when we talked to some past customers.
A few customers we spoke to mentioned gaps in between planks. Although they were given new replacements, the installation was not included.
We believe these problems can be completely avoided. But we like their financing and flooring options.
4. Concrete Inspirations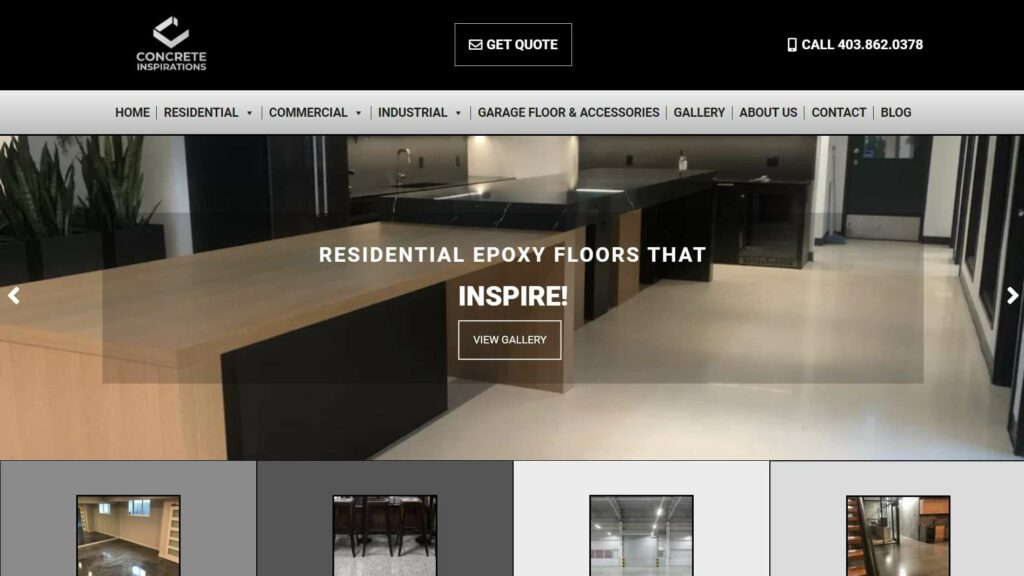 Website: https://concreteinspirations.ca
Address: 6025 6 St SE, Calgary, AB T2H 1L8
Contact Details: (403) 862-0378, info@concreteinspirations.ca
Operating Hours: Monday-Saturday: 8 AM-5 PM (By appointment only), Sunday: Closed
| | |
| --- | --- |
| Google Reviews | 5/5 |
| Facebook Reviews | 4.6/5 |
| Total Reviews | 3/5 |
| Score Consistency | 4/5 |
| | |
| --- | --- |
| Pricing | 4/5 |
| Range of Options | 5/5 |
| Certifications | 3/5 |
| Warranty | 3/5 |
Eco-friendly epoxy for low maintenance
Multiple options
Repairs and restoration
Small team
By appointment only
Concrete Inspirations has been around since 2006. Aside from Alberta, they also provide epoxy coating systems to British Columbia and the Prairies.
They initially started with residential areas. Over the years, they have grown and ventured to commercial properties.
Having applied more than 1 million square feet of flooring, they have proven that they've been trusted by many. We think this shows their expertise in the industry.
We understand that epoxy flooring is more challenging to apply than vinyl or hardwood. That's why we were impressed with their options for coating systems.
They only use epoxy with zero volatile organic compounds (Zero VOC) as a cost-effective option. We're glad that this is non-toxic and safer for the environment.
Epoxy coatings are low-maintenance, which makes them easier to clean. It's usually preferred for schools, hospitals, and offices because it's tough to damage.
We like that they also offer concrete staining. This is an excellent option if you just want to enhance the appearance of a concrete floor while also saving some money.
Another thing we like about their concrete services is the repairs and restoration. Uneven and cracked surfaces are safety hazards, so they do concrete grinding to for a smoother and flatter surface.
You can schedule a consultation with a free estimate. For payment options, they accept VISA and Mastercard.
Our only concern is that they have a small team. We believe it will be advantageous if they hire more people in the future to accommodate a larger clientele.
Also, they're by-appointment only. So, if you wanted to pop in to check out their flooring options, make sure to call in advance to schedule a visit.
In general, we like their services. Although they are specifically an epoxy coating company, they still have many options for residential, commercial, and industrial properties.
5. Contempa Floors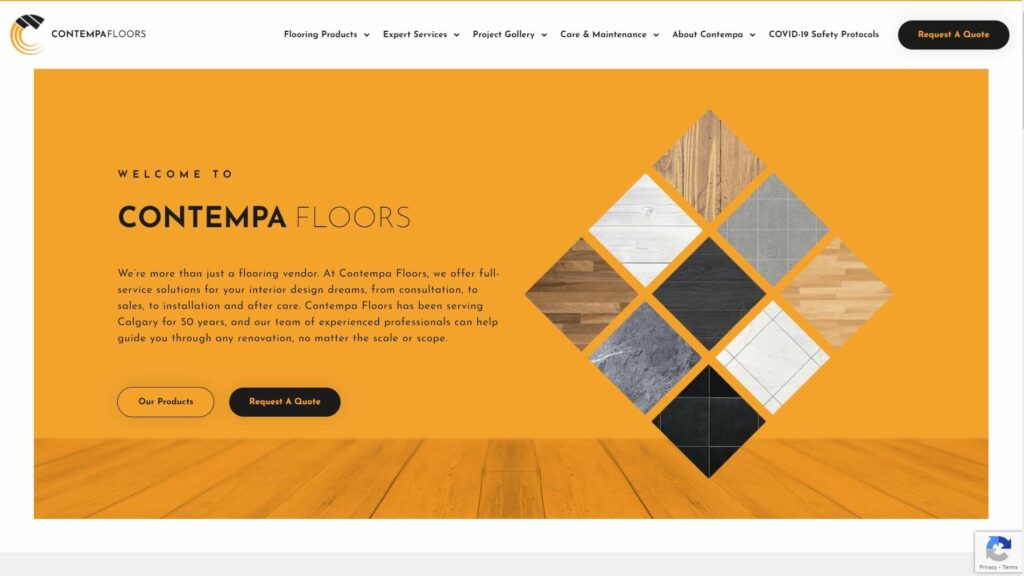 Website: www.ontempafloors.com
Address: 1315 – 11th Avenue SW, Design District, Calgary, AB T3C 0M7
Contact Details: (403) 245-4353 (Phone), (403) 245-1850 (Fax)
Operating Hours: Monday, Tuesday, Wednesday, Friday: 9 AM-6 PM, Thursday: 9 AM-8 PM, Saturday: 10 AM-5 PM, Sunday: Closed
| | |
| --- | --- |
| Google Reviews | 4.7/5 |
| Houzz Reviews | 4.9/5 |
| Nice Local Reviews | 4.8/5 |
| Total Reviews | 4/5 |
| Score Consistency | 4/5 |
| | |
| --- | --- |
| Pricing | 4/5 |
| Range of Options | 5/5 |
| Certifications | 5/5 |
| Warranty | 3.9/5 |
Over 50 years of experience
Has its own interior designer
Great product selection
No refinishing available
No warranty on hardwood 
Contempa Floors has over 50 years of experience guiding customers with their dream home. Their team sell, design, and install flooring.
We're happy with their memberships at the Canadian Federation of Independent Business (CFIB) and BILD Calgary Region. These show their standards on the building industry.
What got our attention was their interior design service. Their team will help you visualise and design your space with every detail.
They charge a $150 in-house design consultation. This is quite average as some interior designers apparently charge from $150 to $200.
What we like about this is that if the renovation reaches $5000, the fee will be credited towards the final price. We like this offer because this helps clients trim down the cost of their projects.
Now, they have various flooring types and styles, from carpets to hardwood. This is good so customers will have more choices when designing their homes.
They do installations too. After the design is finalised, their team will talk with you about the project's timeline while considering how to minimise the disruption in your home.
When it comes to warranty, hardwood floors aren't included by both manufacturer and Contempa Floors. This is quite unfortunate because other shops offer warranty on hardwood floors.
Overall, we love everything about their service. But to be honest, we wish they offered repairs or refinishing to help customers who might want to save costs on renovation.
FAQs About Flooring Services in Calgary