Categories >
Guides and Tips
13 Free Things To Do in Canada
Canada is known for being nice, and that includes generosity in providing free places to explore. From stunning national parks to bustling cities, it's possible to explore the country without spending a loonie.
Don't know where to go for free? Pack your bags and follow our guide because adventure doesn't have to come with a high price tag.
Marvel at Niagara Falls
Website: https://www.niagarafallstourism.com/ 
Address: Grand Island, ON, Canada
Contact details: +1 (905) 356-6061; +1 (800) 563-2557 (toll-free)
Operating hours: 24 hours
Niagara Falls, one of the most famous waterfalls in the world, is open 24/7, 365 days a year.
A budget-friendly option (# Best Ways to Enjoy Canada on A Budget) is to take a stroll along the park and watch the magnificent and powerful falls! It's a good idea to do it at least once if you visit Ontario.
At night, there's a magnificent light show—the Falls Illumination—which happens every night. The fireworks display is also back starting at 10:00 PM from May to October. Perfect for picture taking!
Oh, don't forget to bring a rain jacket because the strong winds will carry all the water mist towards you.
Go back in time to Old Quebec
Website: https://www.quebec-cite.com/en 
Address: Old Quebec, Québec City, QC, Canada
Contact details: 1-877-266-5687
Operating hours: 24 hours
Old Quebec, a UNESCO World Heritage Site, is famous for its historic architectural buildings. Everyone (both residents and visitors) takes a leisurely stroll on the streets of Old Quebec. There are no rules on where to go; just follow the shops!
Everyone visiting this neighbourhood must take a photo in front of the famous Château Frontenac—it's one of the most photographed hotels in the world, after all! Go there early if you don't want too many people in the background.
After that, a classic thing to do is walk along the shopping district of Petit-Champlain. There are 45 shops there! So, try not to buy anything if you're on a budget.
Another must-see is the Notre-Dame de Québec Cathedral-Basilica. It's famous for its neo-classical facade and colourful stained glass windows. It's open for visitors at 7:30 AM from Monday to Saturday and 8:45 AM on Sundays.
Pig out at St. Lawrence Market for free!
Website: http://www.stlawrencemarket.com/ 
Address: Toronto, ON M5E 1C3, Canada
Contact details:
Operating hours:
Saturday: 5:00 AM – 3:00 PM
Monday: Closed
Tuesday – Friday – 9:00 AM – 7:00 PM
Saturday – 7:00 AM – 5:00 PM
Sunday – 10:00 AM – 5:00 PM
If you happen to be in Toronto, don't miss out on the St. Lawrence Market – a bustling public market with over 120 vendors. Be warned, it's nearly impossible to leave without buying anything, especially if you drop by in the morning before breakfast.
The good thing is there are many bargain options and lots of free samples! You can visit and eat the free samples, just maybe not on an empty stomach.
Visit the badlands of the Dinosaur Provincial Park
Website: https://www.albertaparks.ca/parks/south/dinosaur-pp/
Address: Alberta, Canada
Contact details: 403-378-4342
Operating hours: Seasonal hours
A unique and striking place is the Dinosaur Provincial Park, located in Alberta's badlands. The park is home to numerous fossil discoveries from different species of dinosaurs, dating back to 75 million years ago!
This park is a must-see place for geology enthusiasts. You see, the true adventure starts in the dirt.
With its rich history, you can find dinosaur fossils even when casually hiking the trails! You can't bring them home, though, or you'll get hefty fines! It's illegal, so just take some pictures.
Meet new friends at the High Park Zoo
Website: https://www.highparkzoo.ca/ 
Address: Toronto, ON, Canada
Contact details: Contact form
Operating hours: Monday – Sunday: 9:00 AM – 7:00 PM
High Park Zoo has been around for 130 years and is free to the public. Yup, even for non-Canadians.
The zoo is home to Bonnie and Clyde—not the criminals but the capybaras. Although they do look suspiciously cute, munching on some totally-not-stolen pumpkins.
After encountering the Canadian capybara criminals, you will meet Ruby the barbary sheep, who likes doing her own version of somersaults, and the adorable Honey the llama and her friends.
You can feed them the llamas, but be careful when they get scared because they spit! Uhmm… according to a friend.
Take a stroll down the cobblestone streets of Old Montreal
Website: https://www.mtl.org/en/explore/neighbourhoods/old-montreal 
Address: Vieux-Montréal,Montreal, QC, Canada
Contact details: 514-844-5400
Operating hours: Monday – Sunday: 24 hours
An iconic spot in Quebec is Old Montreal. Its well-preserved and stunning architecture dates back to the 17th century.
Resisting the temptation to make a purchase may be challenging but not impossible. It makes for an excellent spot for sightseeing because there's always something interesting to discover every time you visit.
There are many street performers, and it almost feels like you're in a movie while walking the cobbled streets—paired with a real-life soundtrack from musical performers. I can't tell you how many times I've seen romantic proposals and newlyweds in Old Montreal.
Notre-Dame Basilica of Montreal
Website: https://www.basiliquenotredame.ca/en 
Address: 110 Notre-Dame St W, Montreal, Quebec H2Y 1T1, Canada
Contact details:
Operating hours:
Monday – Friday: 7:30 AM & 12:15 PM
Saturday: 5:00 PM
Sunday: 9:00 AM, 11:00 AM, & 5:00 PM
A famous thing to do in Montreal is visit the Notre-Dame Basilica of Montreal an iconic building in the city. It truly lives up to all expectations, with a dramatic interior filled with intricately painted ceilings and beautiful stained glass windows that tell stories of Montreal's history.
The basilica also boasts a magnificent wall of 7,000 individual organ pipes, creating beautiful music that echoes throughout.
While sightseeing tours are not free, anyone can attend mass. All masses are in French, though, considering it's in Montreal—a major French-speaking city.
Sunbathe at the Kitsilano Beach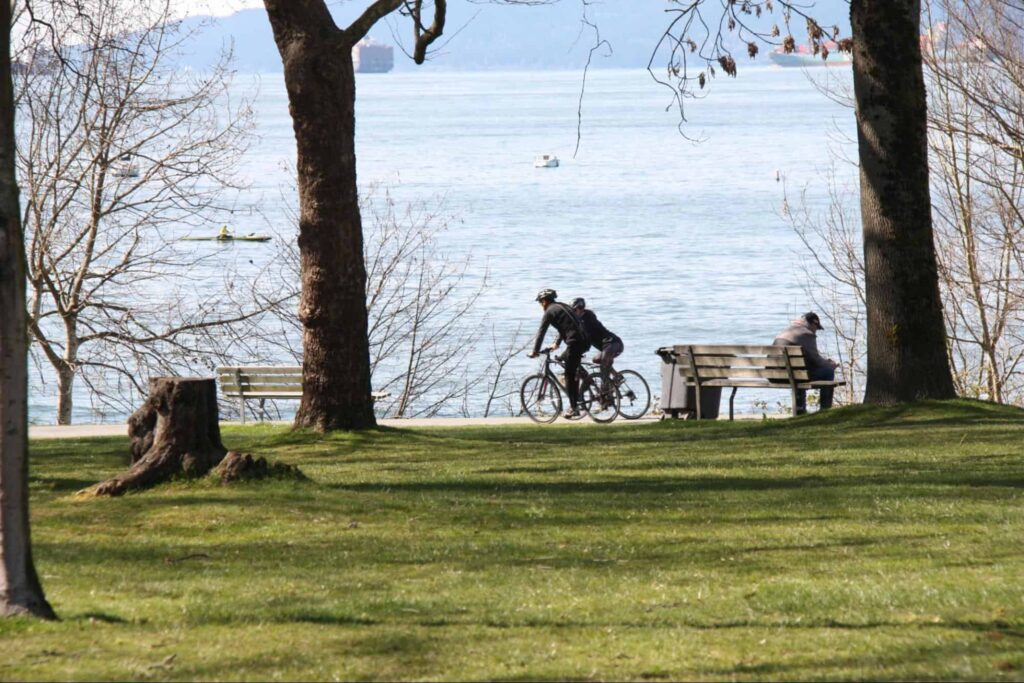 Website: https://vancouver.ca/parks-recreation-culture/kitsilano-beach.aspx 
Address: 1499 Arbutus St, Vancouver, BC V6J 5N2, Canada
Contact details: 604-873-7000 (City of Vancouver)
Operating hours: Monday – Sunday: 24 hours
Kitsilano Beach is a popular destination in Vancouver, known for its breathtaking view of the downtown. It's an ideal spot for swimming and sunbathing during the summer season.
Although "Kits" can be busy during the summer, it does offer some good vibes due to the tight-knit community feel.
Picnics are permitted at the park, too. There are plenty of tables there, perfect for BBQs—for propane only, no coals on briquettes!
Check the Steam Clock at Gastown
Website: https://gastown.org/ 
Address: Gastown, Vancouver, BC, Canada
Operating hours: Monday – Sunday: 24 hours
Gastown, one of the lively neighbourhoods in Vancouver, is widely recognized for its historical significance and the iconic landmark, the Steam Clock. Every 15 minutes, it blows steam with a whistle chime, similar to London's Big Ben.
Begin your journey at Waterfront Station, which is a short distance away from the Steam Clock—the walk will take just a few minutes. The area is filled with lively shops, restaurants, and cafes, making it a beloved spot for both tourists and locals.
A must-do in the neighbourhood is to sip on coffee in a quaint cafe. Not free, but it's definitely worth it!
Stop by the magnificent Athabasca Falls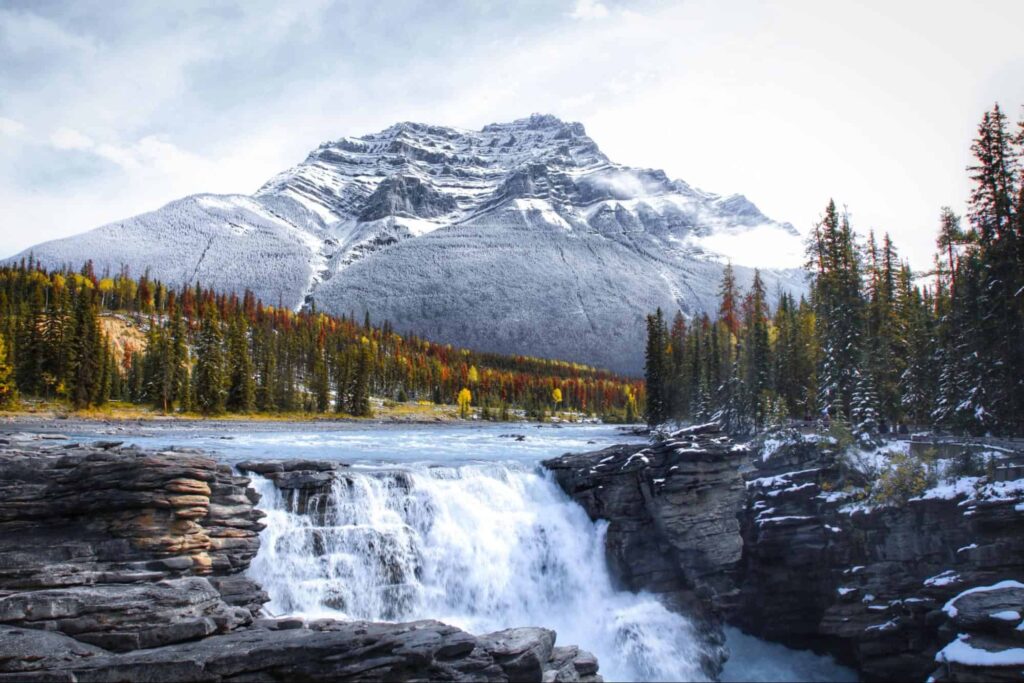 Website: https://parks.canada.ca/pn-np/ab/jasper/activ/itineraires-itineraries/athabasca 
Address: Improvement District No. 12, AB T0E 1E0, Canada 
Operating hours: Monday – Sunday: 24 hours
An impressive place to stop by in Alberta if you're driving along the Icefields Parkway is Althabasca Falls, located on Highway 93A. It's known for its strong waters and its breathtaking views.
While it's amazing to witness waterfalls, it's an ever more incredible view to see the frozen water clinging onto the rocks during winter seasons— the green and blue ice formations are just *chef's kiss*.
But bundle up if you plan on going there from December to March. It will be freezing, trust us!
Explore the grounds of Hatley Castle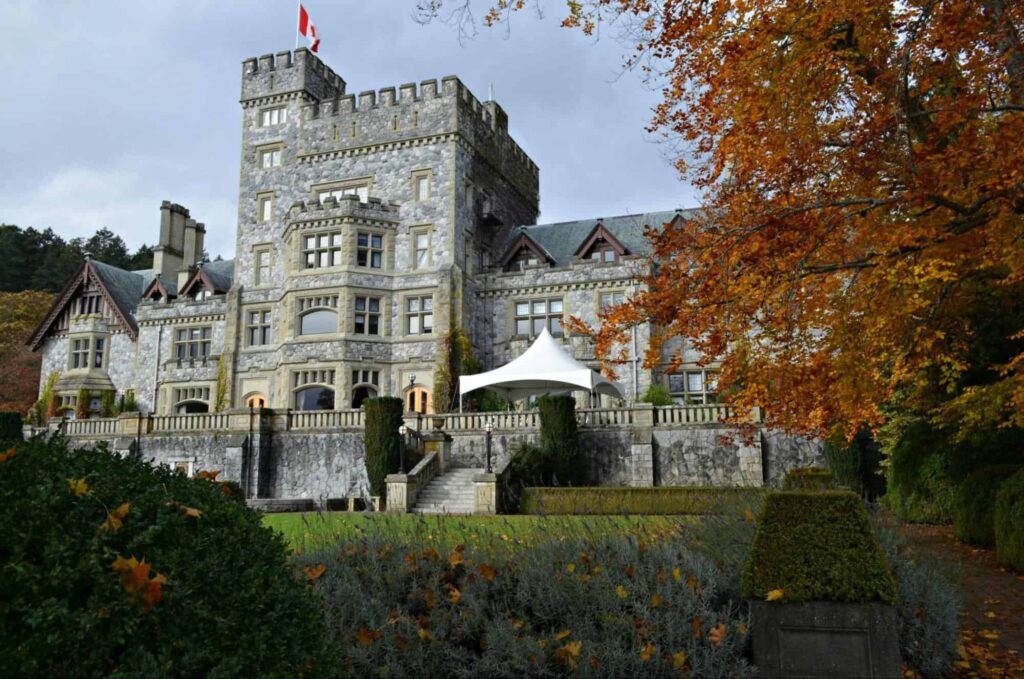 Website: http://hatleycastle.com/ 
Address: 2005 Sooke Rd, Victoria, BC V9B 5Y2, Canada
Contact details:
250-391-2666
1-866-241-0674
Operating hours: Monday – Sunday: 10:00 AM – 4:00 PM
The exquisite views of the grounds of Hatley Castle, located in Victoria, BC, will make you feel like you're in a Charlotte Brontë novel. All you need is a white horse and your own Mr. Rochester—but we can do without the questionable traits.
The grounds are free to the public, but the museum and guided tours (which include access to the castle) have admission fees. The formal gardens are now free, perfect for picturesque views.
Seriously, you must visit this incredible place before leaving BC. The breathtaking late-Gothic Revival style of the castle is not to be missed.
Cross the Lynn Canyon Suspension Bridge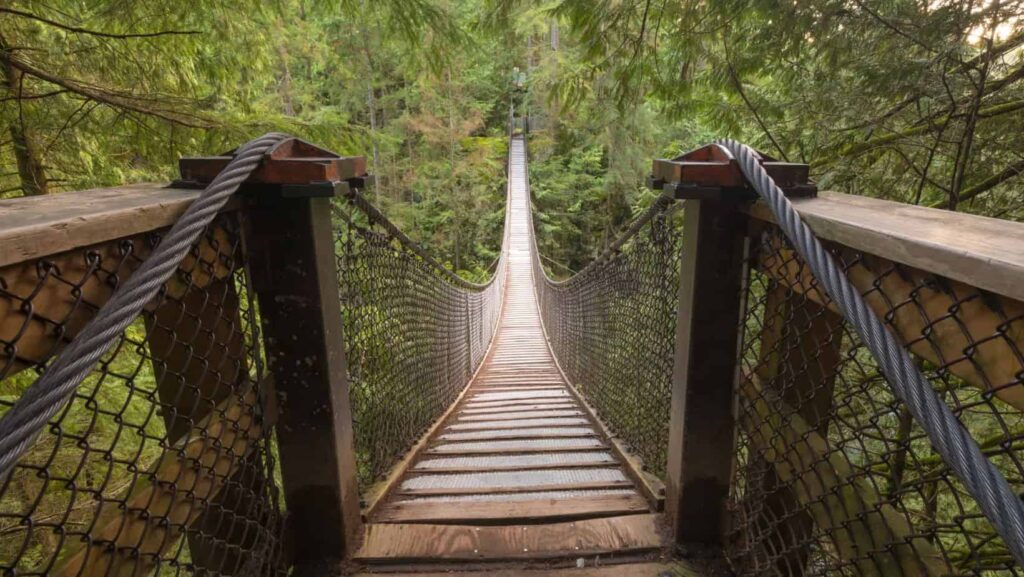 Website: https://lynncanyon.ca/ 
Address: 3663 Park Rd, North Vancouver, BC V7J 3K2, Canada
Contact details:
604-990-3755
Operating hours: Monday – Sunday: 7:00 AM – 9:00 PM
This destination is for those who crave adventure and are not afraid of heights. In Vancouver's Lynn Valley lies the Lynn Canyon Suspension Bridge, which stands at a height of 50 meters and stretches for 40 meters in length.
Down the suspension bridge is the beautiful waterfall—just hold onto the railing because it is scary… uhh, for some people. Once you cross the bridge, you have two options: the 30 ft pool area on the left or the Twin Falls bridge on the right—both are free to explore!
If you plan to visit this place, I would advise going on a weekday because it's usually jam-packed with visitors on weekends, especially in the summer.
Oh, and wear comfortable shoes (preferably hiking shoes) because it can get slippery at times, even at the suspension bridge.
Rideau Canal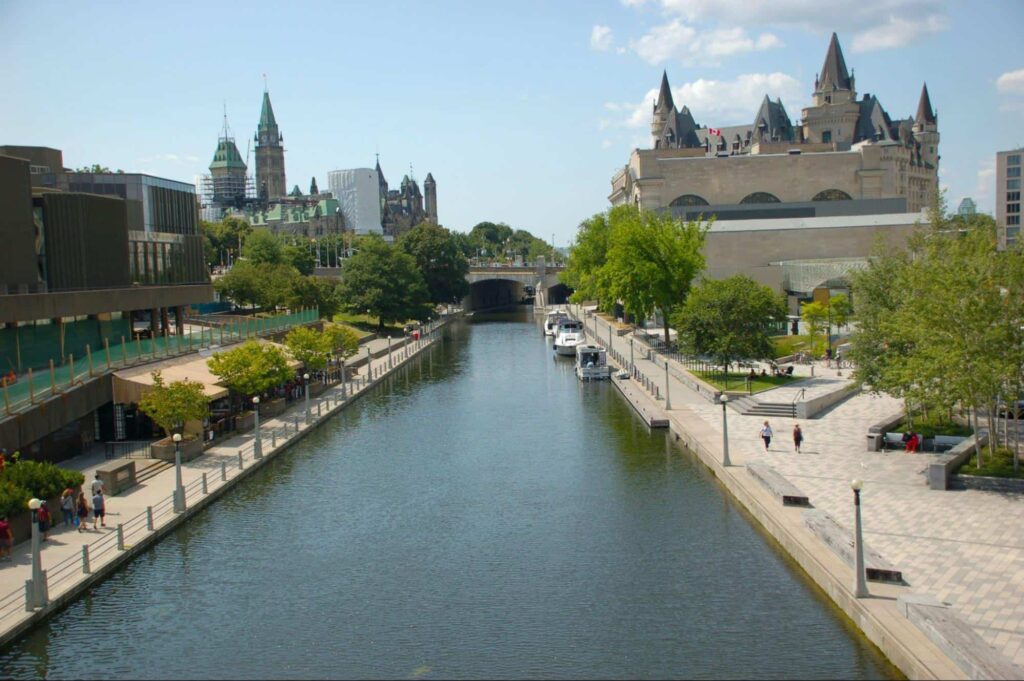 Website: https://parks.canada.ca/lhn-nhs/on/rideau 
Address: Ottawa, ON, Canada
Contact details: 613-283-7199
Operating hours: Seasonal hours
Winter time: 24 hours (weather-dependent)
A bucket list-worthy is the Rideau Canal, a National Historic Site that stretches for 202 km from Ottawa to Kingston Harbour on Lake Ontario.
While the cruise isn't free, you can go to the canal in wintertime. It freezes sometime in January up to late February, turning into the Rideau Canal Skateway—the largest naturally frozen skating rink at 7.8 km.
The ice rink is used to get to work by many locals during cold winter months to avoid driving on Ottawa's slippery roads. Yup, we actually do it. It's not just a legend.
So, just bring your own skates and slide away! You can reach 7 km in about 25 to 30 minutes, but it can take a while if you stop for some hot apple cider from the shops on the rink.
FAQ about Free Things to Do in Canada