Categories >
Guides and Tips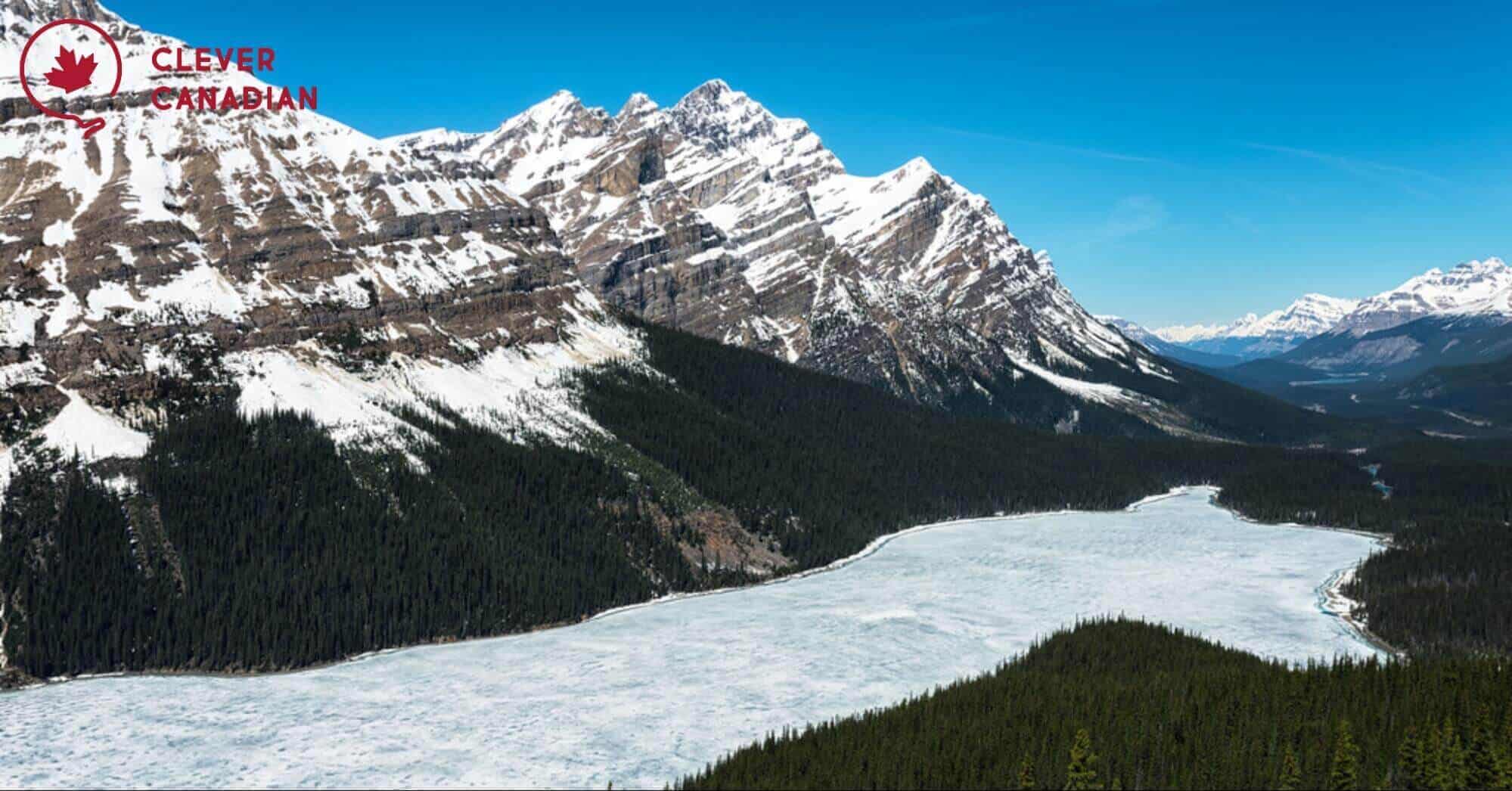 Top 10 Things to Do in Canada in Winter
Canada is a veritable winter wonderland, making it an absolute must-see during the snowy months. Believe me when I say there's more to winter in Canada than just the freezing temperatures.
It's all about getting out there and embracing the ice, the snow, and the unbeatable maple syrup on snow—trust me, it's a thing, and it's finger-licking good!
So read on as we go down the list of winter activities you can do in Canada.
Go skating at the Rideau Canal, Ottawa
Website:
Address: Rideau Canal, Ottawa, ON
Contact details: +1 613-283-7199
Operating hours:
Monday to Thursday – 9 AM to 6 PM
Friday to Sunday – 9 AM to 7 PM
The Rideau Canal is a historic waterway that weaves its way through the heart of the capital city and undergoes a magical transformation every winter. Just picture it, 7.8 kilometres of glistening ice, just waiting for you to make your mark!
And get this: skating on the Rideau Canal isn't just about showing off your twirling skills or channeling your inner hockey hero—although, let's be honest, that's pretty darn fun. No siree, it's also about embracing a true Canadian tradition.
Since the 1970s, locals and visitors alike have been bundling up and braving the cold to create lasting memories on this epic rink.
Local tip: Try to skate during weekdays if you can, as weekends tend to be a bit more crowded, giving you more room to spin and glide!
Experience thrilling ski runs in Whistler, Blackcomb
Website: https://www.whistlerblackcomb.com/ 
Address: 4545 Blackcomb Way, Whistler, BC
Contact details: +1 604-967-8950
Operating hours:
Monday to Sunday – 10 AM to 5 PM
Nestled in the coastal mountains of British Columbia, Whistler Blackcomb is pretty much the North Pole of skiing hotspots! Imagine ripping down some of the best slopes on the planet, surrounded by jaw-dropping alpine scenery.
I'm talking about more than 200 marked runs, insane alpine bowls, and terrain parks that'll get your adrenaline pumping like nobody's business. And let's not forget about the après-ski scene—Whistler Blackcomb sure knows how to throw a post-ski shindig.
Local tip: Try to hit the slopes early in the morning. You'll beat the lift lines and get first dibs on the freshest powder of the day!
Have fun going dog sledding via Muktuk Adventures
Website: http://www.muktuk.com/ 
Address: Husky Trail, Whitehorse, YT
Contact details: +1 867-668-3647
Operating hours:
Monday to Saturday – 9 AM to 5 PM
The Yukon has an impressive dog-mushing heritage, so you simply couldn't ask for a better place to give it a go. And at Muktuk, you'll get a real taste of what it feels like to be a musher.
They'll let you in on the secrets of the trade, from learning how to control the sled to understanding your husky team. And it's not all thrills and spills.
Muktuk Adventures believes in a "dogs first" philosophy, meaning the canine athletes are well cared for, well loved, and just as enthusiastic about the run as you are.
Local tip: Make sure to pack a quality pair of sunglasses! The glare from the snow can get incredibly bright and you wouldn't want it to hinder your dog-sledding experience.
Attend the Quebec Winter Carnival
Website: https://www.quebec-cite.com/events/quebec-winter-carnival 
Address: 205, boulevard des Cèdres Bureau administratif, Québec
Contact details: +1 418-626-3716
Quebec Winter Carnival, seriously, is like the Mardi Gras of the Great White North! This extravaganza typically takes place over the course of 10 days in late January and early February, so make sure you plan accordingly.
The carnival is jam-packed with events and activities such as ice sculptures and snow slides, canoe races, and night parades. Oh, and keep an eye out for Bonhomme, the mischievous snowman who serves as the carnival's official ambassador.
Local tip: Don't forget to purchase your "effigy,"  a small Bonhomme pin, to access the carnival sites and events; it's your all-in-one ticket to the party of a lifetime!
Visit Hôtel de Glace (Ice Hotel) in Quebec
Website: https://www.valcartier.com/fr/hebergement/hotel-de-glace/ 
Address: 2280 Bd Valcartier, Saint-Gabriel-de-Valcartier, QC
Contact details: +1 418-844-2200
Operating hours:
Monday to Sunday – Open 24 hours
The Hôtel de Glace is a masterpiece, where temperatures hover between -3 and -5°C (that's 27 and 23 °F), but don't worry about freezing your toes off at night. You'll be snuggled up in a toasty, insulated sleeping bag atop a cosy bed of ice!
This hotel isn't just about getting a good night's sleep. It's a whole new world of wonder, with an ice bar serving up nippy cocktails, a beautifully crafted ice chapel for weddings, and an outdoor hot tub to enjoy under the starlit sky.
If you're hankering for an adventure, you can also try your hand at snowshoeing, ice skating, and other wintry escapades!
Local tip: Layers are your best friend when staying in an ice hotel. Start with thermal base layers, add insulating layers, and finish off with a waterproof shell to stay toasty and dry!
Taste ice wine in the Summerhill Pyramid Winery
Website: http://www.summerhill.bc.ca/ 
Address: 4870 Chute Lake Rd, Kelowna, BC
Contact details: +1 800-667-3538
Operating hours:
Monday to Sunday – 10 AM to 7 PM
Tucked away in the spectacular Okanagan Valley, Summerhill is all about showing you one "grape" time with their legendary ice wine. If you've never had a taste of ice wine before, you're in for a palate-pleasing surprise.
A sweet, dessert-like wine that's crafted from grapes left to freeze on the vine, ice wine is a delicious testament to patience and precision. Harvesting these icy jewels is no small feat, which is why it feels so special when you take that first, unforgettable sip.
Local tip: If you can, try to secure a spot on a guided tour. You'll learn all sorts of fun facts about the winemaking process, and the story of their pyramid is a must-hear!
Snowshoe your way through Kootenay National Park 
Website: https://www.pc.gc.ca/en/pn-np/bc/kootenay/ 
Address: British Columbia, Canada
Contact details: +1 250-347-9505
Operating hours:
Snowshoeing in Kootenay National Park offers an experience like no other, where the frosted trees arch overhead and the crunch of snow under your feet is the only thing to break the stillness. It's winter, it's quiet, it's peaceful, and it's all kinds of beautiful!
Kootenay offers a variety of trail options, catering to both adrenaline junkies and those into a more slow-paced, tranquil vibe. Don't forget to take a breather every now and then to appreciate the spectacular views that winter in Kootenay has to offer.
Local tip: Sunshine can be deceiving when venturing into the park in the winter. Always pack extra layers and warmth, and keep an eye on weather predictions!
Have a grand winter train ride with Via Rail
Website: https://www.viarail.ca/en 
Contact details: +1 888-842-7245
Operating hours:
Monday to Sunday – 7 AM to 11 PM
A winter train ride aboard Via Rail will weave you through those frosty landscapes in comfort and style. As you chug through snow-dusted forests and icy river valleys, you'll understand just how magical a winter train ride can be.
It's the perfect way to embrace the season without getting icicles in your hair—bonus! Via Rail has several train routes to choose from, so you've got options aplenty!
Local tip: Book your train tickets in advance, especially during holiday seasons, to make sure you get your preferred seat and don't miss out on any winter magic!
Soak in Banff Upper Hot Springs
Website: https://www.hotsprings.ca/banff 
Address: 1 Mountain Ave, Banff, AB
Contact details: +1 800-767-1611
Operating hours:
Monday to Sunday – 10 AM to 10 PM
One of the top things to do in Canada in the winter is to soak up the magic (and warm water) of Banff Upper Hot Springs. The contrast of the warm, soothing waters and the crisp, cool air will have your senses tingling in the best way possible.
Banff Upper Hot Springs has been a cherished destination for over a century, providing travellers and locals alike with a unique retreat from the chill of winter.
Its rich mineral content and healing properties make these hot springs more than just a cosy soak—they're a well-deserved treat for the body, mind, and soul.
Local tip: Don't forget to bring your own towel, or else be prepared to rent one there. It's always nice to have a familiar, fluffy friend waiting when you step out of the warm waters!
Try the exciting zipline at Marble Mountain Ski Resort
Website: https://skimarble.com/ 
Address: 2 Marble Dr, Steady Brook, NL
Contact details: +1 709-637-7601
Operating hours:
Monday, Wednesday to Sunday – 11 AM to 7 PM
The zipline at Marble Mountain Ski Resort offers an exhilarating, bird's eye view of Canada's winter wonderland. As you harness up and take that adrenaline-fueled leap, you'll realise just how magical winter zip lining can be.
Marble Mountain Ski Resort is famed for its snow-covered peaks and fantastic ski conditions, but the winter zipline is an added bonus, a cherry atop their winter fun sundae!
The rush of zipping down at high speed, coupled with the sheer beauty of the surrounding wintry terrain, makes this a must-try winter adventure.
Local tip: Be sure to dress in layers so you can adjust to the variable temperatures while flying high in the frosty air!