Categories >
Construction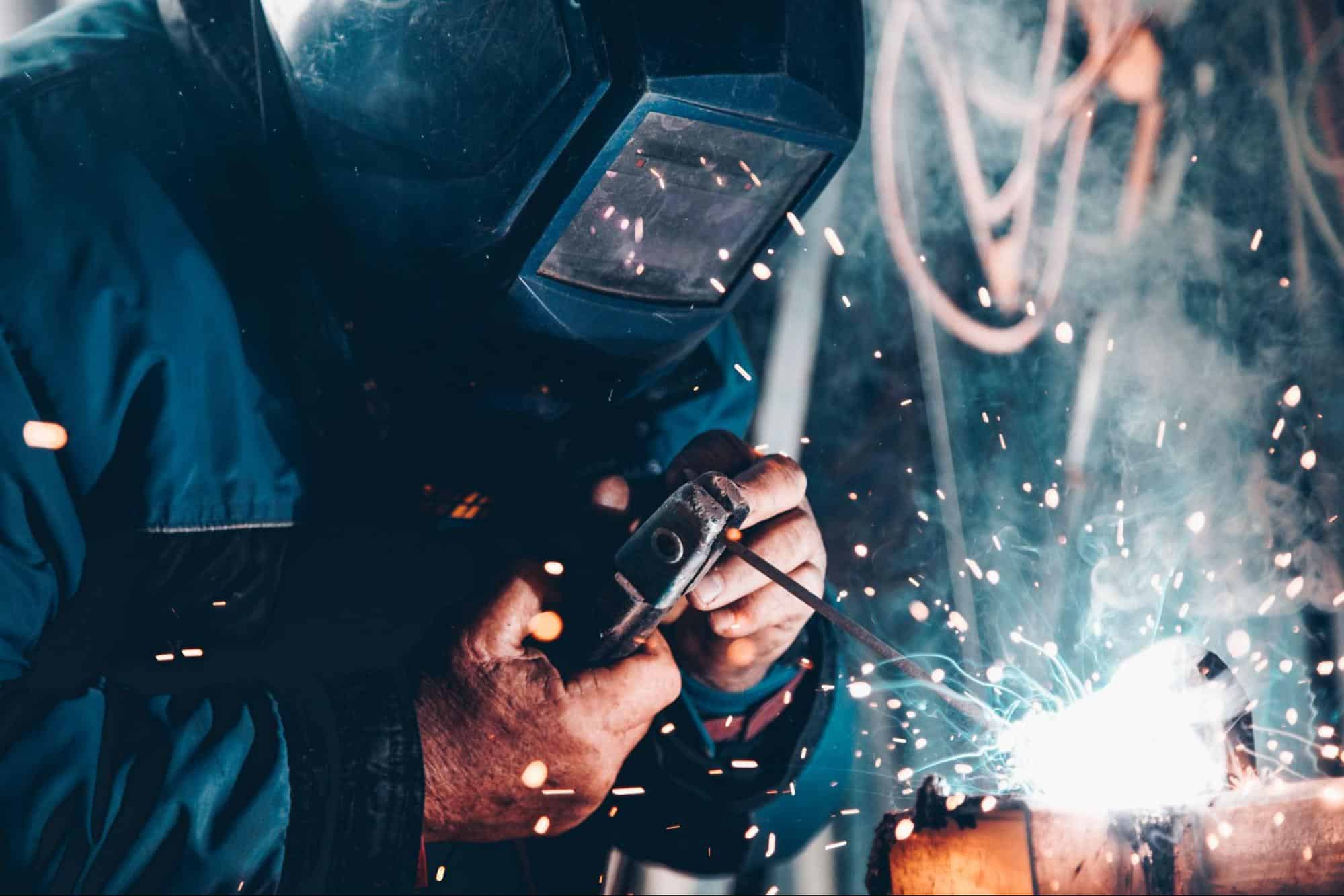 The Top 5 Most Trusted Welding Services in Calgary
How We Picked
1. Aaron Machine Shop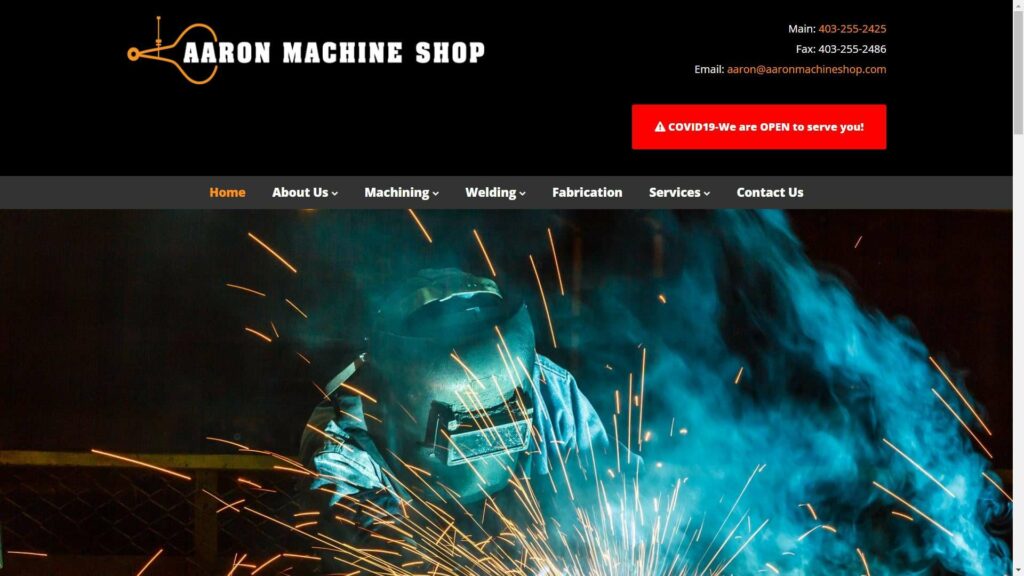 Website: https://www.aaronmachineshop.com
Address: Bay C 7008 5 St SE, Calgary, AB T2H 2G3
Contact Details: 403-255-2425 (Phone), 403-255-2486 (Fax), aaron@aaronmachineshop.com
Office Hours: Monday-Friday:8:00AM-4:30PM, Saturday: 8:00AM-12:00PM (By Appointment Only)
| | |
| --- | --- |
| Google Reviews | 4.4/5 |
| Nice Local Reviews | 4.6/5 |
| Facebook Reviews | 4.8/5 |
| Total Score | 5/5 |
| Score Consistency | 4/5 |
| | |
| --- | --- |
| Expertise | 5/5 |
| Quality of Services | 4.5/5 |
| Appearance | 4/5 |
| Structural Quality | 5/5 |
| Equipment | 5/5 |
| Pricing | 4/5 |
Wide range of services
CWB-certified
Has a fully equipped mobile service
Responsive customer service
Lack of details on labour guarantee
No available estimated fees
In 1996, Mohammed Koudmani co-founded a humble machine shop called Aaron Machine Shop in Calgary. They have since expanded to a full range of welding, metal fabrication, millwrighting, and machining services.
Aside from having a skilled staff, they are also highly trained and certified. We think this will make you feel at ease when availing of services, but it would be nice to have details on labour guarantees.
You can expect the common types of welding services from them because of their certification in Arc, MIG, and TIG welding techniques. But if the project needs some particular tools, the team will discuss them with you.
Their welding certification in the Canada Welding Bureau (CWB) means the welders are competent and qualified in welding techniques. We think this will assure you that your project is in efficient hands.
We appreciate their fully equipped mobile service. We think this is an excellent option if you're busy and have no time to visit the physical shop.
As far as the quality of their services, we heard they showed good workmanship as the welders provided clean work with no visible welding marks. But, we also heard of a few instances where uneven marks were left on the metal.
Additionally, past clients were happy with their fair prices. However, we would still appreciate readily available estimated fees for their mobile service.
Lastly, some clients told us they have excellent customer service. Their staff was great at communication and knowledgeable regarding any inquiries.
2. Joe-Jays Welding Ltd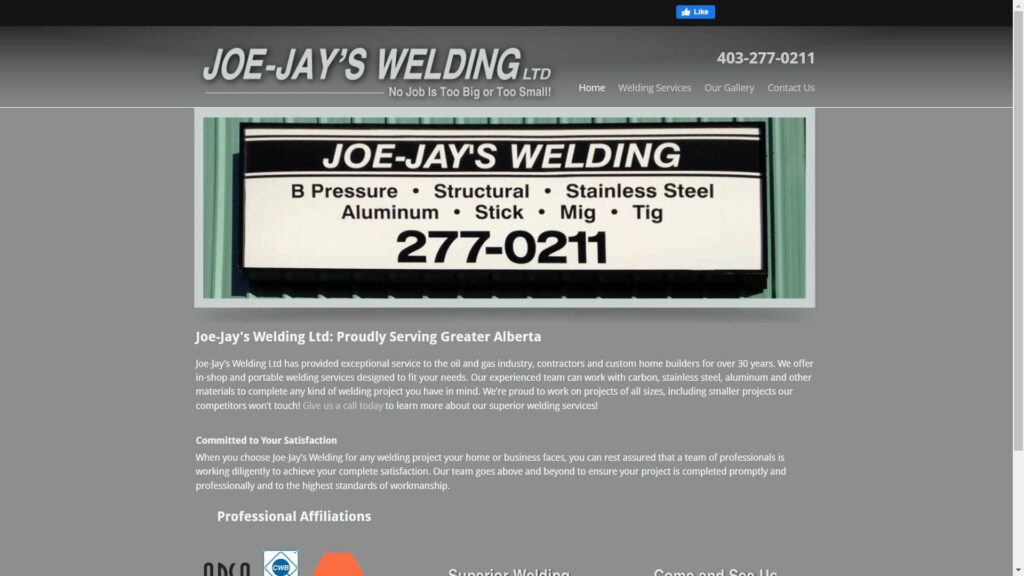 Website: https://www.joejayswelding.com
Address: 4512 8A Street NE, Calgary, AB T2E 4J7
Contact Details: 403-277-0211 (Phone), 403-861-6878 (After Hours Cellphone), 403-277-2211 (Fax), joe-jweld@hotmail.com
Office Hours: Monday-Friday: 7:30AM-4:30PM
| | |
| --- | --- |
| Google Reviews | 4.8/5 |
| Nice Local Reviews | 4.8/5 |
| Total Score | 4/5 |
| Score Consistency | 4/5 |
| | |
| --- | --- |
| Expertise | 5/5 |
| Quality of Services | 5/5 |
| Appearance | 5/5 |
| Structural Quality | 5/5 |
| Equipment | 4/5 |
| Pricing | 4/5 |
Over 30 years of experience
CWB-certified
ABSA-affiliated
Efficient and professional welders
Lack of labour warranty information
No available details on equipment
With over 30 years of experience in Calgary's welding industry, Joe-Jay's Welding has provided services for small to large projects. They also offer fabrication services with a wide variety of materials.
We like that they are CWB certified, as well as an affiliation with the Alberta Boilers Safety Association (ABSA). ABSA is a regulatory authority on equipment safety in Alberta, ensuring that pressure types of equipment are safe.
They have MIG and TIG welding. But, we think it would be advantageous to include more equipment details since they accept small and big projects.
We believe including this information will give potential clients confidence that they can handle any job.
To add, they offered fair prices according to clients we surveyed. Furthermore, they mentioned that they paid what was exactly quoted in the beginning.
Another thing they can add is details on the warranty in case of incorrect welding due to workmanship. Thus, we believe this can ease the mind of the clients about the end product.
On a different note, we heard positive experiences about the quality of their services. Their welders are efficient and professional, ensuring the client is happy with their work.
Overall if you need a small fabrication, the technicians at Joe-Jay's Welding can usually complete it in less than a day. Just confirm the payment method you prefer since they have limited options.
3. Trillion Industries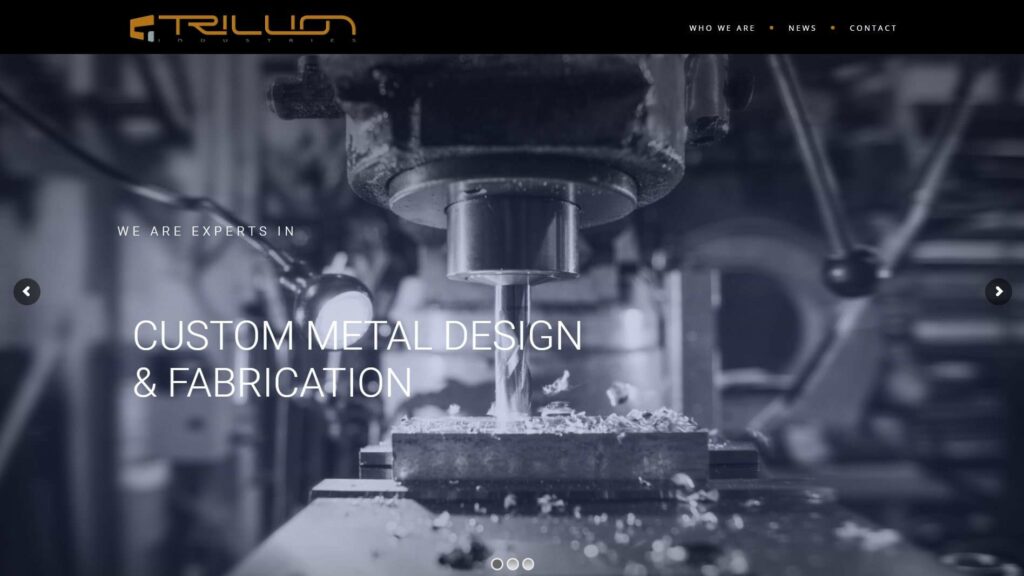 Website: https://trillionindustries.com
Address: 5041 11 St SE, Calgary, AB T2H 1M7
Contact Details: 403-243-0036, contact@trillionindustries.com
Office Hours: Monday-Thursday: 8:30AM-4:30PM, Friday: 8:30AM-2:00PM
| | |
| --- | --- |
| Google Reviews | 4.8/5 |
| Nice Local Reviews | 4.7/5 |
| Total Score | 4.5/5 |
| Score Consistency | 4.4/5 |
| | |
| --- | --- |
| Expertise | 5/5 |
| Quality of Services | 5/5 |
| Appearance | 5/5 |
| Structural Quality | 5/5 |
| Equipment | 5/5 |
| Pricing | 4/5 |
Uses up-to-date equipment
Offers design services
Has suppliers for specialty parts
Offers 3D solid modelling
Closes earlier on Fridays
Lack of service guarantee details
Owner and operator, Derek Pauletto, established Trillion Industries as one of Calgary's innovative welding companies. Their fabricators have a combined experience of more than 50 years.
First, we like that they have made over 1,900 custom-built designs and over 5000 completed projects. We believe this shows the trust they've built over the years in the industry.
Second, we highly appreciate the safety standards they meet regarding equipment. In addition, they ensure all equipment is up-to-date and adjusted due to changing conditions.
Their team has a tonne of experience in standard welding techniques and works with various materials. We're glad they can handle small and challenging fabrication projects.
It's worth noting they have suppliers in machining parts.We found this aspect beneficial especially for those looking for hard-to-find specialty parts.
Third, we really like their design services. If you have a design in mind, their team will take care of the process to make your vision a reality.
Additionally, Trillion Industries has a team with creative output who will show you sketches and prototypes or working models if needed. Another thing we appreciate is they will go beyond your expectations as long as the budget allows.
Moreover, they offer 3D solid modelling. This is good, so you won't have to break your budget if your design doesn't work correctly.
A drawback is they don't have information on service guarantees. However, since they make custom designs, we think it'll be best to give clients peace of mind if they can't meet the client's expectations.
Lastly, they close a tad earlier on Fridays. So, you might need to rearrange your schedule if you have work on Fridays.
4. The Welding Shop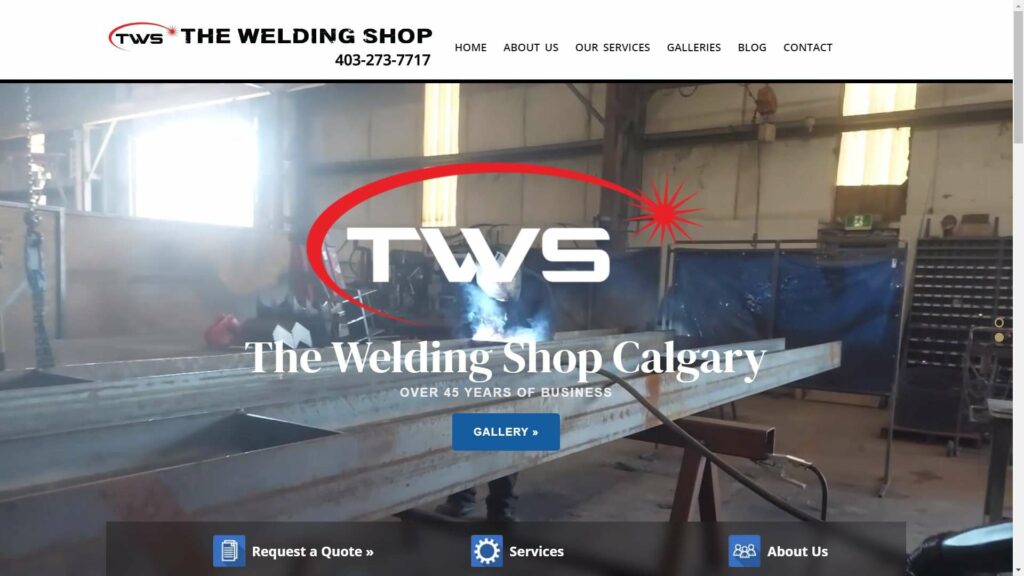 Website: https://theweldingshopcalgary.com
Address: 5110 76 Ave SE, Calgary, AB T2C 2X2
Contact Details: 403-273-7717, info@twscalgary.com
Office Hours: Monday-Friday: 8:00AM-4:30PM
| | |
| --- | --- |
| Google Reviews | 4.6/5 |
| Nice Local Reviews | 4.6/5 |
| Total Score | 4.5/5 |
| Score Consistency | 4/5 |
| | |
| --- | --- |
| Expertise | 5/5 |
| Quality of Services | 5/5 |
| Appearance | 5/5 |
| Structural Quality | 5/5 |
| Equipment | 5/5 |
| Pricing | 4/5 |
Over 50 years of experience
CWB-certified
Certified journeymen
Has a mobile fleet
Completes most projects on time
Instances of unpleasant calls
Lack of service guarantee information
The Welding Shop was founded in 1969. Decades later, they've accumulated trust and repeat clients from schools to construction companies.
We like that they are CWB-certified. This reassures clients that they meet the requirements and the highest quality welding services.
Aside from general welding services, they also offer custom metal fabrication. They specialise in architectural ironwork, plasma and oxy-acetylene cutting, and TIG and MIG welding, among others.
Their shop has complete equipment no matter the scale of the project. As a result, we noted from our surveys that their clients are assured that the team can execute their ideas.
Additionally, they have a mobile fleet for portable welding projects. You won't have to worry if your gate or fence needs some work done because they can quickly come to your location.
However, we think they can include guarantees for their work, especially since they make custom fabrications. Adding this will give clients more trust in their service.
On a positive note, the welders have shown remarkable workmanship with small and commercial projects. In addition, their team could complete most of the projects on time.
On the downside, they can improve on customer service as there were instances of unpleasant call experiences. Some clients also didn't get to inquire thoroughly regarding specific services.
Overall, The Welding Shop has decades of expertise in the Calgary market. It's worth noting that they have certified journeymen that can work on large modification projects.
5. Tradewest Fabrication Ltd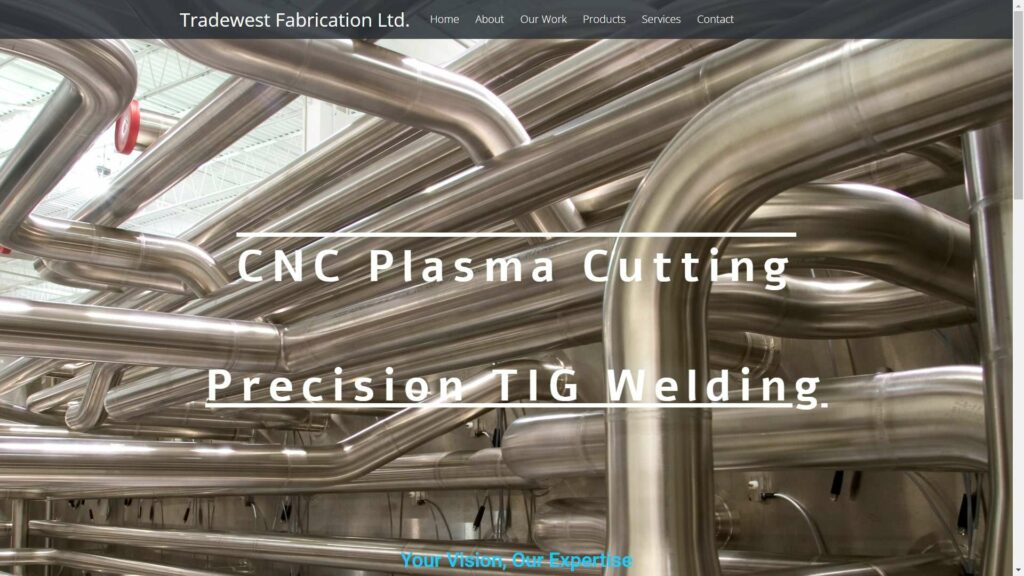 Website: http://www.tradewestfabrication.com
Address: 3600 21 St NE, Calgary, AB T2E 6V6
Contact Details: 403-700-4570
Office Hours: Monday-Friday: 11:00AM-7:00PM
| | |
| --- | --- |
| Google Reviews | 4.6/5 |
| Nice Local Reviews | 4.7/5 |
| Total Score | 4/5 |
| Score Consistency | 4/5 |
| | |
| --- | --- |
| Expertise | 5/5 |
| Quality of Services | 5/5 |
| Appearance | 5/5 |
| Structural Quality | 5/5 |
| Equipment | 4/5 |
| Pricing | 4/4 |
Specialises in TIG welding
Provides high-quality work
Responsive team
Has on-site service
Smaller team
Lack of payment options available
Tradewest Fabrication services Calgarians with a wide range of welding and fabrication services, specialising in stainless and aluminum TIG welding and food and beverage grade welding.
We appreciate their thorough process with the client. They will document all the steps and special requests to ensure the end product has the highest quality.
Also, they will suggest ideas that can improve the project and continuously collaborate with you to help realise your vision.
Although they perform different welding techniques, it's TIG welding that they specialise in. This allows their team to provide high-quality work in appearance and structural integrity.
Furthermore, their high-quality work has been proven based on past projects. They have provided excellent workmanship with a fast turnaround time.
But we noticed that Tradewest Fabrication has a smaller team. So we think if you have a complex project or require on-site service, you may want to book ahead of time in case the shop gets a tad busy.
As for customer service, they are responsive and willing to collaborate. Past clients mentioned how they were patient when discussing custom projects.
A drawback is there were a few instances of payment confusion, but the client didn't complain as they resolved the matter quickly.
We believe with payment options or detailed invoices, they can easily avoid this as some clients may not feel comfortable with slight payment problems.
Ultimately, if you need CNC milling and cutting, hydraulic bent tubes, or simply consult and evaluate your project, the team at Tradewest Fabrication can do those for you.
FAQ About Welding Services