Categories >
Construction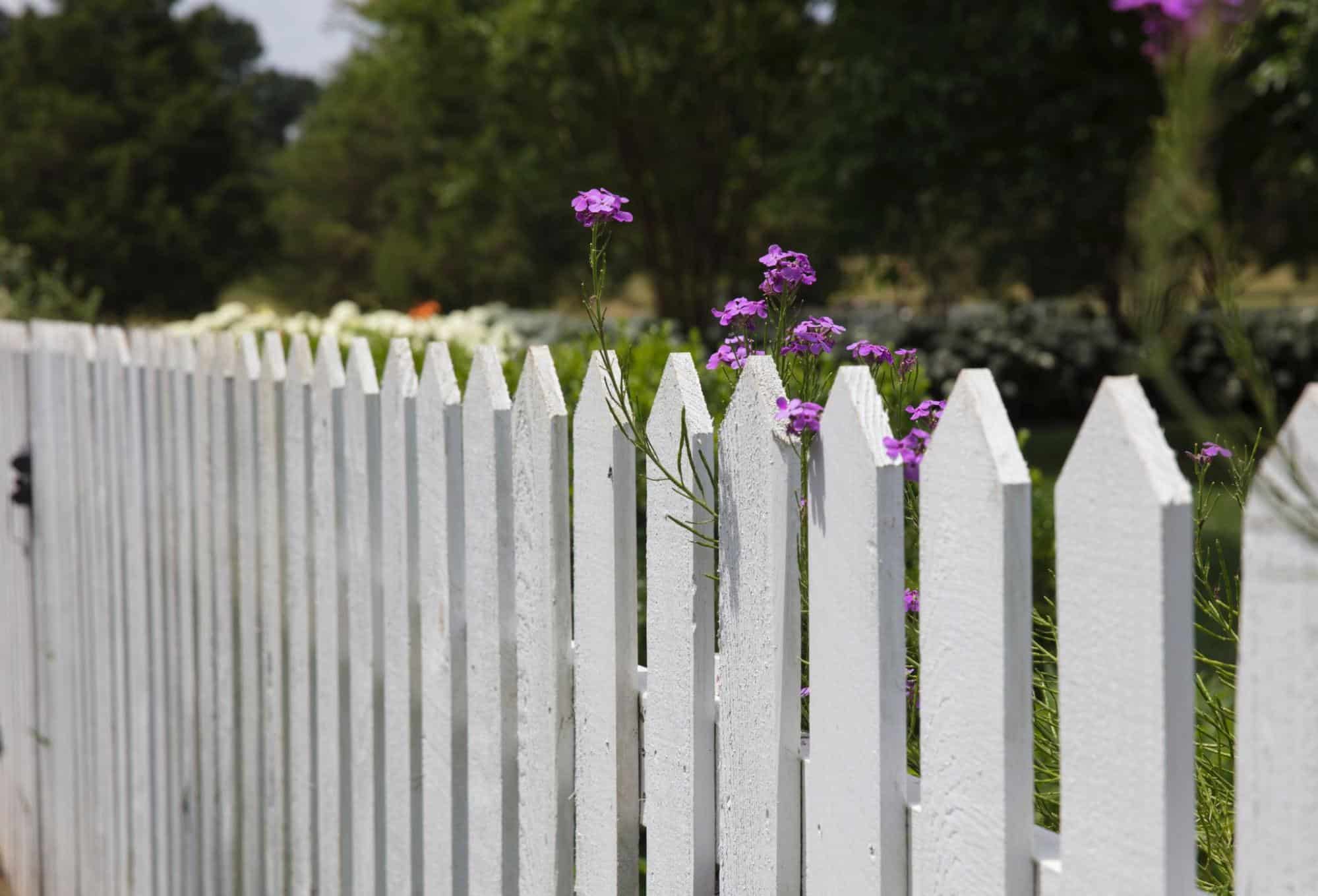 The Top 5 Fencing Contractors in Edmonton
How We Picked
1. Ewood contractors Inc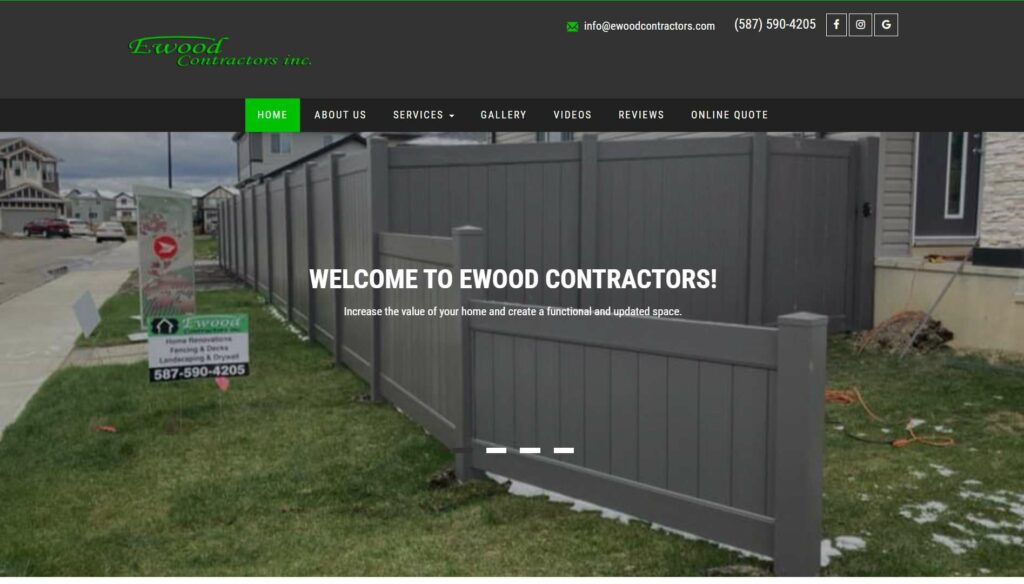 Selection: Vinyl, timber, chain link, ornamental, farm, automated gates, etc.
Website: https://ewoodcontractors.com
Address: 9007 135 Avenue, Edmonton, AB T5C 2L9
Contact Details: (587) 590-4205; info@ewoodcontractors.com
Office Hours: Monday-Friday: 8:00 am-5:00 pm
| | |
| --- | --- |
| Google Reviews | 5/5 |
| Trusted Pros Reviews | 5/5 |
| Total Score | 3/5 |
| Score Consistency | 5/5 |
| | |
| --- | --- |
| Expertise | 5/5 |
| Rates | 5/5 |
| Selection | 5/5 |
| Quality | 5/5 |
| Reliability | 5/5 |
Reasonable rates
Provides accurate estimates
Services residential and commercial properties
Good customer service
Closed on weekends
Can update their portfolio
Ewood Contractors Inc is a locally owned and operated business that offers fencing and deck services. It serves residential and commercial clients in Edmonton and its nearby areas.
Its team is composed of trained professionals. We think many clients will appreciate the expertise because it ensures good-quality installation.
We appreciate their free consultation, especially since fencing can cost a tonne with a big property. In addition, they provide accurate estimates and have reasonable rates.
Aside from residential properties, we like that they can handle fencing installation for midsize commercial properties.
We admire the personal approach that the team shows their clients. From the start of the process, they make sure that you know all options and will keep you in the loop.
In fact, past clients praised their great customer service. Also, they provided many samples allowing you to choose the one you find best.
There's actually a wide selection of fences, from simple chain links to ornamental ones. To add to that, you can also choose to have automated gates for a fancy and functional choice.
It's worth highlighting that the crew have great installation methods. They installed the fences correctly, which lasted for a long time.
Aside from that, their process was efficient and thorough. Due to this, their clients have even recommended them to neighbours.
Although they have an online portfolio, we think they can update it so potential clients can browse through it for more choices.
You should know Ewood Contractors is closed on weekends. You may need time off for the initial meeting.
2. Everlast Vinyl Fencing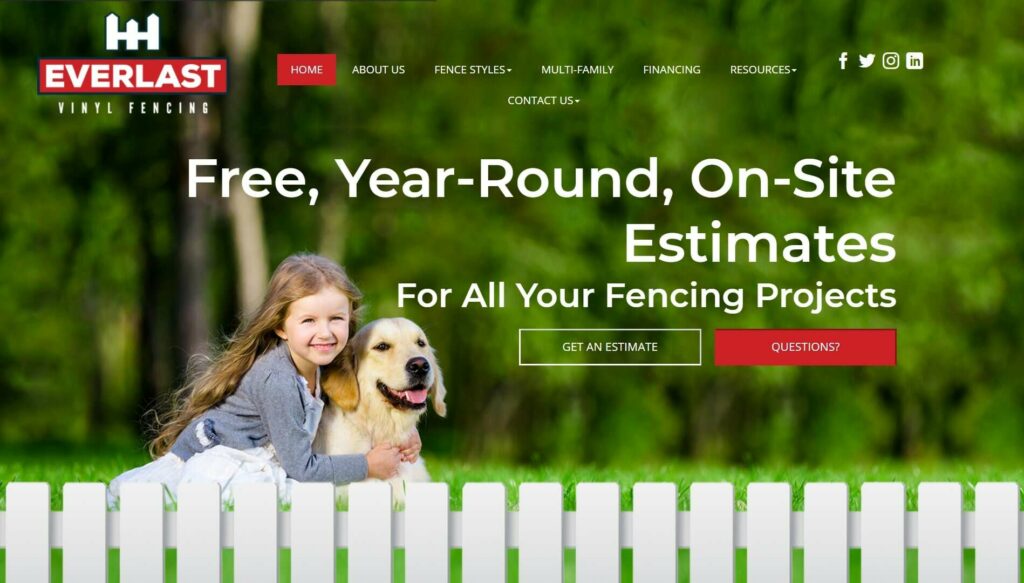 Selection: Wood, vinyl fences
Website: https://www.everlastvinylfencing.com
Address: 11511 160th Street NW, Edmonton, AB T5M 3V9
Contact Details: (780) 651-1562; info@everlastvinylfencing.com
Office Hours: Monday-Friday: 8:30 am-5:00 pm
| | |
| --- | --- |
| Google Reviews | 4.5/5 |
| Facebook Reviews | 5/5 |
| Total Score | 4/5 |
| Score Consistency | 4.7/5 |
| | |
| --- | --- |
| Expertise | 5/5 |
| Rates | 4/5 |
| Selection | 5/5 |
| Quality | 4/5 |
| Reliability | 4/5 |
Offers various styles and colours
Has a financing option
Does medium-sized commercial projects
Staff is quick to respond
Higher prices
Can improve on communication
Everlast Vinyl Fencing first opened its doors in 2013 in Edmonton. The company has only used premium materials to ensure long-lasting fences.
There are also a bunch of vinyl and wood fence styles and colours you can choose from, including a simple privacy fence to ones with rail details for an added look.
In addition, these options give you freedom regarding your budget. We believe this will appeal to clients who wish to save money.
Aside from that, they offer free estimates. We believe this is a good thing, especially since they tend to have higher prices, and some clients even said their quotes weren't the lowest they received.
Furthermore, there are financing plans available through Financeit. We like the payment flexibility since fencing services can be quite costly.
Unfortunately, there were a few issues with their installation due to some delays in material shipping. Some weren't happy and felt that it should've been better, especially with the high prices.
On a positive note, the staff quickly responds to client concerns. Still, we feel they need to communicate more with their clients, especially with material delays.
Another good thing is we've recently seen a considerable improvement in the team's installation process. Their latest clients were impressed with the quality, professionalism, and efficiency.
Lastly, we want to mention that they also do medium-sized commercial projects, perfect for multi-family homes.
3. Emerald Contracting Inc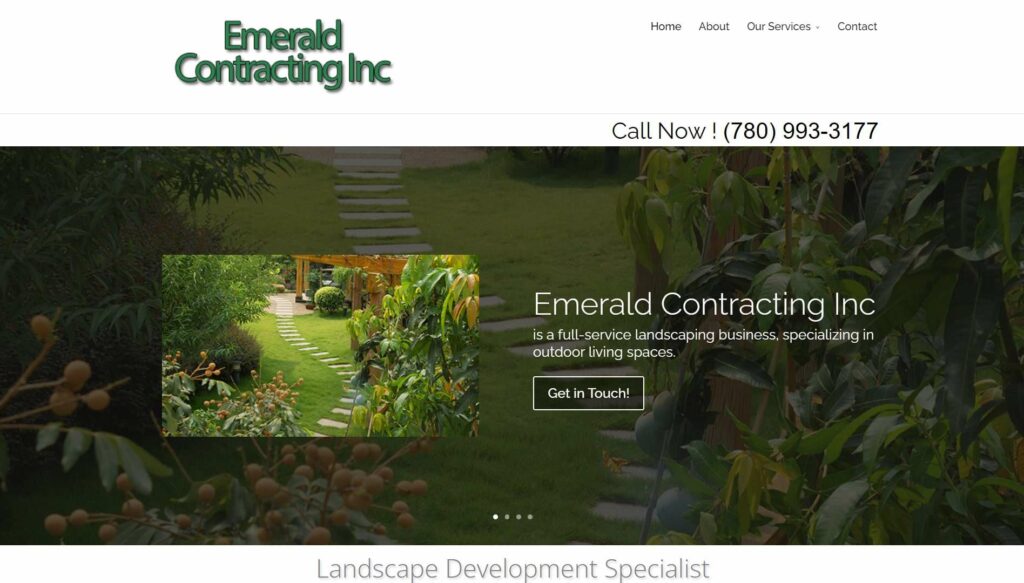 Selection: Vinyl wood, gating systems, etc.
Website: http://www.landscapinginedmontonab.ca
Address: 6108 92A Avenue NW, Edmonton, AB T6B 0T4
Contact Details: (780) 993-3177; emeraldcontractinginc@shaw.ca
Office Hours: Monday-Saturday: 8:00 am-8:00 pm
| | |
| --- | --- |
| Google Reviews | 4.6/5 |
| Total Score | 3/5 |
| Score Consistency | 4.6/5 |
| | |
| --- | --- |
| Expertise | 5/5 |
| Rates | 5/5 |
| Selection | 5/5 |
| Quality | 5/5 |
| Reliability | 5/5 |
Open on Saturdays
Reasonable prices
Various services available
Many available styles and colours
Responsive through emails
Slower response to phone inquiries
Lack of a portfolio
Emerald Contracting Inc has been in the industry for more than 25 years. It offers a wide range of yard services, from fencing to landscaping.
The team comprises landscaping specialists, designers, and installers to ensure you get a yard that suits your home's exterior. With design help, potential clients can feel at ease knowing they'll get a beautiful garden.
We appreciate that they provide free estimates. In addition, many clients liked the reasonable pricing.
As a recommendation, ask for estimates through email for faster response. It's so the team can reply quickly after checking out the project because phone inquiries will usually be slower.
On top of that, they're responsive to emails. Their clients appreciated that the team answered all their questions.
Besides fence installation, they also do gating systems. We like the many options for privacy, whether you have a small or large yard.
What's more, they can include a small gate to give dogs better access. We highly appreciate that they have this for clients with pets.
Apart from that, you can match your fence and gate for curb appeal dues to a bunch of choices in sizes, colours, styles, and materials.
We also appreciate the team's good installation quality. In fact, many clients praised their new sturdy fence.
Also, they efficiently did the whole process, from removing the old fence to installing a new one. Due to that, their clients have hired them for other services.
A slight drawback that we found is the lack of a portfolio. We believe it will be advantageous to include this in the future so homeowners can see their projects online.
Lastly, Emeral Contracting Inc is open on Saturdays. We really appreciate this because similar services tend to close on that day.
4. Atlantic Fence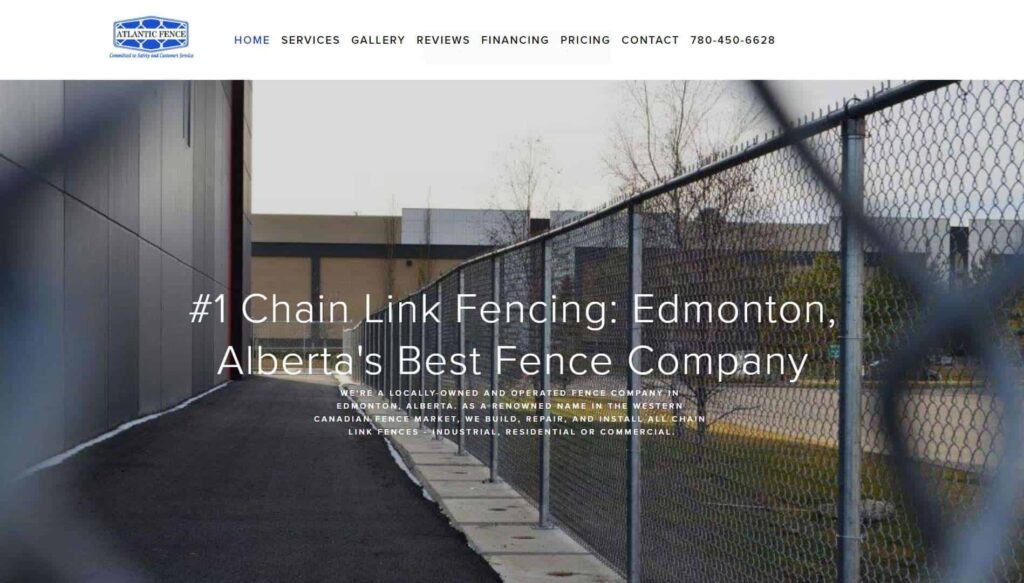 Selection: Chain link fences for residential, commercial, and industrial properties
Website: https://atlanticfence.ca
Address: 5104 93 St NW, Edmonton, AB T6E 5K4
Contact Details: 780-447-5465; sales@atlanticfence.ca
Office Hours: Monday-Friday: 7:00 am-5:00 pm
| | |
| --- | --- |
| Google Reviews | 4.9/5 |
| Yably Reviews | 4.9/5 |
| Total Score | 5/5 |
| Score Consistency | 4.9/5 |
| | |
| --- | --- |
| Expertise | 5/5 |
| Rates | 5/5 |
| Selection | 4/5 |
| Quality | 5/5 |
| Reliability | 5/5 |
Open since 1980
Received a COR from CFCSA
Has a huge inventory
Offers financing option
Responsive team
Not recommended for the decorative look on property
Closed on weekends
Since 1980, Atlantic Fence has been in the fencing industry in Edmonton. Through the years, it has services residential, commercial, and industrial properties.
It has a Certificate of Recognition (COR) from the Canadian Federation of Construction Safety Associations (CFCSA). We think you will appreciate this because it means a commitment to workplace safety.
The company specialises in chain-link fences. This is a great option for clients on a tight budget.
You see, chain links are affordable, durable, and don't need a tonne of maintenance. But expect you will get only a little yard privacy because it doesn't offer a solid wall.
Unfortunately, there may be better options than this if you prefer adding a decorative aspect to your home.
But if chain-link fencing is what you prefer, there are actually many available designs to choose from. Atlantic Fence carries a huge inventory and custom-made ones that'll suit your needs.
Besides that, they provide free estimates and competitive prices. Some clients even said they got the lowest quote compared to other fencing services in Edmonton.
On top of that, financing options are available through LendCare for residential clients. We appreciate the payment flexibility in addition to the affordable prices.
Another service we like is the automatic gates using the LiftMaster system for extra security because you can operate it using your smartphone.
They're also an authorised dealer, so you can be sure that they can install it correctly.
On the downside, they're closed on weekends. Unfortunately, busy clients need to rearrange their schedules to accommodate the regular business days.
On the positive side, the team were quick to respond to inquiries. They also did an efficient and top-quality job.
Lastly, they offer powder-coated fences that come in different colours if you want to avoid the galvanised look on your property.
5. Duraguard Fence Ltd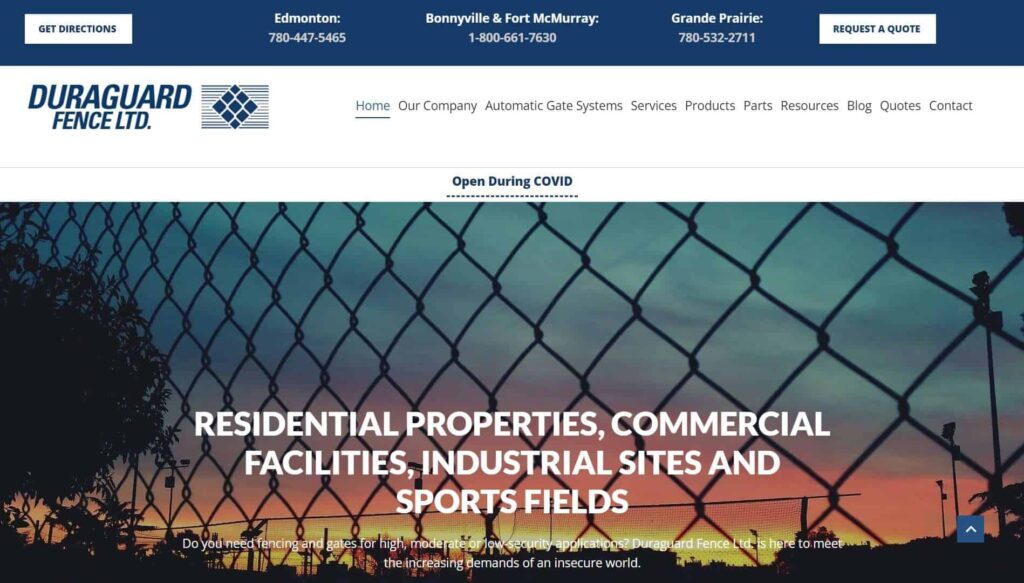 Selection: Wood, vinyl, chain link, ornamental, custom, etc.
Website: https://www.duraguardfence.ca
Address: 10624 – 214 Street NW, Edmonton, AB T5S 2A5
Contact Details: (780) 447-5465; duraguard@telus.net
Office Hours: Monday-Friday: 8:00 am-5:00 pm
| | |
| --- | --- |
| Google Reviews | 4.6/5 |
| Yably Reviews | 4.7/5 |
| Total Score | 5/5 |
| Score Consistency | 4.6/5 |
| | |
| --- | --- |
| Expertise | 5/5 |
| Rates | 4/5 |
| Selection | 5/5 |
| Quality | 5/5 |
| Reliability | 5/5 |
Established in 1987
BBB-accredited
Offers various fencing options
Has a lot of experience with large properties
Booking difficulty on construction season
A few cases of late responses
Duraguard Fence Ltd has serviced Edmonton's residential, commercial, and industrial properties since 1987. It has many options for fences and gating systems that give you many options.
It's a BBB-accredited business, which many Canadians will appreciate due to the company's commitment to client satisfaction.
It's composed of a skilled and trained team specialising in installation, repair, and replacement.
As for fencing choices, you can find many types and styles, from wood to custom-made ones. We appreciate the various options so you can find the best one for your property.
Additionally, we like the available fences specifically made for pet owners. Standard sizes are readily available, but we appreciate that they can make custom ones for a bigger space.
Furthermore, the dog fences are easy to assemble, and you can even do it with a partner for only 20 minutes!
Another thing we appreciate is their expertise in large properties: commercial and industrial. They've done work in sports fields and construction sites.
With these experiences, we think they can earn the trust of potential clients because they can do small and large projects.
On the downside, there were a few cases of late responses regarding estimate inquiries. On the other hand, they've provided accurate estimates.
Also, Duraguard Fence tends to get a lot of big clients, especially during construction season. Because of this, looking for a confirmed schedule is a bit difficult.
On the positive side, they offer many services and options no matter what property the client may have.
FAQ about Fencing