Categories >
Other Services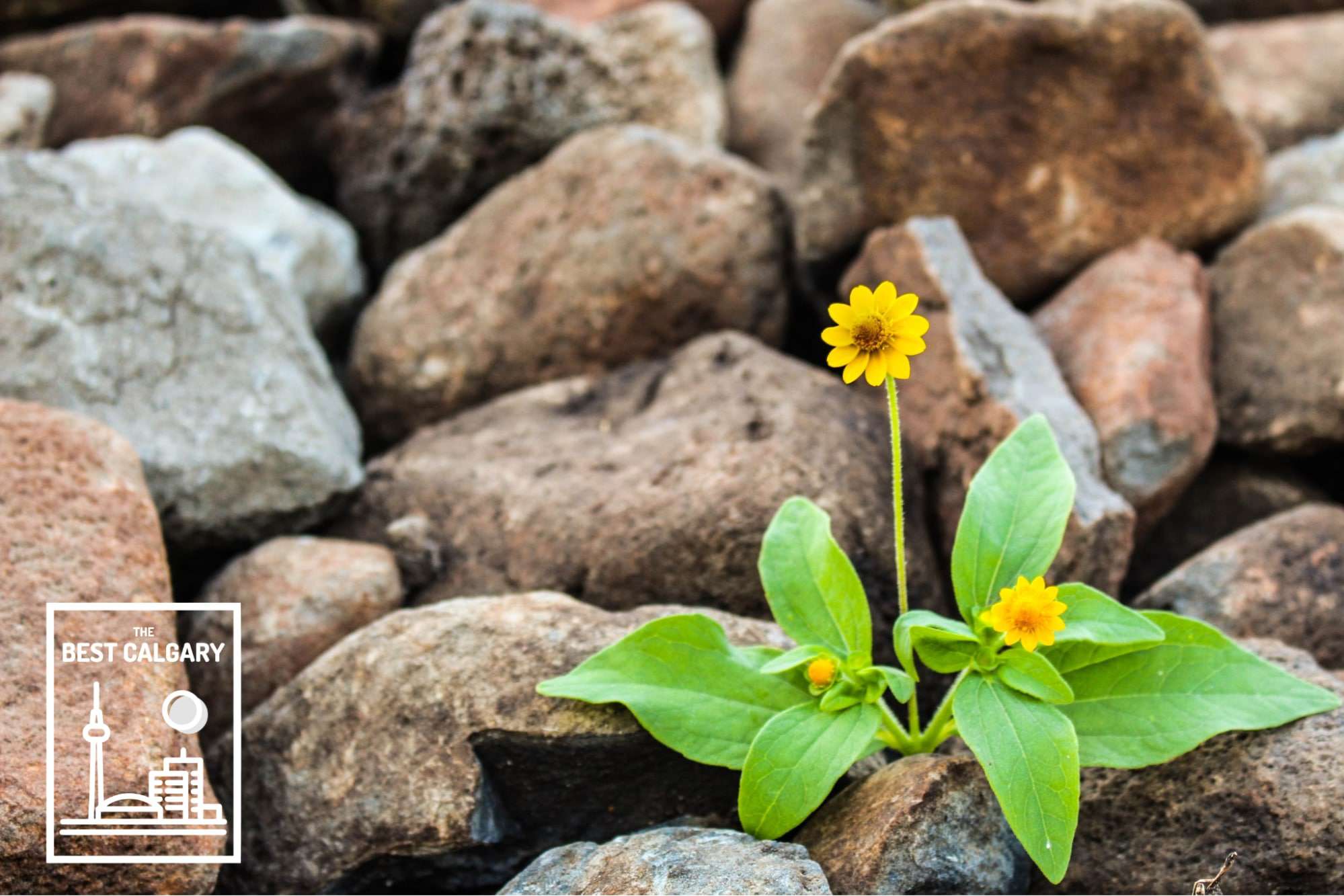 The 5 Most Recommended Calgary Life Coaches
How We Chose
1. Dean Kendall – Ideal Life Experience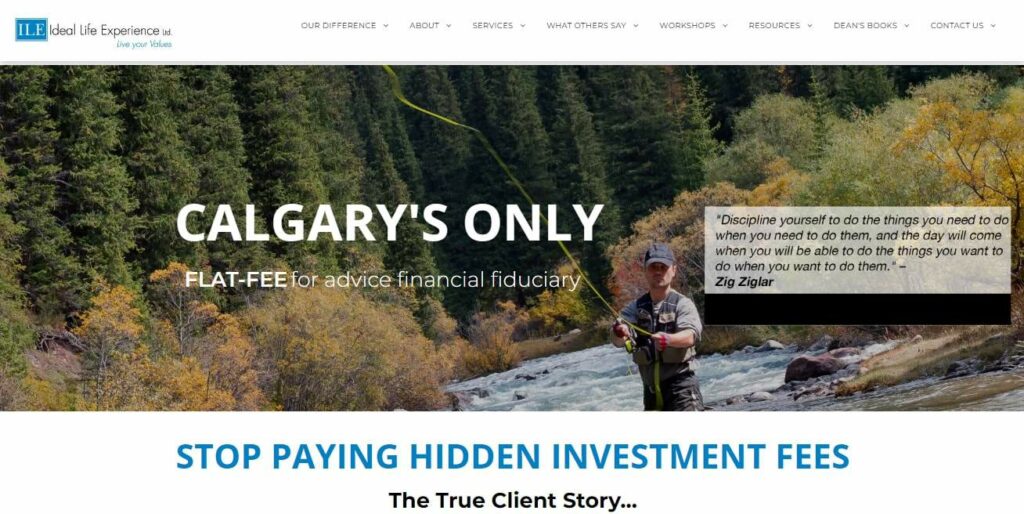 Services: Financial Advisory and Financial Coaching
Website: https://www.ideallifeexperience.com
Contact Details: dean@ideal-life-experience.ca / +1 403-543-7226
Company Address: 2505 17 Ave SW #205, Calgary, AB T3E 7V3, Canada
Operating Hours: Mondays to Saturdays, 8:00 AM – 4:30 PM
| | |
| --- | --- |
| Google Reviews | 5/5 |
| Total Reviews | 5/5 |
| Score Consistency | 5/5 |
| | |
| --- | --- |
| Credentials | 5/5 |
| Range of Services | 4/5 |
| Affordability | 4/5 |
| Proof of Expertise | 5/5 |
Almost three decades in service
Specialises in financial coaching
Has awards from reputable awarding bodies
Consultation is flat fee
The company has workshops and publications
The coach has published two books
Has regular clients that have been with the coach for more than a decade
Expensive
Only accepts in-office appointments for first consultation
The Ideal Life Experience Ltd. has been in business for 29 years. Better Business Bureau (BBB) accredited them in 2018.
The company primarily offers financial advice and financial coaching for its clients. Throughout its years of helping people with finances, they have received several awards, among them the best financial adviser award from the Canadian Business Awards in 2019.
Its founder and financial advisor, Dean Kendall, has a seamless track record in finance. Kendall has a degree in Finance and Marketing, as well as an extensive experience as a financial advisor and fiduciary.
Kendall has also published two books about finances. In addition, the company has published related articles, blogs, press releases, and even workshops.
We are amazed that Kendall and his company have clients still with them after more than a decade. Clients love that they are knowledgeable, professional, friendly, and know what financial advice fits them.
Regarding their financial coaching services, we found that they have a flat fee of $500. A flat fee is always an easy option since clients do not have to worry about additional charges further down the line.
But, we think this is quite expensive. Although we understand that the fact that its a niche service dictates the rates, theirs is twice more than the average in Canada, which is around $150-250.
Aside from that, the company requires an in-office visit for the first-time consultation. We wish that the company would provide the option to do online consultation for those who are still on the fence about committing to the service.
2. Christopher Lawrence and Kyle Kalloo – Change My Life Coaching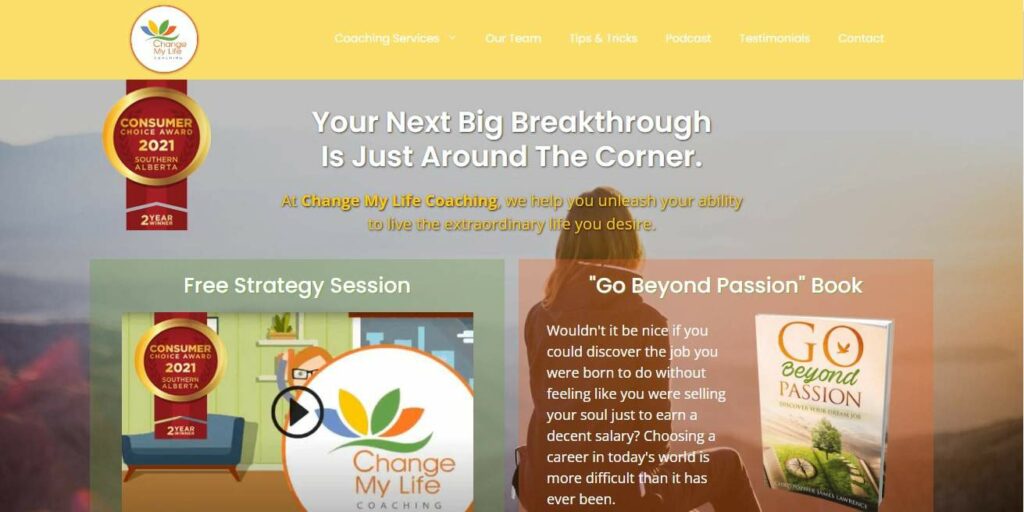 Services: Career Coach, Relationship Coach, Spirituality Coach, and Leadership Coach
Website: https://www.changemylifecoaching.ca
Contact Details: +1 844-910-7111
Company Address: 550 11 Ave SW #611, Calgary, AB T2R 1M7, Canada
Operating Hours: Mondays to Thursdays, 8:30 AM – 4:00 PM
| | |
| --- | --- |
| Google Reviews | 4.9/5 |
| Total Reviews | 4.9/5 |
| Score Consistency | 4.9/5 |
| | |
| --- | --- |
| Credentials | 5/5 |
| Range of Services | 4/5 |
| Affordability | 4/5 |
| Proof of Expertise | 5/5 |
10 years in service
Offers different life coaching services
Company is recognised by Consumer Choice Award
Certified coaches
Free 15-minute consultation call for career coaching
Accepts face-to-face and online consultations
Has blogs, videos, and a podcast
Service rates not posted on website
Business is only open for four days per week
Change My Life Coaching has been in service since 2012. In 2019, BBB accredited the company.
The company offers various life coach services on career, leadership, relationship, and spirituality. It is also a two-time recipient of the Top Service Provider Award for Life Coaching by the Consumer Choice Award in 2020 and 2021.
We are glad to find that their two coaches, Christopher Lawrence and Kyle Kalloo, are licenced and certified by Certified Coaches Federation and Coach Transformation Academy.
Christopher's life is inspiring because despite having a rough past (high school dropout and drug addict), he was still able to improve himself. As of today, he has a business diploma and has helped people's lives for a decade.
Kyle, the entrepreneur coach, has an equally impressive story. He has a degree in education and psychology, which he uses to coach people on their business endeavours.
Regarding their coaching services, we like how they offer a free 15-minute consultation call for career coaching services. We think it is an excellent feature so clients can test if their coaching services is the best fit for their needs.
If clients want to proceed, we are happy to share that they accept face-to-face and online appointments. Clients can then choose the format they are most comfortable with.
The company also has a book, blogs, videos, and podcasts that clients or visitors can refer to if they want to get quick life advice.
But, unlike other life coach services, their rates are not posted on their website. Clients may be unable to decide quickly if their services fit their budget.
Also, they are only open four days a week. It may be difficult for clients to meet them if weekends are their best available days.
3. Kaylee Houde – KH Career Coaching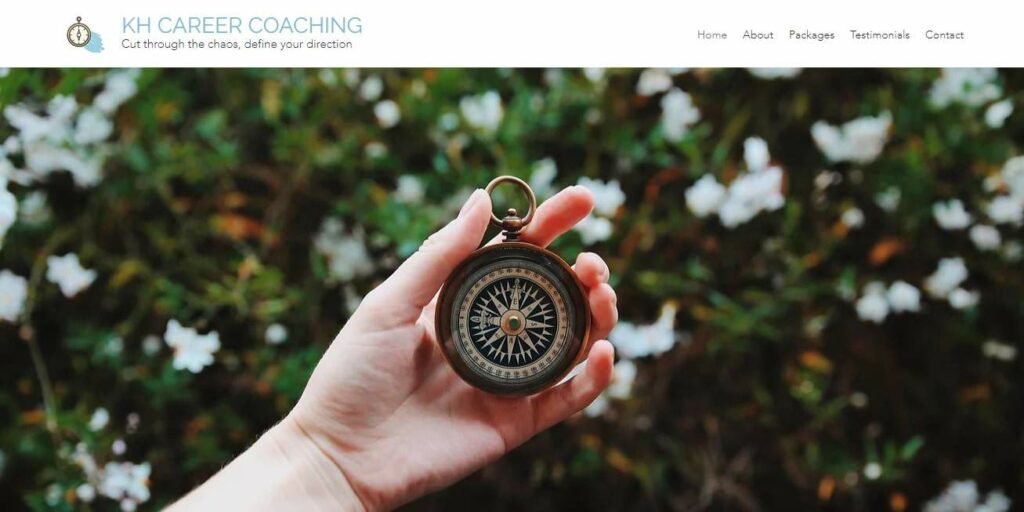 Services: Career Coaching
Website: https://www.khcareercoaching.com
Contact Details: coach@khcareercoaching.com
Company Address: 215 13 Ave SW, Calgary, AB T2R 0W5, Canada
Operating Hours: Mondays to Fridays, 4:00 PM – 9:00 PM, Saturdays to Sundays, 10:00 AM – 4:00 PM
| | |
| --- | --- |
| Google Reviews | 5/5 |
| Total Reviews | 5/5 |
| Score Consistency | 5/5 |
| | |
| --- | --- |
| Credentials | 5/5 |
| Range of Services | 4/5 |
| Affordability | 5/5 |
| Proof of Expertise | 4/5 |
Almost five years in service
Focuses on career coaching
Offers free introductory consultation
Affordable hourly rate
Different coaching packages
Open daily
Only offers career coaching
No published written works and videos
Only accepts online consultation
The KH Career Coaching provides career coaching services for anyone who feels lost in their current job or wants to switch to another career.
At the helm is life coach Kaylee Houde, who built the company in 2017. Her business received accreditation from BBB a year after.
Kaylee has an extensive background in life coaching. We found that she has a degree in Commerce (specialisation in Human Resources) and a master's in Business Administration.
In 2018, Kaylee got her life coaching certificate from Erickson Certified Professional Coach (ECPC).
We discovered that KH Career Coaching offers a free introductory consultation for clients. We are glad to know that the company's hourly rate is $249, which is around the average in Canada.
Also, the company offers different coaching packages to fit different needs. The Premium package costs $1499, which runs for 6-12 weeks with 6 hours of one-on-one coaching together with other career coaching services.
Clients appreciate how friendly, knowledgeable, and on-point Kaylee is. Many clients who sought her help for career transitioning were happy that their new jobs finally aligned with their passion and interest.
However, the company does not offer other types of coaching, unlike the others in this list.
Aside from that, the company has no publications or anything related. Although this is understandable since they are relatively young, clients can know them better if they have at least a couple.
Lastly, Kaylee conducts consultations virtually. While this is an opportunity for her to connect with clients even outside Calgary, those who prefer face-to-face sessions may find this to be a dealbreaker.
4. Lindsay Hammond and Lisa Jones – The Relationship Coaches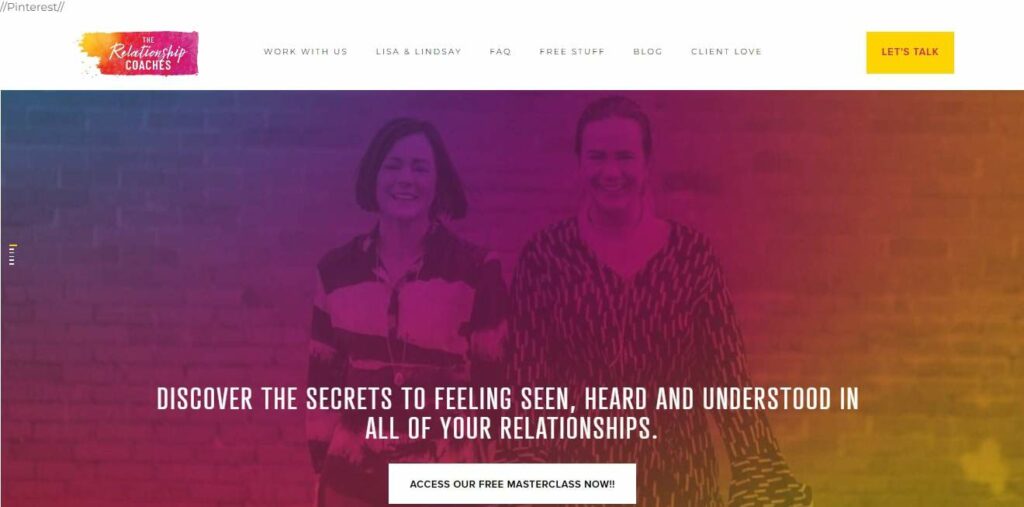 Services: Personal Life Coaching, Relationship Coaching, and Family Coaching
Website: https://www.relationshipsreverything.com
Contact Details: hello@relationshipsreverything.com / +1 403-875-1865
Company Address: Christie Knoll Heights SW, Calgary, AB T3H 2R7, Canada
Operating Hours: Mondays to Sundays, 9:00 AM – 9:00 PM
| | |
| --- | --- |
| Google Reviews | 5/5 |
| Total Reviews | 5/5 |
| Score Consistency | 5/5 |
| | |
| --- | --- |
| Credentials | 5/5 |
| Range of Services | 5/5 |
| Affordability | 5/5 |
| Proof of Expertise | 5/5 |
Coaches are certified by and are members of ICF
Offers a relationship tune-up service
Package has a weekly follow up with clients
Has related blogs, workbooks, and videos
Open daily
Follow-up sessions are only done virtually
Company is relatively young
The Relationship Coaches was created in 2019.
Led by Lindsay Hammond and Lisa Jones, the company was a recent business partnership by these two life coaches.
They have a solid background in their field, as Lindsay has a degree in Commerce and Lisa has a degree in the arts. Both are Certified Professional Co-Active Coaches of Coaches Training Institute and members of the International Coaching Federation.
In terms of programmes, the company provides coaching on personal life, relationship, and family. Clients have options on how they would like to interact with their coach: either by one-one-one, relationship tune-up, or online.
What caught our attention was their relationship tune-up service. Under this service package, clients can pick one intensive coaching service (either focused on life, relationship, or family) wherein they can get a one-hour video coaching session and a summary and action plan report.
This is a great way to invite in clients who want some quick expert insights but don't have the time to commit to a series of sessions.
We also like how they provide a 30-minute follow-up coaching session for four weeks of the coaching session. It invites accountability and allows the coaches to check in on their clients and their action plans.
Apparently, both coaches are also known for their ability to make clients immediately feel at ease. One client's parent was grateful for how Lindsay and Lisa helped her adolescent daughter gain self-confidence and relational awareness.
It's just a bit disappointing that they only conduct virtual sessions. Some people don't do well with video-based meetings, especially when it comes to discussions about their personal lives.
5. Kien Fierheller – One Life Counselling & Coaching Ltd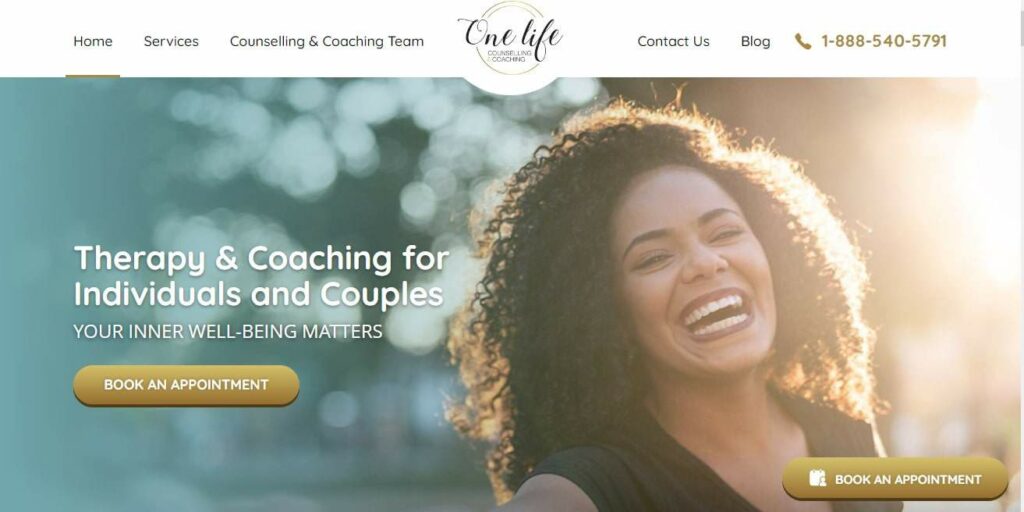 Services: Individual Counselling, Marriage Counselling, Life Coaching, Psychotherapy Counselling, Psychology Services, and Counselling Services
Website: https://onelifecounsellingcoaching.com
Contact Details: +1 888-540-5791
Company Address: 8 Varsity Estates Cir NW Suite 300, Calgary, AB T3A 2Z3, Canada
Operating Hours: Mondays, 10:00 AM – 9:00 PM, Tuesdays to Thursdays, 9:00 AM – 9:00 PM, Fridays to Saturdays, 10:00 AM – 6:00 PM
| | |
| --- | --- |
| Google Reviews | 4.8/5 |
| Total Reviews | 4.8/5 |
| Score Consistency | 4.8/5 |
| | |
| --- | --- |
| Credentials | 5/5 |
| Range of Services | 5/5 |
| Affordability | 4/5 |
| Proof of Expertise | 5/5 |
FAQs for Calgary Life Coaches