Categories >
Construction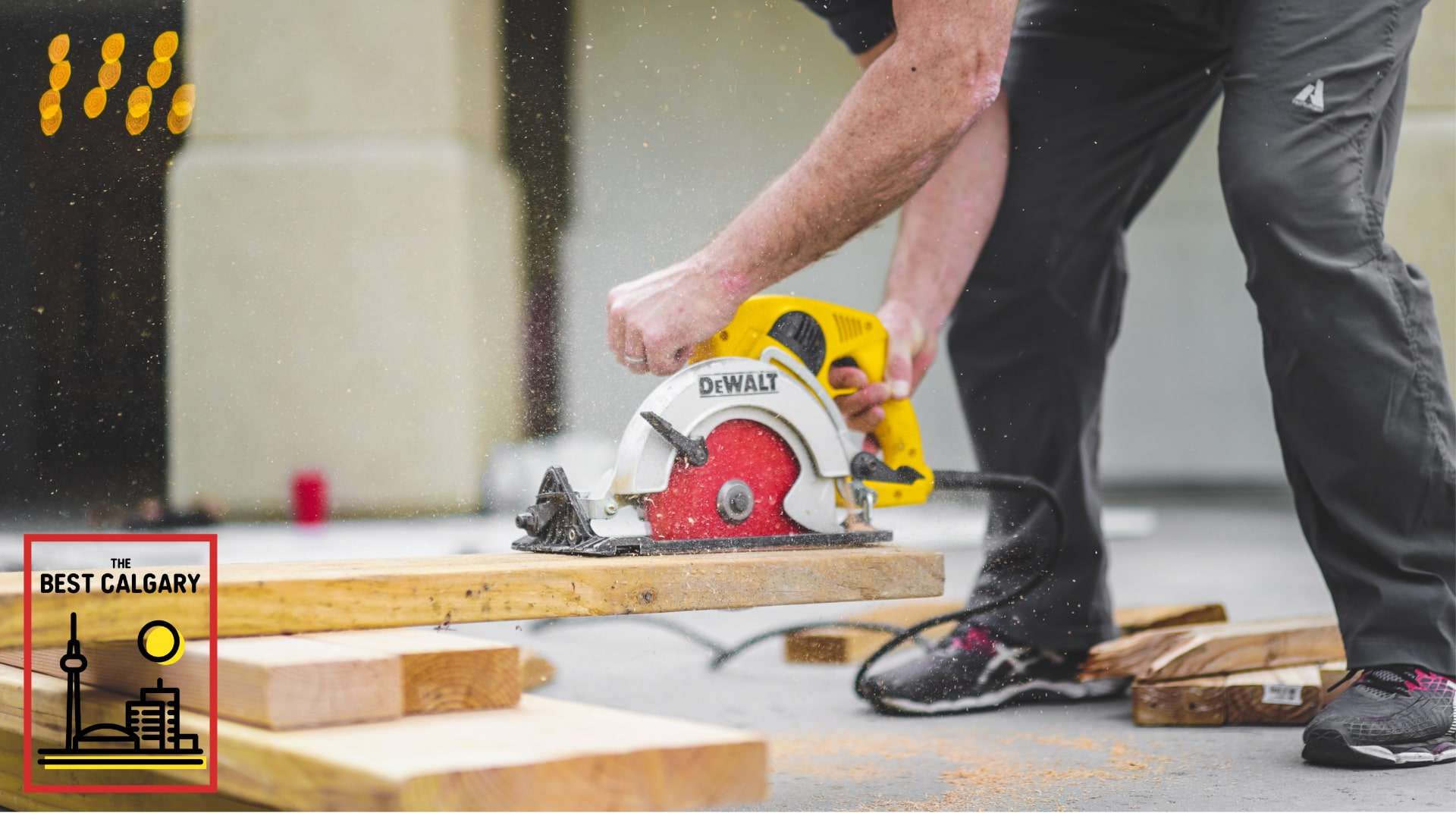 The 5 Best Handyman Services in Calgary
How We Picked
1. My Home Handyman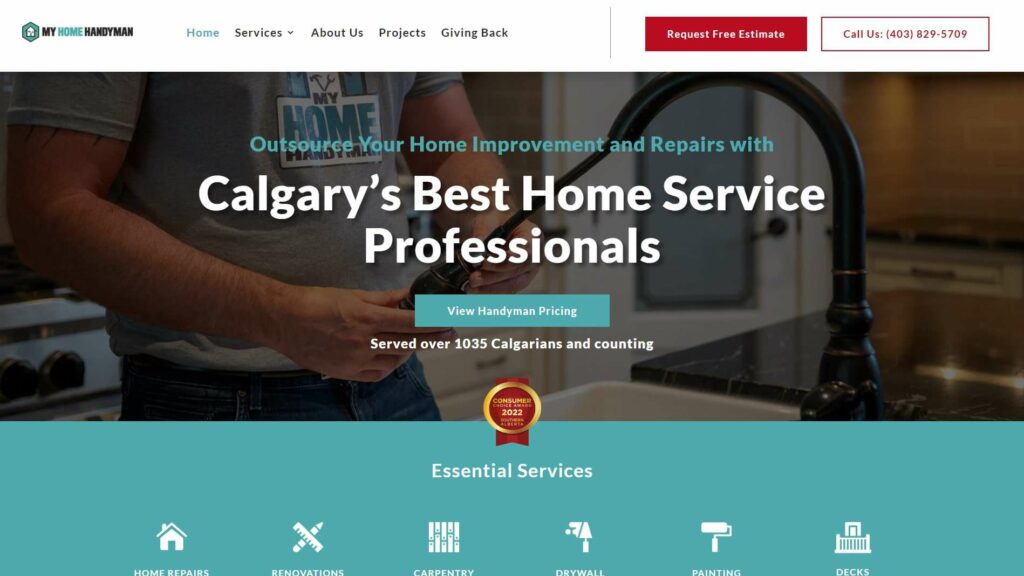 Website: www.myhomehandyman.ca
Contact Details: (403) 829-5709, info@myhomehandyman.ca
Operating Hours: Monday: 5AM-5PM, Tuesday-Saturday: 8:30 AM-5 PM, Sunday: Closed
| | |
| --- | --- |
| Google Reviews | 4.8/5 |
| Facebook Reviews | 3.7/5 |
| Total Reviews | 4/5 |
| Score Consistency | 4/5 |
| | |
| --- | --- |
| Scope of Services | 5/5 |
| Pricing | 3/5 |
| Insurance | 5/5 |
| Experience | 4/5 |
Gives back to community
Wide variety of small and medium jobs
Award-winning services
2-year warranty on all services
Pricier than similar services
Has a 2-hour minimum charge
Established in 2016, My Home Handyman focuses on small and medium-sized projects in residential properties. Some contractors will not accept a simple furniture assembly job, but we're glad that it won't be a problem with this handyman.
Although it seems like they're still new to the industry, they've been accepting renovation projects as contractors since 2009. We feel confident in their skills with more than 10 years of experience.
They charge an estimated $199 + materials for small jobs like drywall patching and minor repairs, which can be a bit pricey compared to similar services. But, they offer a free estimate before the start of the project to prevent additional or hidden charges.
They do repairs and maintenance, from leaky taps to replacing smoke alarm batteries. If simple upkeep is what you need, we're glad to know they can be relied on.
What we found impressive about them is they use small portions of their profits to help out homeowners who other contractors scammed. It's a great way to use their skills to give back to the community.
They won a Consumer Choice Award for Southern Alberta in 2022. Despite being established just in 2016, they've already managed to be recognised for their projects.
The second thing we're impressed about is their 2-year warranty on all services. This is longer compared to other services that offer 90 days.
We're happy to know they are insured by the Workers' Compensation Board (WCB). So, if the handyman gets hurt inside the house, the homeowner will not be liable.
We believe it's vital to hear customer feedback regarding a handyman's finished project. So, we talked to some past clients about the quality of their job.
Apparently, many of them liked the quality of their work. They praised the attention to detail, friendliness, and clean-up afterward.
Some mentioned that they didn't like the 2-hour requirement for the minimum charge. Other handymen don't have a minimum timeframe, which might be a downside for potential clients.
2. OneContact Maintenance Services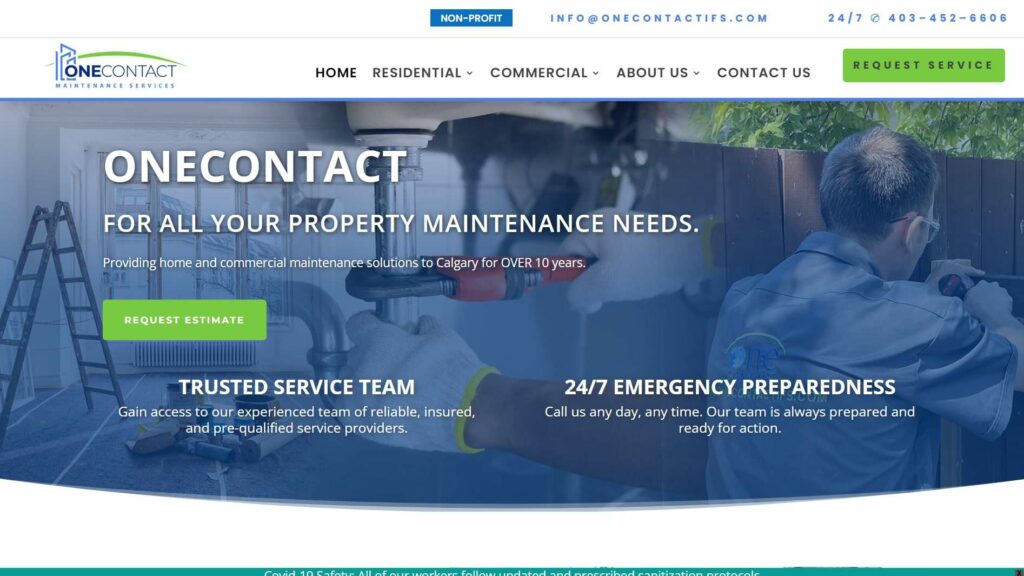 Website: www.onecontactifs.com
Address: Suite B002 1716 16 Ave NW Suite B002, Calgary, AB T2M 0L7
Contact Details: (403) 452-6606 (Phone), (403) 452-6447 (Fax), (403) 452-6606 (Emergency Line), info@onecontactifs.com
Operating Hours: Monday-Friday: 8:30AM-5PM, Saturday-Sunday: Closed
| | |
| --- | --- |
| Google Reviews | 5/5 |
| Total Reviews | 1/5 |
| Score Consistency | 5/5 |
| | |
| --- | --- |
| Scope of Services | 4/5 |
| Pricing | 5/5 |
| Insurance | 5/5 |
| Experience | 3.7/5 |
Maintenance programme
Emergency service
Reasonable prices
Smaller team
Closed on weekends
OneContact established themselves as an all-in-one maintenance provider in 2011. They provide services to residential and commercial properties.
One of their most popular services is their maintenance programme. This is a twice-a-year home inspection to assess any repairs needed to keep your home in tip-top shape.
The annual fee is $697 for homes under 2,700 square feet. With every visit, they will complete small maintenance tasks like cleaning the dryer vent and lubricating garage doors.
You also don't have to worry about emergency repairs to your home. They have a 24/7 prompt line for urgent service.
When looking for some of the best handyman services, they must be insured. OneContact has insurance through the WCB, which means that the homeowner will not be liable for injuries incurred during service.
They also have membership in the International Facility Management Association (IFMA). This helps them set a standard to perform at the highest level.
If they fail to do the job, they will return to redo it for free, which shows their confidence in their workmanship.
We like that they offer affordable fees for non-profit organisations. They can do plumbing, renovation, and preventative maintenance.
Since they are still quite new to the industry, they have a smaller team than others on our list. That said, they are slowly expanding by seeking maintenance technicians.
Although they will have different quotes based on the job, compared to others on our list, they've been praised by past customers for having reasonable prices.
3. Northern Lights Renovation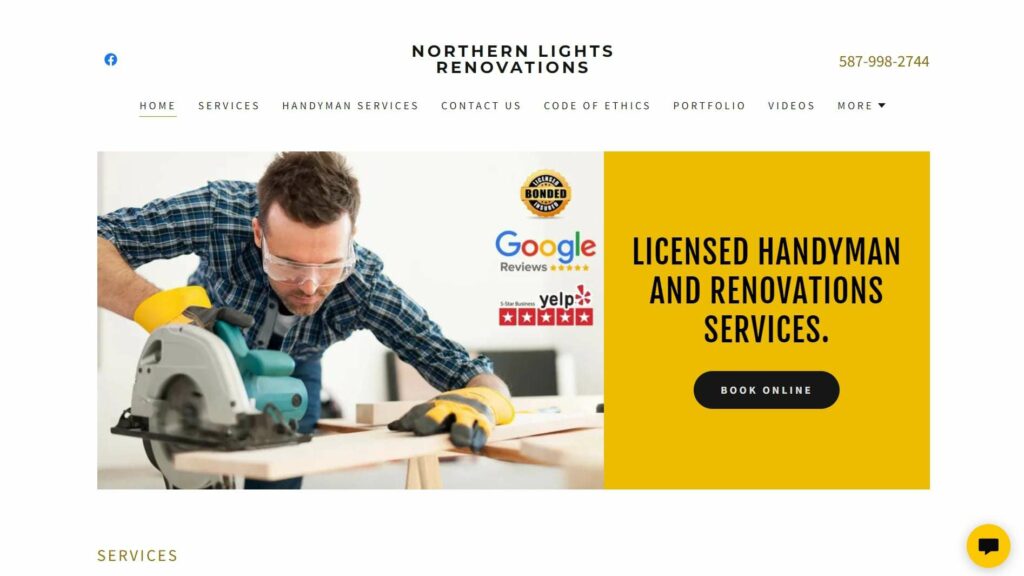 Website: www.northernlightsrenovations.ca
Address: 406 Citadel Hills Circle NW, Calgary, AB T3G 3V7
Contact Details: (587) 998-2744, (587) 998-2744 (Emergency Line)
Operating Hours: Monday-Friday: 7AM-5PM, Saturday: 9AM-3PM, Sunday: 9AM-2PM
| | |
| --- | --- |
| Google Reviews | 4.7/5 |
| Facebook Reviews | 5/5 |
| Total Reviews | 3.7/5 |
| Score Consistency | 4/5 |
| | |
| --- | --- |
| Scope of Services | 4/5 |
| Pricing | 4/5 |
| Insurance | 5/5 |
| Experience | 3.5/5 |
Open daily
10% off on the first service
Emergency service
No annual maintenance
Operates only in NW Calgary
Northern Lights Renovations offers several handyman services, from sprinkler repairs to gutter cleaning. They are licenced, bonded, and insured, so you can feel safe while they work in your home.
Sometimes, decks and fences need a new paint job to keep them from looking outdated. Northern Lights has brush, roller, and sprayer options for you to choose from.
They do property maintenance jobs. However, they don't offer semi-annual or annual check-ups.
To be clear, while we think that's good, having a regular maintenance schedule can save money in the long run – especially if the homeowner doesn't know how to look for breakdowns.
Everything in the house must work properly to get the best value for those looking to sell. We're glad they offer a pre-sale inspection so you can find out about any repairs needed.
When you sign up for their newsletter, you can get a 10% discount on your first service. We like this offer since it can help save costs.
They have a small team and operate only in Northwest Calgary. So, people from surrounding areas might need to look for a handyman elsewhere.
But if you live in the Northwest, you can call them for emergency services. They can be contacted directly through their phone line.
4. Harding's Services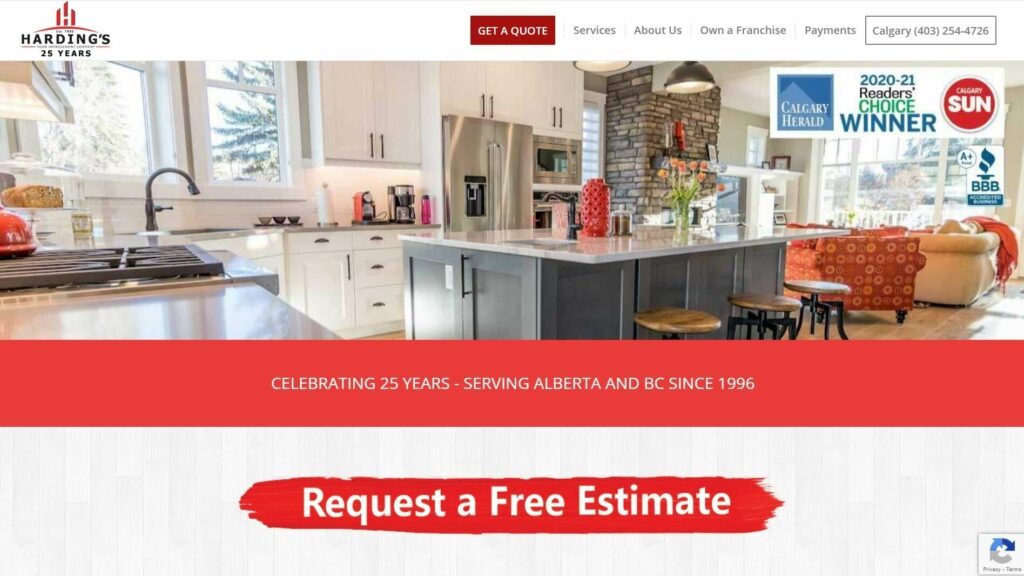 Website: www.hardingsservices.com
Address: Bay 2, 240007 Frontier Crescent SE, Calgary, Alberta T1X 0R4
Contact Details: (403) 254-4726, info@hardingsservices.com
Operating Hours: Monday-Friday: 8AM-4:30PM, Saturday-Sunday: Closed
| | |
| --- | --- |
| Google Reviews | 4.8/5 |
| Nice Local Reviews | 4.9/5 |
| Total Reviews | 5/5 |
| Score Consistency | 3.9/5 |
| | |
| --- | --- |
| Scope of Services | 3.8/5 |
| Pricing | 3.9/5 |
| Insurance | 5/5 |
| Experience | 5/5 |
Long labour warranty
Financing plan
No emergency service
Poor customer service
Dalton Harding founded Harding's Paintings in 1996. He sold it to the Licensee team in 2011, and the company has added more services since then.
Now known as Harding's Services, they have expanded with multiple franchises across Canada. They have now added handyman services and renovations.
We appreciate how clear they are on labour warranties. The specific manufacturer's warranty will cover products and supplies.
They have a 1-year handyman labour warranty, 2 years for painting on exterior areas, and 5 years on texturing.
They have a required 2-hour minimum charge for minor jobs. This can be good if you have a tonne of small projects for the handyman.
However, this might be too pricey if you just need a quick cabinet installation. Other minor jobs are fixture replacements and changing of smoke alarm batteries, which can sometimes take less than an hour for a professional.
Payment is made online through a payment page. They also have a partnership with Alta West Capital for your financing needs.
It seems great that they have many franchise partners. But this also means different quality of work depending on the franchisee.
Similar services on our list offer painting as part of a handyman job. Harding's has different franchise partners for the painting and handyman service, which makes for separate charges.
Unfortunately, some customers we talked to mentioned poor customer service. They said it was difficult to get a hold of the receptionist on the phone for a consultation.
5. 403Handyman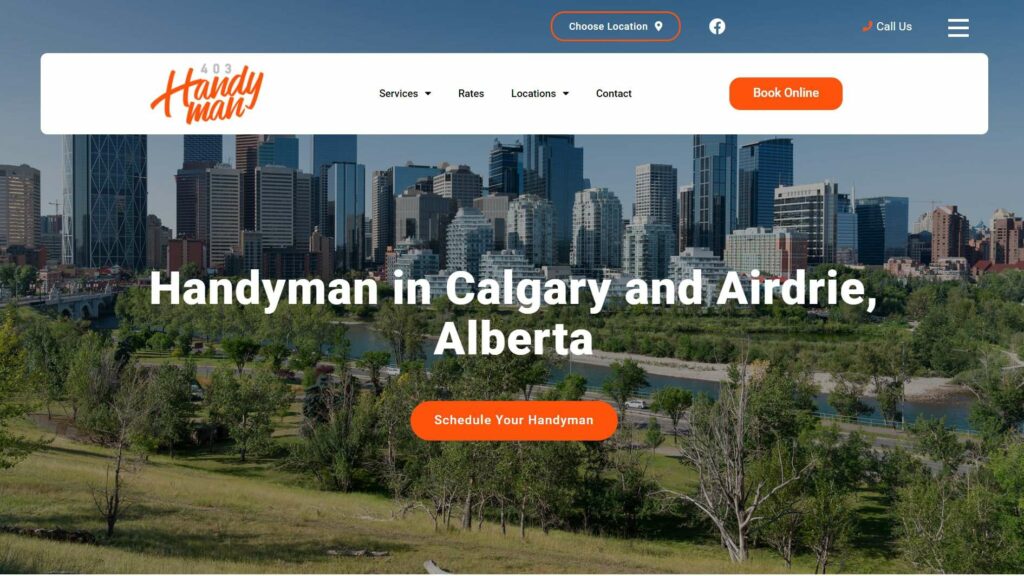 Website: www.localhandymangroup.com/403-handyman
Contact Details: (403) 960-0587
Operating Hours: Monday-Friday: 9AM-5PM, Saturday-Sunday: Closed
| | |
| --- | --- |
| Google Reviews | 4.9/5 |
| Facebook Reviews | 5/5 |
| Total Reviews | 3.9/5 |
| Score Consistency | 5/5 |
| | |
| --- | --- |
| Scope of Services | 4/5 |
| Pricing | 5/5 |
| Insurance | 5/5 |
| Experience | 4/5 |
Average hourly rate
Half-day or full-day work available
Call out fee
No maintenance work
403Handyman is the Calgary franchise of Local Handyman Group. They provide services to residential and commercial properties.
They are fully insured and affiliated with the Workers' Compensation Board of British Columbia (WorkSafeBC). They adhere to proper safety standards for their workers.
For residential clients, they only do small projects. This includes furniture assembly, baseboard installation, and weather stripping.
They have a call out fee of $35, which will be added on top of the regular rate. This is an upfront fee for coming to the property, which we believe may push away potential clients.
We're happy about their hourly rate of $80. Compared to other services in Calgary, this is still at the average cost.
If you have a list that needs to be done, you can hire them for half a day for $355. The handyman will do the work in your home for 4 hours.
If you need more time than that, you can hire a full day for $675. This will be 8 hours of work, but they are open for a discussion if more time is needed.
Overall, we like the range of services they offer. In the future, we hope they will do maintenance work for loyal customers.
FAQs about hiring a handyman in Calgary