Calgary's 5 Best Dentists
1. Dr. Dionysius David – Macleod Trail Dental Clinic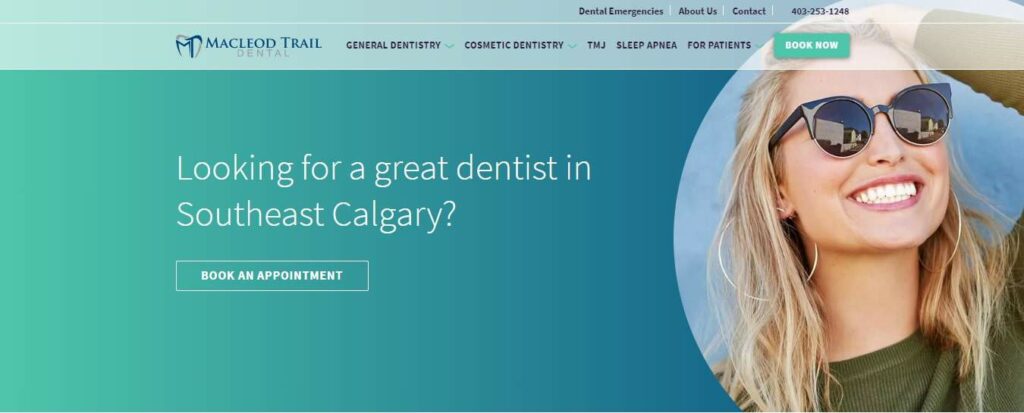 Services: Cosmetic Dentistry, TMJ Disorder Treatment, Sleep Apnea, Children's Dentistry, General Dentistry, and Dental Emergencies
Website: https://macleodtraildental.ca
Contact Details: info@macleodtraildental.ca / +1 403-253-1248
Address: 8500 Macleod Trail SE #232, Calgary, AB T2H 2N1, Canada
Operating Hours: Mondays 7:30 AM – 5:00 PM, Tuesdays to Wednesdays 7:30 AM – 8:00 PM, Thursdays to Fridays 7:30 AM – 5:00 PM
| | |
| --- | --- |
| Google Reviews | 4.6/5 |
| Facebook Reviews | 4.4/5 |
| Total Reviews | 4.5/5 |
| Score Consistency | 4.5/5 |
| | |
| --- | --- |
| Credentials | 5/5 |
| Range of Services | 5/5 |
| Comfort and Accessibility of Facility | 4.5/5 |
| Ambiance | 5/5 |
| Ease of Access | 4/5 |
| Affordability | 5/5 |
Decades of experience
Offers different dental services
Warm and welcoming space
Hands-on assistance in paying with insurance
Child-friendly
Small team
Reports of long waiting hours
Established in 1981, Macleod Trail Dental has been serving the dental needs of the Calgary community for more than 40 years. This alone is proof of how well-known and well-trusted they are by patients.
Macleod Trail Dental offers various specialised dental services. This includes cosmetic surgery and treatment for sleep apnea and TMJ disorder. They also provide emergency dental services, which is reassuring for cases that need immediate attendance.
But the highlight of the clinic is one of its three dentists, Dr. Dionysius David. He is the most-sought-out by the patients.
Dr. David has been in practice for more than two decades, worked in remote areas and in Central America, and participated in volunteer groups such as the Every Woman Foundation.
Previous clients of Dr. David highly recommend him for his excellent tooth extraction surgeries. The whole proceedure apparently doesn't last as long as they think because of his skills, which is great news for extra-anxious patients who just want to get the surgery over with.
Ambiance-wise, the clinic does a great job in creating a pleasant and soothing environment for patients. The space exudes a cosy and welcoming feel – a far cry from the typical sterile-looking dental clinics we usually see and dread entering.
Macleod Trail Dental is very upfront with their fees – we like that there are no hidden costs in their services.They also assist patients when it comes to paying through insurance, which can normally be an additionally stressful and tedious experience.
The only disadvantage that we can see is how small their team is. Given that they are well-known by the Calgary community, walk-in patients may find themselves waiting longer than expected.
2. Dr. Amardeep S. Gill – Quarry Park Dental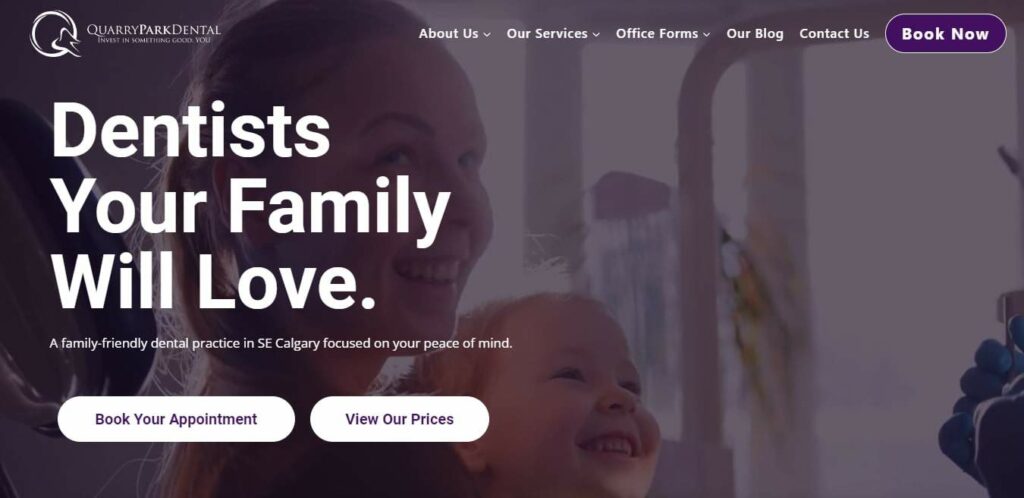 Services: Cosmetic Dentistry, Periodontics, Dental Exams & Cleanings, Endodontics, Orthodontics, Oral Maxillofacial Surgery, Prosthodontics, Wisdom Tooth, TMJ Disorder Treatment
Website: https://quarryparkdental.com
Contact Details: info@quarryparkdental.com / +1 403-266-0726
Address: 109 Quarry Park Blvd SE #190, Calgary, AB T2C 5E7, Canada
Operating Hours: Mondays to Tuesdays, 9:00 AM – 5:00 PM, Wednesdays to Thursdays 11:00 AM – 7:00 PM, Fridays 8:00 AM – 3:00 PM, Saturdays 9:00 – 3:00 PM
| | |
| --- | --- |
| Google Reviews | 4.8/5 |
| Facebook Reviews | 5/5 |
| Total Reviews | 4.9/5 |
| Score Consistency | 4.9/5 |
| | |
| --- | --- |
| Credentials | 5/5 |
| Range of Services | 5/5 |
| Comfort and Accessibility of Facility | 5/5 |
| Ambiance | 5/5 |
| Ease of Access | 5/5 |
| Affordability | 5/5 |
Experienced dentists
Warm, friendly, and hands-on service
Handles child patients very well
Homely and peaceful facility
Open until Saturday
Varying operating hours – can be confusing for patients
Knowing that the dentists that will attend to you are backed with decades of experience provides a great deal of relief. This is our immediate impression with Quarry Park Dental when we saw the credentials of three of its head dentists.
Although the three of them have an impressive patient roster, Dr. Amardeep Gill caught our interest. He has twelve years of dental experience and has been an outstanding member of Alberta Dental Association.
Patients say that Dr. Gill is attentive and careful during procedures. Previous patients recommend his crown replacement service and note how he made them feel comfortable throughout the process.
On top of his quality service, Dr. Gill is very honest and respectful of the patient's financial capacity. This is certainly a big deal for patients who don't have that much stretching room in their budget, and only need the most essential services rendered to them.
The clinic itself has different dental services to offer. Apparently, though, they are known for their amazing pediatric dentistry services, as they are great with kids – parents, take note.
We likewise appreciate their transparent pricing system. Insurance payments are also accepted here, which is a relief for those who can't afford to pay private fees.
The clinic has a peaceful and calming feel, which is a great way to settle patients' nerves before their scheduled appointment.
A word of caution, however: their operating hours do vary, depending on what day of the week it is. To save yourself from an unnecessary return trip, do call them up to enquire about their specific hours on the day you plan to visit.
3. Dr. Rushik Daduk – Sunridge Landing Dental Care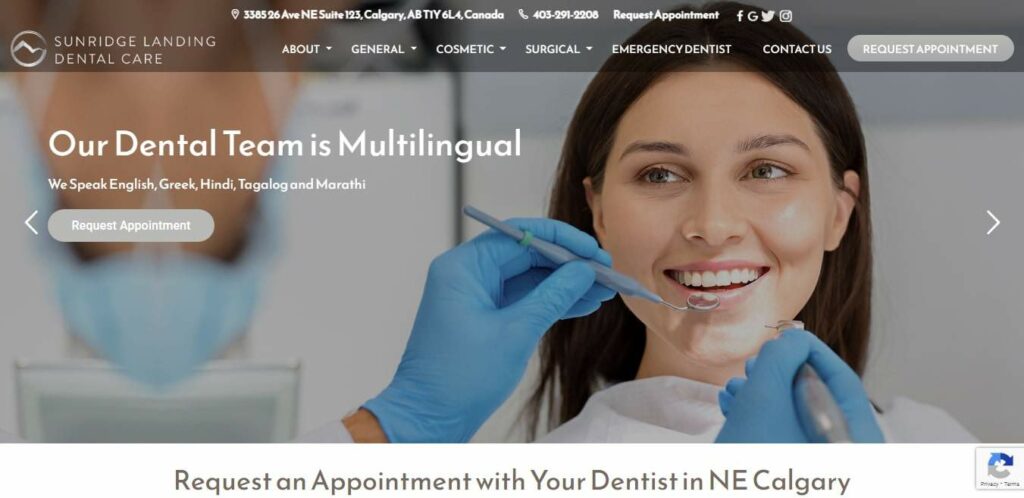 Services: Dentures, Dental Cleaning, Mouth Guards, Tooth Extractions, Sedation Dentistry, Invisalign, Root Canal, and Periodontics
Website: https://www.sunridgelandingdentalcare.com
Contact Details: sunridgelandingdental@gmail.com / +1 587-324-2160
Address: 3385 26 Ave NE Suite 123, Calgary, AB T1Y 6L4, Canada
Operating Hours: Mondays to Thursdays 8:00 AM – 7:00 PM, Fridays 8:00 AM – 6:00 PM, Saturdays 9:00 AM – 4:00 PM
| | |
| --- | --- |
| Google Reviews | 4.7/5 |
| Facebook Reviews | 4.8/5 |
| Total Reviews | 4.75/5 |
| Score Consistency | 4.75/5 |
| | |
| --- | --- |
| Credentials | 5/5 |
| Range of Services | 5/5 |
| Comfort and Accessibility of Facility | 5/5 |
| Ambiance | 5/5 |
| Ease of Access | 5/5 |
| Affordability | 5/5 |
Over 30 years of experience
Multilingual staff and dentists
Easy to access from mall
Fancy interiors
More affordable rates
Fees are difficult to find
Rates for service are not detailed
Established in 1992, the Sunridge Landing Dental Care has four dentists and several other
dental staff. It is reassuring to know that many of their patients have been frequenting the clinic for over five years, which is a testament to their quality of care.
Dr. Rushik Daduk is one of their main dentists. Also a published author, he has an excellent record in academia and even served as a faculty member in Dharmsinh Desai University.
Patients of Dr. Daduk are apparently big fans of his passion and pleasant and accommodating demeanour. They also appreciate his openness to accommodating emergency requests despite being fully-booked, a sign of true compassion for his patients.
While he seems to excel in everything he does, patients particularly recommend him for dental filling procedures.
Meanwhile, clinic staff are also commended for being friendly and warm towards patients. Given Calgary's multicultural context, it helps that they have a multilingual team that can speak English, Hindi, Tagalog, and Marathi.
Best of all, their services are more affordable than others'. This is great news for patients who hesitate to get their teeth checked because they find the service too expensive.
We just wish that they would publish more detailed rates on their website. When it comes to medical services, patients are extra-conscious about payment preparations, especially if insurance won't cover the treatment.
Sunridge Landing Dental Centre is easily accessible via Sunridge Mall.
4. Dr. Harjeet Singh Jabbal – London Square Dental Centre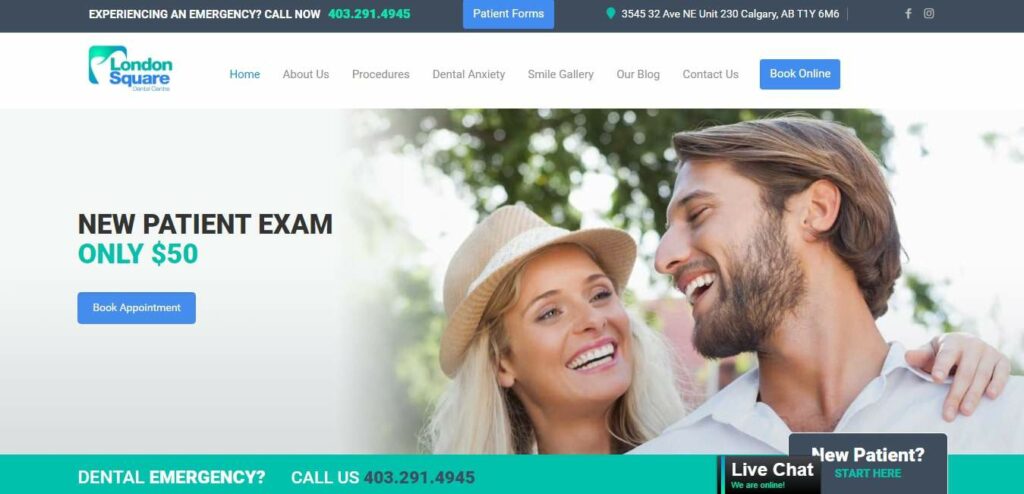 Services: Sedation Dentistry, Cosmetic Dentistry, General Dentistry, Orthodontics, and Restorative Dentistry
Website: https://www.londonsquaredental.ca
Contact Details: +1 403-291-4945
Address: 3545 32 Ave NE Unit 230, Calgary, AB T1Y 6M6, Canada
Operating Hours: Mondays to Saturdays 8:00 AM – 9:00 PM, Saturdays 8:00 AM – 8:00 PM
| | |
| --- | --- |
| Google Reviews | 4.7/5 |
| Facebook Reviews | 4.9/5 |
| Total Reviews | 4.8/5 |
| Score Consistency | 4.8/5 |
| | |
| --- | --- |
| Credentials | 4/5 |
| Range of Services | 5/5 |
| Comfort and Accessibility of Facility | 5/5 |
| Ambiance | 5/5 |
| Ease of Access | 5/5 |
| Affordability | 5/5 |
Has eight dentists and several staff
Offers monthly subscriptions
Recommended for their Invisalign and sedation dentistry services
Amenities for the elderly and children
Attending dentist may change per session
Having the ability to choose among different dentists based on preference is one of the main perks that the London Square Dental Centre can offer. The dental clinic has eight dentists with decades of experience, so clients can never go wrong whoever they fancy.
But among them, Dr. Harjeet Singh Jabbal caught our attention. He comes from a family with three generations of dentists, so this certainly runs in his blood.
He has nine years of experience from his own clinic in India, which is evident in the way he treats his present patients.
He is known for being kind and knowledgeable as a dentist, and for going the extra mile for patients by staying on top of their follow-up procedures.
We also hear that the quality of his crown replacement service is impeccable.
Clinic-wise, what sets this place apart are their monthly subscriptions for patients covering different services of choice. Although a monthly check-up may seem excessive to some, this is a great motivator for patients to keep their oral health in check.
Apart from their soothing interiors, what patients really appreciate are the thoughtful touches made with special patients in mind. The clinic has wheelchairs available for elderly patients as well as a solid stock of toys for kids who may get easily bored while waiting their turn.
The only thing giving us pause is that patients aren't always guaranteed the same dentist who treated them before. For discerning patients who prefer to be seen by just one dentist, this may be a potential dealbreaker.
Unlike most dental clinics, London Square Dental Centre is open throughout the whole week..
5. Dr Yara Farage – Northern Hills Dental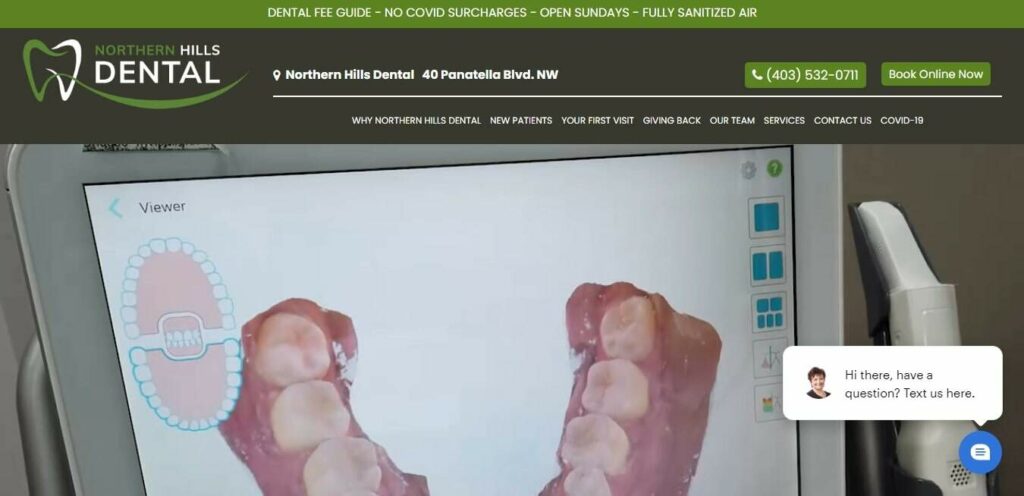 Services: Family Dentistry, Children's Dentistry, Emergency Dentistry, Cosmetic (Restorative) Dentistry, Sedation Dentistry, Invisalign, Cosmetic & Therapeutic Botox, Root Canal Treatment, Hygiene/Preventive Treatment, Wisdom Teeth Extraction
Website: https://www.northernhillsdental.com
Contact Details: info@northernhillsdental.com / +1 403-532-0711
Address: 40 Panatella Blvd NW, Calgary, AB T3K 6K7, Canada
Operating Hours: Mondays to Thursdays 7:00 AM — 8:00 PM, Fridays 8:00 AM – 4:00 PM, Saturdays to Sundays 9:00 AM – 4:00 PM
| | |
| --- | --- |
| Google Reviews | 4.7/5 |
| Facebook Reviews | 4.8/5 |
| Total Reviews | 4.75/5 |
| Score Consistency | 4.75/5 |
| | |
| --- | --- |
| Credentials | 5/5 |
| Range of Services | 5/5 |
| Comfort and Accessibility of Facility | 4.5/5 |
| Ambiance | 5/5 |
| Ease of Access | 4/5 |
| Affordability | 5/5 |
Almost 2 decades of experience
Dentists have degrees on anatomy and surgery
Affordable rates
Upfront pricing and insurance coverage
Modern rustic design
Rare occasions of missed appointments due to server glitches
Northern Hills Dental in Calgary has been in service for almost two decades. They have a total of six dentists.
We find one of their dentists is particularly noteworthy.
Dr. Yana Farage has degrees in anatomy–physiology, periodontics, and oral surgery. She got her academic training in France and his doctorate in Canada.
But this isn't everything that's impressive about her. Despite the prestigious academic achievements, patients appreciate her for her patience and empathy.
She understandably has a heavy workload given her reputation, but patients commend her for taking the time to explain things to them without rushing. This tells us that her patients remain her priority, which is always a good thing in our books.
We like the modern rustic feel of the clinic. It's cosy enough to make patients feel relaxed and comfortable, but still professional enough to communicate the calibre of the patient experience the clinic offers.
It's great that Skypointe accepts direct billing and insurance for payments, giving patients the flexibility to decide which option is most workable for them.
There is just one thing, though: we've heard a handful of reports of occasions where appointments were missed or not recognised. Apparently, these were due to a glitch in their servers causing the appointments to disappear.
The good thing is that we hear they are already working on a fix for this. In the meantime, make sure to call up the clinic directly to confirm your appointments to be sure.
FAQs about Dentists in Calgary