Categories >
Guides and Tips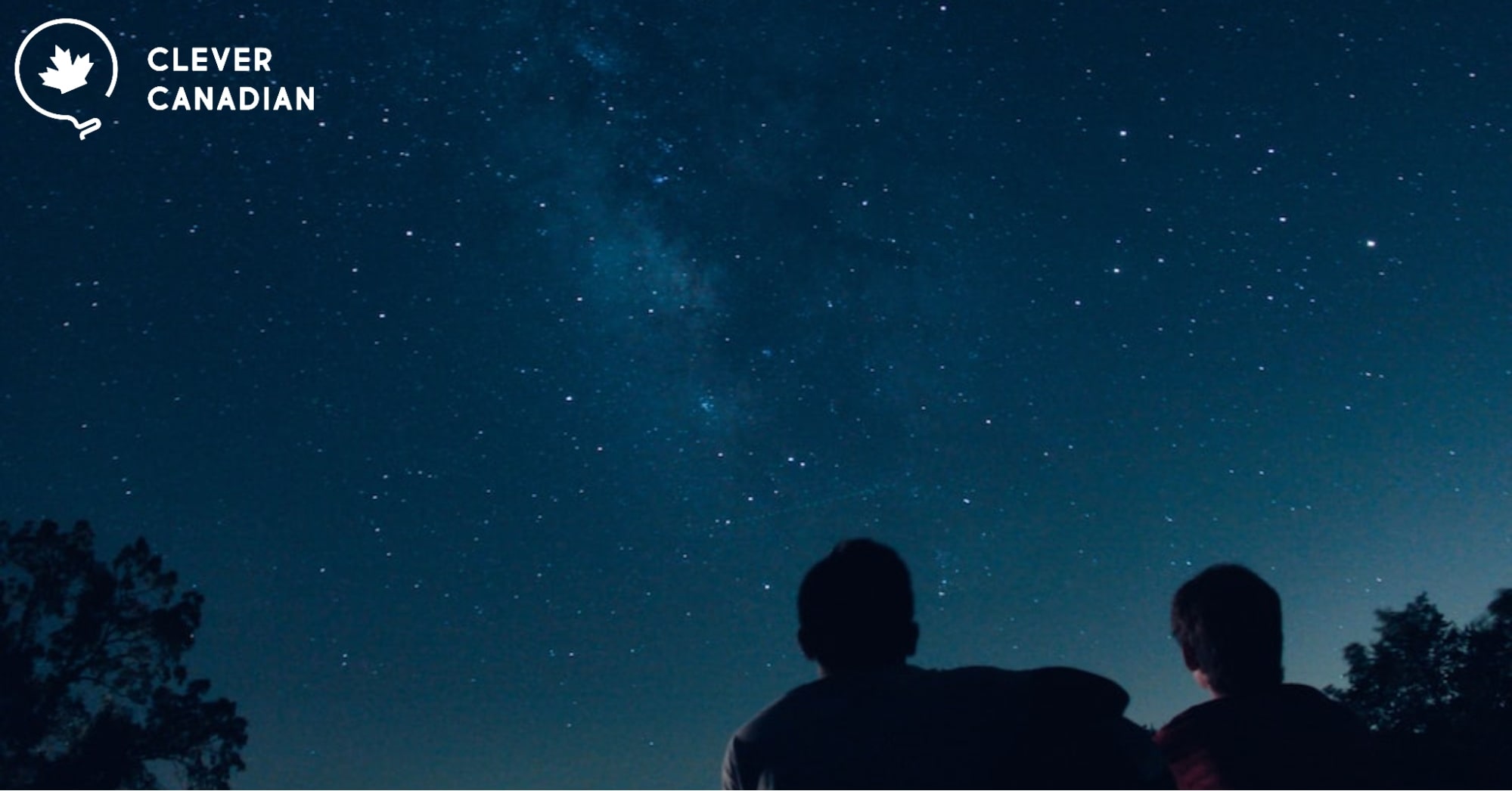 Our 10 Favourite Places in Canada for Stargazing
Canada boasts sprawling landscapes that sweep you off your feet and cradle you under a gently swaying canopy of stars.
Our beautiful country is like a cozy home to dark sky preserves places—brightly hugging the night sky, inviting you to spend your nights surrounded by shimmering celestial bodies.
So, read on as we navigate you through Canada's stargazing wonderlands that'll make you feel you're on a cosmic rollercoaster. Let's get those telescopes dusted off and turn into seasoned stargazers!
Jasper National Park
Jasper National Park really is designated a Dark Sky Preserve. That's a fancy way of saying there's less light pollution here than in your average celebrity's diamond collection. 
And it's not all about the dark; there's also a 'Stars for Everyone' initiative, which is exactly as inclusive as it sounds.
Now you get why I called it the porch of the universe, eh? Whether you're a seasoned astronomer or simply a curious bystander, you'll love the night sky experience at Jasper.
Local tip: Check out the annual Dark Sky Festival. It's the ultimate night under the stars, packed full of insightful events and activities.
Grasslands National Park
Website: https://www.pc.gc.ca/grasslands
Address: SK-4, Val Marie, SK
Contact Details: +1 306-298-2257
Operating hours:
Situated in southern Saskatchewan, Grasslands is like an unending panorama of picture-perfect night skies. And guess what? It's another one of Canada's dark-sky preserves!
Here, city light pollution is nonexistent, which paves the way for an unblocked, 360-degree view of the night sky. That's right! Standing in the middle of the park, you'd feel like you could reach out and touch the cosmos.
Local tip: Campsite bookings fill up fast. Try reserving your spot at least a few weeks in advance.
Waterton Lakes National Park
Website: https://parks.canada.ca/pn-np/ab/waterton/ 
Address: Waterton Park, AB
Contact Details: +1 403-859-5133
Operating hours:
You'd think Waterton Lakes National Park is all about lakes, eh? But the fun part kicks in when the night sky shows its true colors.
This park contrasts brightly lit stars against dark mountain silhouettes, captivated by pristine lakes in the foreground. What's more, this park is known for its aurora borealis sightings!
You might just catch the Northern Lights dancing across the sky on a good day.
Local tip: The wind can get gusty at night. Extra layers or windproof jackets could come in handy!
Wood Buffalo National Park
Website: https://www.pc.gc.ca/en/pn-np/nt/woodbuffalo 
Address: Northeastern Alberta
Contact details: +1 867-872-7960
Wood Buffalo National Park is the largest national park in Canada. This ain't your typical park; it's a land massive enough to be classified as a planet's largest dark sky preserve.
You've got darker skies here than in your emo teenage phase, ensuring perfect stargazing conditions. From meteor showers to the Northern Lights, you can witness celestial events exactly as they are meant to be seen!
Local tip: Remember to pack a pair of binoculars or a telescope. The sheer vastness of the place calls for these stargazing essentials!
Bruce Peninsula National Park
Website: https://parks.canada.ca/pn-np/on/bruce 
Address: Tobermory, ON
Contact Details: +1 519-596-2364
Operating hours:
Bruce Peninsula has long trails, rocky cliffs, and crystal-clear water bodies; it almost pulls off a coastal vibe, doesn't it? But when night comes, it's a whole different story!
Sprinkled with constellation lookouts and feeding zero light pollution to the night sky, the Bruce Peninsula delivers a stargazing experience like no other. Although not a dark-sky preserve in official terms, this place is known to show the stars in all their twinkling glory!
Local tip: Opt for mid-week visits; it's less crowded and gives you more room to spread out your blanket and gaze upward!
Mont-Mégantic
Mont-Mégantic in Québec is Canada's first "International Dark Sky Reserve," making it an astronomical hotspot. At this place, pollution ain't a choice; it's a seriously taken pledge, but the good kind—light, not noise pollution.
They've managed to reduce local artificial light by an amazing 25%! The cherry on top is the ASTROLab, an astronomical activity center right in the park.
You'll be spoiled with astronomy exhibits, interpretive hikes, and—get this—a 1.6-meter telescope for a splendid celestial view!
Local tip: Don't miss their AstroLab sessions. It's like a mini crash course for budding and experienced astronomers alike!
Cypress Hills Interprovincial Park
Website: https://albertaparks.ca/parks/south/cypress-hills-pp/ 
Address: 8304 AB-41, Elkwater, AB
Contact details: +1 403-893-3833
Operating hours:
Wednesday to Sunday – 10 AM to 4 PM
Cypress Hills Interprovincial Park straddles Saskatchewan and Alberta, doubling the fun! It's like a two-for-one deal, minus the receipts!
The special thing here is the altitude. Elevated terrain means fewer clouds and more stars.
Cypress Hills is also equipped with a public observatory. So, while you're down there, don't forget to drop by and join their Star Parties!
Local tip: Pop in during the annual Summer Star Party for a weekend of talks, presentations, and workshops!
Point Pelee National Park
Website: https://parks.canada.ca/pelee 
Address: 1118 Point Pelee Dr, Leamington, ON
Contact Details: +1 519-322-5700
Operating hours:
Monday to Sunday – 6 AM to 10 PM
Point Pelee National Park, poking into Lake Erie, offers an unobstructed expanse of sky, making your stargazing session an out-of-this-world experience.
This park is the southernmost point on mainland Canada and is said to have a lower latitude than northern California. It switches off its lights to let the stars take center stage, making it a hotspot for Milky Way gazers.
The park's tranquil marshes also double as a backdrop for meteor showers—fireballs plummeting down while you chill in the calm serenity—talk about a real-life sci-fi fantasy!
Local tip: Bring a blanket and mosquito spray. Trust me, you'll thank me later.
Torrance Barrens Dark-Sky Preserve
Website: https://www.torrancebarrens.com/  
Address: Southwood Rd, Gravenhurst, ON
Operating hours:
Located in Ontario's Muskoka region, Torrance Barrens rocks the whole dark sky preserve thing. This place is so committed to its celestial shenanigans that it was declared the first permanent Dark Sky Reserve in Canada in 1999.
You're not just gazing at stars here, peeps; you are practically in the lap of the cosmos. Expect displays of the Northern Lights, meteor showers sashaying down the sky, and constellations flaunting their glittery ensembles.
And on lucky nights, a dazzling zodiacal light will wrap up your stargazing spree.
Local tip: Layer up. Even on summer nights, it can get chilly as you wait for the cosmos to show up.
Fundy National Park
Website:  https://www.pc.gc.ca/en/pn-np/nb/fundy/visit/covid-19-info 
Address: Alma, NB
Contact Details: +1 506-887-6000
Operating hours:
Monday to Sunday – 8 AM to 8 PM
Nestled in New Brunswick, Fundy is all about getting high—high tide, high cliffs, and high chances of gasping at the sight of the night! Exceptionally high tides in the Bay of Fundy leave behind sprawling stretches of tide pools and mudflats.
And guess what? These natural mirrors reflect the entire cosmos up above, like you're walking amidst the stars.
Also, city lights have no place here in Fundy, making the night sky look like it is studded with diamonds.
Local tip: Stay patient. Sometimes, st ars like to play hide-and-seek behind the cloudsN.