Categories >
Other Services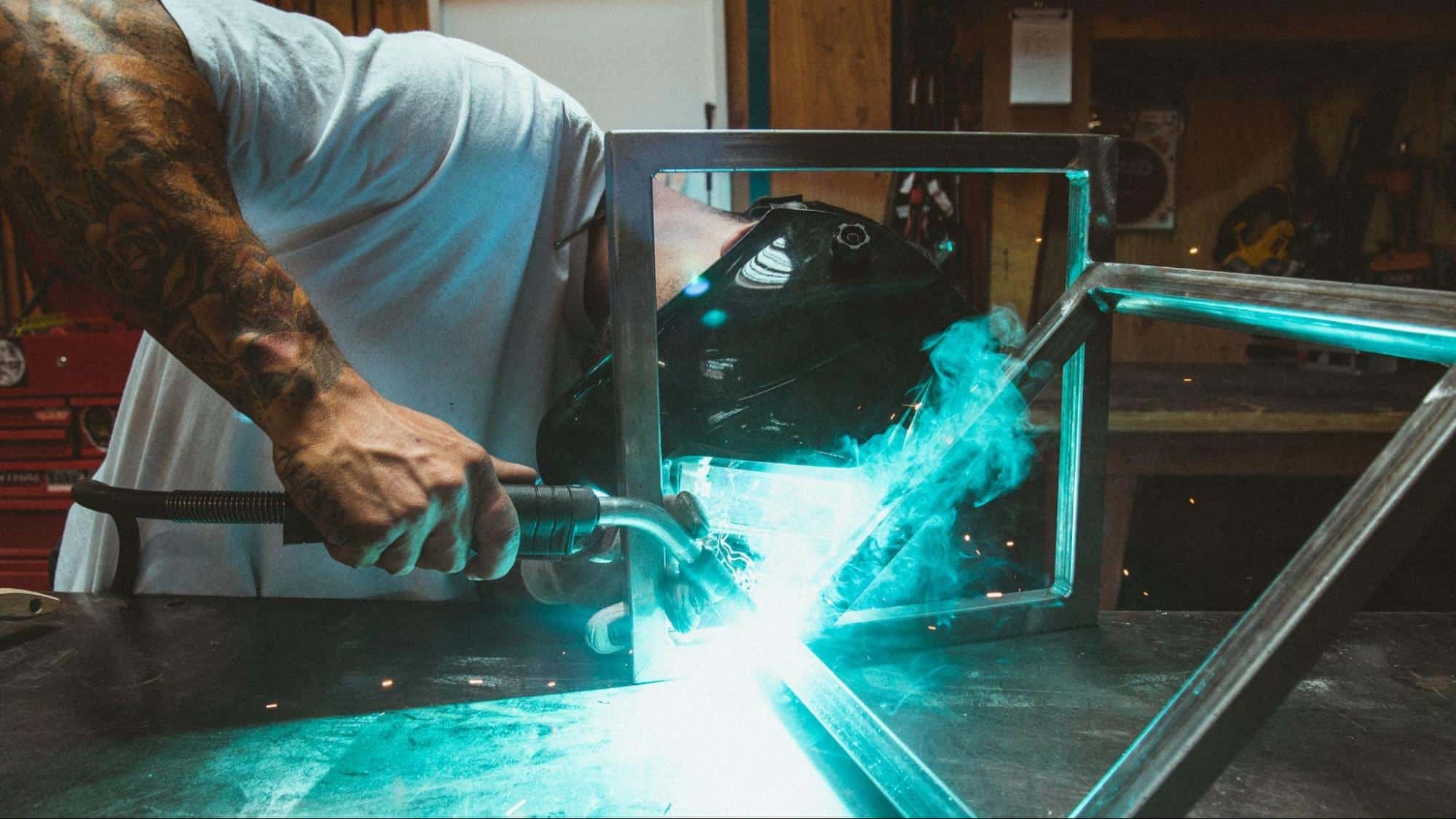 The Top 6 Metal Fabrication Companies in Edmonton
How We Picked
1. Underpressure Welding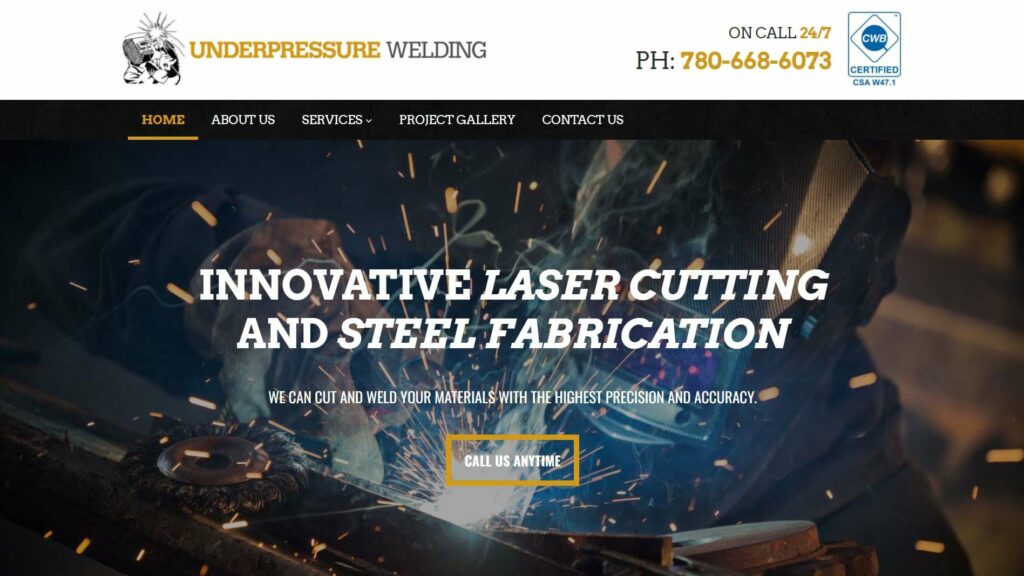 Services: Metal fabrication, steel fabrication, metal forming, laser cutting, ironwork, mobile welding
Website: https://www.underpressurewelding.com/
Address: 7425 67 Street, Edmonton, AB T6B 2J3
Contact Details: 780-668-6073; info@underpressurewelding.com
Office Hours: Monday – Friday: 8:00AM – 5:00PM
| | |
| --- | --- |
| Google Reviews | 4.4/5 |
| Yably Reviews | 4.3/5 |
| Total Score | 5/5 |
| Score Consistency | 4.3/5 |
| | |
| --- | --- |
| Expertise | 5/5 |
| Services | 4.5/5 |
| Variety of Services | 4/5 |
| Quality | 5/5 |
| Pricing | 4/5 |
| Availability | 4/5 |
Provides mobile services
Fully-equipped facility
Handles small and large projects
Offers laser-cutting
Great craftsmanship
Closed on weekends
Misleading 24/7 service
For over 25 years, Underpressure Welding has been providing ironwork services to Edmonton residents. If you're looking to support a small, local company, this can be an option because it's wholly family-owned and operated.
The company's CWB-certified, considering it's mandatory in Canada. This entails that they've met the standards and requirements in safety and proper welding procedures.
One of the things we appreciate is they can handle small and large projects, no matter if you need railings for your home or your business.
Another thing we noticed is they offer convenience and flexibility for clients who can't bring heavy equipment to the shop. It's possible because they have a mobile service to drive to your location.
As far as the services go, they do metal and steel fabrication, forming, welding, and laser cutting. They also have complete equipment at their facility, as well as skilled and trained laser engineers.
In fact, they have top-of-the-line tools for laser cutting. If you have specific designs in mind, laser cutting can handle them in any shape you want.
Unfortunately, they're closed on weekends. But they do have 24/7 emergency services if you have inquiries that need immediate assistance.
However, it's important to note that this applies to queries only and is a bit misleading. If you need emergency metal fabrication work in Edmonton, they may be unable to help you with that.
Some agreed with us too. We heard that some clients called for emergency service, but they can do it during regular business hours.
On a positive note, they have great attention to detail and craftsmanship. Past clients even said Underpressure Welding exceeded their expectations.
2. Pulse Metalworks Ltd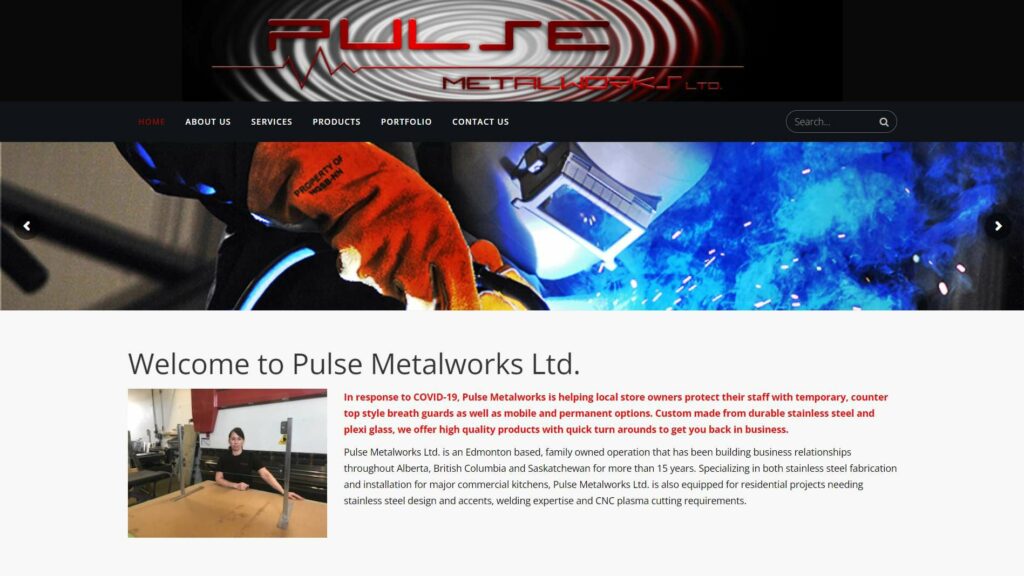 Services: Metal fabrication, welding, press brake bending, CNC plasma cutting, installation
Website: https://pulsemetalworks.com/
Address: 14509 – 118 Avenue NW, Edmonton, AB T5L 2M7
Contact Details: 780-777-6216
Office Hours: Monday – Friday: 7:30AM – 4:30PM
| | |
| --- | --- |
| Google Reviews | 5/5 |
| Yably Reviews | 5/5 |
| Total Score | 5/5 |
| Score Consistency | 5/5 |
| | |
| --- | --- |
| Expertise | 5/5 |
| Services | 4.5/5 |
| Variety of Services | 4/5 |
| Quality | 5/5 |
| Pricing | 4/5 |
| Availability | 4/5 |
Specialises in commercial clients
Services many locations
Large facility
Quick to respond
Portfolio only has the same style
Unavailable on weekends
Pulse Metalworks started in 2003, specialising in commercial clients, mainly through installing kitchen equipment for restaurants in the city. It has since expanded its scope to other Albertan cities, British Columbia, and Saskatchewan.
We liked seeing the company's expansion from a small shop to a large facility that's 4,100 sq ft. Due to this, they can now handle more projects and bigger metalworks.
Speaking of which, they can fabricate complex designs because they have CNC plasma cutting. This tool allows for a high level of accuracy, no matter the shape you want, which we think is quite excellent.
As we mentioned earlier, you can also rely on them for kitchen installations. It's impressive that aside from Canadian clients, they've reached our neighbouring United States.
Additionally, the crew have had a tonne of experience assembling commercial kitchens, even custom ones. And despite focusing on businesses, they still service residential clients.
However, we wish they could add different designs to their portfolio. We noticed that since they focus on commercial clients, they only included the same styles.
On a brighter note, they've been responsive to inquiries and pricing estimates. Their projects were also high-quality while offering practicality.
But you may need to take some time off if you need their services because they're unavailable on weekends and don't have a mobile service.
3. Radical Steel Fabrication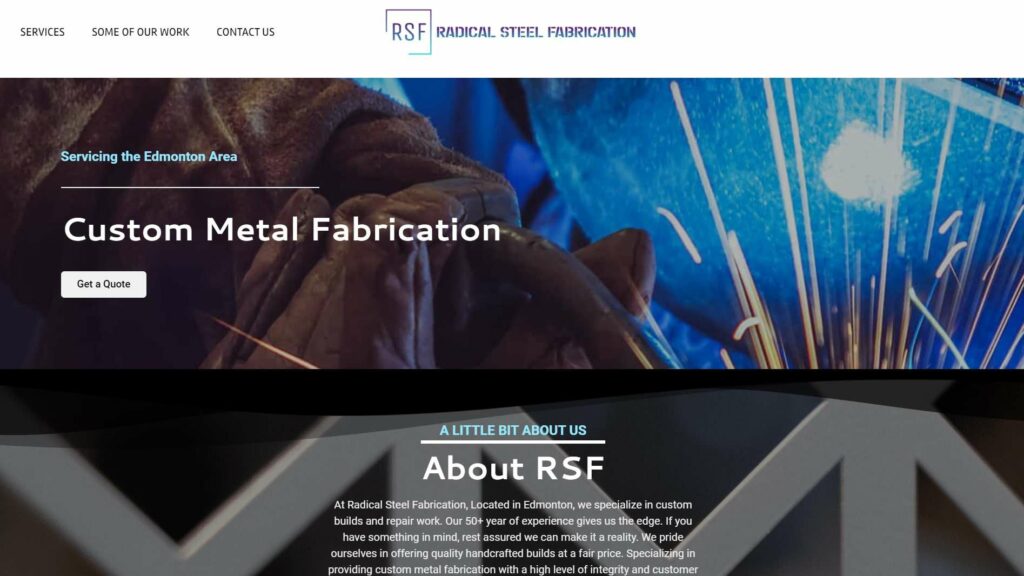 Services: Custom fabrication, welding, CNC plasma cutting, repairs, etc.
Website: https://radicalsteel.ca/
Address: 5306 – 89 Street NW, Edmonton AB T6E 5P9
Contact Details: 780-910-6119; info@radicalsteel.ca
Office Hours: Monday – Thursday: 8:00AM – 4:30PM; Friday: 8:00AM – 3:30PM; Weekends: by appointment
| | |
| --- | --- |
| Google Reviews | 5/5 |
| Total Score | 5/5 |
| Score Consistency | 5/5 |
| | |
| --- | --- |
| Expertise | 5/5 |
| Services | 5/5 |
| Variety of Services | 5/5 |
| Quality | 5/5 |
| Pricing | 5/5 |
| Availability | 5/5 |
Over 50 years of experience
BBB-accredited business
Offers emergency repairs
Has a mobile service
Available by appointment on weekends
Provides high-quality work
Lack of guarantee details
Closes a tad earlier on Fridays
If you're looking for a metal fabrication company in Edmonton that has been in the business for a long time, then Radical Steel Fabrication may be one of the options.
After all, it has been in the industry for over 50 years. The skills that they've learned throughout the years are definitely a big plus, in our opinion.
They're even a BBB-accredited business. This means that they address issues or complaints from their clients.
What's more, they service residential and commercial clients. They also focus on giving clients positive experiences with their promise of 100% satisfaction.
However, we'd like to see a warranty in case of unhappy clients. Since they claim customer satisfaction, we think adding guarantee details will be helpful.
Furthermore, they promise a quick turnaround or deliver on the estimated time. Some clients we talked with agreed because they said the service was fast.
In addition to that, Radical Steel offered reasonable prices. Others even said that they got the lowest quotes compared to other companies.
Some clients also praised them for their top-notch quality. As a result, the company has earned many loyal clients.
As for the services, the crew are equipped to handle steel, aluminium, and even exotic metals. Aside from that, they can do custom fabrication, even truck and trailer modifications.
Moreover, they have CNC plasma cutting for specialized designs. It offers precision and efficiency for better results.
But one of the main things we were impressed with is the mobile for clients on a busy schedule, especially since the shop is closed on weekends. They also close a tad earlier on Fridays.
On the other hand, they're available on an appointment basis if you're unavailable on weekends, which is a plus in our book.
Lastly, we appreciate the 24/7 emergency repair service on top of the highly praised customer service they provide.
4. Kucher Steels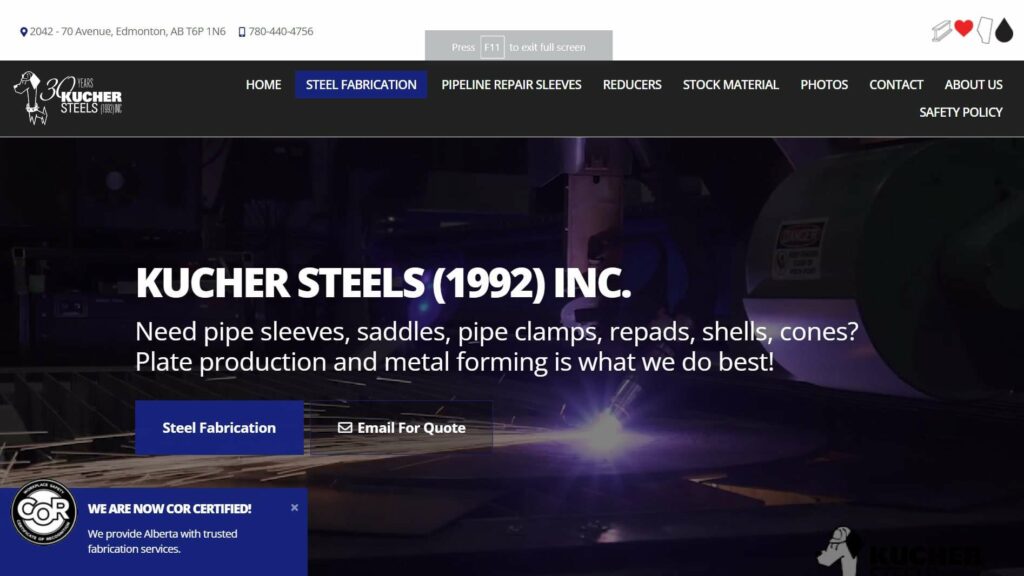 Services: Custom metal work, pipeline repair sleeves, reducers, stock materials
Website: https://www.kuchersteels.com/
Address: 2042 – 70 Avenue, Edmonton, AB T6P 1N6
Contact Details: 780-440-4756; quotes@kuchersteels.com
Office Hours: Monday – Friday: 8:00AM – 4:30PM
| | |
| --- | --- |
| Google Reviews | 4.3/5 |
| Total Score | 4/5 |
| Score Consistency | 4.3/5 |
| | |
| --- | --- |
| Expertise | 5/5 |
| Services | 4.5/5 |
| Variety of Services | 4/5 |
| Quality | 5/5 |
| Pricing | 4/5 |
| Availability | 4/5 |
Handles large projects
COR-certified
Has a large inventory
Accepts clients across Alberta
Has strict safety protocols
Closed on weekends
Doesn't usually handle small residential jobs
Kucher Steels opened its doors in 1992 as an independent metal fabrication service in Edmonton. The crew is trained to handle all types of jobs, even big ones.
We were delighted to learn that they have COR certification, which entails that the company has met the regulatory requirements for a safe and healthy work environment.
Additionally, they have employees trained in first aid in case of accidents. They even encourage visitors to report any unsafe working conditions they see so the company can start an investigation – a big thumbs up for us!
Another impressive thing is the 30,000 sq ft facility and three locations to allow for bigger and more projects. This is great since they handle all job sizes.
As for metal fabrication, we like their custom projects no matter what design and shape you need. On top of that, they accept clients from all over Alberta, which offers more availability.
Furthermore, they have a large inventory of common and specialty steel. They can even find one for you if they don't have it in stock, which we think is convenient.
But one of our concerns is they don't usually handle small residential projects, despite handling any job size. You should know they're closed on weekends too, so you may need time off to visit the facility.
5. Brokel Stainless Ltd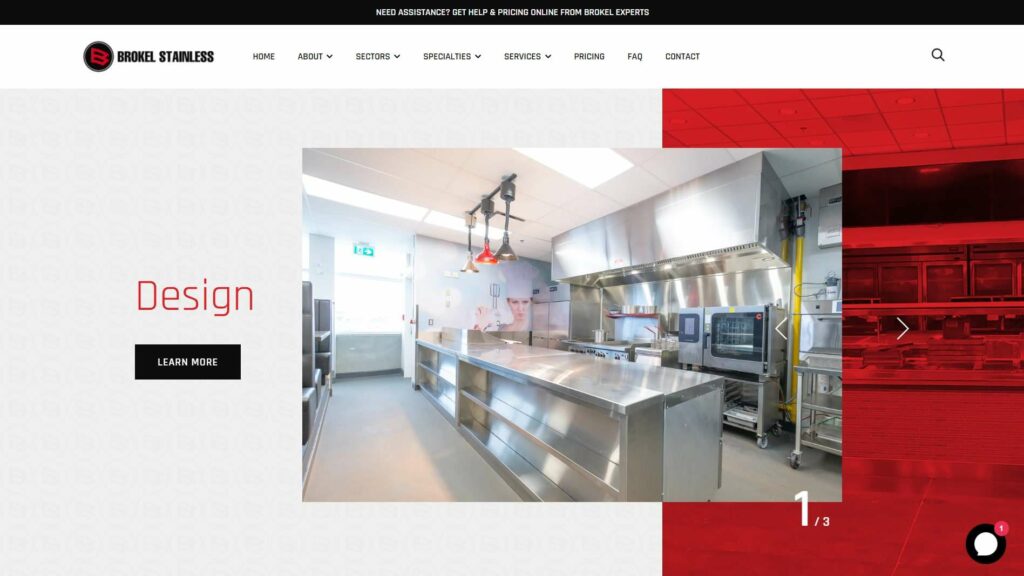 Services: Metal fabrication, design, installation
Website: https://brokelstainless.com/
Address: 10917 120 Street, Edmonton, AB T5H 3P9
Contact Details: 780-447-1730; 800-447-6980
Office Hours: Monday – Friday: 8:00AM – 4:30PM
| | |
| --- | --- |
| Google Reviews | 5/5 |
| Total Score | 4/5 |
| Score Consistency | 5/5 |
| | |
| --- | --- |
| Expertise | 5/5 |
| Services | 4.5/5 |
| Variety of Services | 4/5 |
| Quality | 5/5 |
| Pricing | 5/5 |
| Availability | 4/5 |
Competitive prices
Specialises in local businesses
Ships across Canada and internationally
Team is professional and accommodating
Lack of residential project portfolio
Not available on weekends
Brokel Stainless Ltd mainly got our attention because of the competitive pricing. The company's proud of it, too, because they can help small businesses in Edmonton with any metal fabrication and design.
They mainly focus on commercial work, and the way we see it, it offers a tonne of convenience to the local business community. Despite that, they still work on residential properties.
Now, let's talk about their specialty: commercial kitchens. We like the high-quality work and great craftsmanship.
Some clients noticed these too. They mentioned that all the custom work fit in the spaces perfectly; besides that, the team could utilize even small spaces.
Another positive is the team was highly professional and knowledgeable. The clients we surveyed appreciated the great customer service, regardless of their many questions.
Additionally, they were accommodating, no matter the size of the project. For us, this shows adaptability and competent service.
If you're unsure about their work, you'll be glad they frequently update their social media page so you can check their projects. Portfolios are important because they give potential clients a better look at the projects.
Unfortunately, there's quite an absence of residential projects on their portfolio. Since they accept home projects, it would be advantageous to include this.
On a good note, they ship all across Canada and even internationally. This is something we like because it reaches more clients.
But a slight downside is they're closed on Saturdays and Sundays. They also don't accept weekend appointments, sadly.
6. Pro-Fab Welding and Fabrication Inc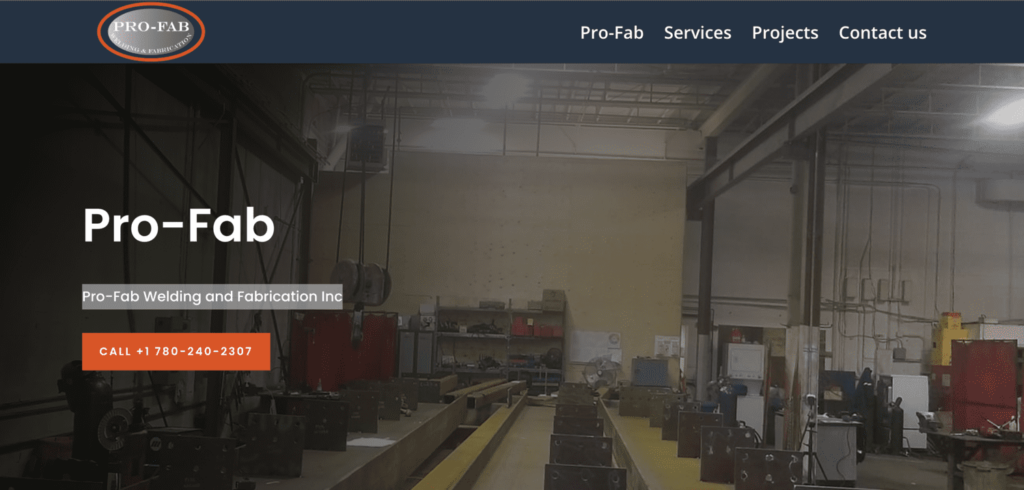 Services: Metal welding and fabrication
Website: https://www.profabwf.com/
Address: 6439 75 Street NW, Edmonton, AB T6E 0T3
Contact Details: +1 780-240-2307 | profab.weldingfabrication@gmail.com
Office Hours:
Monday 7 AM–5 PM
Tuesday 7 AM–5 PM
Wednesday 12 AM–5 PM
Thursday 7 AM–5 PM
Friday 7 AM–5 PM
Saturday 7 AM–4 PM
Sunday Closed
| | |
| --- | --- |
| Google Reviews | 5/5 |
| Total Score | 5/5 |
| Score Consistency | 5/5 |
| | |
| --- | --- |
| Expertise | 5/5 |
| Services | 4/5 |
| Variety of Services | 4/5 |
| Quality | 5/5 |
| Pricing | 4/5 |
| Availability | 4/5 |
Extensive Metal Fabrication Expertise
In-House Control and Quality Assurance
Customization and Project Management
Pro-Fab specializes in custom fabrication and has a wealth of experience working with various metals, including mild steel, aluminum, magnesium steel, and cast aluminum parts.
They offer a comprehensive range of metal fabrication services, such as handrails, industrial stairs, access platforms, custom welding, machining, milling, CNC plasma cutting, and more. This diverse expertise allows them to handle projects across multiple industries, including oil and gas, construction, mining, power generation, and manufacturing.
Pro-Fab is an integrated fabricator with a well-equipped facility, including material processing equipment, and holds industry certifications for both structural and B-Pressure work.
They have implemented a rigorous in-house quality control program and employ an inspector to ensure that every project meets the highest standards of quality.
This commitment to quality control gives clients peace of mind knowing that their metal fabrication requirements will be executed with precision and excellence.
Pro-Fab takes a customer-centric approach, working closely with clients to understand their specific requirements and deliver tailored solutions.
They have the capability to complete most projects from start to finish without the need for outside assistance, providing efficient project management and ensuring timely delivery. Their commitment to meeting client schedules and maintaining professionalism sets them apart as reliable partners in the industry.
Note, though, that as a reputable metal fabrication company with extensive experience and comprehensive services, Pro-Fab's pricing may be relatively higher compared to smaller or less specialized fabricators. However, this is reflective of their expertise, quality assurance measures, and ability to handle complex projects from start to finish.
FAQ about Metal Fabrication