Categories >
Guides and Tips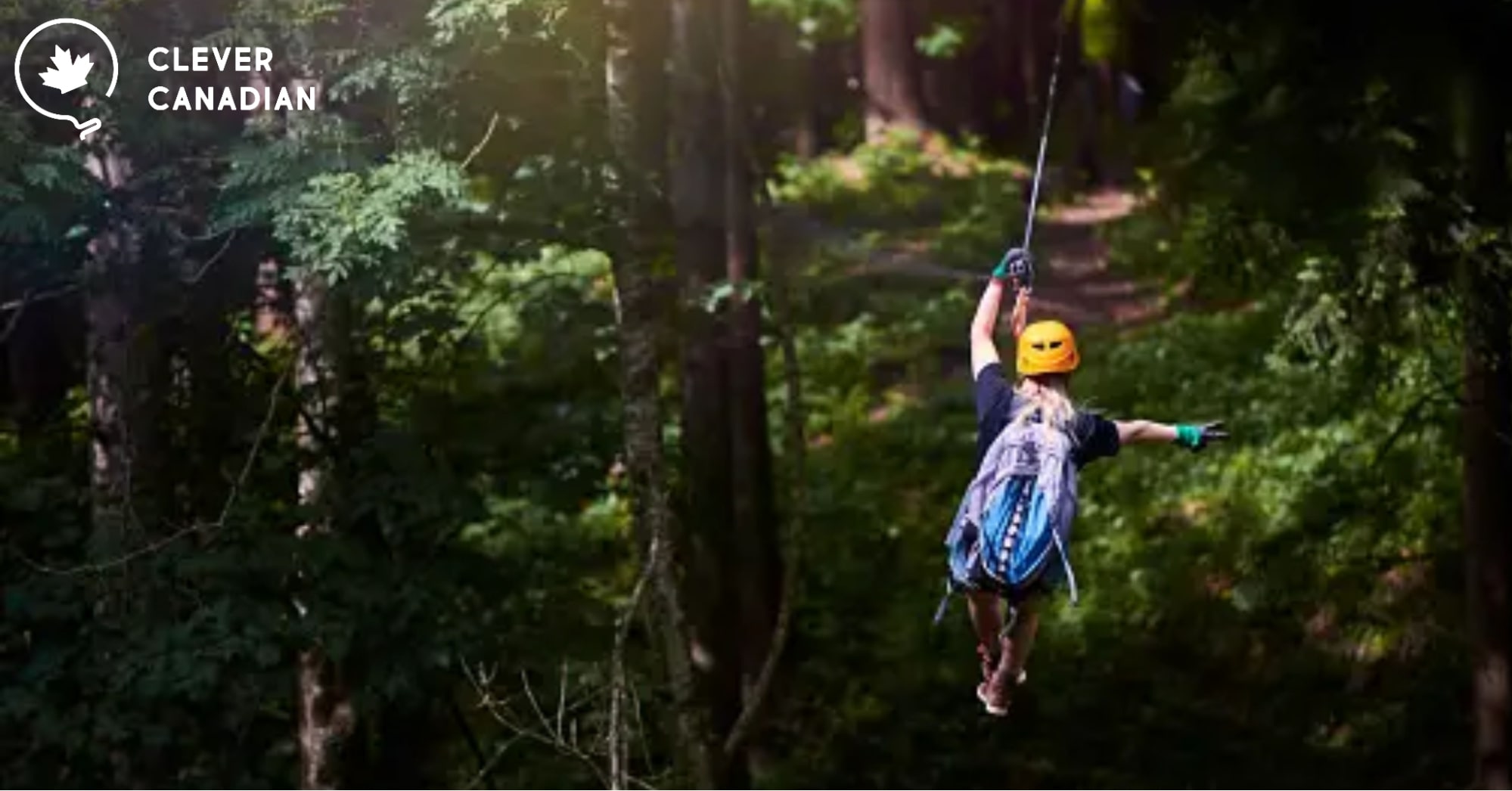 Top 10 Places for Ziplining Activities in Canada
Ready to soar like an eagle across breathtaking landscapes that only Canada can offer? Look no further! We've prepared an adrenaline-packed list of the top exhilarating ziplining spots in Canada you simply won't want to miss.
Intrigued? You should be! So, read on and let's get this adventure started!
Kokanee Mountain Zipline
Website: http://www.zipkokanee.com/?utm_source=google&utm_medium=organic&utm_campaign=gmb
Address: Kokanee Glacier Rd, Nelson, BC V1L 5R2, Canada
Contact details: +1 844-764-4484
Operating hours:
Wednesday to Sunday – 9 AM to 5 PM
Prices:
Senior – $114
Adult – $124
Child – $114
Nestled in the heart of British Columbia, the Kokanee Mountain Zipline adventure is nothing short of a Michael Bay movie! There's action, drama, quick-paced adventure, and all the open air you can breathe.
When you zipline at Kokanee, you're not just casually skipping from tree to tree. We're talking about exploring six lines with speeds cranking up to a hair-raising 100 kilometres per hour and the longest wire stretching an impressive 2,400 feet!
Yes, this is not your average zipline; it's a top-tier thrill ride where you surely won't be accused of dragging your feet. The ops team here ensures safety doesn't take a backseat amidst the fun; be sure to get a detailed safety briefing, and top-notch gear.
Of course, any thrilling adventure begs a solid cool-down. Located just outside of Nelson, BC, visitors can leach into this vibrant city's local attractions post-ziplining.
Soak in the vibrant local arts scene, tantalise your palate with a dive into local gastronomy, or dust off historical hues at Touchstone Museum.
Local Tip: Try out their 'Sunset Tour' for an unforgettable dusk zipline experience; think night vision with a harness!
Superfly Ziplines
Website: https://whistlerbreaks.com/whistler-activities/ziplining/
Address: Sixteen Mile Creek Forest Service Rd, Whistler, BC V0N 1B8, Canada
Contact details: +1 855-824-9955
Operating hours:
Monday to Sunday – 8 AM to 6 PM
Prices:
Adult – $159.99.
Child – $134.99 (7-12 years)
Known for its record-breaking zipline experience, Superfly stands a class apart, offering the thrill of hurtling across mountain ranges at a breezy 102 km/h! What makes this one super fly? It boasts Canada's longest, highest, and fastest ziplines.
Breath-catching nature and incredible speeds apart, Superfly's appeal lies in its unique tandem ziplines. This means you and your partner can race each other on an aerial runway, making the experience twice as fun.
Superfly offers combo deals, pairing ziplining with snowmobiling or hardcore off-road RZR adventures. Now, isn't that a thrilling twosome?
Just around the corner, you'll find quality resorts to rest your adventure-filled day, along with a heart-tugging Alpine village that's delectably stocked with apres-ski options.
Local Tip: Seal your day with a bear tour. A perfect way to balance out the soaring highs of the zipline.
Ziptrek Ecotours
Website: http://www.ziptrek.com/
Address: 4282 Mountain Square, Whistler, BC V0N 1B4, Canada
Contact details: +1 604-935-0001
Operating hours:
Monday to Sunday – 8 AM to 6 PM
Prices:
Adult (13+) – $149.99
Child (7-12) – $119.99
Spreading their wings in both Whistler and Mont Tremblant, Ziptrek perfectly blends thrills with a twinge of education. Here, you whizz through ziplines and hanging bridges while dazzling your senses with fascinating ecological insights.
I mean, who wouldn't like a side of wisdom with their adrenaline main course? Their guided tours navigate through diverse terrains like old-growth rainforests and backcountry.
Also, their longest zipline, "The Sasquatch," stretches over 2 kilometres! Hear me when I say it's more fabulous than a moose wearing sunglasses.
Not just an adventure spot, Ziptrek is devoted to environmental stewardship. Their tours radiate an eco-friendly aura and are constructed to leave a near-zero ecological footprint.
Local Tip: After a day spent zipping about, check out the local gastronomy scene or the charming arts-and-crafts market. Or surrender to the aromatic lure of the nearby Scandinave Spa.

Additionally, don't miss Ziptrek's Twilight Tours. Ziplining under the starlight—now that's a 'constellation' prize worth nabbing!
Camp Fortune
Website: http://campfortune.com/
Address: 300 Chem. Dunlop, Chelsea, QC J9B 2N3, Canada
Contact details: +1 819-827-1717
Operating hours:
Saturday and Sunday – 9 AM to 4 PM
Prices:
Camp Fortune Weekdays – $257
Camp Fortune Nights – $189
Almost Anytime – $290
Unlimited Pass:
Adult Pass (Age 25-69) – $548.90
Teen/Student (Age 13-24) – $352
Kid (Age 7-12) – $339
Children (Age 6 and Under) – $75
Young at Heart (Age 70-79) – $339
Senior (Age 80+) – $75
Located just minutes from downtown Ottawa, in the heart of Gatineau Park, Camp Fortune offers a high-flying experience that will skyrocket your adrenaline levels.
Camp Fortune's zipline experience undoubtedly carves its position among Canada's top zipline destinations. From the onset, it's clear that Camp Fortune isn't just about stringing a cable between two points.
Oh no, they've kicked the game up several notches. Two separate courses (named Alpha and Bravo, if we may feel a little militaristic) totaling 30 ziplines are just the opening act.
Throw in a slew of intriguing physical challenges like suspension bridges, monkey bridges, balance beams, and climbing nets, and you've got yourself an adrenaline-soaked itinerary.
Sure, the zipline action is top-notch, but Camp Fortune ensures a holistic adventure experience that caters to every visitor. For thrill-seekers, you can dive headfirst into their aerial park course, while those looking for a relaxed time can meander along the beautiful trails.
Local Tip: For a wallet-friendly adventure, grab their 'Aerial Park Season Pass' and get unlimited access to climbing and zipping all summer long.
Adrena LINE Zipline Adventure Tours
Website: https://adrenalinezip.com/
Address: 2034c Gillespie Rd, Sooke, BC V9Z 0Z2, Canada
Contact details: +1 250-642-1933
Operating hours:
Monday, Wednesday to Sunday – 9 AM to 4 PM
Tuesday – 9 AM to 3 PM
Prices:
2023 Canopy Zipline Rates:
Adults (19 years or older) – $119
Youth (5-18 years) – $89
2023 Big Zip Rates – Dual Racer:
Nestled in the heart of the enchanting rainforest on Vancouver Island, Adrena LINE Zipline Adventure Tours takes adrenaline-inducing fun to towering treetops. Adventures here aren't just line-crossing events; they're full-on plush experiences!
With eight world-class ziplines interspersed with treetop aerial walkways and stunning viewpoints, you'll be tasting adrenaline for breakfast, brunch, and lunch. The cornerstone of the Adrena Line is its focus on education.
It's an adventure with brains and brawn. The friendly guides lead you through a journey of environmental stewardship and fascinating local histories while ensuring you enjoy the thrill ride of your life.
Located a short hop, skip, and jump away from Victoria, you can top off your day of zippy excitement with a tour of the world-renowned Butchart Gardens. And hey, a swig or two at the local craft breweries wouldn't go amiss!
Local Tip: Check out the 'Treetop Adventure Course' too. It's the perfect combo of thrill and skill, suited for all adrenaline junkies!
MTL Zipline
Website: http://mtlzipline.com/
Address: Hangar 16, 363 Rue de la Commune E, Montréal, QC
Contact details: +1 514-947-5463
Operating hours:
Monday to Sunday – 11 AM to 8 PM
Prices:
Adult – $24.99
Children – $19.99
Welcome to MTL Zipline, located right in the bustling Old Port of Montreal, not just in the heart of the city, but in the heart of our hearts.
As the first urban zipline circuit in Canada, it's where cityscape meets the thrill of flight. MTL Zipline doesn't just cater to the bold; it transforms the meek into their bold, fun-embracing alter egos. This is where you unleash the adventure beast within!
After your feet are happily back on solid ground, imbibe the riveting vibe of Old Montreal with its cobblestone streets, vintage horse-drawn carriages, sidewalk artists, and lively outdoor cafes.
Or reinstate your cultural quotient with a visit to nearby historical sites and vibrant art museums.
Local Tip: Have a go at it during the evening hours. Trust us, the Montreal skyline at dusk, seen from an airborne angle, is nothing short of breathtaking!
WildPlay's Whirlpool Adventure Course
Website: https://www.wildplay.com/niagara-falls
Address: 3500 Niagara River Pkwy, Niagara Falls, ON L2E 3E8, Canada
Contact details: +1 800-263-7073
Operating hours:
Saturday and Sunday – 11 AM to 5 PM
Prices:
Adult – $44.99
Children – $29.99
Let's kick things off near the 'garden city,' Victoria, with WildPlay's Whirlpool Adventure Course. Wildplay? More like a wild play day!
This isn't just your average zipline locale; it's a full-on adventure park filled with ziplines, aerial obstacles, and jaw-dropping walking bridges that take the phrase "living on the edge" to a whole new level. Literally!
The standout feature at WildPlay is the aptly named Whirlpool Adventure Course. Prepare for an adrenaline-fueled experience as you traverse dizzying heights and challenge yourself to conquer over 70 suspension bridges and six ziplines!
The park's pristine beauty ensures your thrill comes with some great thrills, with the sparkling Niagara River Whirlpool and Gorge offering stunning sights. You can also visit one of the exceptional local vineyards for some well-earned relaxation.
Local Tip: Delve into the nighttime zipline or the 'Nocturnal Adventure Course' if you want to turn the audacious dial up a notch.
WildPlay's MistRider Zipline to the Fall
Website: https://www.wildplay.com/niagara-falls
Address: 5920 Niagara River Pkwy, Niagara Falls, ON L2E 6X8, Canada
Contact details: +1 800-263-7073
Operating hours:
Monday to Sunday – 10 AM to 6 PM
Prices:
Single Flight – $59.99 + taxes and fees
Family Pass (four riders) $199.99 + taxes and fees
Hold onto your adventure goggles as we zip to the iconic Niagara Falls. Forget viewing the falls from a distant observatory; get up-close-and-personal with WildPlay's MistRider Zipline to the Falls.
Four parallel ziplines offer a heart-pounding descent towards the rainbow-clad mists of Niagara, a feeling akin to being gripped by Mother Nature's awe-inspiring power. This isn't just about the thrill of speed or the brag of getting airborne.
This zipline is an immersive narrative that combines natural majesty, intrepid adventure, and more panoramas than your phone's camera can handle!
Right in the heartland of Niagara's entertainment saga, take advantage of the bustling Clifton Hill district and get a refreshing taste of the local cuisine.
Make your zipline experience part of the bigger picture by grabbing the 'Adventure Pass'. It'll get you an entry to local' favourites like Journey Behind the Falls and Niagara's Fury.
Local Tip: And don't forget to check out the famous Niagara Skywheel for some mesmerising aerial views!
Treetop Trekking
Website: https://treetoptrekking.com/park/hamilton/
Address: 5050 Harrison Rd, Binbrook, ON, Canada
Contact details: +1 289-286-1016
Operating hours:
Monday to Sunday – 9 AM to 5 PM
Prices:
Ages 16+ – $67
Ages 12 -15 – $57
Ages 9 -11 – $49
Switching gears, we're taking you from cascading falls to towering treetops with Treetop Trekking. With locations strewn across Ontario, Treetop Trekking offers a variety of zipline adventures nestled amidst enchanting forests.
Make no mistake, though. This isn't your walk-in-the-park zipline. Anticipate treetop obstacle courses, challenging climbs, and speedy ziplines that offer an adrenaline kick efficient enough to replace your morning coffee!
While you're at any of their genuinely unique locations, consider their 'Treetop Trekking + Stay' packages, which combine a day's fun followed by a cosy overnight stay at a local inn or resort. Now, that's a good night's rest!
Local Tip: Squeeze the entire group into the fun by trying out the team-building activities and the Team Zipline—connect while you fly!
TimberTop Adventures
Website: http://www.timbertop.ca/
Address: 730 Dominion Park Rd, Saint John, NB E2M 4Y8, Canada
Contact details: +1 506-657-6060
Operating hours:
Saturday and Sunday – 9 AM to 5 PM
Prices:
General (19-64) – $69.99
Student (8-18 or older with a valid ID) – $59.99
Senior (65+ with a valid ID) – $59.99
Now, let's end our adventure where you can take it from tree to sea at TimberTop Adventures. Picture this—zip lining through an urban wilderness park overlooking the Bay of Fundy, where tides swell higher than anywhere else on Earth.
Raise the bar of thrill by hopping aboard one of their many adrenaline-inducing zipline adventures, from adult courses for thrill-seekers to kid-friendly ones for young adventurers. Timber Tops greatest accomplishment?
Infusing 'green' into their adrenaline With eco-friendly platforms and a nature-friendly ethos, when you zipline at TimberTop, you connect with the heart of the wilderness in a sustainable manner.
While you can spend an entire day swinging through trees like a wild lemur, the alluring city of Saint John is just moments away. Food, shopping, or historical exploration—there's a diverse platter of dynamic experiences on offer!
Local Tip: Get a firsthand gaze at the Reversing Falls as a fantastic close to your ziplining day. The sight is every bit as exhilarating as your treetop adventure.