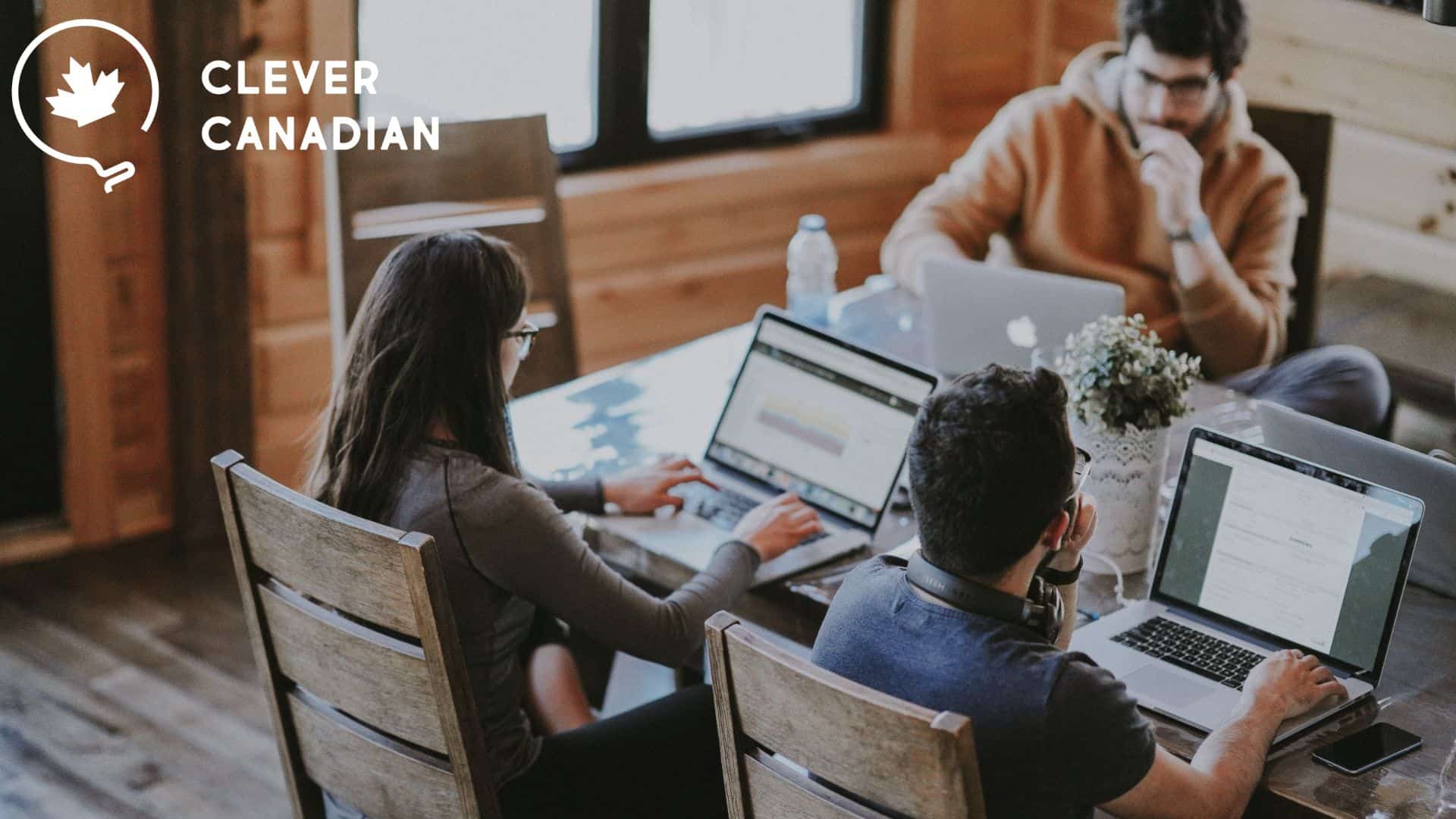 The Top 6 Coworking Spaces in Edmonton
How We Picked
1. Work Nicer Coworking – Beaver House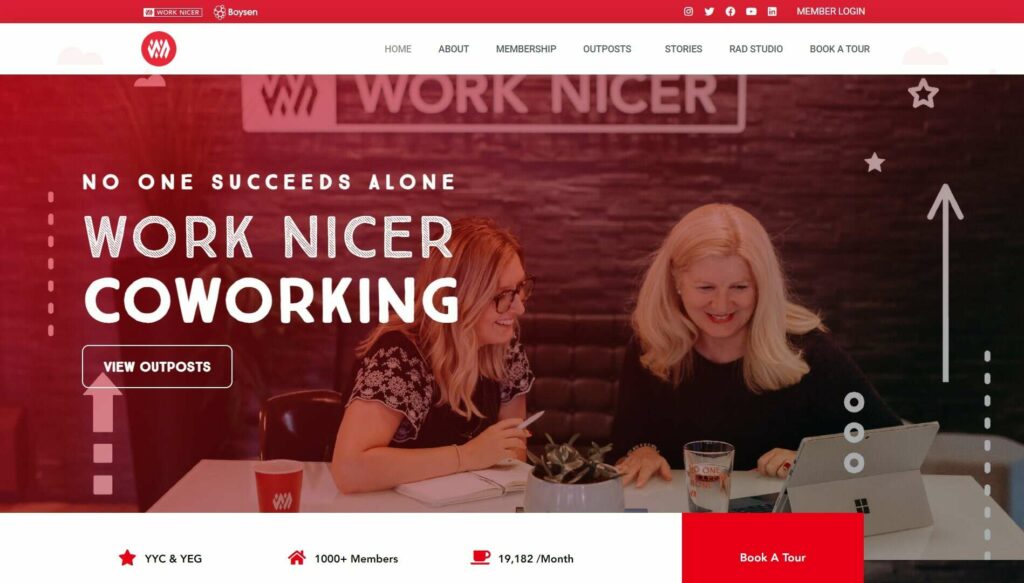 Website: https://www.worknicer.com/
Address: 10160 103 ST NW, Edmonton, AB T5J 0X6
Contact Details: +1 587-316-2782
Office Hours: Monday-Friday: 9:00 am-5:00 pm
| | |
| --- | --- |
| Google Reviews | 4.9/5 |
| Facebook Reviews | 4.9/5 |
| Total Score | 5/5 |
| Score Consistency | 4.9/5 |
| | |
| --- | --- |
| Rates | 4/5 |
| Amenities | 5/5 |
| Office Environment | 5/5 |
| Location | 5/5 |
Several locations in Edmonton and Calgary
Convenient locations
Pet-friendly
Great membership benefits
Good ambience
Some perks vary on location
Slightly higher rates
If you're looking for convenience and accessibility, Work Nicer Coworking can be a good choice. It has several locations in Edmonton and Calgary.
We appreciate the convenience of its Beaver House location due to its street access. It's a few minutes walk to an LRT station, with nearby parking and onsite bike storage available.
One of the things we like is the 45-minute free tours to check out the space. Conveniently, you can book the tour at your preferred time on the website.
Many clients were happy with the ambience of the place. The environment provided a productive space because of its quietness and great facilities.
Aside from the basic amenities like high-speed internet and office supplies, mail handling and private phone booths available – a plus for convenience!
In addition, it's pet friendly! It offers accessibility to people with service dogs, which we think is praiseworthy.
There are location-specific benefits too. And while it sounds great, the downside is you won't find all perks in all locations.
On the other hand, Work Nicer's membership provides great benefits, including 24/7 access to all locations. This is great for those who prefer to work on their own time, even at night.
Moreover, the membership fee is $375 a month and $225 for each additional team member. Although there are many perks, we feel it's slightly higher if you prefer to stay in one location.
2. URBN Cowork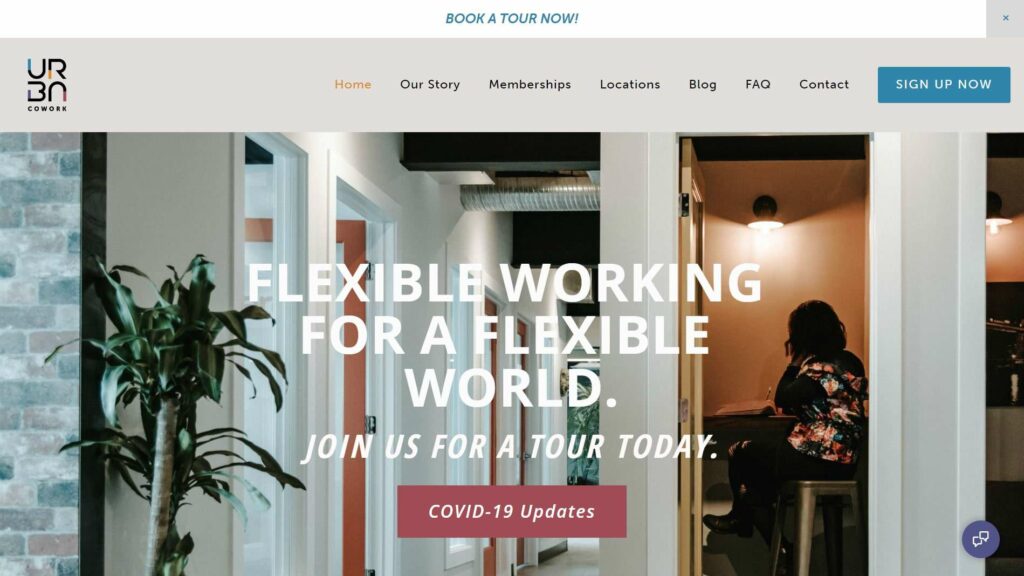 Website: https://www.urbncowork.ca/
Address: #2 2207 90B St. SW, Edmonton, AB T6X 1V8
Contact Details: 1-587-534-5009
Office Hours: Monday-Friday: 8:00 am-4:00 pm
| | |
| --- | --- |
| Google Reviews | 4.8/5 |
| Coworker Reviews | 5/5 |
| Total Score | 3/5 |
| Score Consistency | 4.9/5 |
| | |
| --- | --- |
| Rates | 5/5 |
| Amenities | 5/5 |
| Office Environment | 5/5 |
| Location | 4/5 |
Affordable rates
Offers yoga classes
Quiet and comfortable place
Ample parking space
Location isn't commuter friendly
Mailing service available at an added cost
In 2017, URBN Cowork opened its doors in Sherwood Park as an innovative and affordable space. And in 2018, it grew the business and moved to South Edmonton.
One of the things we appreciate is its affordable prices, which are perfect for people on a tight budget. Moreover, the monthly membership plan starts at just $50.
We were just disappointed to learn that the mailing service has an extra cost for most of the plans. Currently, only the $1,100 monthly plan has the mailing address included.
Additionally, you can access the space 24/7, even with the cheapest membership plan. We think people with tight deadlines will appreciate the complimentary drinks available.
Furthermore, they even offer free weekly yoga classes for higher membership plans. We find this unique since not many coworking spaces in Edmonton have this.
The clients we surveyed liked the quiet and comfortable environment. Some found it impressive that they referred URBN to their friends.
But our slight concern is the location. It isn't commuter friendly compared to other coworking spaces we found in Edmonton.
On the other hand, there's plenty of parking space around the building. So, we're relieved that parking won't be a problem even during busy hours.
Lastly, the location tours are available for 30 minutes. It's also a plus for us that booking a tour on the website is easy because you can choose your preferred time to squeeze it in your busy schedule.
3. Roundhouse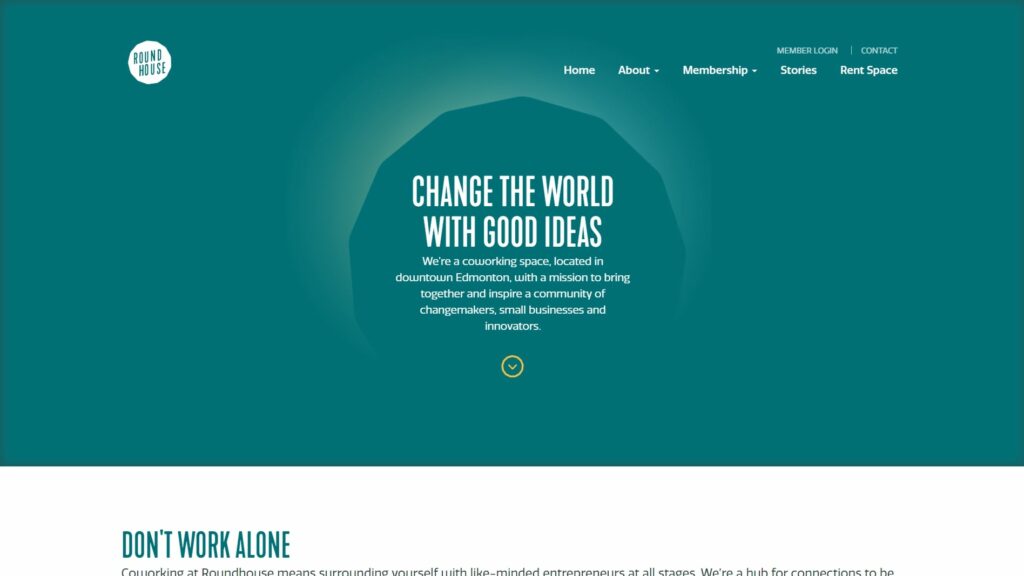 Website: https://www.roundhouse.net/
Address: 11110 104 Avenue NW, Edmonton, AB T5K 1M9
Contact Details: 780-633-3464, hello@roundhouse.net
Office Hours: Monday-Friday: 8:00 am-4:00 pm
| | |
| --- | --- |
| Google Reviews | 4.9/5 |
| Total Score | 3/5 |
| Score Consistency | 4.9/5 |
| | |
| --- | --- |
| Rates | 5/5 |
| Amenities | 5/5 |
| Office Environment | 5/5 |
| Location | 4/5 |
Big and bright space
Many benefits and amenities
Affordable rates
Energy-efficient design
Limited hours for hot desk memberships
Not ideal for people outside the university
The founders of Roundhouse wanted to find a creative space that's perfect for a team to collaborate in. And it finally opened in 2018, located at MacEwan University.
Roundhouse has an impressive area of 12,000 sqft. The space allows many people to come together without feeling cramped, which we think is great.
Further, you can use Roundhouse for events with a capacity of up to 80 people. There are also ceiling-mounted projector screens, which are great for event presentations.
Despite the ample space, it's still affordable, with the rates starting at $80 a month. But most of the hot desk membership plans have limited hours every month.
On the positive side, that'll give you a two-hour meeting room benefit. Only a few coworking spaces in Edmonton include that in the cheapest plans, which is why we liked it.
There's even a games lounge, a great place to unwind if you start feeling the stresses of work. On top of that, you can rent cameras, lighting, and microphones if you need more equipment for your project.
To boot, they offer a six-month pass to the MacEwan sport and wellness section. With these many benefits, we think their membership plans are worth the money.
As for the interior, we were impressed with the clean, light, and spacious area. Probably because it was designed for natural lighting, providing a healthy working environment.
Additionally, they created the space with sustainability in mind. We appreciate the energy-efficient design to reduce energy use.
However, one of our concerns is that people not working or studying at MacEwan University might have difficulty checking it out.
4. Intelligent Office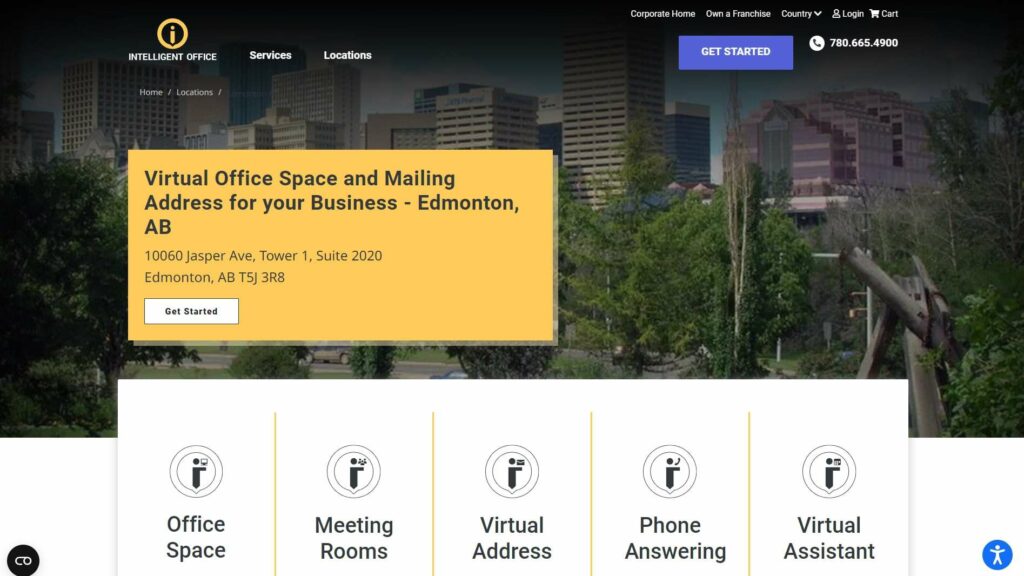 Website: https://www.intelligentoffice.com/alberta/edmonton
Address: Tower 1, Suite 2020, 10060 Jasper Ave, Edmonton, AB T5J 3R8
Contact Details: 780-665-4900
Office Hours: Monday-Friday: 8:00 am-5:00 pm
| | |
| --- | --- |
| Google Reviews | 4.8/5 |
| Facebook Reviews | 4.3/5 |
| Total Score | 4/5 |
| Score Consistency | 4.5/5 |
| | |
| --- | --- |
| Rates | 4/5 |
| Amenities | 5/5 |
| Office Environment | 4/5 |
| Location | 5/5 |
Multiple locations across Canada
Provides a customized plan
Offers a virtual assistant
Accommodating staff
Not ideal for those looking for an open space
Lack of price guide
Intelligent Office has been around for over 25 years. Throughout the years, it has expanded to more office spaces across the United States and Canada.
One of the things we liked was the customized plan for each company. We find this considerate because it provides a solution to ensure your business has everything it needs.
Further, the staff were accommodating according to their customers. They praised the excellent assistance and flexibility too.
Additionally, you can use Intelligent Office as your virtual business address. It's highly convenient because it lets you have a location without paying for a lease.
Moreover, you can choose to rent the space for a short term. And with multiple locations, your clients won't have to travel far for a physical meeting.
On top of that, they offer a virtual assistant to assist you in your business. The great thing about this is its convenience, allowing you to focus on your business.
The space is clean and has complete amenities, but we find the space too corporate-looking. And while it may be great for some businesses, those looking for a creative and open space may find it gloomy.
Another drawback is there's no available price list. We think adding the prices is essential for convenience since the rates depend on the branch.
5. Homestead Coworking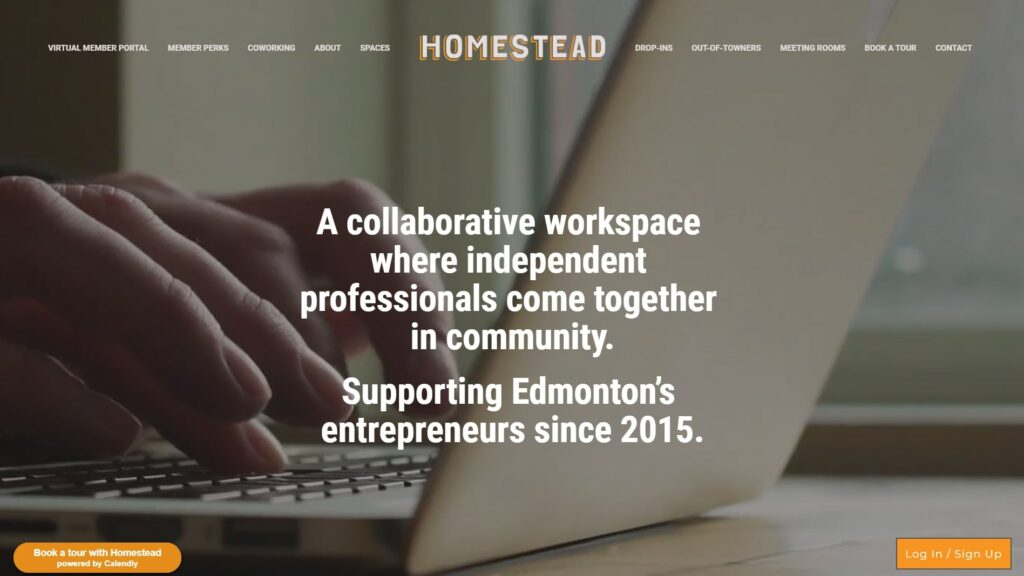 Website: https://homesteadcowork.ca/
Address: 202 10526 Jasper Avenue NW, Edmonton, AB T5J 1Z7
Contact Details: (780) 628-7101, space@homesteadcowork.ca
Office Hours: Monday-Friday: 8:00 am-5:00 pm
| | |
| --- | --- |
| Google Reviews | 4.9/5 |
| Coworker Reviews | 5/5 |
| Total Score | 4/5 |
| Score Consistency | 4.9/5 |
| | |
| --- | --- |
| Rates | 5/5 |
| Amenities | 5/5 |
| Office Environment | 5/5 |
| Location | 5/5 |
Convenient location
Community-focused place
Cozy and open design
Offers many benefits
Membership provides discounts to other businesses
Small number of people in meeting rooms allowed
Can add higher dividers in washroom
Homestead Coworking's convenient location is in the historical Alberta Block Building. Also, the space is large enough without feeling cooped up because it's 11,000 sq ft.
Additionally, those with errands will appreciate the convenience of nearby shops and restaurants. The people we talked with even said they chose Homestead because of its location near an LRT station.
In fact, the historic building is famous for being community-focused. Homestead Coworking's members even said they enjoyed being part of the local community.
Moreover, the space has a cozy and open design. Despite the renovations in the building, they managed to keep the historic atmosphere.
Aside from the basic amenities, it's pet friendly. We find this unique to coworking places in Edmonton because only a few offer this.
It's worth noting that they offer many benefits to all members, even with the cheapest plan. These perks include lockers, projector access, and a printing station.
To boot, the membership card gives you access to discounts at local restaurants and shops. It's convenient, too, because many of the participating partners are in downtown Edmonton.
Impressively, they offer flexibility and affordability for as low as $15 + GST. This includes a half-day pass so you can work at your preferred time.
We were just a tad disappointed to learn that their meeting room can only accommodate up to 12 people. So, this might not be ideal for large groups.
Some members said that they would appreciate floor-to-ceiling dividers in the washroom for more privacy. But other than that, they loved the amenities and atmosphere of the place.
6. The Creative Hive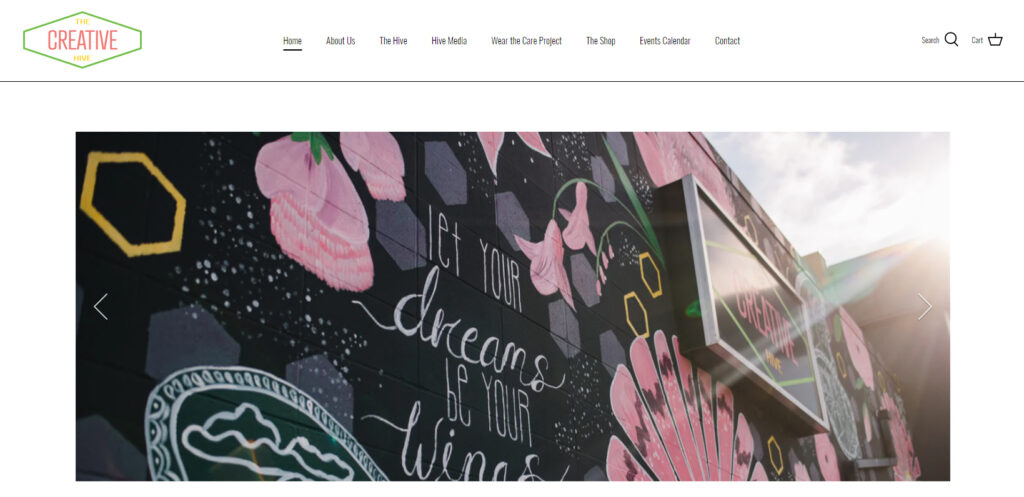 Website: https://thecreativehive.ca/
Address: 16819 111 Ave NW, Edmonton, AB T5M 2S4, Canada
Contact Details: 780·996·7510
Office Hours: Monday to Friday: 9:00 – 17:00
| | |
| --- | --- |
| Google Reviews | 4.8/5 |
| Facebook Reviews | 5/5 |
| Total Score | 4.9/5 |
| Score Consistency | 4.9/5 |
| | |
| --- | --- |
| Rates | 5/5 |
| Amenities | 5/5 |
| Office Environment | 4/5 |
| Location | 5/5 |
Versatile Spaces
Integrated AV and Technology
Supportive Environment
Onsite Parking
Catering Options
The Creative Hive is more than just a physical space; it's a vibrant hub for creativity, community, and collaboration.
Unlike other coworking paces, they provide a variety of spaces to cater to different needs, including office rentals, studio rentals, boardroom rentals, and event spaces.
With them, individuals and businesses can find the perfect setting for meetings, workshops, events, and more.
In relation to this, we like that most of the spaces come equipped with essential technology, including AV systems, projectors, screens, and high-speed Wi-Fi. This integration enhances the convenience of hosting presentations, workshops, and other tech-dependent activities.
With the founders having a background in media, The Creative Hive offers more than just spaces; it provides access to Hive Media, a full production team that collaborates with entrepreneurs and businesses to create compelling video content.
Since The Creative Hive hosts various events, workshops, and corporate bookings, space availability might vary. This could require potential users to check for space availability well in advance.
FAQ about Coworking Space