Categories >
Guides and Tips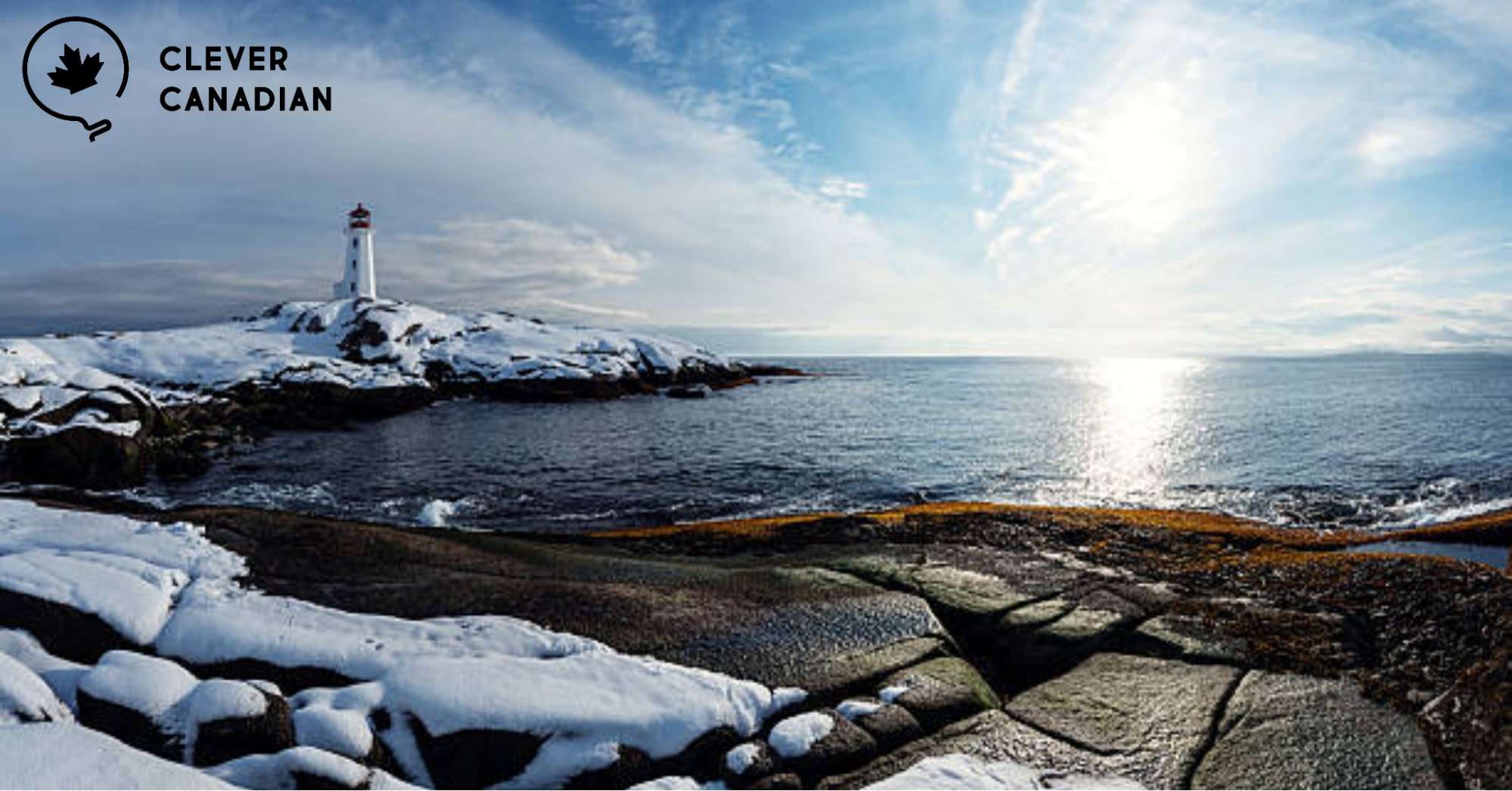 14 Best Things To Do In Nova Scotia In Winter
Nova Scotia is an absolute winter paradise, packed with frosty fun and cosy adventures that'll make you want to extend the season!
Don't let the chilly temps scare you off, though—there's a whole world of snowy excitement waiting to be discovered in this East Coast gem.
Come along as we go down the list of the best things to do in Nova Scotia in the winter. Trust us, by the time you're done, you'll be dreaming of snowflakes and counting down the days until your next winter adventure.
Go whale watching in the Bay of Fundy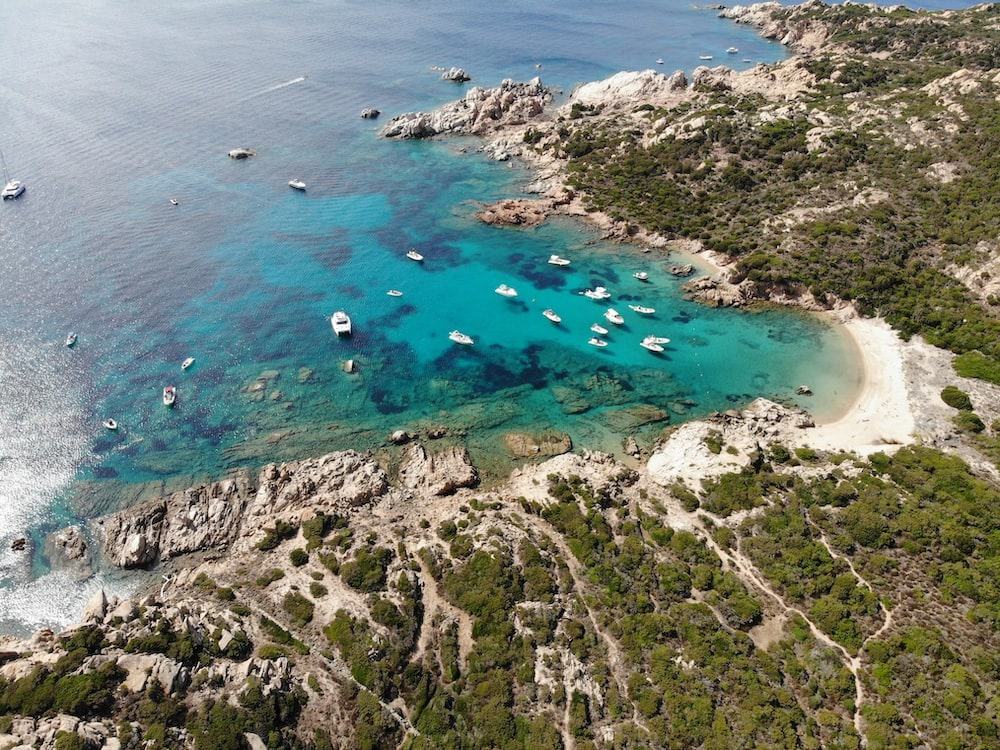 Website: https://www.bayoffundy.com/
Bay of Fundy has the highest tides in the world, and in the winter, it's like a party for right whales who come to munch on plankton and krill. You might even spot some minke and humpback whales hanging out in the bay too!
The best time to catch all this action is between December and March when the water is super lively. Don't worry about freezing your butt off, because lots of tour companies have cosy heated cabins and outdoor decks for you to enjoy the view.
Trust me, a whale watching trip in the Bay of Fundy is a must-do for anyone who loves wildlife and is visiting Nova Scotia in the winter.
Local Tip: When visiting the Bay of Fundy, make sure to check out Hopewell Rocks during low tide for an unforgettable walk on the ocean floor and some amazing photo opportunities!
​Visit Peggy's Cove Lighthouse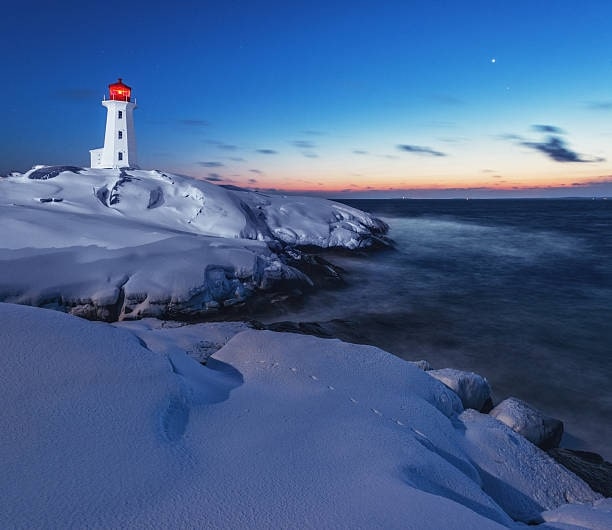 Website: http://nslps.com/
Address: Peggys Point Rd, Peggys Cove, NS
Contact details: +1 613-993-0999
Operating hours:
Monday to Sunday – Open 24 hours
You've got to check out Peggy's Cove Lighthouse in Nova Scotia during the winter—it's seriously gorgeous! Just hop in the car for a quick 30-minute drive from Halifax and make sure you're all bundled up for a stroll around the area.
You'll be amazed by the huge granite boulders and the powerful Atlantic waves crashing nearby—it's a humbling experience, for sure. Once you've taken in the sights, swing by the Peggy's Cove Lighthouse gift shop to grab some cool local souvenirs like sea glass.
And don't forget to treat yourself to some delicious seafood chowder at nearby spots like The Sou'wester or Rhubarb.
And hey, while you're in the area, why not explore the charming village of Peggy's Cove itself? This quaint little fishing community is full of colourful houses, friendly locals, and even more breathtaking views of the ocean.
Local Tip: For the perfect photo op, climb the narrow spiral staircase to the top of the lighthouse and get a 360° view of the sea and village below.
Don't miss the Evergreen Festival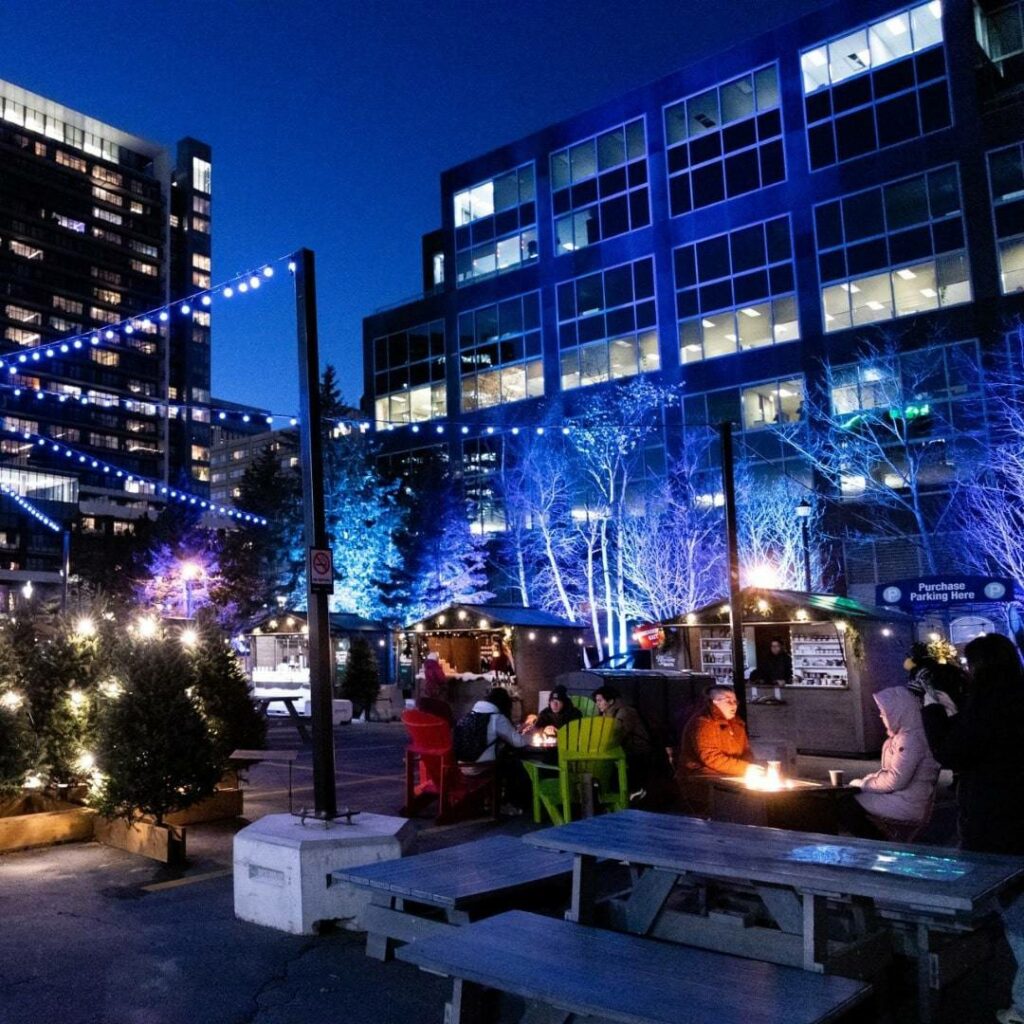 Website: https://www.evergreenfestns.com/
The Evergreen Festival is all about celebrating local culture, food, and entertainment, and it's the perfect way to get into the holiday spirit.
The festival takes place at the Halifax waterfront, where you'll find tons of holiday decorations, and a massive Christmas tree that'll make your Instagram feed extra merry.
There are also live musical performances, local artisans selling their handcrafted goodies, and plenty of delicious food and drink options to keep you warm and cosy. But that's not all!
You can even take part in a holiday-themed scavenger hunt, join a festive workshop, and catch a holiday movie under the stars.
Local Tip: Don't forget to grab a cup of the famous Nova Scotia hot apple cider from one of the vendors—it's the perfect warm treat to enjoy while strolling through the festival!
Go skating on the Emera Oval
Website: https://www.halifax.ca/recreation/facilities-fields/emera-oval
Address: 5775 Cogswell St, Halifax, NS
Contact details: +1 902-490-2347
Operating hours:
Monday to Friday – 11 AM to 9 PM
Saturday to Sunday – 12 PM to 9 PM
If you're looking for a fun winter activity in Halifax, you've got to hit up the Emera Oval for some ice skating! It's this super cool outdoor rink right in the heart of the city, and it's perfect for skaters of all ages and skill levels.
The best part? Skating at the Oval is totally free! You can bring your own skates or, if you don't have a pair, you can borrow some from the Oval's Skate Hut at no cost.
They've even got helmets and skate aids for the little ones or those who might need a bit of extra help staying upright on the ice. But wait, there's more!
The Emera Oval isn't just a winter wonderland—it's a year-round spot for fun and fitness.
Local Tip: Be sure to check the Oval's schedule online before you head out, as they often have special themed skate nights and events that you won't want to miss!
​Take a sleigh ride at Hatfield Farm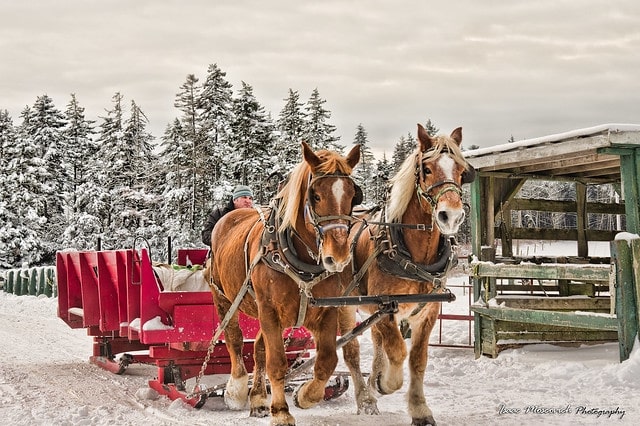 Website: https://hatfieldfarm.ca/
Address: 1840 Hammonds Plains Rd, Hammonds Plains, NS
Contact details: +1 902-835-5676
Operating hours:
Monday to Sunday – 10 AM to 5 PM
Tuesday – Closed
Sleigh rides are a classic winter activity, and Hatfield Farm Cowboy Adventures offers rides through their scenic property. Here, you can glide over snow-covered hills and through forests on an open sleigh pulled by majestic draft horses.
Just grab one of the provided blankets, snuggle up with a cup of hot cocoa, and let the winter feeling take over. The rides last about 30 minutes and happen on weekends in December and January, plus daily during the week between Christmas and New Year's.
And hey, you can even arrange for a private ride if you're feeling extra fancy. Not only will this old-fashioned sleigh ride make you feel like you're in a holiday movie, you might also get to see some cool wildlife along the trail, like deer, foxes, or birds.
Local Tip: Oh, and while you're at Hatfield Farm, you should totally check out their other activities, too. They've got everything from wagon rides and a petting zoo to a mini-golf course and a zip line—there's never a dull moment at this fun-filled spot!
Go snowshoeing at the Amherst Point Bird Sanctuary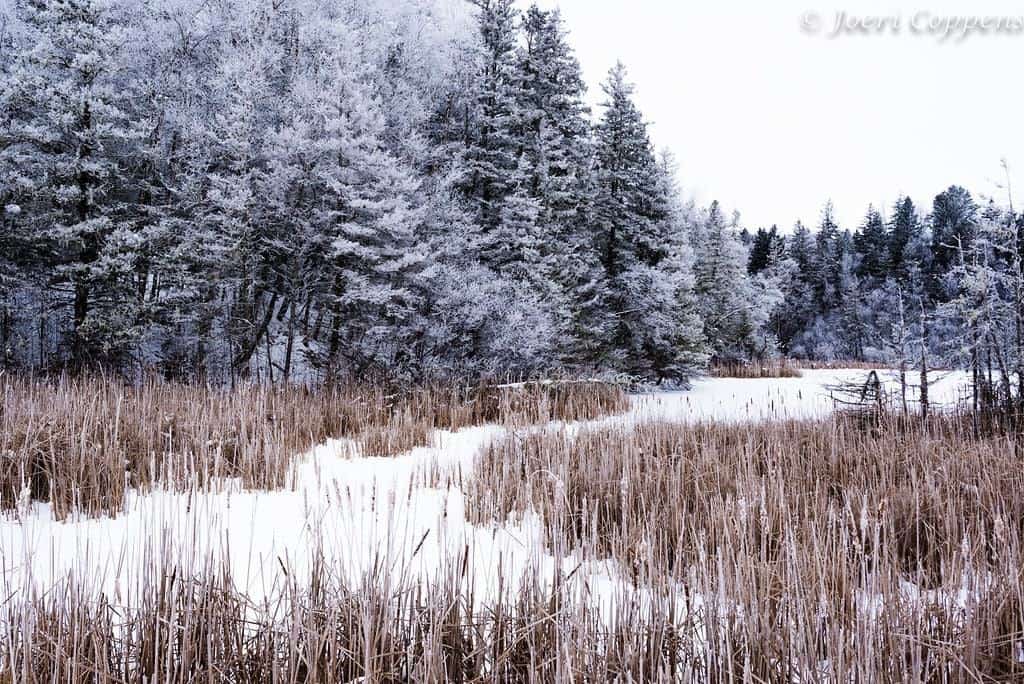 Address: 946 Southampton Rd, Amherst, NS
Amherst Point Bird Sanctuary is a nature lover's dream, with its serene trails—perfect for a peaceful snowshoe adventure. The sanctuary has over 430 acres of diverse habitats, including marshes, forests, and wetlands.
Plus, the snowshoeing experience is super beginner-friendly, so don't worry if you've never tried it before! One of the coolest things about snowshoeing at Amherst Point is the chance to spot some rare bird species that are known to hang out in the sanctuary.
Keep your eyes peeled for birds like the Northern Saw-whet Owl, the Black-backed Woodpecker, and the elusive Boreal Chickadee. Trust us, it's a birdwatcher's paradise!
Local Tip: Before you head out, make sure to check the weather and trail conditions, as the sanctuary's trails can be a bit challenging after heavy snowfall or ice storms.
Visit Sugar Moon Farm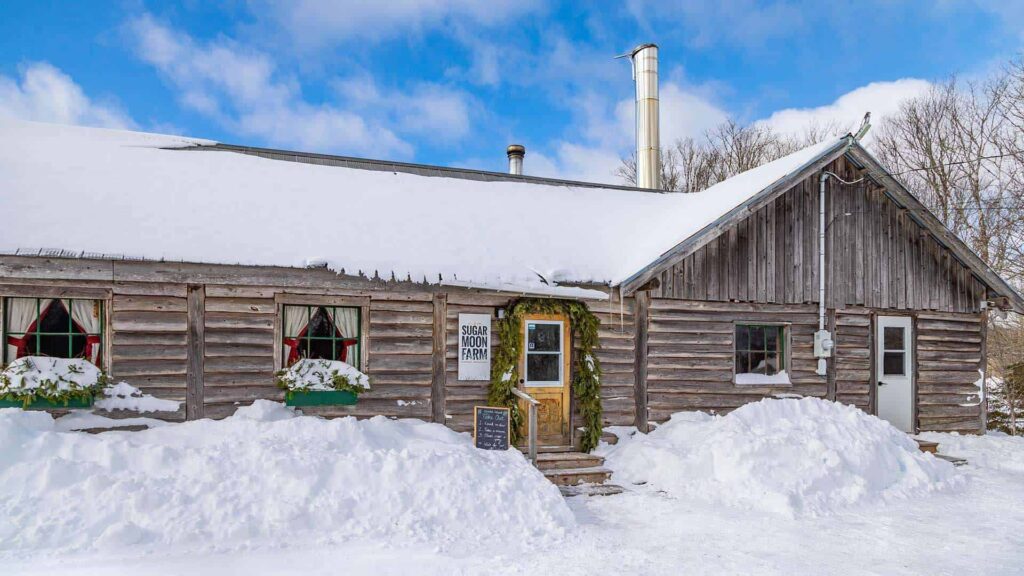 Website: http://www.sugarmoon.ca/
Address: 221 Alex MacDonald Rd, Tatamagouche, NS
Contact details: +1 902-657-3348
Operating hours:
Saturday and Sunday – 10 AM – 3 PM
Take a tour of the farm and see how they make all their delicious maple syrup and other maple goodies. You'll learn how they collect sap and turn it into that golden syrup we all love.
Plus, you'll get to sample some amazing treats like maple butter, maple candy, and maple cream—yum! But that's not all!
Sugar Moon Farm also has some road trails for snowshoeing or cross-country skiing, so you can work off all those tasty maple treats while taking in the beautiful scenery. And when you're ready to warm up, just head to their cosy café for a hot chocolate or coffee.
Local Tip: Don't leave without trying their famous maple-glazed bacon—it's a game-changer and will have you dreaming about it for days!
See the spectacular icefalls at Franey Trailhead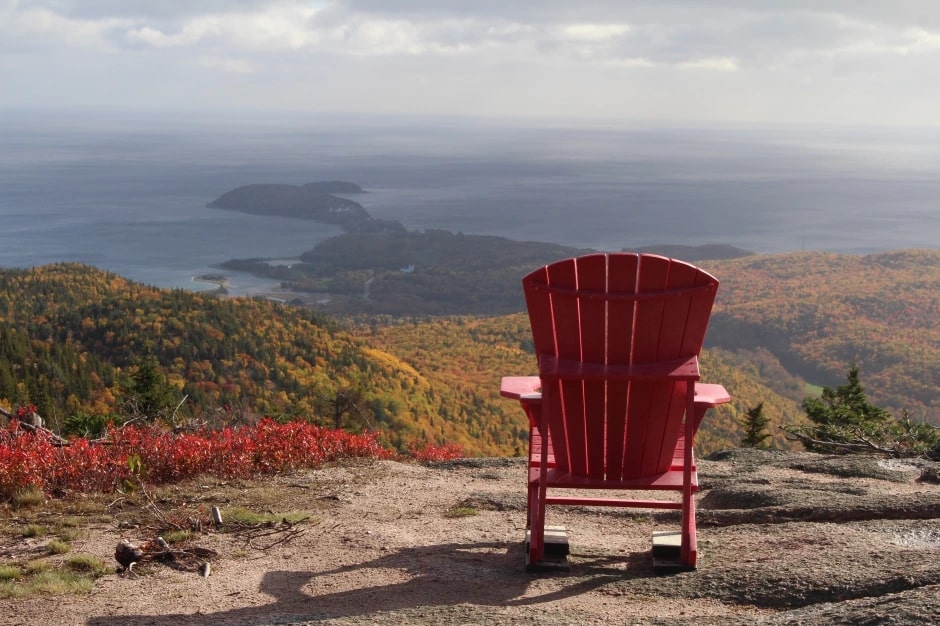 Website: https://www.pc.gc.ca/en/pn-np/ns/cbreton/activ/randonnee-hiking/franey
Address: 49 Franey Rd, Ingonish, NS
Operating hours:
Monday to Sunday – Open 24 hours
Franey Trailhead is a gorgeous spot nestled in the Cape Breton Highlands National Park, and trust us, it's a must-see during the colder months.
This trail is a 4.4-mile loop that takes you through some seriously beautiful terrain, including lush forests, steep cliffs, and, of course, those amazing icefalls. As you hike up the trail, you'll be rewarded with stunning views of the icy cascades.
It's the perfect spot to snap some Instagram-worthy pictures and take in the majesty of nature. Make sure to check the trail conditions and weather forecast before you head out, as the trail can be more challenging during the winter months.
Local Tip: Just remember to dress warmly and be prepared for some slippery spots along the way—but the views are so worth it!
​Go Tubing Down at Wentworth Valley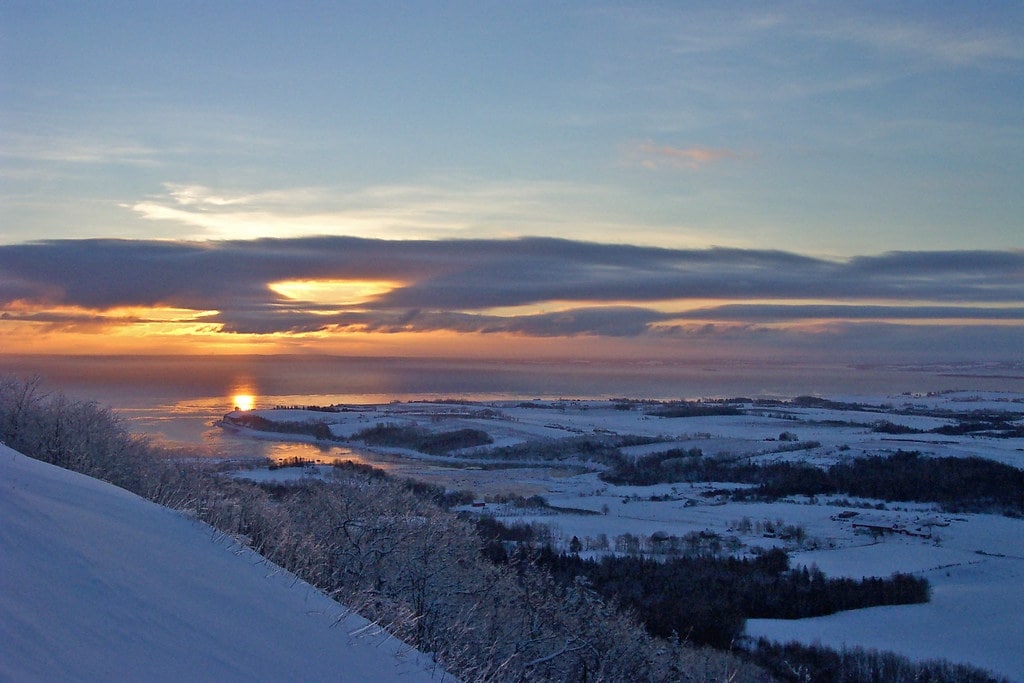 For an adrenaline-pumping, super fun winter activity, you've got to try tubing down at Wentworth Valley! This awesome spot is located just a short drive from Truro, and it's the perfect place to let loose and have a blast on the snow.
Wentworth Valley is home to a wicked tubing park that's perfect for thrill-seekers of all ages. Just hop on a tube, hold on tight, and let gravity do its thing as you zoom down the snowy slopes.
It's like sledding on steroids, and we promise you'll be grinning from ear to ear the whole way down. But the fun doesn't stop there!
Wentworth Valley also offers skiing and snowboarding, so if you're looking for a bit more of a challenge, you can hit the slopes and show off your skills.
Local Tip: Make sure to dress in layers and wear waterproof clothing; you'll want to stay warm and dry while you're having the time of your life on those snowy slopes!
Have a lobster at the Shore Club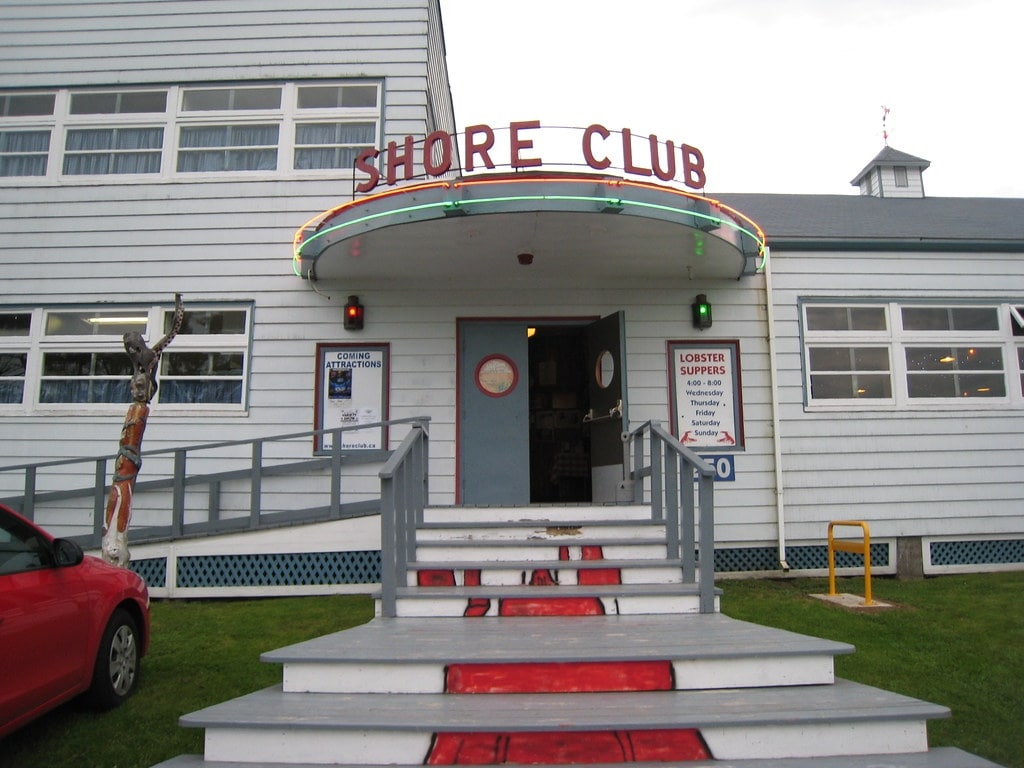 Website: http://www.shoreclub.ca/
Address: 250 Shore Club Rd, Hubbards, NS
Contact details: +1 902-857-9555
Operating hours:
Monday and Tuesday – Closed
Wednesday to Sunday – 4 PM to 7 PM
A classic lobster supper is about as Nova Scotian as it gets. And if you're a seafood lover, you've just gotta treat yourself to a lobster dinner at the Shore Club in Hubbards.
This legendary spot has been serving up mouthwatering lobster since 1946, and trust us, it's an experience you don't want to miss! The Shore Club is a super laid-back, rustic spot with a fun, lively atmosphere—perfect for chowing down on some delicious lobster.
And when we say delicious, we mean it! But the fun doesn't stop with the lobster!
The Shore Club is also known for its epic live music and dance nights, so you can dance off that lobster dinner to some awesome tunes. It's a great spot to make some memories while enjoying the best of Nova Scotia's culinary scene.
Local Tip: If you're visiting during the summer, make sure to book your lobster dinner in advance; the Shore Club is super popular and can fill up quickly during peak season!
See the Northern Lights in Cape Breton Highlands National Park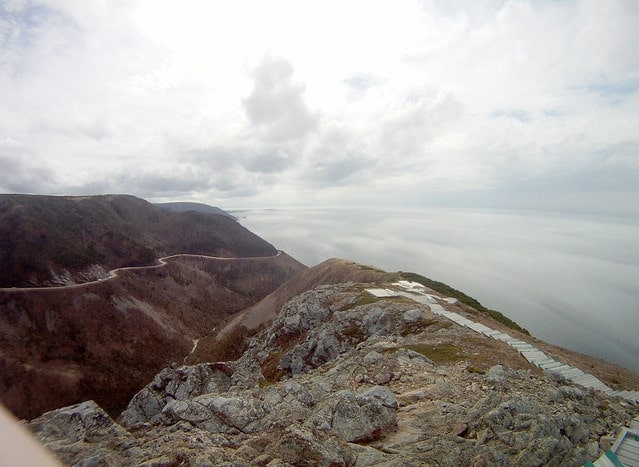 Website: https://parks.canada.ca/pn-np/ns/cbreton/
Contact details: +1 902-224-2306
One of the best places to see the Aurora Borealis in Nova Scotia is Cape Breton Highlands National Park, thanks to its low light pollution and wide-open spaces.
Just imagine watching those brilliant colours dance across the sky with the park's incredible landscapes as your backdrop—it's like something straight out of a movie!
The best time to catch the Northern Lights in Cape Breton is during the winter months, when the nights are longest and the skies are clearest.
Of course, the Northern Lights are a bit of a fickle phenomenon, so there's no guarantee you'll see them on any given night. But even if the aurora doesn't make an appearance, you'll still get to enjoy the beauty of the park—and that's pretty special, too!
Local Tip: Download a reliable aurora forecast app, like Aurora Forecast or My Aurora Forecast, and keep an eye on the solar activity to increase your chances of catching the Northern Lights during your visit.
Visit the historic Fortress of Louisbourg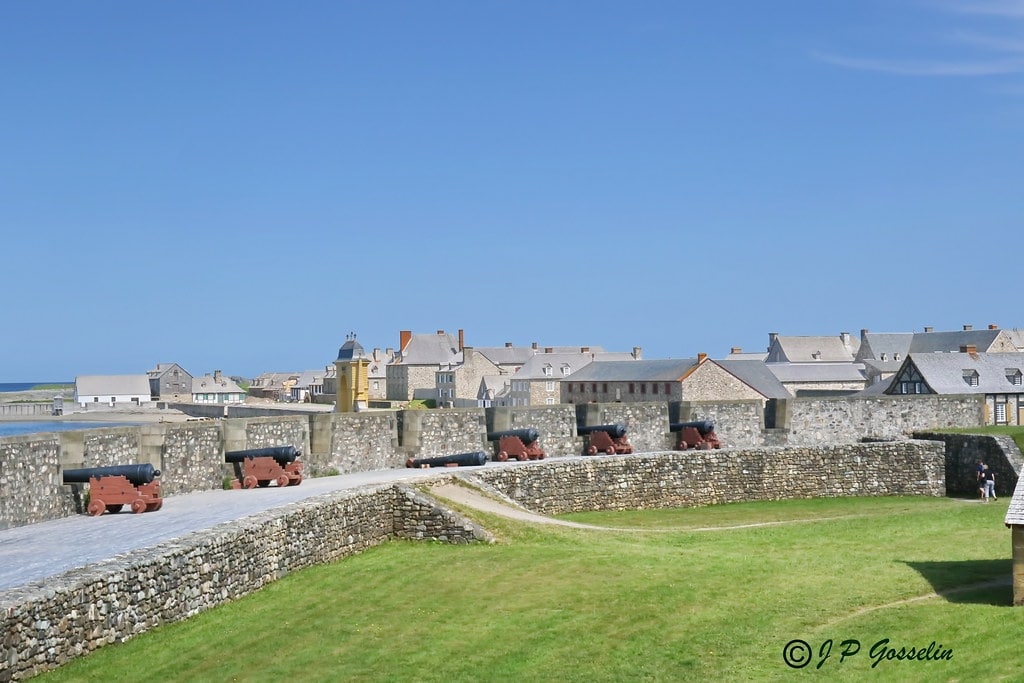 Website: https://www.pc.gc.ca/louisbourg
Address: 259 Pk Service Rd, Louisbourg, NS
Contact details: +1 902-919-8392
Operating hours:
Monday to Sunday – 9:30 AM to 5 PM
If you're a history buff or just love exploring cool, historic places, you've gotta visit the Fortress of Louisbourg in Nova Scotia. This massive, reconstructed 18th-century French fortress is impressive, and a great way to feel the essence of New France.
At the Fortress of Louisbourg, you can wander through the cobblestone streets and check out the authentic buildings. You can also have a little chit-chat with costumed interpreters who'll give you the lowdown on what life was like back in the day.
It's a super immersive experience that'll make you feel like you're part of history. But it's not all serious history lessons—there's plenty of fun stuff to do, too!
You can try your hand at historic games, watch musket and cannon demonstrations, and even chow down on some traditional 18th-century grub at the on-site restaurant. It's a great way to learn about the past while having a blast.
Local Tip: Plan your visit during one of the fortress's special events, like Louisbourg Celebrates or the Fortress Feast, for an even more memorable experience with music, food, and entertainment.
Learn to Cross Country Ski at Ski Wentworth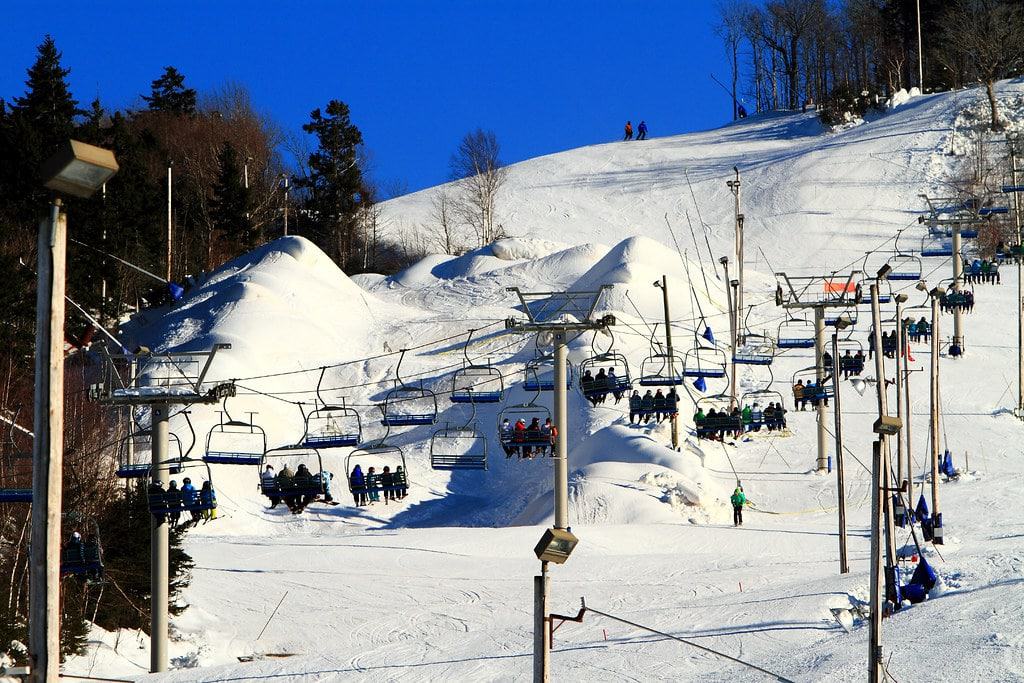 Website: https://skiwentworth.ca/
Address: 14595 NS-4, Wentworth, NS
Contact details: +1 902-548-2089
Operating hours:
Monday to Sunday – 9 AM to 4 PM
If you're looking for a fun and active way to enjoy the winter season, why not learn to cross-country ski at Ski Wentworth?
Ski Wentworth is known for its awesome alpine skiing and snowboarding, but they also offer some great cross-country ski trails for all skill levels. Plus, they have lessons and equipment rentals available, making it super easy to get started.
What's so great about cross-country skiing is that it's not only a super fun way to explore the snowy outdoors, but it's also an amazing workout. You'll be getting your heart pumping while taking in the stunning winter scenery—talk about a win-win!
Local Tip: Make sure to check the trail conditions on Ski Wentworth's website before heading out, as cross-country skiing trails may be affected by weather and snow conditions.
Go canoeing at Kejimkujik National Park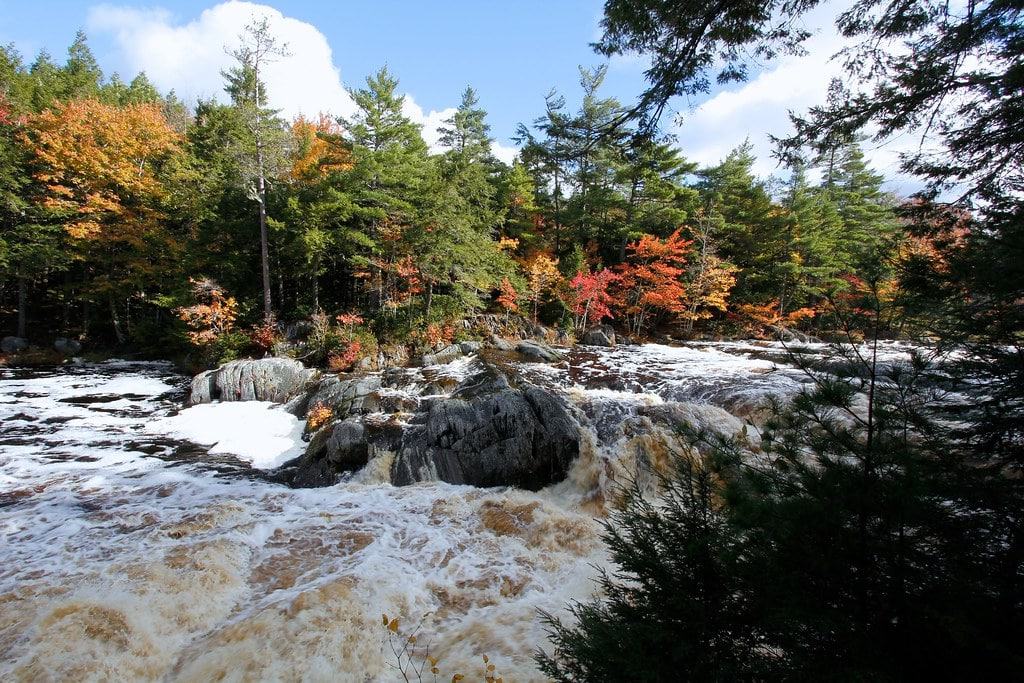 Website: https://pc.gc.ca/kejimkujik?utm_source=gmb&utm_medium=kejimkujik
Address: 3005 Kejimkujik Main Parkway, Caledonia, NS
Contact details: +1 902-682-2772
Operating hours:
Monday to Sunday – Open 24 hours
Kejimkujik National Park in Nova Scotia is a paddler's paradise, with tons of lakes, and rivers, just waiting to be explored. This park is home to stunning scenery, and there's no better way to take it all in than by gliding through the water in a canoe.
You'll get up close and personal with nature, spotting wildlife like turtles, loons, and maybe even a beaver or two along the way. Whether you're a seasoned canoeist or a total newbie, Kejimkujik has something for everyone.
There are plenty of easy, family-friendly routes to choose from, as well as more challenging backcountry adventures for more experienced paddlers.
And if you need to rent a canoe or brush up on your skills, the park's got you covered with rentals and guided tours.
Local Tip: Be sure to pack some bug spray during the warmer months; the park's notorious black flies and mosquitoes can be a bit of a nuisance when you're out on the water.