Categories >
Guides and Tips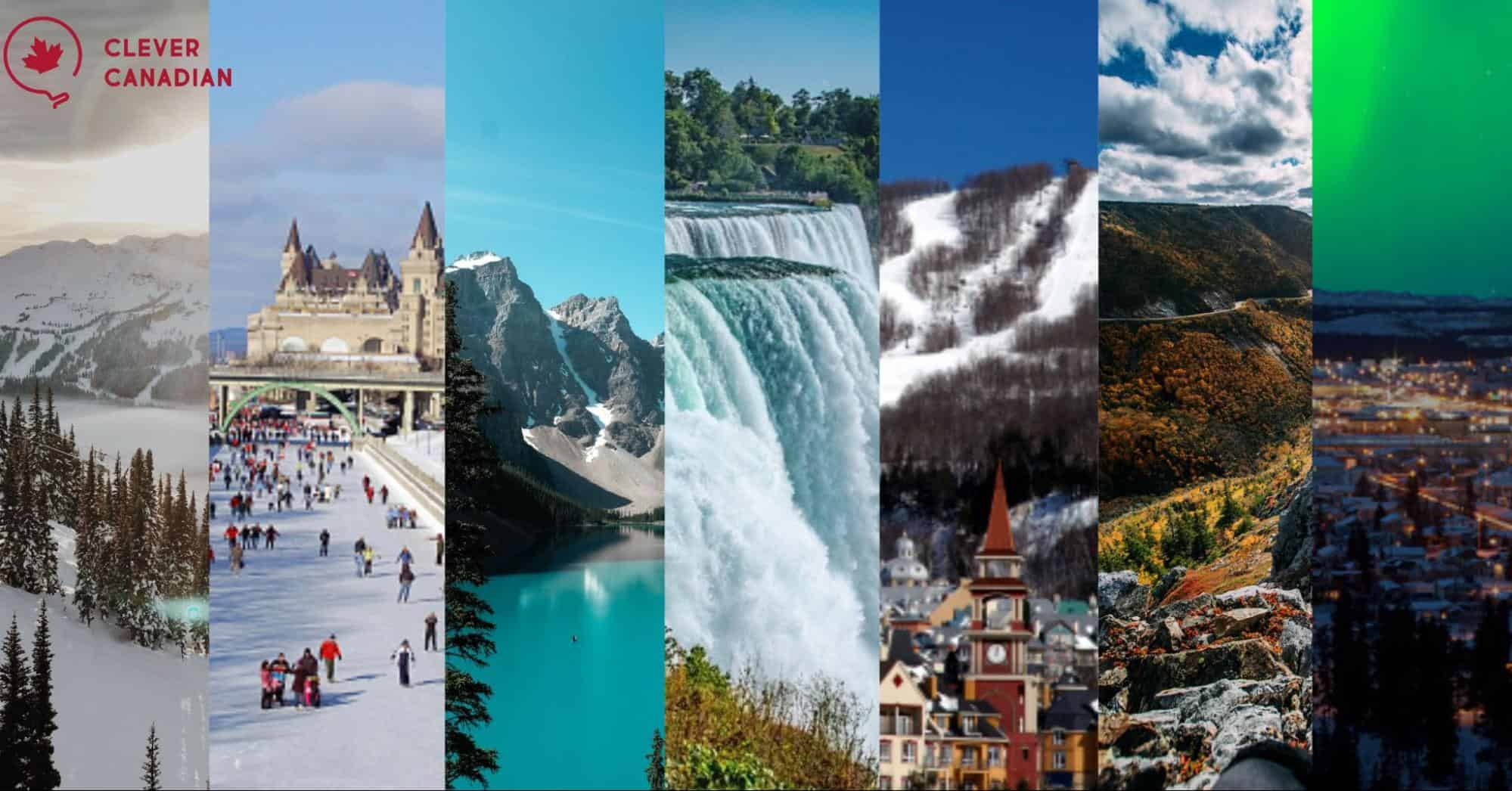 8 Best Places to Visit in Canada
Canada is a big country with so many wonderful sights and attractions. In fact, there's just too many options, and people find it difficult to decide which place to visit first, whether they are first-time visitors or returning tourists.
There are many places in Canada that should be visited, and these places offer stunning vistas and various experiences, from the majestic view of Niagara Falls, Mont-Tremblant and Whistler, to the stunning landscapes of Banff, and Churchill.
Join us as we discuss the must-see sights in Canada that will offer plenty of memorable experiences. No matter what you're looking for, we bet you'll find it in one of these eight destinations.
1. Whistler Resort, British Columbia
Best For: Winter outdoor activities, and unique dishes.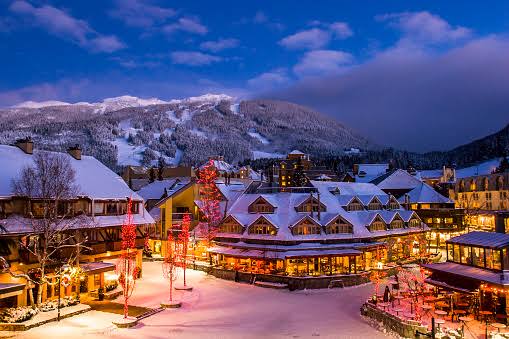 If you're looking for a majestic and awe-inspiring resort to visit in Canada, Whistler Resort awaits you! Boasting beautiful mountains of snow-covered peaks, it stands as the largest ski resort in North America, so you'll have a chance to ski and snowboard.
And if that's not your thing, there's still plenty to explore: take the PEAK 2 PEAK Gondola for an unforgettable view of the area, walk along alpine trails, or even brave a glacier climbing adventure.
But Whistler isn't just about its natural beauty as the city is packed with interesting places to explore. The ski village at the bottom of Tweedsmuir Mountain is home to some of Canada's most popular runs and some of the world's best ski resorts. 
The Squamish-Lil'wat Cultural Centre is another location to check out, where guests can take in one of the museum's breathtaking First Nations Feast and Performance events, which are held every Tuesday and Sunday night. 
Visit the Whistler Museum to learn the history of the region and take part in one of the activities or join a guided tour to see some hidden gems. Make sure to check out its thriving culinary scene where restaurants offer unique dishes. 
Top Accommodations in Whistler:
Address: 4591 Blackcomb Way Whistler (British Columbia)
Address: 4090 Whistler Way Whistler (British Columbia)
Address: 4599 Chateau Boulevard Whistler (British Columbia)
2. Rideau Canal, Ontario
Best For: Winter outdoor activities, summer activities, and cycling enthusiasts.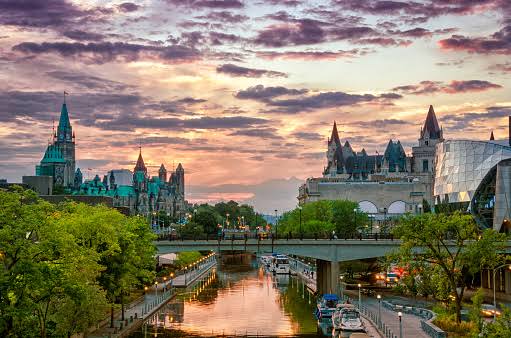 If you're looking for something a little different, the Rideau Canal is definitely worth your time. As the oldest continuously operated canal system in North America, it has a long and interesting history—but it also has plenty of other things to offer today.
This is a great destination for nature lovers—it's known for its stunning views and thrilling watersports like fishing and kayaking.
But if you'd rather spend your time sightseeing, you can explore all sorts of interesting attractions, from UNESCO World Heritage sites to beautiful gardens and parks.
On top of that, there's plenty of culture here too. Check out the countless museums, art galleries and other notable landmarks throughout the city—and don't forget to take in some live entertainment while you're at it!
With so much to do and see in this region, there's something to suit every taste here at the Rideau Canal!
3. Banff National Park, Alberta
Best For: Summer and winter outdoor activities, mountain climbers and nature lovers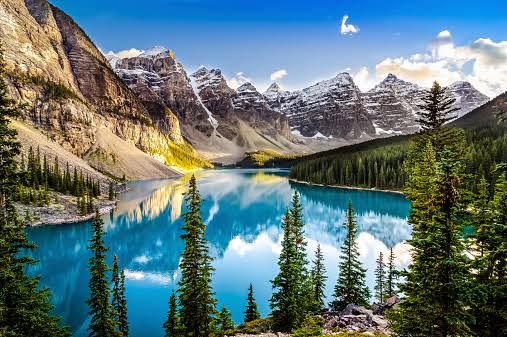 Are you looking for a beautiful and breathtaking adventure? Then you should add Banff National Park, Alberta, to your list of places you should visit in Canada.
Banff National Park—the world's first national park—is home to the majestic Rocky Mountains, incredible glaciers, and the gorgeous turquoise-colored lakes. No matter what activity you choose, the amazing mountain views will stay with you forever.
Banff National Park is a playground for outdoor activities like skiing, snowshoeing, skating, white water rafting and more! If you're looking for a bit of luxury with your outdoor adventure, then rent a cozy cabin with an amazing view from the mountains.
Amid all those beautiful landscapes you'll find some wildlife roaming around like elk, moose, bighorn sheep and grizzly bears. And if that's not enough wildlife for you, then head over to nearby Lake Louise where you can spot some eagles soaring in the sky.
Top Accommodations in Banff National Park:
Address: 405 Spray Avenue Banff
Address: 300 Mountain Avenue, P.O. Box 1110 Banff
Address: 345 Banff Avenue Banff
4. Niagara Falls, Ontario
Best For: Water activities, food enthusiasts, nature lovers, and entertainment seekers.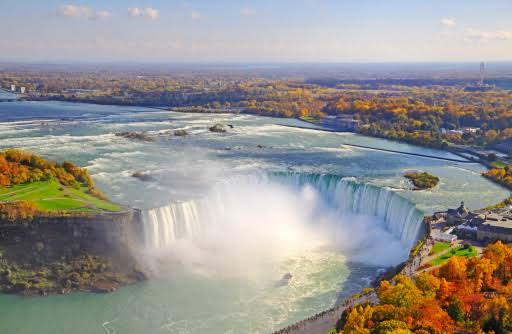 Ready to see one of the most breathtaking natural wonders of the world? Located along the border of Canada and the United States, Niagara Falls is made up of three waterfalls – Horseshoe Falls, American Falls, and Bridal Veil Falls.
This incredible destination is sure to make you feel like you're on a real-life postcard. Here are just a few reasons why you should visit Niagara Falls:
Get a 360-degree view: From the Skylon Tower or Hornblower Cruise, you can get an incredible view overlooking all three waterfalls.
Witness the evening illuminations: Every night in summer and fall season, hundreds of lights are shone on the base of Niagara Falls creating an awe-inspiring sight.
Experience adventure: Take a thrilling helicopter ride over Niagara Falls or have a relaxing walk down Queen Victoria Park – there's something here for everyone!
Sample some local cuisine: If you're looking for some delicious eats, try out Benchmark Restaurant – which serves up locally sourced dishes.
Taking it all in from the majestic view of Horseshoe falls is sure to be an experience that will stay with you for years to come. So make sure to add Niagara Falls to your bucket list – it won't disappoint!
5. Mont-Tremblant, Québec
Best For: Winter outdoor activities, rock and mountain climbers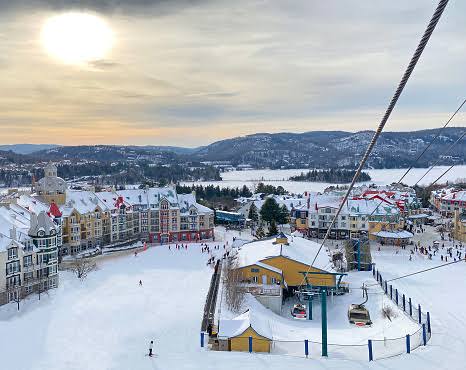 Mont-Tremblant in Québec is an incredible place to visit. From the beautiful lakes and rivers, to the stunning mountains and forests, this Canadian gem is a must-visit for anyone looking for a great experience.
You can explore the abundance of forests and trails that run through the area. Plus, you can go kayaking, canoeing, rock climbing, and mountain biking!
The picturesque villages are like something out of a fairytale story with their colorful facades and cobblestone streets. You can even take things easier with a leisurely stroll around the St Lawrence River or a quiet walk through any of the nearby parks.
The beauty of Mont-Tremblant is that it has managed to retain its cultural heritage over the years. Surround yourself in Canadian culture by visiting museums, art galleries, historical sites and classic French cuisine experiences.
6. Churchill, Manitoba
Best For: Adventurers and nature lovers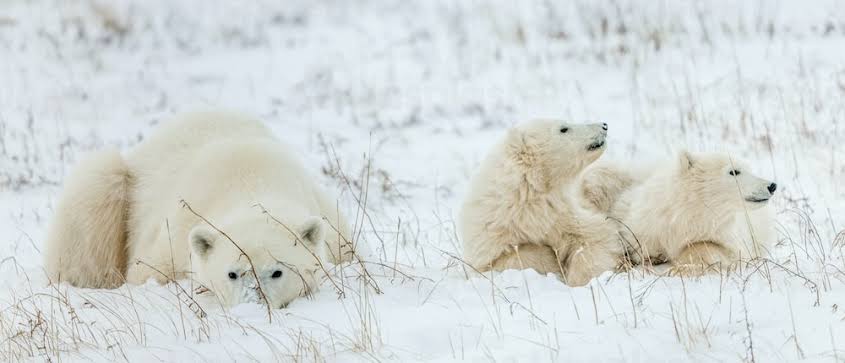 You should add Churchill, Manitoba to your list of must-visit places in Canada! This small town is located on the west shore of Hudson Bay and is known as the "Polar Bear Capital of the World" for its population of over 1000 polar bears.
If you love nature, then this is definitely a place to put on your list. There are several reasons why Churchill, Manitoba is an amazing destination for adventurers and nature lovers alike.
Here are some of the top highlights of Churchill, Manitoba:
Sunrise tours — Wake up early and join a tour to take in breathtaking views of the Bay at sunrise. Tours can be arranged with an experienced guide for optimal safety during bear sightings.
Beluga Whale Watching — Every summer, hundreds of these majestic whales migrate to the area and can be viewed as they frolic around in their natural habitat.
Wildlife Photography — If you have a passion for photography, then this is THE place to capture incredible shots of everything from grizzlies and moose to Arctic foxes and snowy owls.
Relaxing Adventure — Explore vast tundra trails by foot or by ATV on a relaxing adventure under an endless expanse of star-filled skies.
Ultimately, Churchill has something special that most other locations in Canada can't offer: an epic natural beauty that will make your visit truly unforgettable!
Top Accommodations in Churchill:
Address: 126 Kelsey Boulevard Churchill
Address: 152 Kelsey Blvd, Churchill
Address: 153 Kelsey Blvd, Churchill,`
7. Cape Breton, Nova Scotia
Best For: Food enthusiasts, nature lovers and historians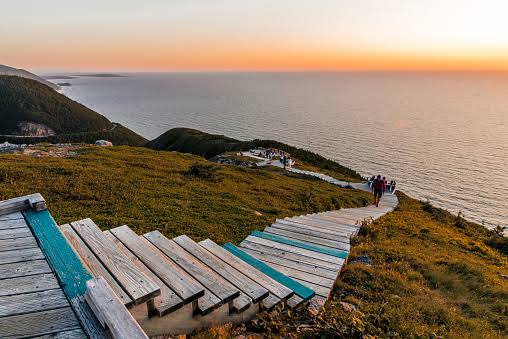 When it comes to unique places to visit in Canada, Cape Breton Island should be at the top of your list. Located in the province of Nova Scotia, Cape Breton is a beautiful destination full of surprises.
Why should you visit this place? Here, you can explore the natural beauty of Cape Breton Highlands National Park with its breathtaking ocean views and lush forests.
You can take part in the amazing music and cultural events in the Celtic Heart of North America. The entire island is a foodie paradise, with fresh seafood and traditional dishes that you won't find anywhere else.
Lastly, Cape Breton 's home to some truly special attractions such as the Fortress of Louisbourg National Historic Site; perfect for history buffs who want to take a step back into time.
8. Whitehorse, Yukon
Best For: Adventurers and natural phenomenon enthusiasts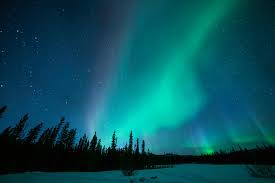 Have you ever considered visiting Whitehorse? Canada's largest city in the Yukon is full of adventure and surprises. From exploring a spectacular Aurora Borealis to discovering the town's hidden gems, this place has something for everyone.
Whitehorse is one of the best places in North America to observe the Northern Lights, otherwise known as Aurora Borealis, from September to April. You can even visit Aurora Village, created for viewing and photographing this spectacular phenomenon.
Whitehorse is surrounded by incredible nature spots that showcase all four stunning seasons in Canada. In May you can take a boat tour along the Yukon River or enjoy horseback riding while admiring picturesque mountains.
It doesn't matter if you're an adventure seeker looking for jaw-dropping natural attractions or someone looking to appreciate local culture – Whitehorse has it all!
Top Accommodations in Whitehorse:
Address: 150 Keish Street Whitehorse
Address: 101 Main street Whitehorse
Address: 6188-6th Ave Whitehorse
Factors to Consider When Planning Your Trip to Canada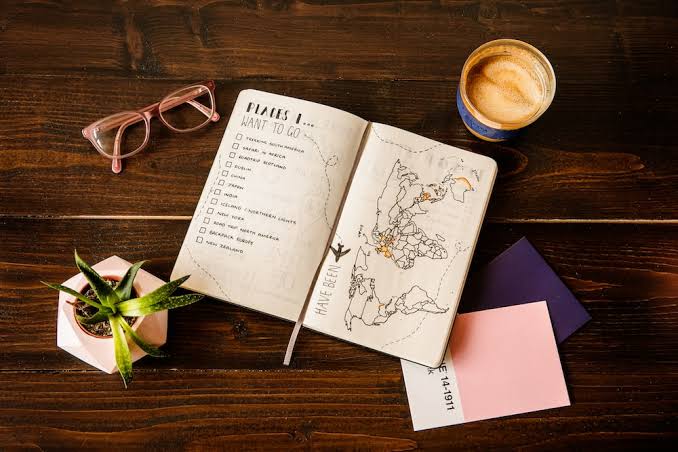 Now that you've decided where to go in Canada, there are a few factors you should consider when planning your trip. First, you need to think about the type of trip you want—do you just want to relax and enjoy the scenery or get out in nature and explore?
Depending on the type of experience you have in mind, some parts of Canada will be better suited for your needs than others. You might also want to consider the time of year and how busy the place will be.
For example, if skiing is high on your list, the Rocky Mountains are the perfect spot for snow-filled getaways. Or if sightseeing is more your speed, touring around Quebec City could be a great way to spend an afternoon.
Finally, don't forget about prices—make sure to research accommodation costs as well as food and entertainment expenses so that you can stay within your budget.
Cultural Experiences in Canada's Best Cities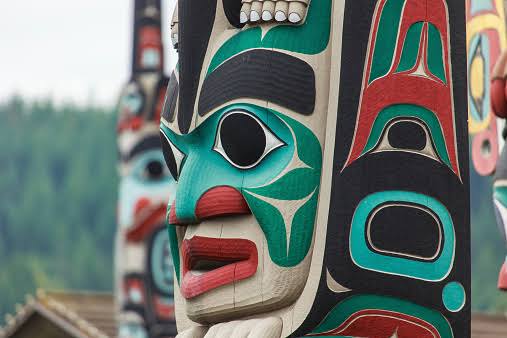 Looking for something a bit more cultural? Then a visit to some of Canada's best cities is something you won't want to miss out on.
From the great view in Niagara Falls, to the famous Whistler ski resort, to the stunning Rideau Canal in Ottawa, there's loads of amazing things to do and see. Plus, many of these cities are great for those seeking some urban adventure.
All these cities offer a range of cultural experiences! You can explore each city's history in its many museums and galleries or take in a show at one of the area's popular theaters.
Quebec City, in particular, is a major cultural hub in Eastern Canada with many venues dedicated to artistic expression and entertainment. So make sure to explore these cities and discover why they're considered the best places to visit in the country!
How to Get the Most Out of Your Trip to Canada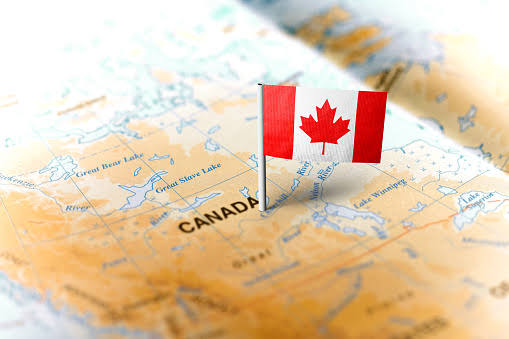 When it comes to Canadian travel, the options are endless. From the vibrant city of Alberta to the tranquil beauty of Niagara Falls, there's something for everyone.
Whether you're looking for delicious food, amazing nightlife, or stunning nature, you're sure to find it in Canada. So if you're planning to visit Canada, here are some tips to make sure you have the best trip possible.
5 Tips to Get the Most Out of Your Trip to Canada
Be sure to plan ahead and book as much as you can in advance. This way, you'll save money on hotel rooms and activities. 
make sure to budget for food and souvenirs—you'll want to take some of this beautiful country home with you!
Pack smart. Bring layers of clothes that can transition from cool spring days to colder winter nights. Canadians love the outdoors, so make sure to bring comfortable shoes so you can get out and explore. 
It's always a good idea to purchase travel insurance in case something unforeseen happens on your adventure.
Don't forget to have fun! Canada is an incredibly diverse country full of amazing people and sights.
Take time during your visit to explore the incredible cities, meet new people and experience all the wonderful things Canada has to offer.
No matter where you choose to visit, Canada has something special to offer its visitors. Wherever you go, you're sure to come away with unforgettable memories of your travels, so gather your bags and head up north—you won't be disappointed!
Our Final Thoughts
Ready to plan your Canadian vacation? From the snow-capped Rockies of Alberta to the breath-taking beaches of Nova Scotia, there won't be any shortage of exciting sights and activities across the country.
These 8 attractions are certain to have something for everyone and should make for a unique and memorable experience. Don't forget to check out the local scenery and cuisine as you go – it's what makes Canada so special!
Ultimately, visiting different parts of Canada is a great way to explore the country while taking in some wonderful sights along the way.
There are many other places that could be added to this list, but the spots we featured here should help get you started on your next (or maybe first!) Canadian adventure!
FAQs about the Best Places to Visit in Canada